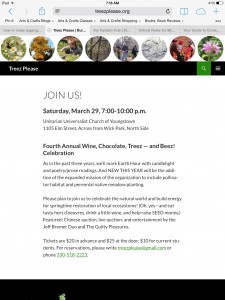 Anyone who loves to sew and create as much as I do will easily understand how frustrating it is to not have time to do so. And please don't say to me, "Just make the time." I can't add hours onto the clock. Trust me, I've tried!
I may have mentioned that I'm serving as campaign treasurer for Michele Lepore-Hagan in her bid for the Ohio House of Representatives. But there were other campaign tasks I was ideally suited to, so I took them on, too. I'm managing the content on her website and generally acting as her assistant. And I'm enjoying it–I'm needed and appreciated. But it's not the same as diving into my cluttered sewing room and coming out four hours later with a new top and a sense of satisfaction.
As this blog is about creativity, I'll show you something else I created this week that I'm very proud of: A new website for my neighbor's nonprofit organization, Treez Please.
Jean and several of her like-minded friends started Treez Please about six or seven years ago in reaction to the number of abandoned homes in the area that were being taken down, leaving vacant lots. The idea was to plant trees on those vacant lots and return the green to shrinking Youngstown neighborhoods. The grants keep getting written, the money keeps coming in, the houses keep coming down, and trees are growing! It's a real success story.
She had a makeshift website that was very difficult to maintain, and she turned to me for advice. I've been working for my son for four years now, maintaining and loading content onto websites that are built on the WordPress platform. But only in the past few months have I built any myself from scratch. It's a sense of accomplishment not unlike struggling through the ins and outs and mysteries of a sewing pattern and coming out on the other side with a wearable garment.
Jean and her Treez Please colleague, Susie, and I sat together and looked at various websites to decide on a theme (the structure of templates that defines the look and functionality of a site). They liked what I had done with a temporary site I built for a chorus fundraiser, especially the little circle pics with which I constructed the header graphic. Their most critical need was to publicize their upcoming fundraiser, and it needed to be visible very quickly.
I went home, searched through themes, and went through the process of saving all the content on their old site, wiping it clean, and installing WordPress. I tried several different themes, put three or four pages in place, and emailed them to take a look.
They were thrilled, but had ideas for how it could be better, to their eyes. Jean has recently retired from the marketing department of the local university, so she has a lot of tools in her belt. Where I thought I would be doing all the work on both implementing and then maintaining this site, Jean has turned out to be a willing and eager student. I showed her how to crop a circle from a picture in Photoshop, and before I knew it, she had made the header for the site. I had put her home address on the site, and when she called to ask me about it, I was able to instruct her over the phone how to find the widget and change the address. A friend pointed out an error on a page, and Jean jumped right in and corrected it.
I mean, Wow! Jean and Susie, with their vision and enthusiasm, are making this project one big happy game!
Next up on this project are posts. I need to figure out how to enable comments on the Projects and News pages; Jean has to dig through pictures and blog about recent projects. I want to add links to social media, and that's not included in the "twenty fourteen" theme, so I've got to research that – and somebody in the organization has to start tweeting again, and convert their Facebook group to a Facebook page.
I can't even believe all I've learned in the past week.
I can't wear it, but I can point to it and say, "See? I did that!"
(And an enormous doff of my had to Jean for being willing to try!)