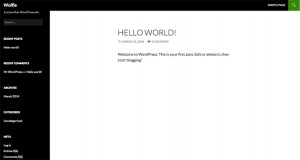 Okay, creativity involves more than just taking chances. It involves learning. Lots of learning!
I still am not finding time to get to my sewing room. I ran in there for 2 minutes yesterday while the dryer was running to mend a popped-out sleeve seam. But I'm not pulling out patterns and pinning them to fabric, and I'm not sure I'm going to find time to do that before the primary elections in early May.
I did find time to create a website for my neighbor's non-profit organization. But I've been having a hard time with enabling the comment function. Frustrating! I read. I try. I test. I change. Nothing works. Still no comments.
I remembered how DS Tyler had a test site set up with we were in the business of building lots of websites, and I started wondering how he did it. I googled. I read. I tried.
And I did it! After hours of reading and trying, I have created a subdomain and installed WordPress on that subdomain. Now I will install the same WordPress theme that I'm using on TreezPlease and attempt to figure out what I'm doing wrong on the main site. Yep—should have started out with the subdomain scheme in the first place. But now that I've got it down, I can make a practice of doing all development on the subdomain before migrating to the live site.
Feeling pretty darned proud of myself, I am.