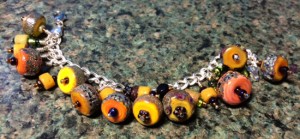 Anytime I gift someone with one of my handcrafted treasures,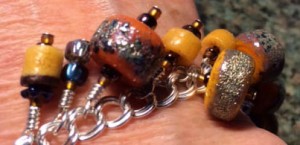 I try to communicate to her that regifting is okay. I know not everyone has the same love or use as I for the things I make. And I project that theory onto gifts I receive. A gift can become a gift, in my world.
If you're mindful of that theory, you'll understand how thrilled I was to receive my friend Marilyn's Christmas gift to me. Marilyn is one of the most creative people I know.
<Sidebar on>
Let me give you a couple examples of Marilyn's creativity and generosity:
When the Jazzman and one of his best buds turned 60 within 11 days of each other, Marilyn gathered all her pictures from our 4th of July week at Lake Erie and turned it into a fabulous keepsake book to remind us of all the love and laughter our group of friends generates. Four years later, we still pick up and pore over the book, reliving that summer.

After we returned from a 10-day trip to Italy with a group of 15 friends, Marilyn created a scrapbook, in which each of our heads was carefully transposed onto a figure from history to make a precious and hysterical pictorial memory of our vacation. Our group still talks about the magic she worked with those photos.

A friend recently retired after a long and successful career with IBM. Marilyn prepared a memory book for the party. Each attendee had a dedicated page in the book where he or she wrote a wish to the honoree. During the evening, Marilyn took pictures of everyone in ones or twos or threes or tables. Afterward, she chose a picture to go with each page in the book. It's an absolute work of art. What a wonderful memory for the honoree, who must have been overwhelmed by the surprise of the party her loving husband planned.
<Sidebar off>
Marilyn's brother is as creative as she is, in his own medium. Several years ago he began making glass beads—an art form referred to as lampworking. (If you know me well, you'll know I became infatuated with lampworking in 2000, and spent several years attempting to make beads until I decided there were many other people who could do well what I was puttering along with.) (If this is the first you've heard about lampworking, here's a video to give you a little education.) Marilyn frequently makes bracelets, strung on elastic beading cord, of her brother's beads for her friends, and they are always a treasure to receive and to wear.
Her Christmas gift to me? Some of her brother's beads! She had rescued a gift box of chocolate, sans the chocolate, and placed one bead in each of the little miniature cupcake papers (what are they really called?!). The box was then finished off with a soft satin ribbon in bright red. She couldn't have chosen anything that would please me more.
I've been following her brother's work for several years, and he just keeps growing and developing and blossoming as an artist. His work is quite wonderful. He appears to enjoy experimenting with different types of glass and techniques, and I love that. Who else does that with her medium? Oh yeah, me. Love it!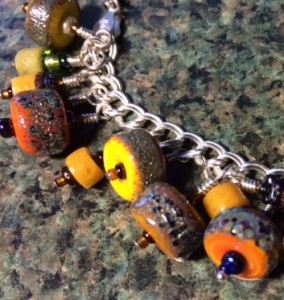 So I thought I would turn her gift to me around and make a glass "charm" bracelet. I've been making these bracelets for probably twelve or thirteen years, and I just love them. I love mixing various small beads together with the larger lampwork beads and creating something that jingles and clanks softly as I move.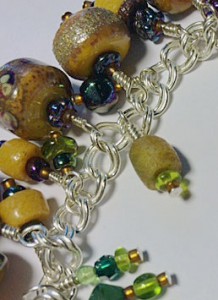 I ordered two Parellelo chain charm bracelets from Beadaholique, along with some pretty special ball head pins for attaching the beads to the chain. I dug into my extensive stash of beads and found various sizes of seed beads in shades of bronze, turquoise, and blue-purple. Then I wire-wrapped the beads, evenly spaced, onto the bracelet. But—to my eye—it just wasn't done.
A couple of years ago my friend, Mary Lou, a supertalented fabric dyer and quilter, had destashed her sewing room and sent some things my way. Included in that gift were lots of unique beads, including some I suspect came back from Africa on one of her trips there. One strand of the African trade beads blended perfectly with the lampwork beads.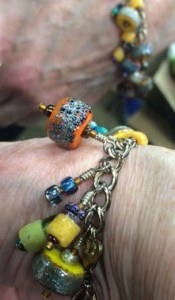 So I made smaller bead accents with the trade beads and seed beads and some fire-polished beads. As I added each new accent to the bracelet, I liked it a little more. But I wasn't in love with it. Then I took a dinner break. When I came back downstairs after being away from the piece for half an hour, my breath caught as I walked into my sewing room. Wow! This is a cool bracelet! I kept tweaking it until I had to run over to the boss's house (the candidate for whom I am serving as campaign treasurer gets most of my time lately).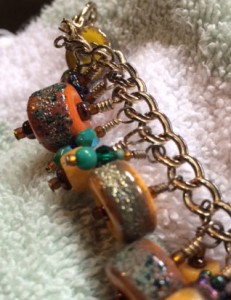 She's even more of a clotheshorse than I am, so I just had to wear the bracelet over there to show here. We both examined it, and I decided the silver was too bright. I know I had some Liver of Sulfur (info) somewhere in the basement. If luck was on my side, I'd find it in the morning and oxidize the silver.
Luck was my friend. I found the Liver of Sulfur in the second place I looked. It was old, but once I reheated the water in the microwave, we were good for a lovely brass tone to soften the brightness of the silver bracelet.Once I pulled the bracelet out of the solution, dried it, and polished it a little with a towel, I put it on and grinned from ear to ear!
Success!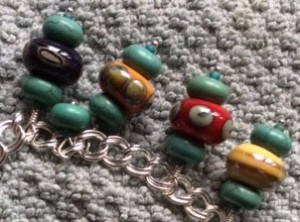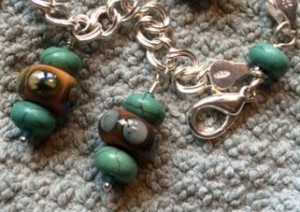 But I wasn't done. I ordered two silver bracelets, remember? So I again dug through my stash, found a set of nine beads that I had bought from Marilyn's brother a while back, along with a strand of natural stone discs that resemble turquoise. I wire-wrapped them onto the chain, swapped the difficult-to-handle lobster clasp for one of the honkin' big lobsters that I like, and Marilyn's gift-for-gift was born.
I tucked the bracelet into an envelope, ran down the block, and slipped the envelope into her mail slot. Ever the perfectionist, I came back home and wrote her a long note about the bracelet. (You can have more beads or just this amount, and you can have it silver or oxidized, and if you want it oxidized, it can be sort of purple or almost black or merely bronzey…. You get the idea.) She texted me as soon as she got home from her evening's activities and said, "Love the bracelet!!!!!!" Yes, six exclamation marks.
She doesn't want any extra beads or any oxidation. She loves it just as it is. Wow!
So my jewelry-making adventures of yesterday and today yielded two successes!