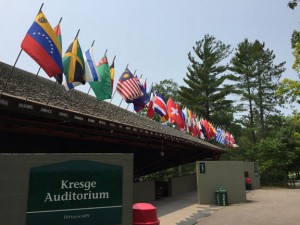 I had such good intentions!! I started off last Monday morning telling myself that at the end of each day I'd synopsize that day's activities. Then when the following Monday rolled around, I'd throw in some photos and be ready to publish the post. Alas!
By Saturday night (our "work week" runs Tuesday through Saturday), I was admitting that this had possibly been the longest week of my life.
This week, being the first, began on Monday. My team—a director, a music director, a choreographer, a stage manager, a collaborative pianist, and several acting coaches—are working with campers in the Intermediate Division, who are in grades 6 through 9. The age range is roughly 12-15.
You might enjoy reading this page about the Intermediate division.
To be accepted into the program, students must submit a video of them singing a song and performing a monologue. In case you're interested, the tuition for the six week program is $7,750. Some financial assistance is available, but it's an enormous commitment for the student's family to make. And yet the calibre of instruction the child gets, and the talented kids he or she associates with—the life-long friendships that are formed—these benefits are invaluable!
Monday, June 29, 2015
Each morning when I walk from my room in Hemingway Hall to the Stone Student Center Cafeteria for breakfast, I pass Kresge Auditorium, where the World Youth Symphony Orchestra is rehearsing. Hearing these talented musicians makes every day, whether gray or sunny, brighter. After breakfast, I always pause a few minutes to soak in some more of their beautiful music.
Today I went back to my room for forty-five minutes of editing. I retain my research associate position at Youngstown State University while I'm here, and have two more papers to edit before the end of the fiscal year tomorrow night. I do as much as I can in that time period, then head for the north end of campus to the Phoenix Theatre, 0.2 miles from my dorm.
We're auditioning the 25 students for roles in "Oliver!". For the two hours before I arrive, the choreographer has been teaching them a couple of short routines, and then trying them out in different small groups to determine their dancing skill level. I arrive fifteen minutes before my start time to watch some smile-inducing dancing. My music director, Anne, and I start teaching them some of the music, and then run them through it, over and over, until Anne is certain she has a feel and understanding for what these kids are able to accomplish.
Break for lunch, then back for more of the same. The director, music director, and the choreographer put their heads together frequently as they're trying to determine how best to cast the show. At 4:50 we're done for the day, and they tell the kids to check back later in the evening when the cast list will be posted on the theatre door. They also give a small, humorous lesson in how to behave when reading the cast list. (Don't scream and shout and make your castmate feel bad that you got a speaking role and she didn't. Be gracious. Be a good sport, whether winning or losing.)
I quickly eat and return to my room to continue editing. And then fall into the sleep of the completely exhausted.
Tuesday, June 30, 2015
Today was the anniversary of the death of my "Good Husband" seventeen years ago. I had moments of reflection throughout the day, grateful for his life and for his love for me.
Breakfast, class, voice lessons, lunch, ten minute nap, class … every spare minute was spent editing and preparing invoices to be submitted before the close of the fiscal year. To bed after 11:00, when I had no oomph left.
I did make time to have dinner at the Flap Jack Shack with Leslie, her mom, Maggie, and her daughter, Miss C. The lovely Miss C caught a funky bacterial infection causing painful sores in her mouth and on her feet, so they decided Maggie would take her back to Amarillo a week early. This was our summer farewell dinner, where Maggie and I tried to cover all the ground we intended to cover in our was-to-be leisurely time together this summer. Oh well, there's always next summer.
The hardest part of the day was getting a migraine aura attack halfway through the afternoon class. These auras always last exactly thirty minutes. I lose portions of my vision in a specific pattern. And in the midst of losing my focal point, then a ring around my focal point, then various portions of my peripheral vision while trying to read the music and play for the kids … not easy. Fortunately I have memorized most of the piece we were working that afternoon, so I was able to stumble through.
Will there ever be a point in my life when I will no longer have headaches?!
Wednesday, July 1, 2015
Today we began working on preparing the vocals and the movement on one song, "Food, Glorious Food," to audition for the summer Collage program. Collage is a fast-paced program that includes representatives of all camp divisions and programs. Dancers, singers, instrumentalists, painters, and so on all perform in fast succession and performance attendees get an overview of all that makes Interlochen such a magical place.
And in my noon voice lessons I was attacked with an aura again. This time I was playing new-to-me music, so stumbled a lot while waiting for the half hour to pass so my vision would return.
In the evening I finished up the previous days editing, inserting corrections that a Norwegian author had sent.
Took strong headache medicine and was asleep by 9:15. (Woke up feeling normal in the morning.)
Thursday, July 2, 2015
For the first time ever, I attended a yoga class. This is offered free to faculty and staff members, and is held from 7:30-8:20 on Tuesdays, Thursdays, and Saturdays during the summer session in the Dance building on the shores of Green Lake. The lakeside classroom has a wall of windows that overlook the lake. I loved the class, almost dissolving into tears a couple of times. I rarely do things just for myself, opting instead to always take care of everyone else. What a comforting experience this class was. The teacher, Matt, has a wonderful manner and is always encouraging his students to take care of their particular needs. ("Musicians, modify this exercise as you need to, to protect your wrists.")
Class lets out about the same time the dining room closes, so I went to the coffee tent and got a smoothie for breakfast. Alas, a muffin called unto me. Oh well, I'm walking over a mile a day just to and from class. I probably have already walked off the muffin!
(And now, writing this post five days later, I can't remember anything significant about the day. Class, lessons, lunch, more Collage prep, dinner, something something in the evening. Can you tell I'm quite tired from the fast pace?)
Friday, July 3, 2015
Oh, supreme joy. My son and grandchildren arrived on campus around midnight. I'll get to see them sometime today and I'm very excited.
Breakfast, practice, class (with the wonderful view of my son and granddaughter outside the glass classroom door), lessons, lunch, ten minute nap, class with more Collage audition prep. In the evening, dinner at Maddy's with the family and then a trip to downtown Traverse City to enjoy the National Cherry Festival.
To illustrate how overloaded my brain is this week:
At dinner my son (who is both a camp and an academy alum) was telling me what all he had shown his children during the day. He mentioned the hallway outside the Harvey Theatre, where I was working that day, that contains large photos and names of many Interlochen alums who have made it very big in the theatre world. He said my granddaughter had noticed a picture of
Anthony Rapp
, whom she knew and loved from "Rent" (the movie), and was surprised that he had attended Interlochen. At least that's what I think he said. What I heard was that she had seen a picture of Anthony Rapp, and that he was singing in a club in Traverse City tonight. Conversation ensued about our attending and I said, Sure, I'd like to go. Fast forward through finishing dinner, deciding who would drive, and driving the 20-or-so minutes into downtown Traverse City. Leslie had said it would be hard to find parking, but we easily found a spot about three blocks from where they said we were going. Fast forward through a little more conversation about is this thing really happening tonight and some fast googling. And I'm still thinking we're going to hear Anthony Rapp sing. As we walked and walked, I asked where this place was. They pointed ahead of us and said, Right there. See all the lights and the rides? Somehow my brain had completely skipped over the part where they said, "Let's go downtown to the National Cherry Festival and ride some rides." I laughed almost unto tears. I would never have willing chosen to attend the National Cherry Festival, but I got to spend time with the grands and watch them having fun on the rides. All is well.
Note to self: must listen more carefully, even when tired.
Saturday, July 4, 2015
Happy Independence Day!
But it's not a holiday for these campers, whose parents paid lots of bucks (or euros or Canadian dollars) to send them here to camp.
Classes as usual, plus our Collage audition in the afternoon, then to Leslie's for an evening cookout and some family time and new friends. I was happy to get to spend a little more time with my dear grandchildren.
There was talk of us all driving to a town on the coast of Lake Michigan to watch the fireworks, but I begged off, opting to listen to fireworks from my bed. I confessed to a couple of people that I felt this had been one of the longest weeks of my life. Tomorrow will be my first day off since my drive up nine days ago.
Sunday, July 5, 2015
It looks like Sundays will be my laundry day. I went to breakfast, then came back and took care of household chores, thinking I would be the only one running laundry at 9:00 a.m. on a Sunday. Nope. I snagged the last of the four washers in the laundry room in the basement of my dorm. Then I started preparing the music for the voice students—scouring my notes to associate student with day and song. Once I had as complete a list as I could make from my sketchy notes, I emailed the voice teacher asking if she could fill in the blanks. She basically said (very lovingly), "It's the weekend. Get a life."
So I did.
The Jazzman's brother, Ron, and his wife, Barb, were in Sutton's Bay, north of Traverse City on the west shore of Grand Traverse Bay, visiting her brother and his wife, Bill and Maggie. They called and said they'd like to drive down to the campus, as Ron and Barb and never seen Interlochen. They arrived around 2:00 and we took a guided tour of the campus. I learned lots of facts I hadn't known and we all enjoyed the tour. Barb told me later that her mental image of what the campus might be was a small city-type campus with three or four tall blocky buildings. She had no idea there would be so many acres and so many trees and all the rustic buildings. I was very happy they were able to see the place for themselves so they can report back to the Jazzman, and maybe convince him to come visit.
After the tour, I changed into civilian clothes and we headed back up to Sutton's Bay. We went to Bill and Maggie's home and had an al fresco drink in their beautiful backyard, then drove down to the village for dinner at Boone's North Country Grill and Pub. Immediately after dinner I left and drove the forty-five minutes back to campus, where I got my first taste of parking on concert nights. Concerts on this campus draw in the people from miles around, but I can be pretty sneaky in carving out a parking space when I need to.
What a nice day!
Monday, July 6, 2015
Monday may have been Virtual Sunday, but there was little relaxation to be found in my universe.
Breakfast, then return to room to organize the music for the voice students I accompany. Because I have to carry a heavy backpack with two musical theatre scores, I didn't want to be carrying three more music books every day. I spent the morning organizing the music of the voice students, buying online whatever I didn't have, and loading into the forScore app. I tagged each piece with the relevant student's name and the day of that student's lesson. This way I can either click the name or the day and pull up whatever I need during each voice lesson. And all I have to carry around is my iPad. Oh, joy!
After lunch, it was "Oliver!" time again. In preparation for a taping session on Tuesday morning, I spent the afternoon practicing all the incidental music—scene changes and underscoring for fight scenes and chase scenes.
Supper, a little more practice time, then a Pink Martini concert! I had heard this "small orchestra" in 2007 in Tucson, courtesy of my friend Jill. They have a unique sound. It's like they're a genre all their own. They play a little classical, a lot of international, some French cabaret, and some great story songs that they've cleverly composed. How can we spread the word about their greatness? I was sad that the house was so small last night. In fact, throughout the day as I mentioned to fellow musicians at breakfast, lunch, and dinner that I was going to this concert, most of them said they weren't familiar with the group. I sang their praises! And to top off all the wonderful music, three of the musicians on stage were Interlochen alums! And they invited the campers in the audience to come up on stage and sing backup. Brilliant. Those kids will never forget this orchestra and will never forget that experience!
And with that account, I say good night to the first week of camp.
---
If you aren't on Facebook or don't follow what I say there (ahem, a certain man who shares my life …), here are some of my posts for the same period as this blog post.
Life skills learned today: You know that milk machine (No, not a cow) where you press the glass against the curved bar in the back, under the spout, and then lift up the handle to dispense the milk? Today I learned how to use my wrist to lift the bar so I could fill my glass with one hand. By watching a teenager do it. (June 29, 11:13 a.m.)
Today's definition of success: Arriving at the cafeteria before WYSO (World Youth Symphony Orchestra) rehearsal lets out!! (June 29, 12:44 p.m.)
Tired pianist played the same 32 measures over and over and over again today and just wants a bath. But is living in a dorm with only a shower. May have to go rent a hotel room just to take a long hot soak! (June 29, 7:43 p.m.)
Sounds outside my window: A high school clarinetist practicing his part in Leonard Bernstein's "Overture to 'Candide'" (June 29, 9:11 p.m.)
Sounds outside my window: Reveille played at 6:45, and now Pharell Williams' "Happy" is waking the girls up with a beat. It make me happy! (June 30, 6:54 a.m.)
Today, seventeen years after his death, I am feeling grateful for the life of John Ross. My life is far better for having known him. Our marriage, though short, was everything a marriage should be. The man sure knew how to dispense love and acceptance! (June 30, 8:30 a.m.)
Yippee! Just realized the clock I bought on Friday for my dorm room is a clock-radio. Now I can listen to Interlochen Public Radio without having to stream it! (June 30, 8:46 p.m.)
You know it's going to be a good day when you wake up before Reveille. (But that particular trumpeter needs to practice it a few times before his next performance. Just sayin'.) (July 1, 6:43 a.m.)
The conversation around my breakfast table was best practices in practicing. What was yours? (July 1, 8:36 a.m.)
Walking to class listening to big band jazz being played live by very talented high-schoolers. (July 1, 9:46 a.m.)
Oops. Should have packed gloves. (July 1, 12:03 p.m.) (Very cold day.)
I am one happy camper. My DS#2 and my sweet grands are on campus for a couple of days. (July 3, 7:51 a.m.)
MQOTD (Musicians' Quote of the Day): We're going to observe the train tracks, but not enough for the train to go through. -Dr. Anne Lewis (July 4, 9:53 p.m.)
Ahhh, a cafeteria where you walk in and hear someone whistling "Overture to Candide." My kinda place! (July 6, 6:04 p.m.)
Enjoyed every moment of the Pink Martini concert tonight. Very special to have three Interlochen alums on stage. You might enjoy this video, featuring an oboist/english horn player who was a few years behind my son at the academy. (July 6, 10:54 p.m.)