Tuesday, July 7, 2015
The week started off with an extra hour added to my workday. My music director, Dr. Anne, and I met at 9:00 a.m. to tape much of the incidental music to "Oliver!". That included scene change music and music that would underscore dance sequences, chase scenes, fight scenes, and so on.
Here I need to say how much I love the technological advances that have made musicians' lives easier. When the focus of class turns from music to dance or acting and I have just-sitting time, I can plug my headphones in to the keyboard and practice my music until it's time for me to play again. Genius! Dr. Anne has a recording app on her iPad; she placed it on the piano and recorded all my music we needed. If I goofed, we just picked up where we were, and this evening she will sit in her dorm room and edit out the parts we don't need. Genius! But best of all is the app she told me about for my music scores. I have installed "forScore" on my iPad. It holds PDFs of musical scores. You can "write" on it, annotating the music as you would a hardcopy score. My next investment will be a pedal that connects to the app via Bluetooth and allows me to turn pages with the tap of my left foot. Genius!
The rest of the day was rehearsal, voice lessons, lunch, a stop by the mailroom (where an opera aria was playing on the sound system—at what post office can you hear that?!), my afternoon rehearsal, and then dinner out with Leslie at a Mexican restaurant (I just needed to get off campus for an hour). Now I'm on my way to hear the Doobie Brothers in concert. How lucky am I? Very!!
<And later …>
Great concert. Sold out house. Lots of old geezers groovin' to the music. My people!
Wednesday, July 8, 2015
Started my morning finishing last week's blog post (while I should have been practicing). 😮
Yesterday Dr. Anne and Peggy finished up a projected schedule for us. Now I know what to have prepared each night before the next day's rehearsals. We spent the morning on music, then had a Lockdown Drill at 11:30 that lasted until about 12:15. Do you have any idea how much noise 13 junior high girls can make in a closed room with a locked door! And they don't have their phones with them, so all they have to do is talk and giggle and talk louder. (The first part of the lockdown, before our building was checked by security, they had to be quiet. But once we were told we were unlocked but had to stay in place, the decibels rose.)
After release, I had one of my two noon voice lessons, then lunch and back to my room for ten minutes and then back to the theatre. As much as I enjoy meeting and talking to new people at lunch, I need that time in my room. In my perfect world, I eat quickly and then go back to my room where I can close my eyes and unwind for ten minutes. Not so today—met an interesting woman who is visiting here and has many of the same skills I have (and is just a few years younger than I). She wanted to know all about how I got here and asked for my contact info for future conversations.
In the afternoon, Jody worked on staging for the songs "Oliver" and "Consider Yourself." I love watching her work. I would love to live inside a choreographer's brain! She works for a while, then we run those dance routines with music. What that means for me is the gift of time to work on my music. As I'm trying to load everything in my iPad, I can sit quietly and mark my score. Or I can plug in headphones and actually practice.
When camp starts, it seems like six weeks is such a long time. But we're already halfway through week two. It flies by!
After work I drove into Traverse City to Best Buy, where I bought a stylus to use with my forScore app. And I treated myself to a great salad and real iced tea at Panera. Then back to my room, a little relaxing, a little work on scores, and a little visit with my third son, Chip. I'm so lucky to be able to share this summer time with him. He's only here for three weeks, and I'll miss him terribly when he leaves for his North Carolina gig in late July.
The highlight of my day was the new stylus. The score I have for Oliver! doesn't have measure numbers. (Are you kidding me?!) To insert the measure numbers into the score, I've been doing all the clicking, typing, and placing with my right index finger. It's a slow process. Having the stylus cut the time requirement in half. Such a timesaver!
Thursday, July 9, 2015
How does a 65-year-old woman feel old and young simultaneously? Take a yoga class. On my way to class, I heard loon calls—multiples!—and wanted to run down and see them (have heard, but never seen), but a girl must have her priorities. Mine was arriving at the yoga classroom in an unstressed state! Mission accomplished.
Breakfast with a young doctoral candidate from Kansas City who is teaching theory. I told her if I knew then what I know now, I would have majored in theory and become a theory teacher. She noticed the "Cleveland Orchestra Chorus" insignia on my fleece jacket and we talked about the magnificence of the Cleveland Orchestra. Now to shower and class.
Raced to class and went to the wrong building—of course, the one farther away. On Tuesdays, Wednesdays, and Saturdays, we rehearse in the Phoenix Theatre on the far north end of campus. On Thursdays and Fridays, we're in Harvey Theatre, which is much closer to my dorm. Both are ridiculously cold, all the time. I take a light wrap and a heavier jacket every day, knowing some part of me will be some degree of cold.
As soon as I sat down at the piano, I noticed the signs of a migraine aura. How glad I was that the first 10 minutes of class are vocal warm-ups. I only had to stumble through twenty minutes with spotty vision. The day continued with class, voice lessons, lunch, and racing back to class. After class I drove to Best Buy again, where I got a price adjustment on my stylus. And then I bought a new iPad.
My existing iPad had 16G of storage and was three years old. The new one has 64 (!) gigs. No more running out of space and having to delete things off the device. That's definitely a good thing.
The highlight of my day? I want to say my new iPad. But, no. The highlight was when the department secretary came in and complimented me on how well I play.
Three hour set-up process on the new iPad. Not good, Apple. But now it's done. The Apple help desk was not helpful, so I just used my common sense and logical thinking skills and did it my own damn self.
Friday, July 10, 2015
Woke feeling stressed to practice before another recording session, so showered and dressed, headed toward the dining hall. Texted my MD to see if we could delay the recording session, and she told me I could take the morning off. Yeayeayeayeayea!!!! I came back from breakfast and sat down at the computer, then laid down and slept until 10:00!
Lesson of the day: Never go to breakfast before 8:00. The place is crawling with teenagers. But most of them have a class beginning at 8:00. It's so much easier to get my bowl of cereal without so much traffic.
Voice lessons, lunch, drop ticket I can't use off at the box office so they can resell it, class, some recording during class, lots of staging for "Consider Yourself," then a brush-up on our routine for Collage. We still don't know if we're to be appearing in Collage, but we're ready and able to do so. We should find out tomorrow.
After class I just wanted a drink and a table on a patio. Went to Maddy's and had a glass of a Michigan pinot grigio from the Verterra Winery in Leland, not far from Hudson's Bay, where I visited last Monday. Had an appetizer with my wine, then back to the dorm to practice. Except for the back-to-back migraine aura attacks. I cease to be amused by these frequent auras and would be happy for them to stop. Now!
Today's highlight was easy—another visit to our studio from the department secretary, who told me again how good my work sounds.
Oh, and first payday. That's always a highlight.
Saturday, July 11, 2015
Woke to a text from Leslie that Tyler had arrived at 4:00 a.m. Yea!!
Another skipping-yoga morning because of 9:00 a.m. recording session. Two of the pieces I was to have prepared weren't. Prepared, that is. They're tough and very fast, and I lost an hour of work last night to migraine auras. My MD is kind and thoughtful—she knows when to nudge me and when to just let me be.
Honestly, the more I work with Dr. Anne, the more I learn from her. This is another of the people I wish I could spend a lot more time working with. She has so much knowledge and musical common sense inside her skull. Plus, she's just really nice, and you know how much weight that carries with me!!
This morning we learned definitively that we will be performing in Tuesday night's "Collage." Much of today was spent working on the staging and dance sequences for our final performance, but we spent a lot of time also making sure we had everything ready for Monday night's open dress rehearsal.
After work, I drove to Maddy's again and sat at the bar with a taco and another glass of the Verterra pinot grigio. Back on campus, decided to take in "As You Like It" at the beautiful outdoor stage. Our choreographer had a role in this play, and I always enjoy seeing my friends perform. Alas, Shakespeare and I do not have a love-love relationship. (Shhh – I left at intermission and went back to my room to read and go to sleep early!)
Sunday, July 12, 2015
Woke up feeling blue. I goofed up a couple of times yesterday in rehearsals—couldn't understand where Dr. Anne wanted me to start and started in the wrong place—and I'm hypercritical when I cause inconvenience to other people. Must learn to ask for measure numbers when I'm confused. Determined to get some practicing in today and lots more tomorrow. Don't want to repeat yesterday's feelings of inadequacy. Adding to my blueness was the fact that my sweetheart's birthday is coming up and I won't be there to celebrate with him. His best friends birthday is on the 10th and his is on the 14th, of the same year, and they always celebrate together. A small circle of our friends took the two birthday boys out to dinner on Saturday night and posted a couple of pictures on Facebook. And I wasn't there. I've been away from home sixteen days now, and was definitely feeling homesick.
Although I knew I needed to practice, but decided to do something I really wanted to do—something that really brings me joy. I dug into my basket of sewing projects and pulled out a dress that is ¾ complete. I attached the bodice to the skirt and then started trying to straighten up the hemline, without help from anyone. Just about the time I realized I didn't bring the tricot interfacing I need for the hem, my phone rang, Tyler wanted to know what I was doing and said they were going "up the peninsula" (Leelanau Peninsula between Lake Michigan and Grand Traverse Bay) and would love for me to come with them.
Ah, to be wanted. We went to
Mawby Winery
, then our friends Chip and Liza joined us for the visit nextdoor to
Big Little Winery
. As we were getting hungry, we decided to head to
Fishtown
in Leland, where we sat on the patio next to the river at
The Cover
and enjoyed delicious fish. Most unique drink I've ever seen? The Cove's Chubby Mary. [When the waitress brings your Chubby Mary, she also brings a fork and a plate. When you've played all the games you want with the chub (picture kissing the chub; stick straw in chub's mouth …), you remove the chub from the glass, placing it on the plate, removing the skin and savoring the delicate smoked chub. Drink and appetizer all in one!]
After dinner I went into the Verterra Winery tasting room and bought a case of my new favorite: Verterra's 2013 Pinot Grigio. And then we headed back to Interlochen, via many scenic roads.
Thought I was going to a piano party, but it seems my ride forgot to pick me up and I was too tired to call and remind him. So I spent the evening sewing while watching a movie and then was early to bed.
What started as a sad day slid easily into a happy day with my son, my adopted son, and their ladies.
I'm lucky.
Monday, July 13, 2015
More early morning rain. The afternoon is to be filled with thunderstorms, if one believes the weather forecast. Breakfast with a favorite breakfast companion, Kate, and then back to the room to practice before our 12:15 mic check for tonight's "Collage" dress rehearsal.
Great mic check and rehearsals. Lunch with my director and stage manager, then an afternoon of practicing. Dinner with Kate—we always seem to hit the dining room at the same time. Then "Collage" dress rehearsal.
These sweet kids—some with lots of experience and some green as the new-mown grass—got a little cowed by the audience. The performance didn't go as well as it could have. But Anne and I were together, so I don't feel bad about my performance! (An awesome statement for me to make, right?!) I feel certain they'll perform better tomorrow night. And if not tomorrow night, then the next performance. It's all about learning and growth.
Now to bed. I pat myself on the back for finishing this week's blog on Tuesday night. And I share with you my favorite photo of the week: my younger son and his lady love, enjoying time together.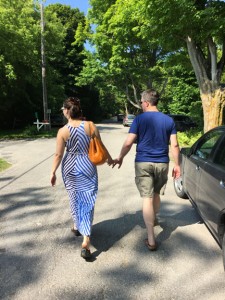 ---
If you aren't on Facebook or don't follow what I say there (ahem, a certain man who shares my life …), here are some of my posts for the same period as this blog post.
Went to the campus post office to mail a birthday card to Michael Alexander. An opera aria was playing on the speakers. Probably very few post offices in the world where that would be the case! (July 7, 2:56 p.m.)
Lockdown drill. Nothing is left to chance here. (July 8, 11:49 a.m.)
Well, that was nice. The department secretary (you know the department secretaries are the real bosses, right?) walked into our afternoon rehearsal to say something to the director and music director and said, "Jan, you really play well." Made my day!! Trust me, that woman has heard a lot of collaborative pianists. (July 9, 7:09 p.m.)
Reveille by saxophone today! (July 10, 6:40 a.m.)
Our choreographer, Jody Burns, has included this song on her daily dance warmup tape that she uses in the Intermediate Musical Theatre Production group. To see these talented and dedicated young actor/singer/dancers doing floor exercises and singing along at the top of their lungs thrills me. I feel lucky to know each of them. [#‎NowPlaying‬ "Kaleidoscope Heart" by Sara Bareilles from Kaleidoscope Heart] (July 11, 9:29 p.m.)
Had mic check and quick rehearsal this noon for tonight's open dress rehearsal for Collage. My MD just texted me that I don't get any bonus points for playing all the notes. (I guess the harder notes can be dropped.) (July 13, 2:59 p.m.)
My first performance at Interlochen Arts Camp. "Food, Glorious Food" (July 13, 9:30 p.m.)