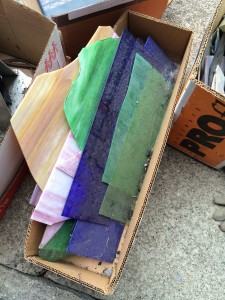 Or "Too Many Interests, Too Little Time"
I've been saying for at least a year that I need to decrease the amount of stuff I have. Two years ago (2012) I decided I was going to make a mosaic tabletop for the breakfast nook. I found a great stash of glass and tools on Craigslist and laid down $100 for it. I found the pattern I wanted and bought the plywood to do a sample, and that's about as far as it got! 🙁
I stripped wood trim in the breakfast room that summer, hoping to get rid of paint and go to stain. But when I saw the "seam" down the middle of the door jamb between the dining room and the breakfast room, I realized that 1927 construction practices of upscale-ish homes dictated that more expensive wood went in the "public" rooms and the "family" rooms were relegated to lesser quality wood. Once I came to grips with the difference in the woods, I changed my plan for the breakfast room. Gone was the idea of creating a bar table—I had been pondering for a year and couldn't decide exactly what I wanted anyway!. I found a lovely creamy/yellow/ecru/beige for the walls and a bright white gloss for the woodwork. Two years have gone by now, and that is still my favorite room in the house. Well, that and my office that the Jazzman created for me four years ago.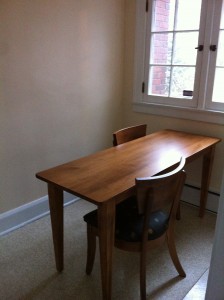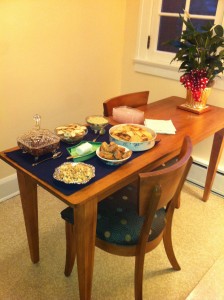 While I was involved with the painting, I also consulted with my interior designer about window shades for my office. When she was here with sample books, we talked about the breakfast table. She showed me some work done by a local consortium of Amish woodworkers and I fell in love. I could choose the exact size, the leg style, the top style, the wood on the top, the wood on the legs. And I could get exactly the chairs I wanted and upholstery that pleased my finicky eyes. That table and chairs are now my favorite furniture possession. Well, that and my 1915 Steinway Model A.
But once that table was in place, I had no more need for all that glass. I loved the mosaic class I took at Ochoa Stained Glass when I lived in Tucson. I loved the glass tabletop I made for an art deco cocktail table. But I also love hot and warm glass work, pottery, wool felting, beading, fabric dyeing, sewing, …. Basically, I love learning. And after two years of walking around six boxes of glass hogging a portion of the garage floor, it was time to let the glass go.
I took the afternoon yesterday to brush the dust off all the glass, reorganize it, and post it on Craigslist. I put a price of $75 on it, although the Jazzman thinks I'm too generous. (I told him I watched it languish for months on Craiglist before I bought it, and just wanted it to go-go-go.) This morning, my inbox held a query from a potential buyer. I don't want to jinx the sale, but she's scheduled to come by tomorrow morning (driving an hour to see/buy this glass).
I believe this is just the impetus I need. I released a bunch of glass rods yesterday to a local lampworker who will make good use of them. I have set aside some felting materials, ready to post on eBay. I'm hopeful that, by the end of July, I'll have pared down my sewing room.
Ah, the luxury of being able to walk through a workspace without watching every step I take!
P.S. Ta-Daa!! All gone. Clean garage. (Picture showing that spot where the glass used to be!)