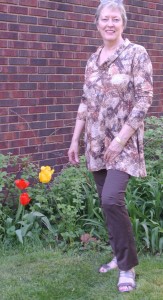 Hot off the sewing machine today is another pair of Marcy Tilton's Vogue 8859. My first attempt occurred last week.
Today's version proves one can improve upon success. I wore the gray slacks two or three times last week to test them out. Each time, I found myself pulling and tugging at the waist and hiking the pants up. The more I thought about it, the more I realized they were too big.
I purchased another piece of fabric from MarcyTilton.com, this time a cotton/poly/lycra blend from Theory. Marcy calls it Cocoa Canyon Stretch Woven. This has a sateen finish on the right side and is nice to touch and nice to wear. I cut it out last night and spent about three hours on it today. And now I have a great new pair of pants.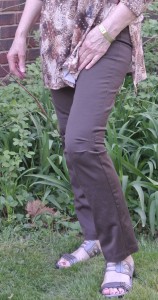 The lycra in this fabric is what really makes these pants. They're skinny, yet very comfortable.
They don't have a pocket, as it would destroy the line. But they're going on vacation with me, so I really want a pocket. I snagged the pocket from Diane Ericson's Panel Skirt and Vest (NLA). See that little external pocket on the skirt on the left in the picture? I sewed that up from a scrap of the pant fabric. There was no waistband or seam to sew it into, so I made a little "rod pocket" along the top (think of your curtains).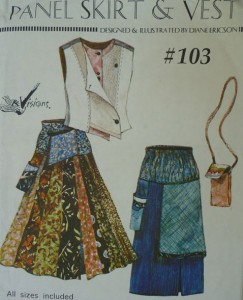 I'll make a little strip to go through that rod pocket with a buttonhole on each end. Then I'll sew two flat buttons over the waist elastic, and I'll have a nice pocket to tuck my spare Euros into.
The top I'm wearing? Marcy Tilton's Vogue 8582. I didn't like the drapey extension, as the wrong side of this fabric is white and it just didn't look good peeking out of this soft brown/taupe print. I cut the drapey extension off and left a vent in one side, sewing the other side closed. The cowl neck collar is stolen from StyleArc's Amy Knit Top. The fabric is a soft rayon knit that came from Waechter's Fine Fabrics in Asheville. (Every time I have to drive ten hours to Asheville to visit my mother, I reward myself with a quick side trip into Waechter's.)
I made this top to wear to Italy last year, and it's one of my favorites. Now that's especially true with these great pants underneath.