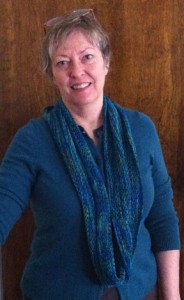 I just completed my first knitting project since I broke my wrist on 11/30/2012 and had surgery to install plate on 12/7/2013. I follow The Buffalo Wool Company on Facebook. A month or so before my Fateful Fall, Buffalo Wool Company posted a picture on FB of a skein of their hand-dyed "Tracks" in a color they call Black Bunny 2, a wonderful mix of shades of blue, aqua, and lime. Tracks is comprised of mostly superfine superwash merino, with a little bison for warmth and strength. This yarn is soft!!
I ordered a hank of the yarn, 400 yards. It was placed in my mental knit queue to follow the ruffle scarves I was knitting for my grandchildren's Montessori teachers' Christmas gifts. And then I fell and wondered if I'd ever knit or play piano again.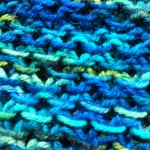 In January, during my two-month stint of sitting on the couch all day every day, I received my weekly email from nearby Wolf Creek Yarns. They posted a photo of the Madelinetosh Honey Cowl, and I thought it might be the perfect pattern for my hank of Tracks.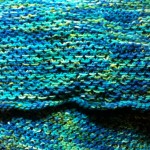 In early February I cast on the cowl. I tried for several days—my wrist still in a brace—and could only knit 50 or so stitches before the pain would be too great to continue. I would try again every few days, but could never get much more than 50-100 stitches completed before I had to quit. Then in mid February I graduated from the brace and began physical therapy. Well, guess what — my doctor considers knitting to be good therapy for strengthening a broken wrist. Yea!
I knitted five or so rows every night while watching television. Last week I made a big push to get this thing done so I could move on to other projects. Over the weekend, I finished my new cowl. It perfectly complements the cashmere sweater given to me for Christmas by DBF.
This cowl will be to me—forever—a symbol of progress and accomplishment.
---
Why "Honey" Cowl? The pattern is
knit one row; [purl 1, slip1 wyif] for one row, knit one row, [slip1 wyif, purl 1] for one row
. The slipped stitches give you a pattern that looks like honeycomb. Love it!