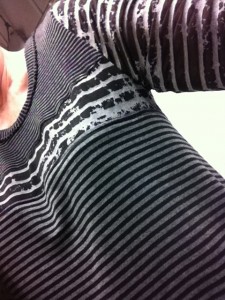 Another of Marcy Tilton's "Cool Combos" that came home from California with me was a bundle of gray and black stripes—one with the stripes about ¼ inch wide, one with narrower stripes, and one with sheer black stripes and abstract gray stripes.
The pattern I chose was another of Katherine Tilton's tops—this time Vogue 8817. I liked the sheer stripe so much I decided to use the sleeve from view A/B, but without the trim strips. For the body I used view C. On the middle stripe on the upper front, I used the sheer, but doubled it (cut two of the pattern piece and layered them) so my bra strap wouldn't be so visible through the fabric.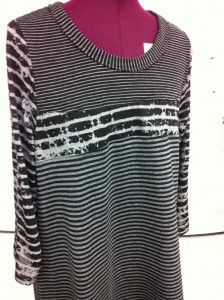 Laying the pattern pieces on the fabric to try to make the stripes meet on the side seams took me a long time. I need to figure out a better way to make sure the stripes are straight on the fabric. But my work paid off—I was very pleased with how they matched.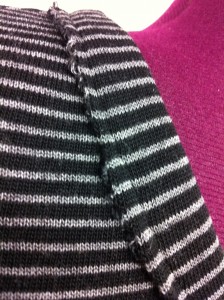 But the part of this top that I am the most excited about is the binding on the neck opening. I had heard Marcy talk about this treatment, but had never tried it. I cut the binding strip along the selvedge, which had a rough, fringy edge. Instead of sewing it on the outside and wrapping to the inside, I sewed on the inside, wrapped to the outside, and topstitched a ¼ to an ⅛ inch from the selvedge edge. Because I'm working with a knit, I don't have to worry about fraying. I have a decorative edge at no extra cost.
I've been sewing since I was 13, and it's great fun, almost 50 years later, being able to draw upon a lifetime of experience to quickly and easily make a new top that would probably cost me $100 in a high-end boutique.