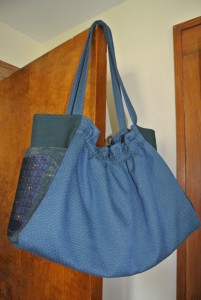 On the evening before wheels-up to France, I finished the tote bag to keep me sane on this trip!
My friend and fellow fiberphile, Mary Lou Alexander, recently destashed and transferred some goodies she no longer needed to my stash. I wanted a new bag for this trip and started digging into her upholstery fabric remnants. Voila! (as they say in France).
Marcy Tilton has designed a number of great handbag patterns for Vogue, but Vogue 8590 fit my needs. My small travel purse doesn't carry enough things to get me through a long plane trip, so I always like to have a tote large enough to carry my travel purse, along with my carry-on that holds things I won't need until I arrive but don't want to put in checked baggage. (Camera, jewelry, adapter cables, etc.)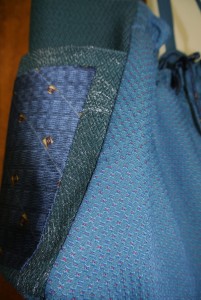 I'm not going to say a lot about this bag, as I'm still not completely packed. But it's perfect. It's Very Big without feeling or appearing to be Very Big.
There's one glitch in the pattern instructions, if you're making the bag. The illustration for attaching the straps is incorrect. Look at the pattern envelope picture and the illustration on the pattern back and apply your own brilliant logic. I also didn't quite get the pleat in the inside pocket. Next time I make this bag, I'll add more and different pockets, but time was of the essence on this one.
The exterior is two upholstery fabrics. The interior is a remnant of lightweight silk noil that was lying around. The cord to tie it shut and the patch on the side pocket is one of Jas's old ties I cut up. Why did I put that patch on the pocket? (No, it's not a secondary pocket. It's just a piece of silk handsewn into place.) I tried silkscreening a cool design on the pocket. Nope, the upholstery fabric was too bumpy to take it. So I decided to stencil a design over it. Again, nope. So how could I hide the mess of paint now sitting on the pocket? Why, put a patch over it.
I carried the bag with me last night to my son's dress rehearsal for "Legally Blonde, the Musical" at the Youngstown Playhouse. What a great bag! Pockets on each end just the size for a water bottle. If I want to drop my phone into that pocket, it's down deep and no nasty European pickpocket can get his hands on it.
And a final note: That bag I made of French-themed fabric? It felt too light for me, like it wouldn't hold things I wanted it to hold. So I laid it over the end of the plastic-covered ironing board and painted it with diluted Crafter's Pick Fabric Stiffener. Now it's great and is being folded and tucked into my suitcase.
Au revoir!
P.S. After walking around Pittsburgh International Airport for a couple of hours: That exterior side pocket is the perfect height for one's passport and boarding pass. Inspired!