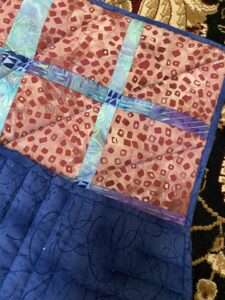 Somehow I appear never to have blogged about this wall quilt. The pattern is called "Harmonic Convergence Quilt," and the designer is a multitalented cool guy named Ricky Tims.
I wanted to show it to a blogger who is making one. I don't have her email address, and her blog, on the blogger platform, won't let me paste my photo in the comment field (wisely, I'm sure!), so I thought I'd just drop a picture in here, then tell her on her blog.
I made this little quilt, which I love, back in around 2002 or 2003, but didn't know what to do with it. So about ten or so years later, having moved from Tucson to Youngstown to be near my grandchildren, I chose a backing fabric and took it to a long arm quilter who lives in Newton Falls, OH, about half an hour away. She's brilliant. She can look at a quilt top and immediately say, "I think [blah blah] would look nice on that. She suggests the appropriate sandwich of battings, and when I return, a couple of months later, it's ready for me to bind and add a rod pocket. She chose to run a starburst of lines of quilting from the center out to all corners and sides. I love it.
The moral of the story is "just do it." You have a quilt top hanging around your space? Ask around, find a longarm quilter, and just get it quilted. You won't be sorry.