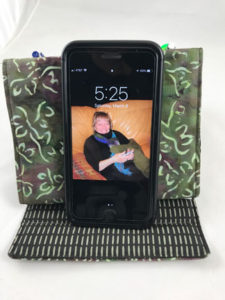 The Jazzman bought himself a new iPad Pro, after four years of reading his morning news on an iPad Mini. His new-to-him device came with the keyboard case, which gives you a full keyboard on which to type emails, but doesn't give you the right support to position the device in landscape mode on a table. When he drooled over the case on my new 2018 iPad Pro, I immediately thought, "Sara Lawson included a device stand in her Minikins Season 2."
When I had this thought, there were four days remaining before my guy was leaving for a week in Florida with his cousin. And I had Friday afternoon lessons to accompany and a Friday night rehearsal, as well as a Sunday afternoon rehearsal before Sunday evening dinner plans. Could I make the Sewing Room Stand in that amount of time? Fortunately it's a very easy make. No zippers. No hardware. Just fabric and interfacing and seams. So make it, I did.
The saddest moment was when I went to test it after stitching the last stitch and trimming the last thread tail. I leaned my big iPad Pro up against it, and down it went. It wouldn't support the 2018 iPad Pro! So I took it up to the dining room and leaned his iPad Mini against it. It wouldn't support the Mini! Now what the hell was I going to do. I put my phone on it, and it didn't really even support my phone.
Then I remembered that I had bought him a small spiral notebook and a new mechanical pencil and pen. I ran back to the basement, grabbed those items, came back upstairs and put them into the mesh pockets on the back. Then I prepared to take a video of the stand collapsing. But it didn't collapse! The pen and pencil on either side of the back was apparently just what the stand needed to support the devices. It didn't collapse with the Mini on it. And when I took away the Mini and put his iPad Pro on it, IT STOOD UP! It supported the device. Yippee!
Now I'll just have to remind him to never remove the pen and pencil.