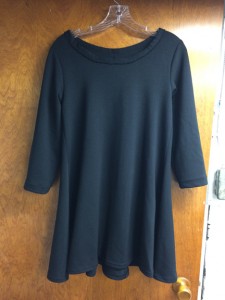 Now that my primary page-turner is a teenager, his social life gets in the way of his helping Grandma keep the music flowing. For tonight's performance, his eleven-year-old sister will be turning for me. She's not nearly so experienced as he, but when I tell her she has to pay attention, she soberly nods and stays focused.
The problem? Her wardrobe consists of lots of bling and bright colors. To her, colors that coordinate are simply whatever she pulls out of her drawer or closet without looking. As into sewing and fashion as I am, it makes me batsh*t crazy to see some of the outfits she assembles. But I shut my mouth, hoping that—in a few years—she'll grow out of it.
In search of something for her to wear this evening that will allow her the cloak of invisibility required of a page-turner, I turned to Butterick 5954, which I made a year ago for her. She loved it and it fit beautifully.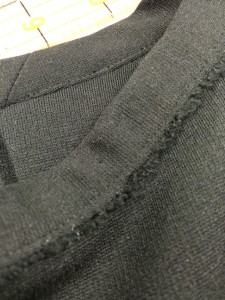 She's growing like the proverbial weed. At 11, she is now over 5'8″. She wore the velour version Thursday night for dress rehearsal with a new pair of (Ladies' Size Medium) leggings I had gotten for her at Dillard's that afternoon. I noticed the front is bordering on too short (crotch-revealing). But this top goes together quickly, and with an added inch in the front, it would be fine. (Second picture shows detail of the neckline finish I chose—using selvedge for binding.)
Here's the review:
Pattern Description: MISSES TUNIC: Close-fitting and flared, pullover tunic has front variations, shaped hemline and narrow hem. Wrong side shows on back hemline. C and D: collar.
Designed for lightweight Two-way Stretch Knits. I chose view B – collarless and ¾-length sleeves.
Pattern Sizing: Combinations: Y(XSmall-Small-Medium), ZZ(Large-XLarge-XXLarge) I cut a Small.
Did it look like the photo/drawing on the pattern envelope once you were done sewing with it? Yes
Were the instructions easy to follow? Only checked them a couple of times. If you've sewn knit tunic tops before, you know what to do and in which order to do it.
What did you particularly like or dislike about the pattern? The skirt fullness. Perfect twirliness for an 11-year-old who looks like she's 15.
Fabric Used: Fabulous black ponte knit from MarcyTilton.com.
Pattern alterations or any design changes you made:
– Added an inch in length at the hem.
– Interfaced back shoulder seam to stabilize.
– Interfaced hem allowance on sleeves and skirt bottom to stablize for double-needle stitching.
– Used a Tilton trick of using the knit selvedge for neckline binding: Sewed shoulder seams. Trimmed 5/8″ off neckline (pattern said to fold and stitch, which is my least favorite way to finish a neckline). Cut 2″ wide strip of selvedge about an inch less than the neckline circumference and seamed into a circle. Sewed right side of binding strip to wrong side of neckline, matching center front and back, and stretching binding to fit front. Pressed binding to the seam allowance, then wrapped the seam allowance with the binding so the frayed edge of the binding just covers the binding/neckline seam. Topstitched the binding just inside the frayed edge. Lovely and unique!
– Cut the back length closer to the front length – didn't want it as much longer in the back as the velour version I made was.
Would you sew it again? Would you recommend it to others? Darn, wish I had made it for myself!!
Conclusion: Easy, quick to sew, flattering top. Highly recommend to add a staple to your wardrobe.
My previous review of this pattern.
---
I definitely want to try a version of this for myself. I think it's a very flattering top. Now back to practicing for tonight's show.
P.S. Ridley in her new top.
---
Response to a thoughtful question from @blondieinparis on PatternReview.com, asking what seam allowance I had used after trimming the 5/8″"from the neck edge:
Here's my logic: if I had just turned under and stitched, as the instructions said, my finished edge would be the cut edge minus 5/8″. So I trimmed off 5/8″.
I used a 5/8″'seam allowance on the binding: right side of binding to wrong side of neckline and stitch 5/8″; press the seam allowance flat then press binding over seam (now 10/8″ have been used); wrap snugly to the front, overlapping the seamline (15/8″ used, plus 1/8″ to overlap = 2″ width to cut binding strip). Topstitch 1/4″ from selvedge edge on the right side of the garment.
If you look at the closeup picture, you can see how my stitching is just inside the seamline, through all four layers of neckline seam allowance and binding. Because of the lightness of the fabric, this works beautifully – not bulky at all It wouldn't be as nice on a heavier fabric, I believe.
Thanks for asking, @blondieinparis. I think I first learned this from Katherine Tilton in her Vogue 8817, documented here.