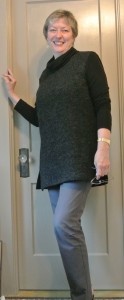 I needed some black sweater knit yardage for a project. I found and ordered this "Warm and Cozy Sweater Knit" on Gorgeous Fabrics' extensive and well-stocked site. When it arrived a couple of days later, I quickly determined the color was not what I needed for the planned project and tucked it away for future use.
At the same time, while planning this top, I picked up a lovely piece of viscose jersey at The Cloth Merchants.
When I determined it was time to get the "Warm and Cozy Sweater Knit" off the corner of my cutting table, I laid my hand on the jersey and had an "aha" moment. I searched my pattern drawer, and came up with Loes Hinse's Cowl Top. This was a pattern I had made before, years ago, and loved. And it was, in fact, one of the patterns recommended by Gorgeous Fabrics for this particular fabric.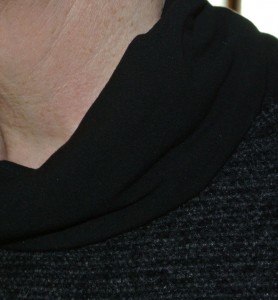 As I pulled everything together and started examining the fabric closely, I realized, to my chagrin, that this was, indeed, not a knit. Where the fabric description had said "Please note: while this is a knitted fabric, it does not have a lot of stretch to it, so I would treat it like a woven.", it was a woven.
I would not be deterred. I simply cut the cowl top in a larger size to allow for the lack of stretch, used the jersey for the sleeves and cowl, and forged ahead.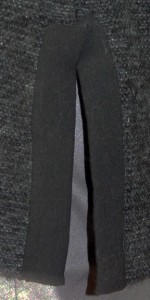 Once it was assembled, I tried it on and decided it didn't want the deep hem, as I wanted it to hang longer on my body. I thought of binding with the jersey all the way around the hem, but realized that if I sat on a brick wall or a chair with rough edges, I would destroy the binding on the back. So I simply turned up the hem ½" and topstitched. Then I cut 2¼" strips of the jersey and bound the raw edges of the slit. My hindsight "oops!" is that I didn't trim the ⅝" seam allowance before adding the trim. Oh well. "Live and learn" and other adages.
As I will be letting Ann Steves of Gorgeous Fabrics know I've written this post and referenced her site, I must state clearly and adamantly that this is the only problem I've ever had with an order from her store. Her fabric is the highest quality; her customer service is impeccable; her fabric and pattern suggestions are brilliant. I have shopped there since I discovered her a couple of years ago, and I will continue to shop there.
I'm all about learning, and this was just another learning experience.
Notes: The color in the photo of the collar is the truest to the fabric's actual color.

I wore the top with the new Marcy Tilton gray slacks for photographic purposes only, so you could see the hem. I will be wearing it with black leggings and boots. And I'll wear one of my Eileen Fisher silk knit tanks underneath for comfort.
I love this top! I have another piece of sweater knit that I got from Gorgeous Fabrics a couple of years ago stashed in the sewing room—it may just have to become another cowl top!