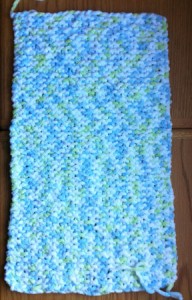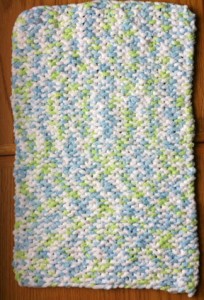 A music-friend of mine, Julie, is pregnant with her first baby. She's having some health issues (her, not the baby), and posted on Facebook that she was looking for stress relief. I suggested she learn to knit, as it's documented to relieve stress. She expressed an interest but also stated that she's not the craftiest person around. So I decided a) I would teach her, and b) it needed to be simple, and c) it needed to be washable.
I spent the spare minutes of several days searching for a simple blanket. The more I thought about it, the more convinced I was that I needed a garter stitch blanket. I really love this blanket, which uses garter stitch. But the yarn shown in the pattern is a tad expensive (mid-teens for one hank times 4 hanks, and two hanks of the border yarn at the same mid-teens number), and I couldn't figure out a yarn substitution.
I decided I would just do a garter stitch 36″-40″ square in an inexpensive, washable yarn. I walked through several local chain stores with yarn departments and, at Michael's, found Bernat Baby Blanket yarn. I bought one skein and cast on 24 stitches with size 11 needles. What I got a was very loose knit, and I thought those holes might snag little newborn fingers, and that wouldn't work. So I unknit the piece and cast on again with size 8s, just knitting the whole skein. I ended up with a 11″x20″ rectangle that is soft and squishy and washable.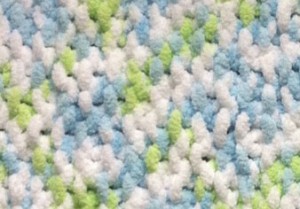 After binding off, taking the first picture above, and weaving in the ends, I threw the "travel blankie" into the wash along with a bath towel. Then I threw it into a permanent press dryer cycle for about 10 minutes, laying it flat on a table when I pulled it out. What I got was a very comfortable, snuggly blanket. The length drew up 2″ so that the finished dimensions are 11″x18″. I think that means I add one skein to the pattern to end up with a 36″-40″ square. I'll purchase 8 skeins, cast on very loosely 80 stitches, and knit until the length equals about 3″-4″ longer than the width. Then when washed and laid out to dry, it should be just what the baby wants.
I chose the "Funny Prints" colorway, to me "gender-neutral." (Yes, I know gender applies to grammar, not babies, but "sex-neutral" sounds kinda strange.) Tomorrow Julie and her husband will learn (hopefully) the sex of the baby. She can then choose the colorway she wants, and we'll sit down and learn to knit!
What do you think?