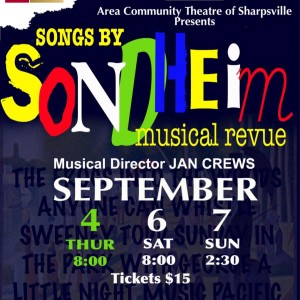 … as Mr. Sondheim wrote in "Sunday in the Park with George." If you are a Facebook friend of mine, you know I'm preparing for a Sondheim revue to take place on September 4, 6, and 7 at the Area Community Theatre of Sharpsville (ACTS) in a neighboring Pennsylvania county. As part of ACTS' publicity, I was interviewed by a reporter from the Sharon Herald by phone yesterday.
Let me preface this account by saying I've been sick as a dog since Sunday night. __As. A. Dog.!!!__ Three days of coughing and respiratory troubles and sinus pain and zero oomph. ("Zero oomph" is a medical term, you understand.) I had been in my pajamas since returning from urgent care and the pharmacy at 8:30 a.m. The first dose of Z-Pak was making me the tiniest bit better, but my voice was still gravelly, and my brain wasn't clicking too well.
The reporter called about 4:00 p.m. One of the theatre founders gave me a heads-up that he was going to call, but I had no idea the sort of things he would ask. I fear I came off as the biggest doofus in the history of regional theatre! First he asked about Sondheim's career and music. I'm sorry. I haven't studied Sondheim's body of work. I've been working my tushy off to organize and learn the music (including transpositions, transcribing the music into composition software where the sheet music wasn't available in the key the singer needed, cutting and pasting so I'd have sheet music I could actually read, and making recordings of melody or parts or accompaniment to help the singers learn the music) while simultaneously preparing for two Cleveland Orchestra and Chorus performances and beginning a new job in a totally new "career" path. Oh, and trying to have the tiniest smidgen of a personal life.
I tried to talk about the complexity and difficulty of Sondheim's music, where he changes keys four times per piece, and never into C or F or G major. The changes are always from five sharps to six flats and back again.
The reporter than asked how we chose the pieces on the program. Well, I don't know. In the original plan, Anthony Ruggiero and I were going to collaborate on this program. He was the musical director, and we would work together, possibly adding another piano or keyboard or synthesizer so we could have full accompaniments without adding extra instrumentalists. But then Anthony got a job offer and moved to Florida. I stepped in as music director. I didn't choose the music. I chose to learn the music!
There were more questions about the cast, the singers. Again, I'm new to the organization. I first laid eyes and ears on these singers in June. I'm still struggling to match names and faces!
Then he asked the kicker. Have you done lots of musical directing – what's your experience. By this point, probably six hours into the 15-minute interview, I was struggling to keep words together. I vamp real well on the piano. I don't vamp so well with words.
My career? I've been playing piano since age 3; I've been singing in choruses since age 8; I've been accompanying since age 10. I've got an A.A. in piano performance, a B.S. in computer and information systems, and a J.D. I've spent a thousand years sitting on church piano benches. I've been a bookkeeper, secretary, programmer, technical writer, legal writer and editor, database application developer, web editor-in-chief, ballet accompanist, staff accompanist at Walt Disney World, maker of beautiful-music-to-shop-by at Nordstrom, cocktail pianist at innumberable bars, …. Oh, and musical director of several musical theatre productions in the early 80s and a show in Tucson in 2006. This is not something I've done all my life. This is something I stepped into to help out a friend.
Ugh! Fear of failure!
I'm afraid this poor reporter may have gotten one sentence out of me that he could use.
In taking the Virginia Bar Exam four (or five—who can remember?) times, I learned I don't really test well. Maybe those who don't test well also don't interview well. Could that be?
That's my story and I'm sticking to it!