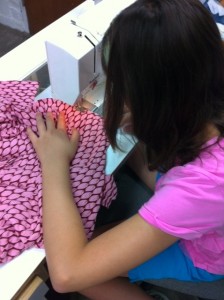 My ten-year-old granddaughter has begun expressing an interest in becoming a fashion designer. To this end, I found the "Sew Zoey"
books on Amazon and started her love affair with these books.
Inspired by Zoey, DGD decided she wants to make her back-to-school wardrobe–at least the outfit she wears on the first day of fifth grade and maybe one more outfit.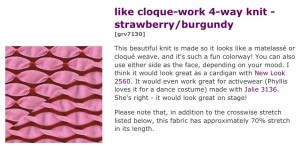 Thrilled for the opportunity to pass on my love of fiber, I began looking for an available time for a sewing playdate, and started to think about fabrics and patterns. While visiting the Gorgeous Fabrics site, I found a darling pink and red knit of acetate, poly, and lycra that I thought would appeal to this lover-of-all-things-pink. I dug into my pattern stash and pulled out a simple TNT, Textile Studio's Basic Top. The cap sleeve version–only three pattern pieces!–was just what the budding designer needed.
DGD spent the night with me last night, and our first order of business was to talk about laying out the pattern and cutting. I pinned one piece, she pinned the other. I cut one, she cut the other. When it was all ready for sewing, we called it a night.
This morning after breakfast we headed back to the basement sewing room. I showed her how to pin and sew the right shoulder seam; she pinned and sewed the left shoulder seam. And so on.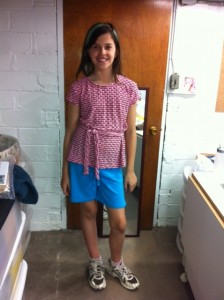 In retrospect, I could have chosen an easier fabric for her first project. The bubbly texture and 70% stretch of this fabric made it a little hard to control, but she hung in there. I took over at the topstitching of the hems. And I decided to add a binding strip to the neck opening rather than folding and topstitching, and did the sewing on that application.
To see the joy on her face when she slipped on the completed top–her joy mirrored the joy I feel each time I wear a garment I have made and garner compliments for my work. It's thrilling for me, and I watched as she experienced that same feeling.
She decided she wanted a scarf she could use as a belt to cinch the waist, so I cut a 4″ x ~45″ strip. She did the sewing all on her own, and I taught her how to use the Fasturn tool to turn the tube right side out.
When we were done and she slipped on the top and positioned the scarf around her waist, she said, "I'm going to wear this the rest of the day."
Success!
What's next? A skirt, she tells me.