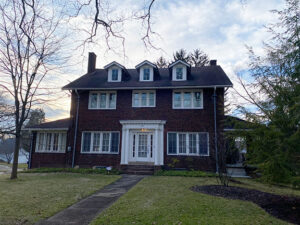 In early 2009, I bought a beautiful house built in 1927 on the north side of Youngstown, Ohio. Edward Villani, the dad of the family, built the house for the family. At the time of construction, he and his wife, Alexandrina—by 1927, she had adopted the name Alice—had married in Italy and emigrated together with their four-year-old son, James, in 1901. In all, they had seven children. At the time of the home's construction, the sons were James, 26; Alphonse "Red", 20; Ralph, 17; Frank, 15; and Joseph, 13. The daughters were Mary, 19; and Helen, 10. The eldest son, James, had graduated from Western Reserve University (now Case Western Reserve) for undergrad and then attended the WRU medical school. He set up a medical practice in Youngstown. A couple of years after his parents and his siblings moved into their new four bedroom home in Youngstown, Dr. Villani contracted tuberculosis. He left his Youngstown practice and went to Akron to be treated at Edwin Shaw Sanitorium, a hospital specifically for the treatment of tuberculosis. Once he was cured of the disease, he stayed at Edwin Shaw for the rest of his career, being instrumental in wiping out TB in the U.S.
Edward and Alice must have made a very comfortable home for their family. As of the 1940 census, all the children except James were still living at home, ages 34, 32, 30, 28, 26, and 23.
Edward worked as a mason in Italy before emigrating to the U.S. The 1940 census lists his occupation as brick mason, and the same for Alphonse. Frank is listed as a contractor, and Joseph as a timekeeper in building construction. Only Ralph didn't follow the family business—he was working as an insurance agent.
Helen, never having married, lived at home all her life. After the deaths of her parents, Alice in 1959 and Edward in 1968, and one brother, Ralph in 1975, she stayed in the home, until a fall down the stairs between the first and second floors in 2008 put her in a nursing home.
I had known since first touring the house with Helen's nephew that the father, Edward, had worked with Edward DeBartolo, one of Youngstown's most successful native sons. What I didn't realize was that Edward Villani was Edward DeBartolo's uncle. The 1910 census shows Rose Villani Paonessa, Edward Villani's sister, living with the family on E. Rayen Avenue in Youngstown. Rose's first husband, Anthony Paonessa, died shortly before their son's birth. Some time later, Rose married Michael DeBartolo, and Edward Paonessa adopted the DeBartolo name.
I loved reading Helen Villani's obituary, and am including the link here because I think you might enjoy it, too.
[Both the photos above were taken on Feb. 11, 2023. The blue sky version was taken around 2:00 p.m., and the afternoon clouds version at around 5:00 p.m. All the pictures I've taken in the past, which are in a Facebook album, were head-on. The clouds picture was offset, as I was trying the avoid the afternoon sun in the lens.]
---
Stories of our work to bring some 21st Century functionality to this beautiful old home.
Renewed Side Porch
We spend part of every lovely Northeast Ohio day on this porch, eating lunch or dinner, reading, enjoying the beautiful trees and birds.
Bathroom Round 2
Uh-oh. What's that under our feet when we step into the shower?
Three Six Ten Weeks of Chaos, January-March, 2021
Renovating a 1927 bathroom that was already renovated around 1952
Journey to Chaos, April, 2019
A journey of a different kind: a new kitchen for our 1927 home