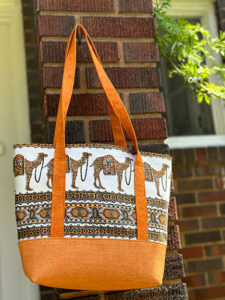 Two years ago, my mother's eldest nephew's wife (i.e., my cousin) texted and asked if I'd make some bags for her and her two sisters out of vintage fabric she purchased years ago on a trip to Egypt. (I may have gotten some or all of the facts wrong, but two years is a long time during a pandemic.)
I stay busy as a collaborative pianist at Youngstown State University, and have to make time to sew. And I had to choose a pattern. So I spent the entire summer of 2022 auditioning bag patterns.
For the camel fabric, I finally settled on the Tourist Tote Bag, from Sew Many Creations. If you're just starting out as a bagmaker, this pattern is an ideal starting point.
The fabrics I used to coordinate with the vintage camel fabric are:
The base is an upholstery vinyl from Richloom Fabrics' manufactured housing and RV line. My nextdoor neighbor is the designer, and she frequently gifts me with her unneeded samples. They are a dream to sew with. JoAnn's carries some Richloom home dec pieces, which you might also like. Or you can let Google help you find other vendors of the Richloom fabrics.
The straps are made from "Dimples" by Gail Kessler for Andover Fabrics. I believe the color name is Amberglow. Follow that link and look at all those incredible Dimples colors. I'll be ordering more of this fabric in the future!
The lining of the zippered pocket is Carved Rounds Batik in Orange, available from Lunn Fabrics. If you love batiks and don't know Lunn Fabrics, you've just found your new best sewing friends! They're located in central Ohio and have the best batiks made to their specifications in Indonesia. Here's that link, and look at those colors!
The bag lining it Whisper tonal floral, from P&B Textiles, but it's not on their website. If you want this orange, my LQS has it—Village Quilts in Canfield, OH. Type 00537 (the number 0, not the letter O) in their search bar. The number is the manufacturer's number for this fabric. I used Whisper Orange.
I shipped the bag to my cousin the day I finished it, and almost forgot to take photos. I received a text right after it arrived. She said she liked to always keep a "bag of bags" available if she needs to make an unexpected trip. So inside this camel bag will be a small bag of cosmetics, another bag of medications, maybe some device chargers, and so on.
Now to get started on the second fabric. I'm determined to have these done before the summer is over!
You can read about the two "sister" bags here.