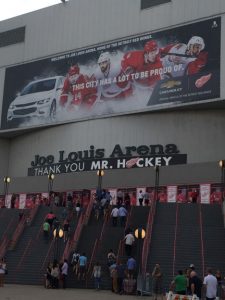 Friday, August 5 – Comedy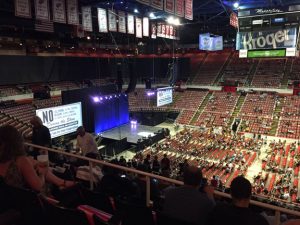 When the Jazzman saw that Louis C.K. was going on tour and performing a mere 3½ hours away from us, he immediately wanted to go. I don't love comedy the way Jas does, and I feel uncomfortable when confronted with blue humor, but I'm always up for a road trip, so the planning began.
We chose the Detroit St. Regis Hotel for the price; a points account Jas had made the room very affordable. It was a lovely old hotel in the New Center area of Detroit, just north of downtown. We left home at 10:00 on Friday morning, stopped along the way for lunch, and checked into the hotel around 3:00. We went to Le Musique, the hotel dining room, for salad and appetizers before the show, and took our first Uber ride to the Joe Louis Arena, where Louis C.K. was performing.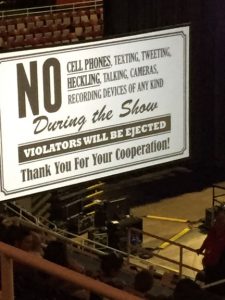 I'm more familiar with performances featuring music than stand-up comics, so of course I figured we needed to be there at 7:50. (And Jas humored me rather than try to explain the world of comedy to me.) As we were riding to the arena, we saw heavy traffic trying to get into the arena parking lots. Sure enough—the hall was far from full at 8:00. By 8:15 the crowd was building. At 8:30 the first of three opening acts took the stage. Each of the three comedians did a ten-minute set, and Louis C.K. came on at 9:00 and made funny, non-stop, until 10:30. He told us at the beginning that there were 13,000 people in the audience, and that this was the largest audience he had ever performed to.
He's very good at making his audience think, at nudging them in an uncomfortable place and stirring up controversy. He's unafraid to talk about forbidden topics. And he does it very well. I probably wouldn't have gone to the performance if it was just me, but I'm usually up for whatever Jas wants to do, and I did enjoy myself.
When the show was over, we pulled out the card of the Uber driver and called him to pick us up. He said he'd be there in ten minutes. Half an hour later he texted us that he couldn't get to us and suggested we call another driver. A moment later a cab drove by and we grabbed it. Seeing the traffic, and that only a few cars at a time were getting through the traffic light by the arena, the driver graciously took us off the meter. Once he got us up on the interstate (about 20 minutes later), I'm pretty sure he was driving 90 miles an hour. But the ride only cost us $25. Had the meter been on, I'm pretty sure the tab would have been over $50.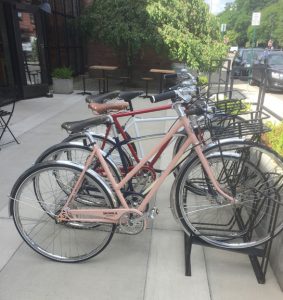 Saturday, August 6 – Creativity and Music
On Saturday morning, we went across the street from the hotel to the New Center Eatery for breakfast, where I had the perfect bowl of grits to go with my bacon, ham and egg scramble.
Leaving the car still parked at the hotel, we walked a block and a half away to the location of the Shinola factory and store, which is co-located with the College for Creative Studies in the A. Alfred Taubman Center for Design Education. We had read that tours of the Shinola factory were available where we could watch their bicycles being built. Alas, what we didn't see written anywhere are that the tours are by appointment only. But we learned their flagship store was located a mile away, at Canfield and Cass.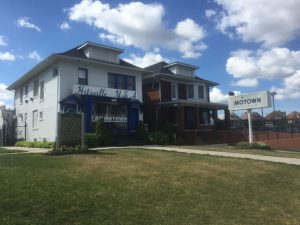 We decided to go next to the Motown Museum, a mile northwest on Grand. Jas said, "It's only a mile. We can walk that easily." After walking two blocks in the bright sunlight, I responded, "You may. I cannot." Ignoring his grumbling about my being out of shape, we walked back to the hotel, got the car, and were at the museum in five minutes.
It was now about 10:45 a.m. We snagged the last two tickets for the 12:30 tour, then drove to the Shinola store. (Note to potential visitors: get your tour tickets online before going to Detroit. The tickets sell out quickly. People who came after around 11:30 were not able to tour the building.)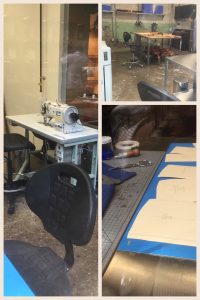 Before we began planning this tour, my only Shinola reference was the phrase, "He doesn't know shit from Shinola." I had no idea it was a real thing, real products. Boy, are they real. And constructed with the utmost quality. Stunningly beautiful. If you don't know, they make three different models of bicycles (which they will assemble before your eyes at the Canfield location), exquisite watches, and leather bags to die for. They have beautiful leather-bound notebooks, if $20 is your spending limit. There are a few other accessories, but the bags are what knocked me over. I've just started dabbling with sewing leather, and I couldn't stop picking up bags, unzipping, and exploring the inside the see what they do. Really. Exquisite.
I did make a purchase. Read about the Merit partnership with Shinola. A pop-up shop with the Merit students' designs and products was set up in the store the day we were there. As the representative told me what they had done for local students, that these kids had all graduated from high school rather than dropping out, and that they were all going to college with scholarship assistance, I was wiping tears from my eyes. I bought one of the Merit-designed notebooks to make my small contribution to the cause.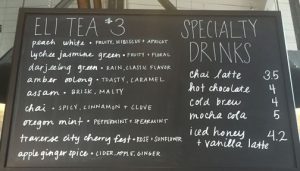 The sign from the coffee bar delighted me. I was not familiar with Traverse City Cherry Fest tea, but you know all things Traverse City, Leelanau Peninsula, and Interlochen delight me.
And then we walked out into the sunshine to explore the other shops in the area before heading back to the Motown Museum. I had not heard of Filson clothing and bags before this trip. I was so impressed with the designs and—again—quality of construction. Look at this waterproof bag!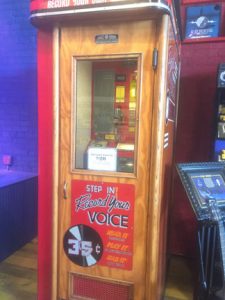 Next door to Filson was Third Man Records. Vinyl! They have vinyl!! They have listening booths. They have a booth where you can record your own voice. I was a kid again, going into Bill Baer records in Orlando and playing a demo record on the turntable to see if I wanted to buy it. Worth the trip just to hold a record jacket in your hand again.
With a few more minutes on the meter, we walked across the street into City Bird (acquisition: a new Great Lakes sticker for my car's rear window) and Nest (acquisition: a two-wick candle in a cute octagonal copper box with lid to sit in our bathroom and not be at risk of hitting the floor and shattering).
Then back to Motown. Oh my gosh. Again with me being a kid. Honestly, to walk through this complex and hear from the tour guide the brilliance of Berry Gordy's parents that was passed along to Berry and his siblings. These people rose above. A comment from Smokey Robinson planted the seed in Berry's mind to start his own label:
Berry received a check for just $3.19 as his producer's royalty for "Got A Job". Smokey Robinson, who was with Gordy when he received the check, told him "You might as well start your own record label. I don't think you could do any worse". Source
Two facts really stood out to me.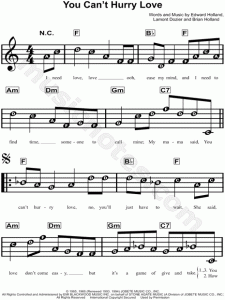 1) The people in power in the Motown organization knew these kids who had energy and great voices and an enormous love of music were going to have to mix and mingle with big names, important people, throughout their musical careers. Rather than just throw them out into the public, they groomed the singers. One woman was their etiquette coach. Someone helped them with clothing and makeup. Someone helped them learn how to read music. In the gallery was the spinet piano they learned on—little pieces of tape were marked with the name of the note. A. B. C. The sheet music was large print with the note name on each note. The singers had to sit at the spinet and learn how to read the music and how to find the notes on the piano. There are performing arts high schools that don't insist students learn to read music. This rule was brilliant on the part of the Motown people.
2) Studio A contained a Hammond organ, a Steinway grand that was nine feet in length, a vibraphone, microphones, amps, … everything they needed to make and record beautiful music. And it was open 24 hours a day and 7 days a week. Berry Gordy knew music didn't just happen between 9:00 and 5:00. Oh, and everyone who worked there had to clock in and out. He also wanted them to know it was a job and not just fun. (And just remember—the next time you listen to a recording from way back then—that's no junky piano that's being played. That's a Steinway built in 1877!)
These musicians were treated with respect by the management. The old candy machine (15¢) by the studio door still holds Little Stevie Wonder's favorite candy bar, a Baby Ruth, in its customary spot fourth from the right so Wonder always knew where to find it.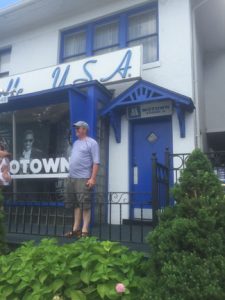 Honestly, I loved this tour. I recommend it to musicians, to anyone over age 50, and to anyone who's every sung into their hairbrush as if it were a microphone. (Jas wanted his picture in front of Hitsville, U.S.A., not realizing those 25 people standing on the sidewalk were waiting to have their picture taken and he would have to go to the end of the line.)
Our tour finished after 2:00 and I was exhausted. We went back to the hotel, where I fell asleep for a while. (Spoken by a non-napper!)
After waking up, I scoured the two Detroit magazines provided in our room, looking for a nice restaurant for dinner. When I saw the description of Cliff Bell's, I knew that was it. My second choice would have been something in the GM Renaissance Center (Ren Cen), but I'm so glad we chose Cliff Bell's.
We left a few minutes early so we could drive down along the river and view the architecture of the Ren Cen. I enjoyed seeing it and was very glad we had taken that side trip. As we circled back and started driving toward the restaurant, we still had about fifteen minutes before our 6:45 reservations. What I didn't know was that the restaurant was about two blocks from the baseball stadium. And a game was scheduled to begin at 7:05. As we drove up Woodward, one car was getting through each cycle of traffic lights. Finally I switched myself into explorer mode, took one more look at Google maps, and started twisting and turning on side roads, arriving at the restaurant at 6:50. (The Queen of the Back Roads strikes again.)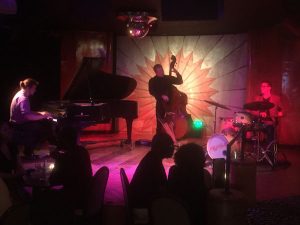 Something I read said walking into Cliff Bell's was like walking into an old Fred Astaire movie—so true! And the food was great. We shared a bowl of cheese broccoli soup to start; this was truly the best cheese broccoli soup I had ever tasted. I had a peach-glazed pork chop with house-made potato salad, cassoulet (YUM!!) and a grilled peach. Jas had a 10-oz. flat iron steak served with Yukon gold potatoes and a bacon, mushroom & onion ragû that he said was perfection. We shared the carrot cake for dessert—absolutely not your grandma's carrot cake. More like a perfect spice cake with a large dollop of creme fraiche. Really wonderful.
The live jazz featured the Daniel Meinecke Trio. Absolutely great. Mr. Meinecke is a recent Wayne State University grad with a B.M. in music. I noticed on the Detroit Jazz Fest program that he has a big band that will play during the festival. This evening couldn't have been more perfect.
Back at the hotel, we watched a little of the Olympics and crashed.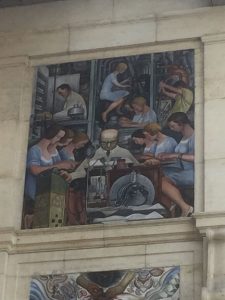 Sunday, August 7 – Art
In the morning, we packed up our belongings and went downstairs to Le Musique for breakfast. This is a sizeable dining room, and there were about eight diners—three separate parties—in the dining room. We ordered eggs, meat, potatoes, and toast. It took over half an hour for our breakfast to arrive! I had substituted grits for my potatoes. How can anyone do something like that to grits? Really, it's hard to ruin grits. I've only had it happen one other time on opening night of a restaurant named Monteen's that's down the street from our house. That time it was as if three times the amount of water was added to the grits before cooking. These grits at breakfast were the consistency of tapioca. Now, I love me some tapioca, but this stuff was absolutely the grossest!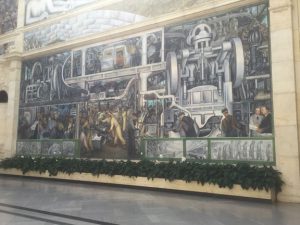 After breakfast, we loaded the car and drove down Woodward to the Detroit Institute of Art. Jas's cousin and his family had visited there several months ago and I saw their photos on Facebook, so I knew about the Rivera murals and wanted to see them.
What a treasure trove of art this institution has! As I walked through, admiring masterpieces from all periods of art history, I shuddered to think that the city's impending bankruptcy a couple of years ago almost turned these pieces into yard sale items. Kudos to every person who has ever donated at least a dollar to help support the arts!
And by noon we had had enough of the arts. We paused in the Kresge Court to savor the peace, then started for home. YouTube link. (You can tell how tired I was by the fact that I didn't turn my phone to landscape mode before starting to film.)
The drive took an extra half hour, as the Ohio Turnpike rest areas seemed not to have staffed up for a busy summer Sunday. But by 4:00, we were home and remembering a great weekend getaway.