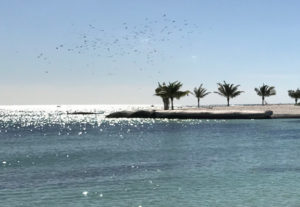 Ahhhhh. Winter of Unending Frigid Temps in the Northern U.S., but still beautiful on the Caribbean Sea coast.
We began planning in late August for a return visit to El Dorado Maroma (EDM). We began thinking about it the moment we climbed into the van to return to the Cancun airport last January! My fall semester was grueling and enervating–I couldn't wait to begin packing my bags!
We knew we wanted to leave home the first week of January, and I needed to be back at work on the 11th. So we chose 1/3-10/2018 as our vacation dates. The same seven of us who traveled in 2017 were making the trek to Mexico together in 2018.
But there was a slight glitch. The resorts on the Riviera Maya and travel agencies who feed to those resorts have worked out a charter arrangement from Cleveland to Cancun with Frontier Airlines. And the flight scheduled for 1/3/2018 only had six remaining available seats. Hmmm. Knowing how spoiled the Jazzman has become with my upgrading us to business class for our travels, and knowing I had sufficient miles with several airlines to upgrade this trip also, I volunteered that we would fly separately from the group. After checking flight schedules on American, Delta, and United, we decided to travel a day early. We would depart from Cleveland around 8:00 on Jan 2, transferring in Newark, and arriving in Cancun around 3:00 that afternoon. To allow for possible weather problems on the 2nd, we made a reservation at a Park/Sleep/Fly participating hotel near CLE for New Year's Night.
When the horrors of Christmas/New Year's blast of arctic air set in on us, we were very glad we made these plans. And all week, when we woke up and compared the Playa del Carmen weather forecast to the forecast for Youngstown, we were doubly glad! Once on the airport shuttle in Cancun, the driver asked which resort we were headed to. When we answered, "El Dorado Maroma," he responded, "No kids. No babies. Party, party!!"
By 5:00 pm on January 2, we were settling into our top floor room, looking out at the Caribbean Sea and deciding at which wonderful restaurant we would eat our first dinner.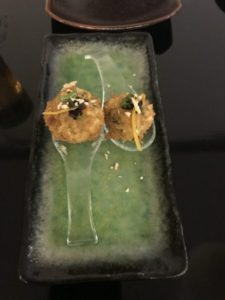 We chose Kiyoko, which we had enjoyed so much the year before. We were one of only three or four parties in the restaurant when we sat down to dinner. As we had experienced last year, the wait staff was charming and eager to serve us an enjoyable meal. We enjoyed the amuse bouche of a little nugget of rice and cream cheese. Then our waiter brought a ceramic tray with some shrimp chips, a dipping sauce, and edamame. The ceramics used in Kiyoko are just beautiful. I'd love to own a set of these, just to admire! We each chose the Shrimp Spring Roll for our appetizer, then followed this with Sweet and Sour Pork for the Jazzman and Thai Beef Tenderloin for me. We closed the evening with slices of fried plantain, accompanied by a scoop of vanilla ice cream. We were home.
And then we went straight to our room to crash!
Wednesday, Jan. 3, 2018
The Day Our Pals Arrive

Breakfast at our fave breakfast spot, Papito's. All the good food: omelets; grilled veggies; black beans; fried plantain; breads and pastries; cereals, both hot and cold; and a salad bar filled with fresh fruit. I was surprised to find my beloved guacamole on the breakfast bar. I bypassed it, planning to have some with chips for lunch.
After breakfast, back to the room to don swimsuits and go settle into a palapa.
(Wikipedia says: A palapa (a Spanish word of Mayan origin, meaning "pulpous leaf") is an open-sided dwelling with a thatched roof made of dried palm leaves.)
The Jazzman dipped into the ocean and declared it cold. I went in, up to my ankles, and raced out. We spent the rest of the morning on the bed-sized cushion in the palapa, reading, checking social media or the news, basically settling into being on vacation.
Back to Papito's for lunch. It was Taco Day on the grill. Excellent Mexican accoutrements for our made-to-order tacos. And look at that: chips on the salad bar, but no guacamole! When I asked a server, he went to ask the chef for some guacamole. Happy Jan! As we sat down to eat, we received texts from our travel pals that they were on their way from the airport. And when we were almost finished with our lunch, there they were! The wait staff set up a table for seven and we moved inside to sit with them while they ate.
The afternoon was comprised of more relaxation in the palapa. Then we met for drinks at Bar 24, and headed off to the Caribbean Grill for dinner. I wasn't feeling very hungry after two big meals already that day, so chose a salad and three veggie sides. The Jazzman chose braised beef. The most popular dish at the table was the coconut shrimp.
When the Jazzman and I sat down to dinner the first night, I vowed to write down what we ate each night so I would be able to recount it here and remember in future years. Alas, that hasn't happened. I will try to remember our meals from the photos we have taken, but I make no promises.
After dinner we walked over to Rick's Bar to hear an "Il Divo" cover group. I thought their voices and presentation were fine. I found them enjoyable. But, the sound system was cranked up so loud that I left after three songs. The show room at Rick's Bar is new since last year. It's really a nice space for musicians and other performers—far better than the old space. But there's no reason to crank the volume that high. Half our group stayed for the rest of the show. I went back to the room to read.
Thursday, Jan. 4, 2018
Another Day of Doing Nothing All Day Long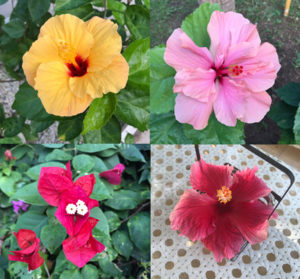 The members of the party tend to make our own plans for breakfast. The Jazzman and I go to breakfast about 8:30; M&M sleep and breakfast later; Maggie, Carol, and Jeanne, who have now been dubbed the "Sisters of the Sun" vary their routine from day to day.
For our second day oceanside, J and I breakfasted at the a la carte Italian restaurant, Mio. We started with a plate of assorted melon slices, and I tasted papaya for the first time in my life. (How had I, growing up in Florida, never tasted papaya?!) We followed that with Eggs Benedict, which included six tater tots, which appear to be the same in any language. Each plate was adorned with a cherry tomato and small cube of a soft cheese, topped with a little sprig of something-or-other. A pleasant way to begin the day.
After taking a short walk around the property, we settled into our favorite cabana, to spend the morning at leisure—reading, doing the crossword, generally doing nothing. We lunched at Papito's, and the afternoon was a repeat of the morning.
We had fond memories of the previous year's dinner at the Asian restaurant, Kiyoko, so we assembled there for dinner. We sat again at the "sushi table," that seats about sixteen and extends perpendicularly from the chef's workspace. The food here is delicious. The waitstaff, as at every restaurant at this resort, is friendly and exudes an aura of happiness. What's not to like?
Friday, Jan. 5, 2018
If Doing Nothing Works, Keep Doing It!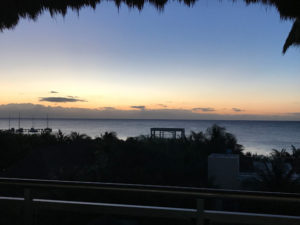 Each day has started out on the cool side, usually lower 60s. Cool enough that I need a jacket or at least a scarf at breakfast. By the time we settle into our cabana (Number 14, if you're wondering), it's very comfortable. There has not yet been a hot day. The water has not yet been warm enough that I wanted to play in the waves.
Breakfast and lunch at Papito's and a morning of doing nothing. J and I walked a mile down the beach past an abandoned under-construction mansion that we wonder about each time we see it. Rumor is that a local politician or pharmacy owner got in trouble with the law or ran out of money and abandoned construction. Choose your favorite rumor. The place is huge and would have been quite the party house, if it had come to be. I loved seeing a large osprey perched on the tall chain-link fence, shopping for breakfast. (Silly me–I thought it was a bald eagle and had to turn to my birder-pal, Marilyn, to learn that it was an osprey. This Floridian should have known that!)
Back at the resort, we settled into our cabana, checking the weather at home, and thanking our lucky snowflakes that we were in Mexico rather than Ohio.
J and I had both gotten snorkel equipment during 2017, having enjoyed our snorkel adventure last year and wanting to not use goggles a thousand other people had spit into. My other motivation was to have goggles through which I could see the screen of my underwater camera, so I got bifocal lenses. Neither of us had tried out our goggles yet, so after going back to our room in the last afternoon, J grabbed his goggles and snorkel and headed down to the (cold) pool to have a test swim.
Dinner that evening was a Mexican fiesta with lots of great local staples and some new-to-discover treats. The fiesta was scheduled for Papito's, with grill and mariachis outside, but after light rain prevented the setting-up of this feast, the venue was changed to the Caribbean Grill, where there was plenty of space for food and diners. Midway through our meal, the mariachi band entered. They were excellent musicians, but mariachi in a closed space tends to be overwhelming. We left before they could come sing at our table.
One of the things I love the most about the El Dorado restaurants is the desserts. They're all small. After a big meal, I always want to finish off the meal with just a taste of something sweet. These chefs make that a possibility. And the fiesta dinner was no different. There were probably fifteen varieties of desserts–a 1½" square of flan, a small cube of a tart or cake. Just right!
We retired to Bar 24 for more drinks and conversation, and (ever the early-to-rise/early-to-bed party animal), I went back to our room to read.
Saturday, Jan. 6, 2018
A Windy Day and an Incredible Dinner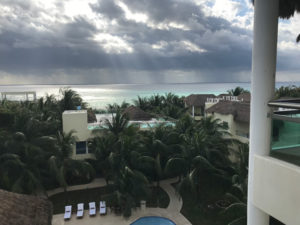 The day dawned with 15 mph winds and strong gusts. We breakfasted and lunched at Papito's and lazed in the cabana all day. What a way to live!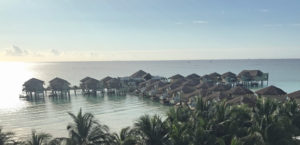 For our evening meal, we had decided to eat in the restaurant associated with the overwater bungalows. The palafitos, as they are called, are fairly new to this resort. One must be staying in one of these bungalows, be accompanied by a staff member, or be dining in the Palafito's restaurant to be able to walk out the pier by the units.
We were willing to pay the $50 per person upcharge to try this restaurant, if only for the experience of dining over the water. Oh. My. Gosh. Did we ever make the right decision for this meal!
Dinner – Palafito's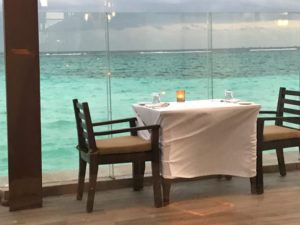 When we entered the restaurant only three tables were occupied, one of those being out on the deck. This restaurant was absolutely beautiful. White tablecloth elegance. Of course, the first thing I did was knock my cocktail over, spilling the liquid and ice all over the floor by our table.
The amuse bouche was two salmon bites, small and pretty and delicious. Then the server brought a tray of house-made bread slices and five butters—avocado, mango, regular, strawberry, and garlic. Such perfect little rolls of butter! Then there were salads that doubled as works of art. Mine was crab salad with watermelon, radish, feta cheese, and coconut lime curry dressing. J's was garden house salad, with baby vegetables, romesco (a roasted red pepper and almond spread), quinoa, avocado, and root vegetable dust. Really. Vegetable dust. Love it!! Honestly, most every dish not only at the Palafitos restaurant, but at every restaurant on the property, was a work of art. My dinner was pan-seared Chilean seabass with saffron fumet (a concentrated stock), crushed toasted peanuts, and chopped cauliflower risotto, and J's was grilled Canadian beef tenderloin, caramelized mushrooms, potato puree, grilled onions, and blue cheese cream. Karisma has partnered with Canadian Beef™ for all their properties, and it's just The. Best. Beef. And of course dessert: a bitter chocolate fondant with pistachio ice cream for me, and a caramelized apple with vanilla cream and plum puree for J. On the way out of the restaurant, we stopped in the restrooms to see the decor. Simply chic.
This was a truly memorable meal that I hope we can repeat every time we're back at this resort. Be sure to see the photos in the gallery below to appreciate the beauty of this place.
Sunday, Jan. 7, 2018
A Pedicure and a Private Dinner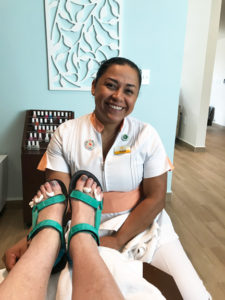 Sometime after booking through AllInclusiveOutlet.com, we received an email from the representative who had booked our vacation, saying that we would receive a complimentary "romantic beach dinner" during our stay. When we tried to make reservations for the seven of us to enjoy our beach dinner, we were politely informed that it was customarily served to a couple. As in a romantic couple. After going back and forth a few times, the "Sisters of the Sun" said they'd just do their own thing that evening, and J and M&M and I could go on our own for the romantic dinner.
After breakfast, I decided I wanted a pedicure, so walked over to the Naay Spa and was able to be booked in immediately. When I walked into the beauty salon, there was Marilyn getting a manicure. Great minds think alike.
I had a wonderful pedicure with the delightful Elena, a sweet young woman with great hands. I even went out of my comfort zone and tried a nail polish color unlike any I'd ever worn before.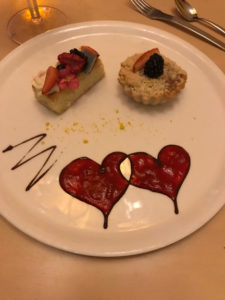 The rest of the day continued as normal—a lot of doing nothing—and in the late afternoon, the rain began. We checked with the restaurant where we were supposed to meet to be escorted to dinner on the beach, and were told it had been moved inside to the restaurant, which was normally closed on Sundays. There was no one else in the restaurant. We enjoyed a delicious dinner, pre-chosen from a special menu, in a private dining room where we could laugh as loudly as we wanted without bothering any other diners. Our desserts even had intertwined hearts decorating the plates. Romance is taken very seriously at El Dorado Maroma! Afterwards, we caught up with our pals and enjoyed more drinks and laughter.
Monday, Jan. 8, 2018
Now This is Heaven!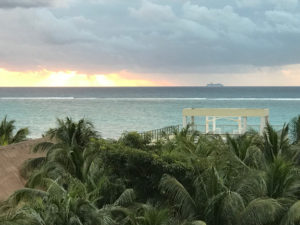 We've had pretty weather while we've been here, but this day was nigh unto perfection. The air was warm. The sun was out. And the ocean was warm enough to play in. So that's what we did.
After breakfast at Papito's, Jas headed again to the palapa and I took advantage of being able to tour a couple of the accommodations that I wouldn't otherwise have been able to see. Karisma, the parent company of the El Dorado resorts, has an Exotic Travel Club, their vacation membership organization. There are four levels of membership – Sapphire, Ruby, Emerald, and Diamond – with the benefits multiplying with each level you climb on the ladder. I was able to see an Emerald suite, which has the bedroom upstairs, a private pool, and is situated adjacent to the beach. It included a chef's kitchen, where a chef from the property will come cook dinner in your one-bedroom, one-and-a-half bath suite. It's a stunning way to spend your vacation. And I was able to see one of the Palafitos (over the water) rooms. There are windows in the floor of the living area, bedroom, and bathroom where you can look down at the water while you, um, sit on the toilet. (?!) I know the chances of someone being underneath your unit are minimal, but I'm thinking I'd be draping the shower mat over that potty window!!
Over lunch on the patio at Mio's, Jas wanted to know all about what I had seen and heard about the vacation club. And then we went back to more lounging in our palapa. Gorgeous day, and only one more day in paradise. Sad face.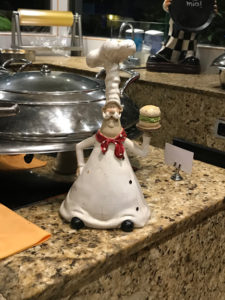 Dinner was a barbeque at Papito's, with all the side dishes on the indoor counters, and the grill outdoors by the pool. There was a torch show with fire eaters on the beach afterwards, but my peaceful room and a book were calling.
Tuesday, Jan. 9, 2018
Snorkeling and Packing Up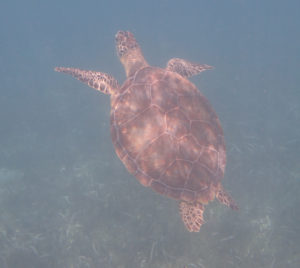 I woke early and walked nextdoor to Maroma Adventures where there is a Starbucks. Oh, so happy to have a mocha to start our final day at the resort.
The usual: breakfast at Papito's, lazing in the palapa, an early lunch at Papito's, then to the room to get our snorkel gear and head out. I hadn't tested my new equipment yet, so dipped in the pool by our building. All was well. We boarded a catamaran with about twenty other divers and headed out. This was a much better dive than last year—the sea was much calmer. We sailed up the coast and back for about half an hour, then took our first dive for about 45 minutes, where we saw a few fish, but, best of all, two sea turtles. I snapped and snapped with my camera, only to learn later that I had forgotten to switch it to underwater mode. Argh. The photos are still decent, but not quite as good as what I took last year.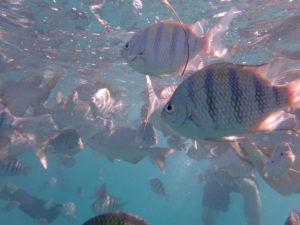 We reboarded, moved to a different location, closer to the reef, and dove again, this time for about half an hour. The cool thing the guide did this time was to take an empty water bottle and fill it with fish food. Once we had swum a ways away from the boat, he started tossing food out in the water. Within minutes we were surrounded by fish. I couldn't figure out what was happening when I heard everyone in the group laughing uproariously. They were laughing at the fish all around them. When I caught up with them, I just turned and snapped the camera repeatedly to capture as much as I could, knowing I could cull out the bad ones later. I saw some old cannon or similar piece of equipment underwater, covered with algae and barnacles. And as we were heading back, J saw some kind of big green eel.
What a great afternoon. I can't wait to go again!
We chose to have our final dinner at Mio, as the restaurant manager we had liked so much last year in Papito's, Augustin, now manages Mio. We had a delightful meal, being treated like we owned the place. And then back to the room to finish packing.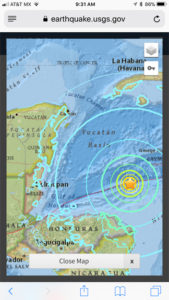 At a few minutes after 10:00, J had just come back from Bar 24 and I was sitting on the bed when I felt the bed rocking. I thought back to how much I had had to drink, but it was only my customary single glass of wine. J sat down on the bed and felt it, too. I questioned if it could be an earthquake. Sure enough, when I checked the internet in the morning, I realized we had felt an earthquake in the ocean near Honduras. We were very grateful the tsunami warning had been cancelled!
Wednesday, Jan. 10, 2018
Heading Home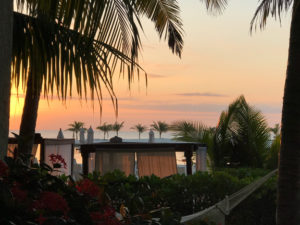 Breakfast at Papito's, hugging our wait staff goodbye, handing out tips all around, a photo in one of the photo spots, 9:00 a.m. luggage pickup, and 9:20 bus arrival for transport back to the airport. Hanging out in the Cancun airport, four hours in the air, and home to gray skies and cold weather again.
In summary, I highly recommend El Dorado Maroma. But with what I know of the Karisma organization and the El Dorado brand, I would recommend any of their properties. We're already talking about where we'll go next January.
Photo Gallery