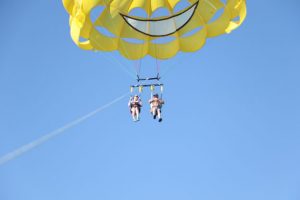 The nights are too long, the days are too short, the weather is too cold. Get me out of Northeast Ohio for a few days!
Back in August, we started talking over dinner with our best travel pals. We needed a plan to warm up and protect our sanity during the frigidity that is winter in Northeast Ohio (NEOH). Mike & Marilyn (especially Marilyn!) are always up for planning a travel adventure. They have visited resorts in Mexico many times throughout their marriage, and always came home with fabulous pictures. The Jazzman and I were interested, but had no experience with all-inclusive resorts, so we willingly accepted their offer to do the research.
We settled on El Dorado Maroma, booked through All Inclusive Outlet. (Allinclusiveoutlet.com if you want to browse their offerings). We would leave on Jan. 4 and return on Jan. 11. I would only miss one opera class and one voice lesson for the voice student I accompany.
Our flight on the fourth would leave at 7:00 a.m.—in cases like that, we book a hotel near the airport for the night before the flight, drive to Cleveland for dinner and sleep, and arrive at the airport with less stress than if we got up early enough for the hour-plus drive from Youngstown to the airport.
Unfortunately, the hotel we chose only had shuttles at 4:00 and 4:45, and we needed to be at the airport "no later than 5:00." Mike booked the 4:45 shuttle and I immediately felt anxious about not getting to the airport, through the check-in process, and to the gate in time. (Our flight was a charter flight arranged for use by resorts in Mexico. We couldn't check in in advance. We couldn't book our own seats. And it was a large plane, meaning a ton o' people would be hitting the line waiting for their boarding passes right at 5:00. Not the ideal way to begin a travel day.) Mike graciously recognized my anxiety and booked the 4:00 a.m. shuttle. I set my alarm for 3:15. In the morning. Argh!
Day 1 – Wednesday, Jan. 4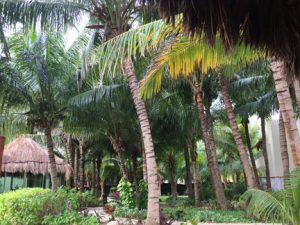 We made it easily through TSA before the crowds, although even at 4:30 there was a line at TSA Pre-Check! We probably waited 10 minutes to get through the line. Afterwards, we breakfasted at the Irish pub. As soon as we finished breakfast, we found our friends—the Jazzman's cousin, Maggie, and our Youngstown friends, Jeanne and Carol. When these ladies heard about our January vacation, they quickly signed up to accompany us. More fun! Pretty soon we were settled at the gate. In a few minutes, I heard someone call my name and looked up to find my fellow YSU collaborative pianist, Diane. She and her youngest daughter were also headed to the Cancun area for a few days at a resort.
The Cleveland temperature was above freezing and there had been no snow or rain overnight, so we needed no deicing; deicing can add a lot of time on the ground before taxiing. We took off, endured a few bumps because of weather, and before we knew it, we were touching down in Cancun. Went through immigration, retrieved bags, went through customs, found the Amstar representative to get to our resort transportation, and an hour later we were checking in at the resort and enjoying our first meal (at Papito's) in Paradise.
Shortly after lunch, as the housekeeping staff finished their tasks, we began being given access to our rooms. As the concierge began taking us to our rooms, we all tagged along to investigate each others' rooms. First was Mike and Marilyn's pool-, beach-, and ocean-view room. We oohed and aahed. Then we trooped two buildings over to see Carol's room, which had two beds and was equally lovely. (Insert oohing and aahing after each room introduction.)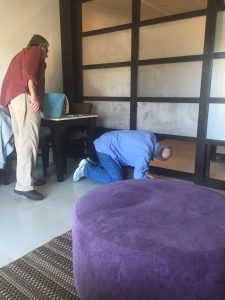 Then to another building and another room—Maggie and Jeanne's room. This one had one large bed. (Huh? We didn't understand the one-to-two and two-to-one ratios.) It also had a sitting area with a large pull-out couch and a screen that divided the two areas. We hung out there for a little while. Photo: Of course the guys had to explore the screen and make guy-jokes.
Finally the Jazzman and I got our room key. [Note: Before you see our fabulous balcony view, you must be made aware that the travel agency messed up our reservation such that in early November we learned we had no reservation! By the grace of the travel gods, they were able to recreate our reservation and upgraded our room as an apology to us. Yea. View.] We were located on the fifth floor of the northernmost building on the complex, and had an incredible! view out over the Caribbean.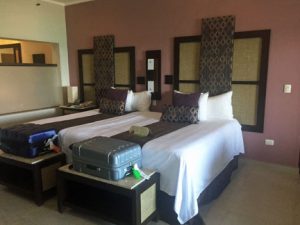 Now, before I tell you about the bed, I have to confess that the Jazzman and I are close sleepers. We each have our own dedicated side of the bed, and we like to sleep with one foot out from under the covers. But we touch as we're going to sleep and sometimes in the middle of the night and when we wake up. We're cuddlers. (Awww.) So when we walked into the room and saw a bed that was—gasp!—about eight-and-a-half feet across, we looked at each other and wondered what kind of arrangement that was! We'd get in bed each night and call out "Hell-o-o-o-o over there." (As I write this section of the blog post, it's Sunday afternoon and we've slept in this megabed for four nights.) This morning we tried to pull the two beds apart and realized some piece of hardware was holding them together. So I stopped in the lobby on the way to breakfast and told them we wanted the beds moved apart. The nice young gentleman at the desk looked at me as if to ask, "But why???!!!!"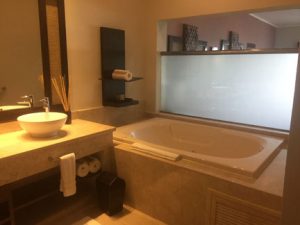 Back to the room. The bathroom is enormous, including a shower big enough for two, a Jacuzzi tub, and a "throne room" with a door. Yes!! There's also a sitting area with loveseat and chair, and a bed on the balcony. There's a mini fridge stocked with beer and water. What there isn't is decent lighting. And—horror of horrors—no reading lights over the bed. I'm appalled. But I guess if you want to read, you just grab a cabana on the beach.
After the grand tour, we all retired to our respective rooms to unpack and settle in. At dinnertime we met in Mio, the Italian restaurant, for dinner.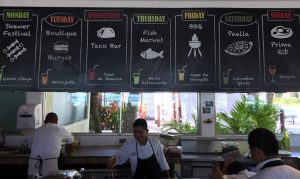 The food at El Dorado Maroma is wonderful! Menus are carefully planned. The food is well-prepared and beautifully presented. Each day Papito's has a different focus: taco bar, fish market, bar-be-cue, and so on. (See the photo of the daily menu over the grill.) Our first lunch was a taco bar where the meat and the tortilla was grilled in front of us. Salad fixings are plentiful. There are always options if you don't care for the main menu item. Desserts are light and the perfect finishing touch to the meal. And everything is included (except higher-option wines and spirits). Oh, and let me wax rhapsodic about the guacamole that's on the salad bar every day. Oh. my. tastebuds! I normally don't eat guacamole (although I love avocados) as it routinely contains raw onions, which can trigger migraines for me. All you taste in this guac is avocado. The other evening, I met the chef who makes it. He told me the ingredients and I couldn't believe it. Onions, garlic, lime, tomato, cilantro. All I tasted was avocado and deliciousness. When I get home, I will be experimenting with guac recipes to duplicate this taste treat.
After dinner, we stopped by Bar 24 to hear Ana, a young woman with a lovely voice, sing, accompanied by guitar and bass. As beautiful as the music was, we had been up since three-something and were all ready for bed.
Day 2 – Thursday, Jan. 5
A quiet, restful, vacation day. Today we tried breakfast at Papito's. (Breakfast is available in two restaurants—Papito's and Mio. Papito's offers cooked-to-order omelets, some Mexican dishes, typical pastries, cereal, and a wonderful bar of fruits and vegetables. And guacamole. ☺ At Mio, diners order off the menu: Omelets, waffles, pancakes, Eggs Benedict, and so on.) Then we headed to the excursion office to book snorkeling for Friday morning, parasailing for Friday afternoon, and introductory scuba for myself on Monday. Afterwards, I headed to the Naay Spa for a manicure and pedicure—an opportunity for this pianist to have her fingernails longer than ⅛" for a week. We found an available cabana on the shady row and settled in to read, listen to music, blog, and snooze. (We're both fair-skinned. There is a limit to the amount of sun we can endure.) Lunch at Papito's, dinner at Mio's, and music afterwards at Rick's bar upstairs. I bowed out of the music, read a little, and closed my eyes. All this relaxation is exhausting!
<A note about the cabanas.> There are two rows of cabanas. The first is situated at the top of the beach—upstage, if you're a theatre person. Behind this first row is a low hedge. Then there's a step up onto the lawn, where you'll find the second row. Several of these are heavily shaded by the palm trees that are planted along the first row. That means fair-skinned people (insert a mental image of the heavily-Irish Jazzman and 25%-Irish me) can lounge all day in the cabana and not get sunburned. Yea.
Day 3 – Friday, Jan. 6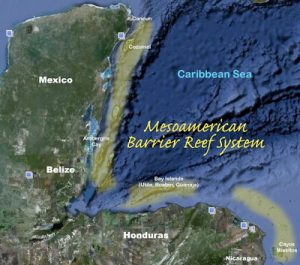 Friday was beautiful, and we knew we needed to take advantage of it, as rain was forecast for Saturday. We breakfasted at Papito's and then went back to our rooms to get ready for our snorkel experience. Mike, Maggie, the Jazzman and I were set to join sixteen other people on a catamaran to head out into the Caribbean.
I believe I had snorkeled once or twice before as a tween or teen, but considered myself inexperienced. Maggie had never snorkeled before. I won't kid you—it was not simple. There were so many hints, tips, and "rules" to follow! I think remembering to breathe slowly was the hardest thing for me. And high waves made it difficult to keep the water out of my snorkel and mouthpiece. When our first twenty-minute session was complete, I collapsed onto the trampoline, unsure if I wanted to go out again for the second session.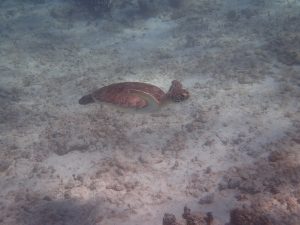 The second site was closer to the coral reef, something I wanted the opportunity to see. The Mesoamerican Barrier Reef is the second-largest reef in the world after the Great Barrier Reef, which is located off the coast of Australia. The waves break at the reef, not at the shore. That makes for easy swimming and playing in the ocean off the beach.
I couldn't have been happier with my underwater camera. It's an Olympus TG-4. Granted, I can't see the display screen very well when shooting underwater, as I'm not wearing my bifocals. So I just shoot a bunch and then cull out the duds later. I felt so lucky to get this sea turtle in action. I bought the camera last May a few days before my scheduled Bali trip, then had to cancel the trip after a fall. This was my first opportunity to use it, and I was very glad to have it.
After two hours on the water, we came back in and went to find our pals for lunch at Papita's. After lunch the Jazzman and I headed back to the dock to go parasailing. Now, if you had told me a week ago that I would e*v*e*r in my entire life go parasailing, I'd have said you were crazy. But when the Jazzman said he wanted to do it, I refused to let him go it alone. It was scary to me, especially when the wind blew us side to side. But the view from up there was incredible. I was very glad I went along, outside my comfort zone.
Dinner in Kiyoko, the Asian restaurant, where we fell in love with the sweet, young chef who was so proud of his work and so happy with our praise. Afterwards, our whole crowd went to listen to music and I went to fall asleep on my bed. Such a party animal!
Day 4 – Saturday, Jan. 7
Our weather apps were predicting rain all day Saturday.
At noon, a special football game was on ESPN and several of us wanted to see it. All I could work out was to stream it on the local Youngstown channel on iHeartRadio. The Youngstown State University Penguins were in the NCAA FCS Division I-AA championship against James Madison University. I had students who were there in the marching band, and—if asked—wanted to be able to say I had heard them play. The outcome wasn't what we had hoped, but there's always next year. When I got back to the room after lunch, I quickly turned on ESPN saw a few minutes of the game, in Spanish. I smiled, even though I didn't like the score!
The rain set in around 3:00, but a 72° rain is much more pleasant than the 33° rains we experience in NEOH this time of year! We relaxed in our rooms, then went to the Caribbean Grill for a light dinner before Mike, Marilyn, the Jazzman, and I boarded a cab to go to Cirque du Soleil Joyà.
I've seen five or six different Cirque shows, and I believe Joy@agrave; is my favorite of all. This is a permanent show at the Vidanta resort on the Riviera Maya. The beautiful Vidanta theatre was built just for this show, and has been open since November, 2014. As with any Cirque shows, the tickets are not inexpensive, but—for me—the excellence of the show was worth every penny. I enjoyed it enormously and recommend highly. The concierge at El Dorado Maroma arranged a taxi for us, which was only a ten minute or so drive from the resort.
Our seats included a bottle of champagne and a "serving tree" (my phrase) of [off-beat] appetizers and little desserts. (I would have preferred the seats without the appetizers and champagne, which would have been $30 less per person. And not just because of the price. With my migraine triggers, I can only have the tiniest sip of champagne and I don't eat something when I don't know what's in it. And those appetizers, no matter how stunning, were just an unknown quantity!)
The show includes an hour of great music beforehand. There's a trio of violin, harp, and drums, and several singers who come out. As this show is about the history of the Mayan culture, the music is indigenous to the area—and wonderful. I really can't say strongly enough to you that this is a Must-See show!
There was a longish wait afterwards for a cab to take us back to the resort. When we arrived, Mike, Marilyn, and the Jazzman wanted to go for another drink. I went (I know—you can hear it coming …) to bed.
Day 5 – Sunday, Jan. 8
After Saturday's rainstorms, the weather on Sunday was cooler. I didn't venture into the ocean or the pool because of the temperature. Yes, I'm an avowed sissy.
We breakfasted at Mio, lounged in our favorite cabana, then enjoyed lunch at Papatio's.
Sunday night we had dinner at Sabores, another Mexican/Caribbean restaurant. This was our first experience during the vacation when a waiter was less than wonderful. He must have been having a very bad day. All the other waitstaff we encountered were friendly and outgoing and right on the money in providing excellent customer service. This one—not so much. GUillermo didn't fill our water glasses or bring our drinks until we asked several times. He didn't understand the concept of serve-from-the-left, take-from-the-right. (I learned that concept as a child. I always lean the other way to help the waitperson more easily access the table in front of me. Because he was zigging when he should have zagged, I kept bumping into him. Awkward!) He couldn't remember which dish went to which diner, forcing us to try to remember what we had ordered and pass dishes around the table until each finally had his or her correct order. It's hard to stay in one's Happy Place when the service is lacking.
I heard snatches of the evening's after-dinner musical performance as I was heading back to the room to go to bed. It sounded lovely, but way too loud. <Rant on>Techies running soundboards need to understand that louder doesn't mean better.<Rant off>
Sunday afternoon the winds had picked up. All night long the winds blew, gusting to 25 mph. I was kept awake, partly by the winds and partly by the knowledge that I was taking my first scuba lesson in the morning.
Day 6 – Monday, Jan. 9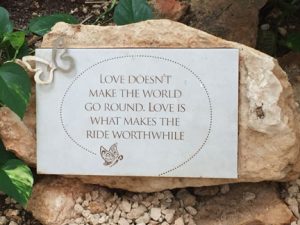 By the time I woke up for good at 6:00, my overactive imagination had worked my brain into a frenzy. I was ready to cancel the excursion and throw away the $125. But with encouragement in texts from my kids and from my friends at breakfast, I went over to the docks and talked to Joe, the scuba instructor. And wouldn't you know it? My angst was for nothing. The strong winds had caused the seas to be very unsettled and the dive was cancelled for lack of visibility. I left, after all the encouragement, determined to make it happen the next day. I knew I could quit after the classroom portion if I was uncomfortable, or after the part of the class in seven feet of water.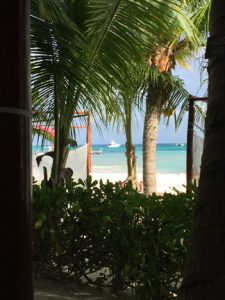 Greatly relieved, I settled into the cabana with Jas to read and relax. After all, we only had one more day in paradise.
We had planned to eat dinner at Mio, but were told the inside was closed and only the seating by the pool open. We felt it was too windy and cool, so went upstairs again to the Caribbean Grill. And who was our waiter? Oh, no! Guillermo again. He was only minimally more attentive this night than the night before. I left dinner a few minutes before the others, as I was feeling very tired and didn't plan to go to the fire-eating entertaining on the beach afterwards. As I walked out of the restaurant, the sky had just opened, and it was pouring! I went back inside and socialized until the rain stopped, then went back to the room.
Day 7 – Tuesday, Jan. 10
Again, the night was filled with strong winds, but I was not as anxious each time I woke. I knew I could go to the scuba lesson and at least get through the classroom portion without wimping out. And in the back of my mind, if yesterday's lesson was cancelled for lack of visibility and last night's winds were even stronger and the waves were 4′ or so, it seemed highly likely that today's lesson would also be cancelled.
We had breakfast at Papito's again, and our friends solicitously asked if I was scared. Seriously—we have wonderful friends. After breakfast, the Jazzman and I walked straight over to Maroma Adventures to find out about the dive. And, sure enough, it was cancelled. Inside my head, I danced a little jig. Then we headed for another day in the cabana.
We had lunch at Papito's again—burgers the size of bread plates! This day, lunch included delightful conversations with the [head waiter – whaddaname]. We talked to him about the palafitos (overwater bungalows). We were all intrigued by these luxury rooms and the luxury restaurant that was also situated over the water. But, as interested as we were, our paying $1,500-$2,000 USD per night for a room is highly unlikely!
More cabana time after lunch, then back to the room to begin packing before dinner.
We wanted to eat once more at Kiyoko, but lingered too long at the bar and lost our table. So back to Mio we went. And guess who our waiter was. Again. Guillermo. ☹ Oh, well. He was, again, a smidge better in his customer service.
And we went back to the room, to our final night's sleep in Paradise. As we were finalizing our packing, the Jazzman turned to me and said, "I want to call the front desk and ask if we can stay two more nights." We loved it.
Day 8 – Wednesday, Jan. 11
"A table for seven, please." Our final breakfast at Papito's. Saying goodbye our favorite waiters. Back to the room to get bags and to the lobby to check out. Climb into the van for the 45-minute trip to the Cancun airport. Boarding passes. Security. And a two-and-a-half-hour wait before boarding.
Marilyn said there was a shop she had to show me. So we walked over to the Pineda Covalin shop. Oh my gosh. What exquisite prints this designer dreams up. Intricate and beautiful prints fabricated into scarves and bags and—my favorite—a vest with a backpack sewn to the back. Very cool! YouTube video (in Spanish) with Sra. Covalin showing and talking about her designs. As I had been very judicious about my purchasing on this vacation, I felt I could splurge on a little makeup bag in her wonderful purple stained-glass monarch print.
The other shop in this airport that never fails to amuse us is the pedicure salon, where customers strip off their socks and shoes and place their feet in a fishtank filled with garra rufa fish, that eat the dead fish from the customers' feet. As we walked by, a grandma, mom, and son were each getting their dead skin eaten. The fish were having a picnic with the grandma and the mom, but completely ignoring the boy's feet. Aging at its best.
Soon we were on the plane, and just over three hours later we were circling out over Lake Erie and landing in Cleveland. A year ago, the Jazzman and I enrolled in Global Entry. It ensures we will go through TSA PreCheck in every airport that offers it, and that we will come quickly through immigration and customs when re-entering the U.S. This was our first re-entry since enrolling, so we really didn't know what to expect. Signs directed us to two kiosks, where we scanned our passports and placed our fingers on a glass to have our fingerprints scanned. In a few moments, a slip of paper was printed and dispensed by the kiosk. We then walked to the front of the list, where we were signaled to approach the next available agent, ahead of the hundred+ people standing in the regular line. He looked at our passports and the slip of paper and welcomed us back to the U.S. After getting our bags off the carousel, we were waved around the customs inspectors and got in line for the shuttle to the terminal. (The process in Cleveland breaks down here. We waited about 45 minutes for the shuttle to arrive. Someone needs to rethink this process.)
The Marriott Courtyard shuttle picked us up, took us back to our car, and we were on our way home through the cold NEOH rain. Back to real life. The Jazzman unpacked and started doing laundry. I went to rehearsal.
The Jazzman and I loved this vacation. As we said good-bye to each favored waitperson or housekeeper or concierge, we said, "See you next year."
May it be!