Tying up loose ends
Monday, June 18
Irish Whiskey, a Castle Lunch, and Bono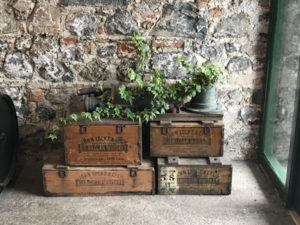 Again with the bags by our doors, a quick breakfast, and bodies on the coach. This would be the final time we'd all be together on the coach.
We headed east across the Emerald Isle toward Dublin. First stop was the historic Kilbeggan Distillery in the town of Kilbeggan, Co. Westmeath, to taste their product. The guide takes visitors through the historic side of the distillery to see how the whiskey was originally produced. Then you get to see how it's done nowadays. This is a boutique small pot still distillery—they only produce a small amount each year. (I was told the number, and didn't write it down and cannot find that number via google.) Here's a lovely video from Kilbeggan's website.
At the end of the tour, we were each given a taste of their product. Tasted like cough syrup to me, but what do I know?! Those in the group who routinely drink whiskey (like the one I live with), thought it was great. In the gift shop, I purchased a sampler of four miniatures for my son. As oats are used in the distillation, the gift shop also offers oatmeal cookies. Wonderful flavor!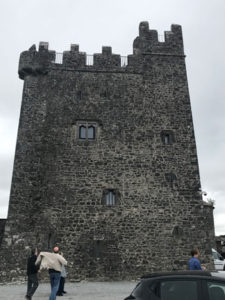 Back on the bus, we continued on the road toward Dublin, stopping at Tyrellspass Castle for lunch. We arrived at Trinity College around 2:30, giving us all a last couple of hours to explore Dublin before heading to the Clayton Hotel Dublin Airport.
We didn't need to do any shopping, so Marilyn suggested we visit Bono's hotel for a drink. The hotel's real name is The Clarence Hotel. It was purchased by Bono and his lead guitarist, The Edge, in 1992. They later refurbished the two-star 70-room hotel, and converted it into a five-star 49-room hotel. We visited the Octagon Bar and settled into the adjacent Back Bar room with our drinks until time to head back to the coach.
We joined Paddy in the coach one more time and wound through Monday afternoon traffic out to the airport to the Clayton Hotel. We checked in and were all rather surprised to see that all our rooms had two twin beds and a double bed. There was no air conditioning, but a fan was there and kept us comfortable for the night. We had our final dinner downstairs and Ali passed around a contact sheet so we could share our email addresses and keep in touch. There were some lovely people on this tour, and I was glad to get to know them.
Tuesday, June 19
Home again, Home again, Jiggety Jig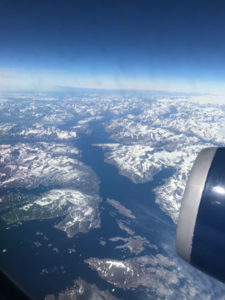 The first thing I learned upon awakening was that our 11:20 flight had been delayed to 12:10, due to overnight storms in New York. But that still gave us 40 minutes to make our connection in JFK.
The wonderful thing about Dublin Airport, is there U.S. Customs and Immigration facilities there. When you fly out of Dublin, you first go through Irish security (including taking off your shoes), then you go through U.S. TSA security, and through customs and immigration. What that means is that when you arrive at your first U.S. port, you walk off the plane and go straight to your connecting gate. Brilliant!!! So we had a higher likelihood of being able to reach our connecting gate in a short period of time than if we had to go through customs and immigration stateside.
We sat in a cafe while the flight ahead of us cleared the gate, then got another notification that our fight was further delayed. This second delay meant we would absolutely miss our connection in JFK.
Once onboard, I bought wifi access and started setting up this account of the trip and keying in all the text. I was able to get quite a bit done on my iPad Pro before we started the approach to JFK. With Marilyn's Sky Lounge membership, we were able to sit in the lounge for five hours while waiting for our 9:30 departure for Pittsburgh. I got more work done; we got free food; we napped erratically in the large chairs; we kept our devices charged.
And about 11:15, we were on approach to Pittsburgh. Landed, got our bags, called the offsite parking lot to send the shuttle, loaded the bags into the trunk, and were home at 1:45 a.m., just short of 24 hours from our morning wakeup time in Dublin.
It was a wonderful, memorable trip, and I'm very glad I went, even though it was way too much travel in too short a time for this almost 68-year-old.
Now to see how quickly I can edit all my photos and then pack to leave in two days for three weeks in Japan.
---
Dublin and Travel Home Photo Gallery