Ireland's Capital City
Saturday, June 9
Travel Day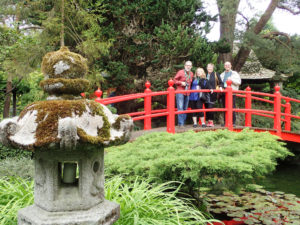 Noon departure from Youngstown with our travel pals, Mike and Marilyn (hereinafter M&M), an hour drive to Pittsburgh, and a mid-afternoon wheels-up from Pittsburgh to JFK. We flew in over Westchester County and circled out over Long Island. I love watching for places I know on the ground, so this approach delighted me as I watched for my elder son's college in Kings Point. Marilyn had banked passes to the Delta Sky Lounge, which made our three-hour layover much more enjoyable. We boarded around 9:00 p.m., then sat on the tarmac for over an hour. I napped before takeoff, then was unable to sleep for most of the balance of the 6:45 flight. I hate when that happens!
Sunday, June 10
Getting to Know Dublin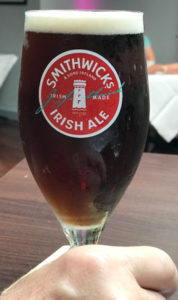 Arrive Dublin around 10:30 a.m. Got through immigration and customs and easily found our Go Ahead Tours (GAT) representative. Even though we arranged our own airline transportation, GAT has arranged our transportation to the Temple Bar Hotel. The representative hailed a cab for us, fighting off some cabbies who were certain their sedan trunks could handle all our luggage. Hint: No they wouldn't! Finally found a cabby with a Lexus SUV. We had already paid for the transportation, so it was up to our tour director, who was sitting at the Temple Bar waiting for everyone to arrive, to pay the cabby for our transportation. The rep asked for the cabby's phone number so she could connect him with the tour director and ensure he was paid when he delivered us to the destination. Oops. Never ask a jackass for his phone number! He immediately copped quite an attitude. That's his personal phone. He doesn't give his phone number to just anyobody. Really? This guy needed to get over himself. He turned out to be fairly ha-ha funny for the rest of the drive, with a unique sense of humor. But I felt very uncomfortable for the entire drive, and wished we had gotten a different cabby. It was—for me—an awkward start to our vacation.
When we arrived at the hotel, we met Ali, our enchanting tour director, and M&M checked in to their room. Alas, our room not ready. We stashed our bags in M&M's room and went out to find Trinity College and see where our 1:30 Book of Kells tour would be.
<So, what is the Book of Kells?>
Factoids
Trinity College Dublin website description
See also: Google images
<So, what—off>
We had an hour to kill, so—this being Ireland—went in search of a pub. O'Donough's on Suffolk Street met our needs. Then back to Trinity for the Book of Kells tour. The final room on the tour (before the gift shop, of course) was the Long Room of the Old Library. Over 200 feet long, the Long Room is filled with 200,000 of the Library's oldest books and is one of the most impressive libraries in the world. Truly incredible to see these old books.
Back at the hotel our room was still not ready. We sat; we waited. When we asked again, the manager assured us, "we have a special room for you." I'd rather have a less special room right now, thankyouverymuch! But that nudging did the trick and a few minutes later he told us our room was ready. After naps and showers, we met and greeted our tour mates, 30 strong, along with our driver, Paddy, and tour director, Ali. Throughout the week ahead, Ali showed patience and good humor through frustrating times and late arrives and both our smiles and our frowns. And Paddy—ah, we would love Paddy more with each passing day. He would prove himself a genius at winding roads and narrow spaces. The Meet & Greet was followed by a welcome dinner.
My dinner: Goat cheese and caramelized onion tartlet; potato soup; baked salmon with grilled root vegetables. Three small cakes for dessert. Delish!
Monday, June 11
Getting to Know Dublin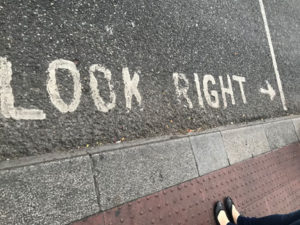 Wonderful breakfast buffet at the restaurant "Toast" in Temple Bar hotel. The breakfast buffet throughout our tour would include the "Full Irish" breakfast, with or without beans. (Keep in mind that black pudding and white pudding aren't desserts!) Additionally, there would be several dry cereals and milk; porridge; fruit; several types of bread and pastries, especially the incredible Irish brown bread, which I could easily eat three meals a day; fruit juices; a shooter of breakfast smoothie; and coffee and tea. If you went away hungry, it was your own fault.
Our local guide, Anya, boarded the coach with us as Paddy took us through Dublin. We stopped at St. Patrick's Cathedral, which The Jazzman and I had visited on our previous trip. I remembered it mostly for all the pictures I took of the tile floors, which reminded me of quilt patterns. We stopped at Phoenix Park at the Papal Cross erected in 1979, where we took the first of several group photos.
The entire tour took about three-and-a-half hours, after which we were dropped off at Trinity College and left to find an interesting place for lunch. (There was an optional afternoon excursion to Glendalough, south of Dublin.)
After much wandering and trying to figure out what we wanted to eat, lunch with M&M happened at the Quays Irish Restaurant on Temple Bar. Fish and chips for me. Beef stew with Guinness and chips for the Jazzman. Mike has mussels; Marilyn had a thick vegetable soup and garlic toast with melted cheese. Guinness [almost] all around. (I've never learned to like beer. My loss on this trip.) After lunch, we used the afternoon to relax and nap.
We asked Ali for restaurant suggestions for dinner and chose "Woolen Mills Eating House" from her list. Located just across the Ha'penny Bridge from Temple Bar, this Oh, my gustation! This locovore restaurant is an absolute delight!
In response to my friend Jill's request for more info, this was my response after posting the picture of the kitchen on Instagram:
I had the soup of the day – a million fresh veggies finely chopped in a tomato base, served with incredible brown bread. Jas had sloppy mac & cheese with bolognese sauce mixed in. OMG. Everything except pasta is locally sourced. For dessert, a gur cake (new term to me) with vanilla ice cream and custard – to die for – and a bread pudding with caramel whiskey sauce better than any bread pudding I've had in New Orleans. We've been sitting in the [hotel] room for the past ten minutes reliving the meal. Gorgeous restrooms also – no male/female, just individual rooms and communal marble farm sinks. Subway tiles. Gorgeous – makes me want to copy that bathroom in my home bathroom remodel.
A note about the Ha'Penny bridge—it was built in 1816 and was the first iron bridge in Ireland. As it was an alternate to riding ferries, a toll was imposed, first a penny and a ha'penny (1½¢), then later a ha'penny (½¢). So it became known as the Ha'penny Bridge. Its official name is the Wellington Bridge. And it's beautiful!
Near the end of the gallery below, you'll see a photo of Marilyn and the Jazzman sitting with two women. Here's info about that statue.
---
Dublin Photo Gallery