Trans-Pacific Travel; Nosing around Nagoya; Workshops in Arimatsu and Narumi
Saturday, June 23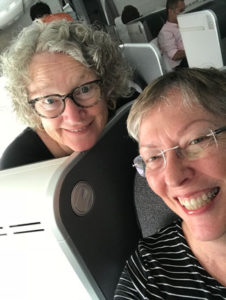 The Jazzman and I left home around 5:00 p.m. to pick up MaryLou and Fred. The guys would drive the girls to the Sheraton at Cleveland airport, treat us to a nice dinner, then leave us there. As we were riding up, discussing where to have dinner near the airport, I opened the Sheraton website and read the description of their Hemispheres restaurant. Lovely! "Farm-to-table fare, including farm-fresh eggs for breakfast, vibrant salads for lunch, and savory entrées for dinner." Yum. That sounded wonderful. We'd enjoy a cocktail and a nice dinner before parting company for just over two weeks.
We arrived, dropped our bags in the room, and met the guys downstairs after they parked the car. We ordered drinks, then perused the menu. Where was the farm-to-table? Where were the carefully written descriptions of all the fresh ingredients that melded to create these wonderful dishes? Nonexistent! Instead there was a menu that described typical bar fare, only at elevated prices. We had salads, fish and chips, and overpriced cocktails. What a letdown to expectations of a lovely farewell dinner. Oh, well.
After dinner, the guys left, and MaryLou and I settled into our room, laying out our clothes for the next day and quickly going to sleep, anticipating a 4:00 a.m. wake-up call.
Sunday, June 24
Monday, June 25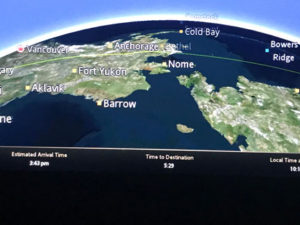 Uneventful exit from the hotel and two-minute shuttle ride to the airport. Quick check-in and easy navigation through security. Grabbed a cuppa and a pastry at Starbucks. Boarded our Air Canada transport, flew to Toronto, easily navigated immigration and customs, determined where we would catch the flight to Montreal, and walked in that direction. Then we saw a :10 Minute Manicure salon on the concourse, looked at our nails, then at each other, and nodded. The technician asked what time we were boarding. I looked at my boarding pass and told her 11:15. MaryLou simultaneously looked at her boarding pass, then in surprise at me, and said 10:00. WHAT?! We quickly compared boarding passes and realized, with horror, that somehow Air Canada had us on different flights to Montreal. Frantically we checked our Montreal-Narita boarding passes and sighed with relief when we found we were on the same flight for the leg that really mattered.
We said good-bye to the nail girl and raced to the gate, only to find the gate printed on the boarding pass was wrong. Raced to the opposite end of that terminal, got MaryLou settled there, then I walked back, got my quick mani, sat down in a restaurant to have breakfast, then finally sat down at my gate to await my departure. MaryLou, now in Montreal, had found the Air Canada lounge and was waiting there for me. My flight reunited us in Montreal and we settled into the lounge for an hour-long wait and some snacks.
One-ish boarding put us in the business class cubbies that would be our homes for the next twelve-and-a-half hours. Linens, comfortable reclining seats, big screens, and a menu with the promise of delicious food. We were on a Boeing 787—my first experience with this equipment. The very coolest thing, to me, was that there were no shades on the windows. The windows automatically dimmed at the touch of a button so one could have as much or as little light as desired and still see the view through the window.
Soon we were off and westbound across Canada, over Nome, Alaska, and down the edge of Russia and China to Tokyo. I was able to sleep about three hours, but mostly I just relaxed, stretched out on my business class bed with closed eyes and music on my headset. What a way to travel.
We landed in Tokyo's Narita Airport, again went through immigration and customs, then rode the airport bus to a different terminal and checked in with Japan Air for our hour-plus flight WSW to Nagoya. After a very long wait for our bags in Nagoya, we connected with the driver MaryLou had found online who would drive us 45 minutes over the 30 miles from Chubu airport to our Nagoya hotel.
After some searching, the driver finally found the Meitetsu Inn Nagoya Kanayama and, with a few challenges, we checked in. It was close to 10:00 pm and we hadn't eaten since 45 minutes before our 4:00 p.m. arrival in Tokyo. And there was no restaurant in the hotel! The only thing this hotel serves is breakfast! I told MaryLou that I'd just be content with some nuts from the snack bags in my carry-on. So we pulled our bags up to our sixth floor rooms. Yes, that's rooms, plural. The rooms are so small in this hotel that a double bed and a desk consume all but about an 18" strip of floor space, so we would not share a room the entire time we were in this hotel.
I set up my power strip and plugged my phone in to charge, took a shower to wash away the day[s], and slipped into the lovely polished cotton nightshirt provided by the hotel. Pulling back the covers, like Goldilocks I tested the two pillows to see which was "just right." Neither! One was filled with some sort of little seeds/balls/something, the other is one of those gawd-awful pretend-to-conform-to-your-head-and-neck foam things. I had not brought my soft little pillow from home, opting instead on this trip for one of those circular travel pillows, hoping to avoid some of the knives-in-my-neck pain I'd been experiencing the entire time in Bali and Ireland. Oy! I started out with the pillow with the balls and ended up with the travel pillow. Turned the light out (after searching for light switches) at 11:00, waking a little after 2:00. Oh, well. Maybe the next night would be better. Maybe I'd get a break from the neck pain sometime during this trip. Maybe I'll decide, newly 68, that it's time to stop traveling so much.
This room could be worse. It could be so much worse. The Wi-Fi sucks, the pillows are uncomfortable, but it's clean.
Tuesday, June 27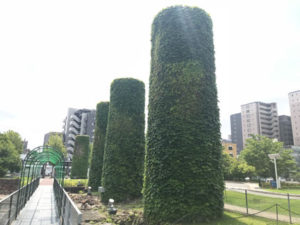 A day to ourselves before the other symposium attendees arrive. As we sat at breakfast, we read the Nagoya section of "Fodor's Japan" travel guide. MaryLou is very knowledgeable about gardens and flowers, and I love nothing more than to photograph flowers. When we read about the Noritake Garden (more on the Noritake Garden at their website), we decided we'd visit there. We asked the hotel desk clerk about getting there, and received looks of confusion. Now, let's be clear—there's not a lot of English being spoken in this hotel, or, for that matter, in this city. But we thought we'd go to the garden, despite the lack of acknowledgement from anyone with whom we attempted to speak. The clerk called a cab for us, and the cabby took us to the address for the Noritake Garden. We didn't really see gardens anywhere. We walked into the gift shop and saw many beautiful ceramic pieces and fiber pieces (kitchen tea towels, aprons, and so on). We asked another non-English-speaking clerk about the gardens, but she also didn't really know what we were talking about. We found a map of the Noritake campus and saw what appeared to be a garden. It turned out to be a field where a wall had been built of the remains of the original Noritake kilns. Affixed to the wall were plates that contained the names of the donors who helped make the renovation possible.
Well, it was fun to see the beautiful gift shop and the beautiful not-so-landscaped lawns, but a traditional garden, as appeared in our minds' eyes, it wasn't. So on we went.
The Nagoya sightseeing bus, Me~guru, seemed like a great and inexpensive way to get around town, rather than $20 cab rides each time we wanted to see something else. We bought a day pass, certain that we'd want to spend the entire day sightseeing and exploring. Oh, how quickly travelers can forget the realities of jet-lag.
We got on the bus at the Noritake Garden, and rode two stops to the Nagoya Castle.
The
Nagoya Castle
was built in the beginning of the Edo Period as the seat of one of the three branches of the ruling Tokugawa family, the Owari branch. As such, it was one of the largest castles in the country, and the castle town around it ultimately grew to become Japan's fourth largest city. (© japan-guide.com)
The Main Castle Tower, shown in the photo, is under renovation and closed to visitors. But the Hommaru Palace is very much open. Originally built in 1615 by the first shōgun, Tokugawa Ieyasu, the Nagoya Castle Hommaru Palace was the residence and formal audience hall for his son, the Lord of the Owari Domain. With minimal furnishings, the decoration and construction of the floors, walls, and ceilings are the real drawing point of this building. Gold leaf is used everywhere to bring light into the rooms. Murals on the wall depict the people and places, the flora and fauna of Japan, treasured then and now, four centuries later.
One can rent personal audio tours with headsets that explain the rooms in the palace, or there is a free tour with an English-speaking guide several times a day. We would have had to wait an hour for the guided tour, so we rented the audio guides and set out.
At the end of the tour through the palace, we turned a corner and saw ten or twelve beautiful shibori kimono. When we walked through the exhibition, we saw leaflets that publicized the 11th International Shibori Symposium. We knew there would be a Nagoya tour on the following Saturday and realized these kimono would be part of that tour.
After a walk through the gift shop—how convenient is it that all such facilities route the path such that it exits through the gift shop?!—we went outside to find a map and determine where to have lunch.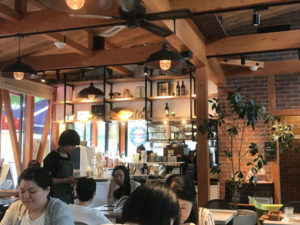 There were two restaurants adjacent to the property. One was near the main street running in front of the castle and was very expensive; the other was near the side street and was casual and reasonably priced. We chose the latter—The Pop-Over Cafe.
I don't remember what I had for lunch, but I'm pretty sure it was a salad and I'm pretty sure the ingredients incuded avocado. But the pièce de résistance was the popovers. I grew up enjoying home-baked popovers at least once a month for Sunday breakfast. There's nothing like a popover, fresh from the oven, with butter melting inside and honey poured in to mix with the butter. My mouth is watering as I write, just thinking about the treat.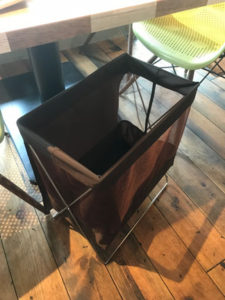 There was one other brilliant Japanese idea that we discovered at this restaurant, and took advantage of at every restaurant stop from that day until the end of the tour. That was the bag basket. At each restaurant with wait-staff service (not fast food locations), when you were shown to your table, a staff member would grab a basket about the size of the laundry basket that might be in your laundry room at home, and place it next to your chair. Into that basket would go your purse, your backpack, your shopping bags—anything that might end up spread around the table or the floor around your chair. How convenient! I love this idea and wish every restaurant where I regularly dine would implement the custom.
After lunch, we went to catch the Me~guru bus again, and watched the bus drive off as we approached the stop. Rather than wait twenty minutes or so for the next bus, we cabbed back to the hotel, another $20 ride. We relaxed in our rooms—I might have napped—then went to the lobby where we met one of the tour staff and learned more about the next day's activities. Then we explored the supermarket around the corner from the hotel, and walked across the street to the shopping mall where we found a restaurant we both enjoyed. I'd love to tell you the name of the restaurant, in case you're ever in the 'hood, but the best I can do is 上海湯包小館 金山店, which I believe translates to Shanghai Yuzhen Small House.
Wednesday, June 28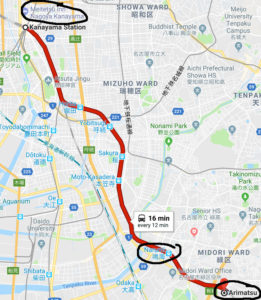 Another 2:30 a.m. wake up. I'm in hate with jet lag. The breakfast room overflowing with people at 7:00 a.m. We had to go out on the patio to get a table. The entire group, maybe 20 of us, met in the lobby at 7:45 to transit en masse via train to Arimatsu for the day.
Here's a blog post by an American ex-pat who lived in Nagoya for several years. She describes Arimatsu, shibori, and its place in Japanese history.
A sheet of paper slipped under the door overnight informed us the evening's welcome dinner had been cancelled and, instead, we'd be going to a nearby town to an artist's studio for a reception.
The class I had signed up for was on discharging (removing the dye) from indigo-dyed fabrics using potassium permanganate. The instructor was Joy Boutrup; I greatly enjoyed learning from her. What a delightful woman. (Joy's book, co-authored with Catherine Ellis.) We were served a bento box lunch, the first of many we'd see during the two-week tour. And after lunch we continued our creative activities.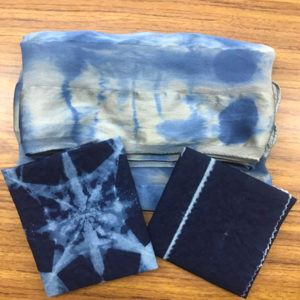 I experimented and learned with two 10″ indigo-dyed heavy cotton squares and a satin-stripe silk scarf. In retrospect, I didn't love the outcome of the discharge on the silk scarf, but I loved the cotton squares and may incorporate them in a bag to be sewn in the future.
The late-afternoon reception required train travel two stops away and a 10-minute walk from the train station to a shibori studio. A collection of kimonos created from shibori-dyed fabric was on display. Don't touch and don't photograph, the signs said. Here's my opinion of "don't photograph" in venues we're visiting: We're here to learn. Included in learning is gleaning ideas we can use in our own creative ventures. If this no-photos policy is going to continue, I'm going to have to learn to sketch real fast to be able to capture technique ideas. Oy. Just Oy!
MaryLou and I had enough quickly, and were hungry (at a dinnertime reception where no food was served), so asked one of the conference assistants for train directions back to Kanayama and left. We had connected with my friend from the Bali trip, Nell, and traveled to find dinner with Nell and a friend of hers, Sherry from Maui (doesn't that have a nice ring?), to the Italian restaurant by the Kanayama station and our hotels. Yea, Italian food!
And the ever-thoughtful MaryLou gave me a melatonin to help me fight the jet lag. After minimal sleep last night, I was down for the count in no time at all.
Thursday, June 29
The combination of melatonin, the Tizanidine I take for the arthritis pain in my neck and associated headaches, and the Toprol for blood pressure—(side effects of both those prescriptions are fatigue)—I slept. Woke at 1:15 to answer nature's call, then slept until 7:00. Yea. Dreamed of spending time with my birthmother. Very odd.
Breakfast; relaxing morning; then meet in lobby with the group going to Arimatsu for afternoon classes. …
Continued later that same day: We were in the lobby ten minutes before the appointed time and the guide never showed up. So "Yea, us!" By ourselves, we walked to the train station, went to the ticket office and found out what train we needed, had them check our cards to make sure we had enough money to get to Arimatsu, got on the correct train in Kanayama, changed trains at Narumi, checked with the conductor and got on the correct local with thirty seconds to spare, got off the train at Arimatsu, made it to the International Shibori Symposium office, and learned the guide had showed up 15 minutes late. We went to the restaurant in the Shibori Museum for lunch, then started the long and mildly confusing walk to our afternoon class, "Shibori Heatset on Polyester." When we were three-quarters of the way to the class location, we started feeling lost. We turned around to go back to a small street we had just passed, and saw a Japanese woman wearing a conference badge who looked similarly lost. Together, we turned up the small street. Suddenly the woman saw someone she knew and asked her where the Kuno Dye Factory was. The woman popped the three of us right into her car and drove us a couple blocks down the street, determined which door led to the classroom, and showed us right to our class! Note: This experience is recounted repeatedly by attendees. The Japanese people go out of their way to be kind and respectful. It's amazing.
There were two projects for this class. One was a lampshade for a small tabletop battery-operated lamp; the other was a scarf textured with marbles and other wrinkle-and-pleat inducing materials. The textures would be permanently set into the polyester fabrics with heat. I enjoyed learning how these textures were created and will use these items, but don't envision this as a technique I will add to my bag of tricks.
Mr. Kuno and his son, who operate their dye studio together, are brilliant. The fabrics and techniques on display in our classroom were breathtaking. The shoes! Oh, my gosh. The pleated leather shoes were to die for. Mr. Kuno showed us fabrics he had created for many famous stores and designers, including a drapery panel for a Tiffany store and another fabric treatment for Cirque du Soleil. Impressive!
After class, we went to Jyugemu, a Japanese noodle restaurant, for dinner, where we were joined by my Bali friend, Nell, and three of her friends. Conversation flowed easily, as it does at such events, where one is surrounded by like-minded fiber nerds.
After dinner we walked to the train station and figured out how to get ourselves home without help from any locals. Again, Yea us!
Friday, June 29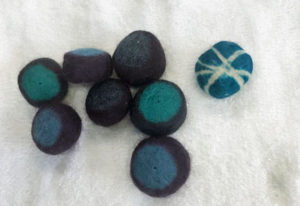 We had a Friday morning class with Jorie Johnson in Narumi. The class title was "Felted Accessories," and it turned out to be beads that we could make into a necklace if we wanted. I wanted! Jorie is a darling woman from Boston who has been living in Kyoto for over 20 years. It was astonishing to listen to her flip seamlessly from English to Japanese and back again, then pause, holding her train of thought as an interpreter translated the instructions for the Chinese students in the class. Great fun manipulating wool roving to make hard, felted-wool balls, which were then flattened and dyed to make flat beads for jewelry.
MaryLou and I hadn't registered for an afternoon class, so were able to stay until after 2:00 to be able to finish our work. (Only one of the morning students had time to finish her labor-intensive work.) I enjoyed the class greatly and would like to try to make more of these beads.
One student in the class lives in Arimatsu and had driven to class. She graciously gave the instructor and MaryLou and myself a ride to Arimatsu so we wouldn't have to take the train. We spent the balance of the afternoon exploring the small shops in Arimatsu that sold shibori garments and other items. I fell in love with a seersucker apron that had been shibori dyed.
We needed to kill some time before a 6:00 p.m. musical performance and a 7:00 p.m. party, so walked over next to the train station to the Aeon shopping center. We had used some great thread snips with very good blades (far better than any I've used in the States) in Thursday's class and were told they were available in Can Do, the "dollar store" in the shopping center. After I found the store and bought a pair of the snips, we stopped into Cafe de Frie for something to tide us over before whatever food might be served at the party.
The musical performance was given by two percussionists, one of whom also played a flute. The music was fabulous! There was a bunch of fabric that had been shibori dyed and was being unwrapped and opened up from its resist treatment. Arimatsu residents and shibori community members were holding it as it was opened in celebration of the impact of shibori to the area.
We walked over to the reception at the Takeda house, left early, and took the train back to Nagoya with tourmate Vicki from Perth, Australia. Moments after we sat down at the Italian restaurant, a light rain began, which morphed into a deluge and included lightning. Vicki left, and we tried to get a seat at three different restaurants before giving up and buying wine, cheese, and crackers in the shopping center's small grocery store. We went back to our rooms, then settled into MaryLou's room and enjoyed our "gourmet" dinner.
Saturday, June 30
We had not signed up for any activities on Saturday. We had learned that there was a
Takashimaya department store
above the Nagoya train station. MaryLou had wonderful memories of visiting the Takashimaya that used to be in New York City, so we decided to spend some time there. I also knew that the fabulous printed seersucker dress my DOL friend, Nell, wore in Bali was made of fabric she had bought several years ago at the
Otsukaya fabric store
in Nagoya. We connected with Lori from Grand Rapids, our classmate from the "heatset on polyester" class, and the three of us set out to spend Saturday shopping.
Takashimaya in Nagoya is eleven floors of eye-popping wonderfulness. Entering on the first floor, you can hardly get through the crowds pawing through the sale tables. The second floor contains designer labels in individual boutiques. The Issye Myaki "shop" had incredible pieces that mirrored some of the techniques we had been learning through the week. MaryLou almost bought a dress that was unlike any she or I had ever seen. It was with great regret she decided not to add it to her wardrobe. Each floor was filled with eye-popping loveliness. Beginning on the 6th or 7th floor, about ⅓ or ¼ of each floor was dedicated to a store-within-a-store named "Tokyu Hands." Handcrafts, kitchen, hardware, furniture, …. If it's something you can create with your hands, they had the supplies you might need. They even stocked glass rods for lampwork beads—I'm pretty sure you'll not see that in a department store on the continent of North America.
After two hours of shopping, I needed to stop for lunch. Each floor has a small cafe. We were on the 7th floor at the time, and found Papa's Cafe. Alas, this is where all the employees took their lunch breaks so they could smoke. One-half of the room was non-smoking, but you could still smell the smoke, of course. Lori couldn't take the smoke, so went back to her shopping. My need for food was greater than my sensitivity to smoke, so I got a hot ham and cheese sandwich and a coke. MaryLou and I ate as quickly as possible to get out of the smoke, and we all went back to shopping. In the Tokyo Hands sewing department, I bought a darling 1½" pair of thread snips and some zipper pulls for the bags I make. They were unlike any I've seen in the States.
By then it was about 2:00, so we decided to head to the fabric store. I was apprehensive about taking the subway as it was our first time going to that part of the city, and it's always a little disorienting to come up from a subway when you don't know where you are. We hailed a cab in front of Takashimaya, but, in retrospect, could have gotten to the fabric store in half the time it took to navigate Saturday afternoon traffic in the cab. And, wouldn't you know it, there was a subway exit directly in front of the store.
The store was five floors of every kind of fabric and textile craft imaginable, plus patterns and notions and bridal design services and home dec services. There were many mannequins throughout the store, wearing model garments made from the fabrics in each department. The garments were exquisitely executed by very skilled sewists, and photos of the pattern illustrations were also posted with the garment. I immediately found Nell's printed seersucker and noted several prints that I thought would be attractive on me. Then we went wandering to explore each floor. Second floor, wools and knits; third floor home dec and bridal; and so on. If it can be sewn or used in sewing, they had it. After going all the way to the 4th floor, we headed to the basement to find patterns. I found one I loved with a neckline treatment I had not seen on a pattern before and grabbed it. Sure, the instructions are printed in Japanese, but I just want to see how the Japanese pattern designers put their patterns together. Then I went back up to the first floor and grabbed the roll of my selected seersucker, getting in line at the cutting table.
The cutting table and register is positioned together and there are several on each floor throughout the store. At the first floor cutting table, I was standing, holding my roll of fabric, and a woman came up and took it out of my hand, moving the trims the three high school girls in front of me were waiting to have cut, and placing my roll on the table. After the girls' trims were cut, the gentleman cutter asked me how much (I guess that's what he said!) and I held up three fingers. He looked at the roll and his facial expression said he wasn't sure that roll held three meters. I nodded, he measured and indicated there was not a full meter left. I nodded and said "all of it" and he nodded and pulled it all off the roll then he handed it to a young lady standing on my side of the table, who folded it. Then I was in front of the cashier , who rang up my purchase and pointed to the amount on the register display. 4,036 or something similar. (About $40.) I pulled out my credit card and was momentarily panicked when the cashier, the cutting man, and the folding woman all looked at me and shook their heads. The cashier pointed to a sign that said "No Cards" and my heart sank. MaryLou and I were both low on cash and had been watching for an ATM, without luck. I wasn't sure how much cash I had, as this money is so confusing to me. The smallest bill is 1000 JPY, which is equal to about $10. But I keep thinking it's equal to $1.00. So I thought I had about $5 or $10. The first thought through my mind was relief that I hadn't had the cutting man cut off that last half-meter. They couldn't refuse to take it back if I hadn't asked to have it cut. Then I pulled all the bills out of my little bag and realized, to my great relief, that I had $90, not $9. Transaction completed; happy shopper.
Now that we had seen the subway station in front of the store, we decided to get home by that means. I used Google maps to figure out the route, and Lori confirmed it with a young woman we saw who could speak enough English to assist us with her online route map.
Back at the Kanayama station, Lori headed around the corner to visit the Nagoya-Boston Museum of Fine Arts. MaryLou and I headed home to relax for an hour or so until dinnertime.
We wanted Italian again, since the previous night's dinner had been rained out. But dining out on Saturday night is evidently a big deal in Japan and we would have had to wait an hour to get into the Italian restaurant. We were able to get a table on the patio at the Irish pub—yea for smoking bans outdoors! The meal was so-so, but it was enough to fill my tummy.
Sunday, July 1
We spent Sunday in the plenary sessions. Knowledgeable speakers, some academics, some scientists, some artists, and some all three, addressed the audience on some aspect of shibori—how it happens, how it came to happen, and how it can be prolonged or improved. There were slides on the large screen in the
Nagoya Congress Center
, and there was concurrent/simultaneous/subsequent translation so that English, Japanese, and Chinese speakers could all understand the addresses. We broke for Bento box lunches at 1:00, then came back for several more speakers, then a panel session. Afterwards, we boarded busses and were taken to a hotel for a reception. It was getting late, food on the buffet tables was not being offered to us, and I felt like I hadn't had a decent meal that day, so MaryLou and I decided to head back to the Italian restaurant near the hotel. Four of our friends were already seated on the patio, and the host seated us next to them. After a delicious dinner (especially to me, who was having a hard time with the Japanese food), we went back to the hotel to pack our bags.
---