A Traditional Ryokan; Spinning Silk; Heading Home
Wednesday, July 4
So strange to be away from home on the 4th of July. I believe there have only been four times in my life prior to this that I've been away from home on the 4th. All have been related to music, and on all of those days, I sang the national anthem with my fellow musicians. Those are great memories.
Today I was up before 6:00, had breakfast, schlepped bags downstairs, boarded the bus, rode to the main train station, lined up to board the bullet train, and headed to Yonezawa. I worked on this travelogue during the two-hour ride while sitting with Peggy from San Francisco who grew up outside of Akron. She spent the time thread-editing a great travel vest she made. I spent the time word-editing. (I've been trying to stay up-to-date on my writing, as I have to turn around and drive my grandkids to Northern Michigan for camp two days after I return home. I don't want to forget everything about this trip before I have time to document it!)
The thing I loved the most on the train was that each time the conductor walked through the rail car, as he exited to move to the next car, he turned and bowed to the occupants of the car. I asked the Jazzman, who's just a few weeks from retiring after a very long career as a conductor on Norfolk Southern Railway, if he bows to the engineer when he leaves the locomotive. He didn't even bother to answer my text. I'm pretty sure that means "no."
After a drive through the Yonezawa area, we headed to lunch. This was a lovely traditional Japanese restaurant with several dining rooms upstairs ideally suited for groups. There were 30 or so of us in our group, and we were immediately seated, and served with beautiful lacquered Bento boxes.
The Yonezawa/Yamagata area is where beef cattle were first imported. The Kobe beef cattle that has become so famous and, consequently, expensive, are descended from the cattle in the Yamagata area. The Bento box held very thin strips of beef that had been prepared (maybe sautéed?) with a small amount of finely minced onion. Honestly, given the difficulty I've had eating the meals rife with mystery foods, this was the best Japanese meal I had eaten since arriving!
The only thing I disliked about this restaurant was the fact that we were seated on cushions on the floor at a low table. When one is in their sixties or seventies and has old, used-and-abused knees, trying to sit on the floor with crossed legs, or kneel on a cushion, is a great challenge. Once on the floor, rising to a standing position is an even greater challenge! If you still have good knees, appreciate and protect them!
After lunch, we were taken to the Toko saké distillery where we saw how saké had historically been made. This appeared to be more of a museum than a current-day distillery and ended with a saké tasting. Some loved the saké, some thought it tasted like kerosene or gasoline smells, and I thought it really had no flavor.
While I didn't necessarily enjoy the saké, I did enjoy the lovely gentleman who guided us through the distillery. He demonstrated a song the workers would use to time one of the processes. They evidently had a song for each process—the duration of the song was the time needed to properly complete the process. Brilliant!
Note: If you see blank space on this page rather than embedded videos, please refresh your browser.
At each place we stopped, there were beautiful gardens to photograph. The ponds and pools, the koi, the small waterfalls feeding the ponds, and the flowers everywhere were absolutely beautiful.
Our next stop was the
Denkoku no mori Museum and Hall
, the site of the Yonezawa City Uesugi Museum and the Okitama Cultural Hall. Here we saw a traditional
Noh theatre
and a display of beautiful traditional Japanese screens. The display that I loved the most was the diorama showing the Yonezawa area during the Edo period.
Next we stopped at the Uesugi-ke Byōsho Mausoleum, the final resting place for a long line of the Uesugi clan. Here's a blog post I discovered with a great deal of information about the site.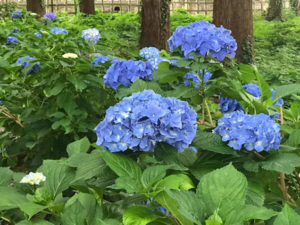 I had noticed a number of prolific hydrangeas bushes in the previous few days, but didn't realize it was officially hydrangea season in Japan. When we walked down the gravel path toward the shrine, I was struck dumb by the number of hydrangea blossoms in all their lush pinks and blues and purples. I'm not sure I had ever seen as vivid a blueish-purple shade of hydrangea blossom as I saw on this property.
Our final stop before heading to the ryokans where we would spend two nights was at the Chomeisankotokuin Sasano temple, that was—as the beautiful site we had just left—surrounded by hundreds of hydrangea bushes. We walked and took photos and just generally explored this amazing site. (Evidently this temple is known to Google as Sasano Kannon and referred to as the "hydrangea temple.")
Then we walked next door to a wood carving studio where the artist carved little figures that are beloved in this area. (Examples of carved hawks.) In this studio, the artists also wove baskets out of wisteria branches. I was awed by the exquisite (expensive) bags that had required an enormous amount of effort to make. The artists' work in this studio was stunning. (I could not find any more information online about the studio we visited, but wanted you to see examples of baskets woven from wisteria branches.)
And soon we were back aboard busses, heading up into the Azuma mountain range, which—in winter—is ski country. During ski season, visitors hit the slopes during the day, returning to the ryokans in the evening to enjoy the steaming mineral baths. We were visiting in the summer, driving through beautiful, dense, clean-bottomed forests. One after the other, we arrived at each of the four ryokans situated along the mountain road, tucked into the forest, with creeks running nearby. Our group of twelve had been assigned to the Shirabu Onsen Higashiya ryokan.
A ryokan is a traditional Japanese-style inn. It's the ideal lodging for travelers who wish to experience Japanese culture and enjoy the comforts of Japanese hospitality and service. You can read more about ryokans here. Learn more about the various types of ryokans. And here's more about the area where our ryokans were located.
We had arrived at the ryokan around 6:00 p.m. Our itinerary had stated we were to change into our yakata and have a bath before dinner, then arrive at the dining room dressed in our yakata. I had read all about ryokans and communal baths in several guidebooks and several online pages. I was fully aware that swimsuits were not allowed. Yes, I have belonged to a gym before, and I change my clothes stealthily when I'm in the locker room. I just don't expose myself to anyone. Call me a prude. Call me shy. I just don't.
I was not feeling any comfort with what lay ahead. My stomach was tied in knots as I thought about letting my droopy boobs and post-menopausal belly hang out for all to see. It didn't matter that the men's and women's baths were separate. This all felt very awkward to me. Most everyone else in our group of twelve did it—showered, walked naked into the tub, got out and dried off and donned the yukata and ate dinner in their robes. It was no big deal to anyone else. It was an enormous deal to me. My seatmate on the train, Peggy, said as we were discussing it on the ride to Yonezawa, "You can do it, and you'll be a different person once you've done it." I didn't feel like a different person. Over three weeks have passed since the experience, and, as I type this account, my stomach is still churning at the memory.
I endured the bath. I accomplished it. I didn't enjoy it, but I accomplished it.
Dinner was home-cooked Japanese food, beautifully prepared and presented.
When we got back to our rooms, our thin futons had been laid out on the floor. I read for a little while, then went to sleep. When I woke in the middle of the night to answer nature's call, I had to roll onto all fours and steady myself with a hand on the table to be able to stand up.
Finally, finally, the night was over.
Thursday, June 5
And it was a new day. I had endured the baths. I had endured the dinner. I had endured the futon. Was I a different person? Not so much. I was a person who could endure one more night of it, and then I never wanted to repeat the experience.
It was my sister's birthday, the half-sister I just discovered two years ago. What a magical day to think about the things in my life that have really made me a different person—in a good way.
Breakfast was, again, home-cooked Japanese food, beautifully presented. I was so happy to see an egg. Of course it was hard-cooked. They wouldn't give us a raw egg, would they? Oops, as I cracked it, I learned it was raw. I guess they would!
We spent our morning at a silk and natural dye studio where we learned how the silk is removed from the cocoon. Here's a detailed explanation. After we mastered (ha!) that process, we tried our hands, rather unsuccessfully, at silk spinning. Honestly, trying it gives you a heightened appreciation for silk thread, yarn, and fabric.
Lunch was a Bento box with more of the wonderful Yamagata beef.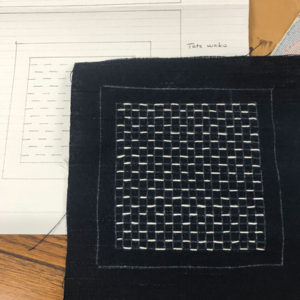 After posing for pictures, we boarded the bus to go to our next class, a sashiko workshop. I had taken several sashiko classes with one of my favorite teachers, Nancy Shriber, over the past twenty years, and love the art form. I bought a book showing traditional sashiko stitches, and look forward to more sashiko projects once I'm home. (Nancy has discontinued her website, Contemporary Sashiko, but here's a link to a Flickr page showing many of her wonderful creations. Not only is she a very creative woman, she's just a nice, kind, and sweet person. Her influence has stayed with me since my first class with her at G Street Fabrics in 1999, shortly before my Good Husband's death.)
The class was set up with a "coach" for each two people. The coach would watch over our shoulders and jump in with suggestions pointed out (very little English being spoken) when we looked like we needed help. I liked that they had sketched the stitches in chalk lines on the fabric for us before we started.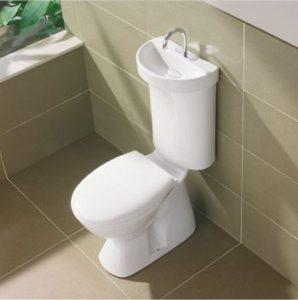 I did see something very cool when I took a restroom break. The Western-style toilet in the restroom had a sink as the top of the toilet tank, rather than just a flat top. When I flushed the toilet, the faucet that flowed into that sink started running, giving me water to wash my hands. The water then drained through a hole in the bottom of the sink into the toilet tank, filling the tank—running long enough to fill the tank. What a cool idea! (The photo is not of the toilet in that classroom, but one I pulled off Google when trying to see if photos were available.)
Back up the mountain to the ryokan, more baths, dinner, and packing.
During these two days of driving up and down the mountains, through the country and the small towns, it was interesting to see so many small cemeteries tucked here and there, seemingly at random, into the countryside. It's very interesting that their ancestors are of such great import to them. Very honorable; very touching.
Friday, June 6
Another transfer morning: bags to lobby, breakfast (Including a fried egg! Wow!), and onto the bus. We drove an hour or so, then stopped for a bathroom break before heading to the first weaving studio.
The first studio utilized clamp (itajime) resist to apply the dye to the fibers before using them for ikat weaving. While exploring ikat weaving in Bali, we learned that the double ikat woven in Bali is cotton and that woven in Japan and India is silk. I don't know that single ikat is the same situation, but this studio was definitely weaving silk. Oh, the luster and sheen.
From the first studio, we went on to one more. I enjoyed seeing the work of the weavers, but also enjoyed all the beautiful flora around the studios.
And then lunch! We were headed to a knitting studio, and lunch was arranged at the restaurant next door. OMG. GEA! If you're anywhere near Sagae, Japan, it's worth your time to go out of your way and eat at GEA!! We had bread—real, fresh-baked Italian-recipe bread that was to die for. First course was a beautiful salad; second was a pasta with mussels (I skipped the mussels, but the pasta and sauce was delicious); dessert was a coffee pot de creme with a teaspoon of espresso in the bottom. So delicious!
After lunch we browsed in the shop attached to the restaurant. Beautiful pottery; candles with wonderful fragrances; well-crafted aprons; books; lots of high-quality merchandise to take home with you. I bought two sashiko coasters, one for myself and one as a birthday treat for my sister.
Then we were treated to a tour of the yarn factory Sato Seni. A look at the business end of things. And Sato Seni's website.
The company, started in 1932, asked local farmers to each grow one sheep. The sheep were sheared once a year and the wool spun by hand. As time moved on, the workforce in Japan all wore suits to work, so the cotton fabric mills moved to China. Nowadays, over 600 million pieces of knitware are produced for Japan, but only 1% is made in Japan.
The company is in its fourth generation of family ownership. They were the biggest knitting factory in Japan, and were trying to figure out how to stay ahead of the competition. The other companies were buying new equipment each time the technology progressed. But Sato Seni invested in the used equipment others were selling, which they were able to purchase for much lower prices. They could then have more equipment and employ more workers. Some of their machines are 60-70 years old and still produce beautiful knit fabric every day. Sato Seni also specializes in producing unique yarn to go into a fabric that other companies don't have.
They have a workforce of 100. One of their strongest contracts is with North Face for sweaters such as shown in this link. I saw the women working on Juki industrial sewing machines and smiled. Those machines just never die—the idea that they purchase the used machines to make their yen stretch farther is just brilliant! We saw a sweater being embroidered on a 50-year-old machine. Honestly, I smiled all the way through this tour. And then we browsed in their company store—touching, feeling, lusting. The store was filled with beautiful, high-quality knitwear. This visit brought me great joy.
Our final visit of the day, before moving on to our hotels, would be at Tohoku University of Art and Design. Note the pictures in the gallery below of this beautiful, 25-year-old institution in Yamagata. How fortunate are the budding artists in Yamagata Prefecture to have this institution dedicated to advancing creativity and imagination.
We were served a nice casual buffet dinner, then had some time to look around the facility. I especially enjoyed my time nosing around the gift shop and the art supply store stocked for the students. Such colors! Such cool art tools! Then we went outside to the Noh theatre to view a Noh performance based upon the importance of safflowers in the Yamagata area. Almost as soon as we sat down, the rain began. Forty-five minutes into the performance, having sat in plastic raincoats on plastic chairs, we boarded the busses to head to our hotels.
Sometime during this day, I decided it was time to go home. If I had been a smarter traveler, I would have decided this before leaving Tokyo three days before. As it was, I made the transportation harder for myself. But it was time to go. I spent the evening unsuccessfully trying to connect with Air Canada via cell phone to change my ticket. The only thing I accomplished was to make a reservation with Japan Air Lines to fly in the morning back to Tokyo.
I spent half an hour throwing everything into my suitcases, and then sleeping fitfully.
Saturday, July 7
I left the hotel at 5:30 for the ¥7800 cab ride to the Yamagata airport, only to find the airport still closed for the night. A kindly night watchman let me in to wait for the airport to open in 30 minutes. When the JAL ticket counter finally opened, I got my boarding pass and went upstairs to the gate area. This airport had three gates. While I waited, I noticed the gate agent was making announcements only in Japanese. No English was being spoken. Of course, I also noticed I was the only Caucasian in the boarding area. I looked around the fifty-or-so people waiting with me, trying to decide who might be the most likely to know some English. Ta-da. The guy in the hiking boots toting a large backpack covered with badges documenting all his climbing adventures. I went up to him and asked if he spoke English. My recollection of his answer was, "Of course." I didn't know how I'd know when to get on the plane. I asked how JAL boards, and he answered—the usual way. All the handicapped and needs-assistant people first, then then silver and gold, etc. He went to ask the gate agent and she said the people at the back of the plane would be next, row 22 and greater, and my row 18 seat would place me in the final group. I've never been so happy to hear some English in my life.
Soon two more JAL employees arrived to help the gate agent with the boarding process. The primary gate agent announced their arrival, and they turned and bowed to the assembled travelers.
We boarded (my English-speaking buddy was, of course, in first class). Now every announcement was made in Japanese and then in English. I knew those announcements were for my ears only. 😉
Flew in over the water to Haneda airport. Got some great pictures of cool ships. Ships always take me back to my elder son's time at the U.S. Merchant Marine Academy and his sea semester where he traversed the Pacific loading and unloading containers. Well, okay, not him, himself, physically unloading the containers. But making sure it happened.
And now I needed to get to Narita airport to change my tickets with Air Canada. Got bags off the carousel onto the trolley, and asked a person at the information desk, who spoke approximately five words of English, about the LimousineBus to Narita. He pointed to a poster that showed the LimousineBus taking 1.5 hours to travel from Haneda to Narita, and the train taking 30-45 minutes. I pointed to the train and nodded. He then pointed me to the door that would take me to the train. I found the ticket window and said "Narita," and the ticket agent held up four fingers and pointed to the sign that said Track 4 (in Japanese, of course). Soon I was standing on the train, holding desperately onto my five bags, hoping against hope that I was on the correct train. And the Japanese people may be known for their manners and their politeness, but no one offered a seat to this mostly-gray-haired woman with five bags. So I stood through about ten stops until some young people exited and I could sit down. I kept watching the map over the door and comparing it to my Google map, trying to figure out where I was and whether I needed to change trains to get to Narita. Finally a nicely-dressed 50-something woman sat down, appearing to be on her way home from her department store sales clerk job. I asked if she spoke English and she replied, "Not very well." I'm calling BS on her. She spoke great English, and showed me on the map where we were and where I was going and soothed my fearful mind. And then got off at the next stop. And you know that poster that said 30-45 minutes? It lied. The trip took over 90 minutes.
All I could think of was how I needed to get to Narita and to the Air Canada counter so I could get my tickets changed while there were still seats on the flight that was leaving at 4:00 p.m. It was almost noon and my anxiety kept rising.
Finally we arrived at Narita to the appropriate terminal, and I got my bags off and made my way on and off several escalators to reach the ticket lobby. I found the aisle where I thought I was supposed to be and asked a code share partner employee to direct me to the Air Canada counter. She replied that they didn't open until 1:15. Argh. Visions of completely full business class sections filled my mind. I found a counter within view of the Air Canada desk where I could plop all my bags, pulled out my notebook, and tried to connect with Air Canada.
When the customer service representative finally came on the line, I explained what I was trying to do and how many times my call had been dropped the night before (seven!). He kindly said he was going to try to make sure that didn't happen to me again. Every time he was doing something that didn't require him to talk to me, he kept saying something, anything, to fill the air with sound and avoid the carrier dropping the call. ("I'm doing thus-and-such." "I'll be right with you.") I think that's what had happened the night before. The CSR and I would get to the point where they had to put me on hold to check the price of the ticket change. The carrier heard two minutes of silence and clicked off. This thoughtful CSR, Mr. Saturday Afternoon, refused to let that happen. In about 15 minutes I had new tickets and a big credit card bill. Oh, well. I immediately tweeted a note to Air Canada, complimenting Mr. Saturday Afternoon and his great skill as a CSR.
Went to find something to eat, came back to find the Air Canada counter open, got boarding passes, checked bags, went to currency exchange and changed yen for dollars, and made my way through security and customs. Texted the Jazzman to let him know when I'd arrive in Pittsburgh, found the Star Alliance international lounge, and relaxed with chargers on all my devices for an hour before heading to the gate. Boarded a 767, made my bed, settled in, watched a movie, and slept for about five hours. Watched another movie and then landed on (again) Saturday morning in Calgary. (It's an International Date Line thing, you know.) Navigated customs and immigration, then noted and smiled at all the cowboy attire being worn in the airport, remembering my move to Fort Worth in 1979 and the similar attire there.
Finally reboarded the flight for the next leg—to Toronto. Another movie, another nap. Woke up just in time to have a snack before descending into Toronto. Made my way to the Sheraton Gateway in the airport, dropped my bags in the room, then headed downstairs to the Mahogany Grill for a fabulous pasta dish with butternut squash and goat cheese. After almost two weeks of struggling with all the Japanese foods, I was delighted to be back with food I recognized and loved.
Sunday, July 8
What a thrill, after getting checked-in for my flight to Pittsburgh, to discover that U.S.-bound passengers out of Toronto's Pearson International go through U.S. Customs and Immigration before boarding the plane. Yea! Once you get to your U.S. entry airport, you just walk off the plane. Your duties to the government have already been completed.
After a flight over Lake Erie, viewing lots of boats I normally see from the south shore at Madison, and flying directly over my house (I could see the cemetery that's less than a mile to the west, but couldn't see my house—thats how "directly" I was over my house!), I landed in Pittsburgh, was picked up by my honey, and headed home, sweet home.
I imagine you're wondering:
What did I like the most on this trip? Learning new things and see the gorgeous hydrangeas. A few days later I went to my favorite nursery and bought four hydrangea plants on half-price sale.
What did I like the least? The fact that only the largest institutions have any means for one to dry their hands after washing them in the bathroom. Most buildings have blow dryers. A few have paper towels. But the small stores and restaurants have nothing! Use your pants to dry your hands or blow on them! One of my first purchases of the trip was a small terrycloth towel to carry in my purse. Strange!
And how did I do with the hole-in-the-floor toilets? I only encountered one once—in the Yamagata airport. The stall was no larger than the stalls with Western-style toilets. And I was trying to pull all my luggage into the stall without falling into the hole. Those devices are not fun, IMO.
Thanks for asking. 😉
---