Once again, the Jazzman and I played Calendar Dartboard to plan our late summer vacation. (He works for Norfolk Southern Railway and has to declare his vacation by the end of November each year for the entire following year.) We chose a week in August that would give me one more week off of work before my academic year began. And we chose the Pacific Northwest, where we had never been together, for a trip to visit friends.
Disclaimer: For several days (if not weeks) leading up to our travel, the Pacific Northwest had been inundated with smoke which traveled down from wildfires in British Columbia. There was not a clear view of anything from anywhere. This persisted until we were about 50 miles south of Bend on our fifth day of vacation. We never got to see the mountain peaks that are so famous in this area. Mount Rainier never showed its pretty face to us. Mount Hood was only visible when we were passing near its feet. I guess we'll have to take another trip out there after we both retire.
Days 1 and 2: Seattle
Saturday: Travel Day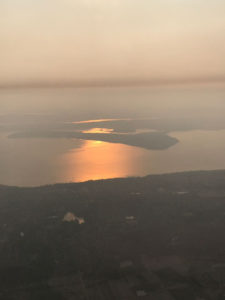 We live over an hour away from the closest large airports—Cleveland and Pittsburgh. I avoid early morning flights, which require us either to get up at 3:00 a.m. or to drive to the airport the night before and pay for an extra hotel stay. I was thrilled to have enough American Aadvantage points to get business class tickets for the entire trip. We left home a little before noon, flew out of Cleveland around 3:00 p.m., connected through O'Hare, and landed in Seattle at 7:30 p.m.
We planned to spend Sunday with the Jazzman's cousin, Rita, who has been living in Seattle for about thirty-five years. I had spent a couple of hours searching for a hotel which wouldn't cost us $150 or more. I wasn't finding anything reasonably priced in hotels or traditional bed & breakfasts until I looked on VRBO. When I found "The Lookout" in the Fauntleroy neighborhood, I was excited. Free parking, a spacious unit, and beautiful views of Puget Sound. And a price tag just over $100. Great choice! We had a half-hour drive from the airport and quickly were standing on the front porch, watching the Fauntleroy ferry and admiring the view.
Sunday: Cousin Play Day
Before breakfast we walked up 48th Ave SW and Fauntleroy Way SW, then down Brace Point Drive to walk on the beach for a few minutes. We laughed at dogs chasing sticks, said hello to locals out on a stroll with their babies, and watched cars drive onto the ferry. Then we walked back up the street to the corner of 45th Ave SW and SW Wildwood Place, where we had incredible baked goods and coffee at
The Original Bakery. If you're ever in West Seattle, this place is a must-eat-at location!
. Rita lives in the Fremont neighborhood of Seattle. We drove to her home for a delicious brunch, after which she took us on a tour of the neighborhood and the city. As the Jazzman's current job has him sitting under a bridge every day, we call him the Bridge Troll. So of course we had to see the Fremont Troll. After more exploration, we arrived at Seattle Center, and made our way first to the International Fountain. Oh, the people watching and water watching! The water jets on this fountain are somehow timed to the music playing all around. As I failed in trying to make a video of the fountain, I'll share with you
this YouTube video
. Great fun!
After the fountain, we headed to Chihuly Garden and Glass. I adore the work of Dale Chihuly and the artists in his studio, and never miss an opportunity to attend a museum or garden showing. When we visited Toronto in 2016, one of our destinations was the Chihuly exhibition at the Royal Ontario Museum. To walk slowly through the garden at Chihuly Garden and Glass was a special treat. The glass pieces have been strategically placed among the plants and flowers, and the colors have been carefully coordinated, both for harmony and contrast. Absolutely gorgeous.
Next we boarded the monorail for the short ride to Westlake Center, followed by an easy walk to Pike Place Market. To walk down the hill on Pine Street and see the "Public Market Center" sign, so familiar from so many movies, just gave me a thrill. I'm such a sucker for moments like that. We walked through the stalls in the market, then out to the deck overlooking Alaskan Way and Elliott Bay.

What a great view of ferries and cruise ships and containers being loaded on ships for voyages north, south, and west. Stunning. Back into the market, I bought a little hand-carved piece to be used as a zipper pull on one of my hand-crafted bags. Then we walked a block along Western Avenue to Cutter's Crabhouse, where we sat for a while with glasses of local wine and a crab dip. Stories told and laughed about, we trekked back up the hill to the monorail, rode back to Seattle Center, and drove back to Rita's house.
I've retold this day in far fewer words than I usually use for such a tale, but it was just a delightful day for us to spend with a smart and lovely woman whom the Jazzman has known since they were children.
We drove back to Fauntleroy, relaxed on the front porch while reading and watching the ferries swim back and forth. When we were at The Original Bakery for breakfast, we noticed Endolyne Joe's next door. Our hosts had mentioned that would be an enjoyable place for dinner. Well, it was interesting in a kitschy sort of manner. But it was loud. And we were seated by two successive families with unruly children and overbearing, whiny mothers. Oy! And the food was not so very great. I no longer remember what I ate, having blocked that whole experience from my mind (except to notate it here so as never to repeat it). But the walk up and back was delightful, so there's that.
Days 3 and 4: Portland
Monday: Drive to Portland, Eat, Browse, and Laugh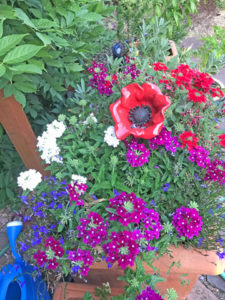 Boy, there's a lot of traffic on the interstate between Seattle and Portland! But there are lots of interesting things to see. (But see disclaimer above regarding the constant smoke.) One of my greatest thrills along the drive was seeing the sign for Shipwreck Beads. I've made a lot of beaded jewelry in the last twenty years, and many of those supplies came from Shipwreck Beads. I had no idea they were located near Seattle. When one shops predominantly online, address doesn't matter.
We were in Portland primarily to visit a very creative woman I had met and become friends with on my June visit to Taos for Diane Ericson's "Design Outside the Lines" retreat. Tina and I struck up a friendship almost the moment we met, and just found more and more commonality during our week together in Taos. So as I was crafting this vacation and breaking up the route into three-hour segments, it just made sense to stop in Portland and spend some more time with Tina. She and her husband, Bruce, live in the Richmond area of Portland. Since we would be seeing them for dinner, I found an inn nearby. As we drove into Portland from Seattle, I navigated us to that area for lunch. (I spent half an hour with my nose in Fodor's to select a recommended restaurant.)
Leaving the interstate, we headed east on Hawthorne until we found Lardo. Wow! I had the Lardo Egg Sandwich and we shared an order of Lardo Fries. Then, sated, we wandered back toward the car, only to realize we had wandered into Vintage Heaven. Oh, my. We nosed around three or four vintage stores, exclaiming over so many interesting artifacts of our childhood and youth. In the store that had lots of musical instruments, including about seven accordions lined up atop a bookshelf, I found a four-drawer file cabinet. The hand-lettered sign on the side said "Instant Ancestors." Each drawer was crammed full of old pictures. All one had to do was decided which person in which photograph was appealing, buy the photograph, frame it, and place it on a shelf. Voila! (Every adoptee's dream? Look here, see my father?)
After an hour of wandering and exclaiming, we knew our room would be ready, so we headed for the inn, Bluebird Guesthouse. But as we were on our way over there, I realized we were very near Salt & Straw, so of course we had to stop. Mmmm. Ice cream is never the wrong answer. Now we were really ready to lie down for a brief nap. The inn was old, the decor very comfortable, and the bed was inviting.
After some texts back and forth, we drove fifteen blocks over to Tina's house and had a warm reunion. They have recently renovated the kitchen in their circa 1911 home. That kitchen is stunning. I lust after that kitchen! So we, the couple planning to renovate our kitchen in the next year, couldn't stand in that functional and beautiful place long enough! After trading old house stories and admiring their lovely home, we walked a few blocks to Hawthorne Blvd. and a newly opened Greek restaurant. While the restaurant and the food wasn't quite what any of us expected for dinner, the food was satisfying and the company was delightful. Too soon, we walked back to their house and said good-night. Tina and I will be in frequent contact for the next nine months as we plan our tour of Bali. I feel incredibly lucky to have met this talented woman who shares so many interests with me.
Tuesday: Gardens, Mother's, Yarn, Art, and a Truly Great Dinner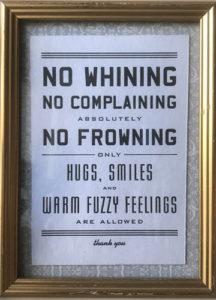 Our full day in Portland began with a simple, homey breakfast at the inn. Then we headed for Portland Japanese Garden. What a beautiful and tranquil environment they've created on the hillside over the busy city. We greatly enjoyed walking the curving paths through the garden. In the gift shop I found some notecards from Aki Sogabe, who uses the Japanese art form of Kirie, or papercutting, in his art. The cards were perfect for writing "thank you" notes to all our hosts along this Pac NW path. We also found some darling little ceramic bowls with Japanese illustrations of cats, which we purchased for our friend who prevented our cat, Angel, from dying of starvation while we were gone. Also in the gift shop, I saw some beautiful Kumihimo necklaces that made me want to dust off my discs and start braiding!
After asking my friend Google for nearby lunch places, we headed to Mother's Bistro and Bar (Motto: It's All About the Love). Oh, yes! Oh, my salad! Spinach adorned with local blackberries, local goat cheese, and spiced nuts (maybe hazelnuts?) with a blackberry vinaigrette. People! If you love goat cheese and blackberries, as I do, this salad gives you a died-and-gone-to-heaven feeling. The Jazzman started out with a gorgeous Bloody Mary. Oh, to be able to eat here once a month. Another reason to move to Portland.
And for me, another reason to move to Portland would be the existence of Knit Purl, a truly lovely local yarn shop (LYS). I subscribe to their emails, and had just received notice the week before our vacation about a new pattern for an asymetric scarf. I wanted to get the kit for the scarf. While we were at lunch, I googled them and found out they were midway between Mother's and our next stop, the Portland Art Museum. I called them from the restaurant, told them what color yarn I wanted, and asked them to kit it for me and I'd be there in ten minutes. We retrieved our car from the parking lot, drove over to Knit Purl, and while Jas circled the block, I ran in and got a new project. I Heart KnitPurl!!
Next stop: Art! The Portland Art Museum houses a vast collection of beautifully displayed art. I found their Native American collection to be of special interest, especially the textiles in that collection. We spent the next two hours wandering and pondering. I will include this stop on every future visit to Portland. Truly inspirational!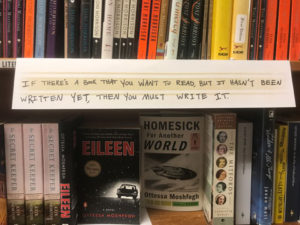 After the full day of local color, we headed back to the hotel for a little nap, but stopped along the way at one of two Powell's bookstores. Any bibliophile worth her weight in books is familiar with Powell's. I wished we could have gone to the main store, but we only had so many hours in this city, so this would do. I found a couple of must-haves, while the Jazzman sat in the cafe and caught up on the news with a cup of coffee.
And for dinner, we walked a block and a half west on Division from our inn to Ava Gene's (Motto: Locally Sourced. Agressively Seasonal). We couldn't get a table, but found two seats at the "chef's table," the bar seated along the open kitchen with a full view of everything going on inside.
The weather in Portland while we were there was very hot, and we were apprehensive about sitting where all the heat was pouring out of the kitchen. But the hostess said we would be at the salad end of the prep counter. When we sat down, the woman who was half of the salad prep team welcomed us and continued to chat with us sporadically throughout our dinner. What an amazing evening, to watch the salad team grab just the right amount of this green or that, this handful of cheese, that olive, those flowers. It was an amazing experience.
More amazing was the way the waitstaff worked. One of the Jazzman's pettest of peeves is the waiter who will walk up to deliver a drink, a dish, a fork, and announce "Here you go," interrupting your intense conversation. There was no "Here you go" at Ava Gene's. We would be deep in conversation, facing each other, and the waiter would slip behind him and slide the delivered item onto the counter. When he turned back to his meal, there was his desired item, quietly and elegantly delivered with no fuss. Really, why is every waiter in America not taught this technique?!
Wonderful meal.
Day 5: Bend
Wednesday: Drive past Mount Hood, Lunch and Dinner with Special Friends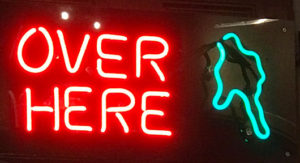 Wanting to continue the glow from last night's dinner at Ava Gene's, we walked down the street to their sister bakery, Roman Candle Baking Co. No fancy digs, just clean, bright, lots of glass, and delicious food. You want to see the menu, don't you? Satisfied, checked out of hotel, bags in car, on the road for another three-hour tour. From southeast Portland, we drove out route 26, through Gresham, then headed into the mountains and Mount Hood National Forest. Because of all the smoke, the views were not great, but once we got near Mount Hood, I loved the glimpses we got. Leaving the forest, we continued across Warm Springs Reservation and passed through the town of Madras, which was getting a lot of attention for the upcoming solar eclipse. Madras had been identified by many solar eclipse experts as one of the premier viewing locations in the US. A few miles before entering Madras, while still on the reservation, we saw billboards for a big music festival that was planned for a few days surrounding the eclipse. Money is money!
We neared Bend around noon. I searched the guidebook and we navigated to Deschutes Brewery and Public House, texting our friend, Chris, to meet us there. The end of her golf game coordinated perfectly with our arrival in Bend, and we walked into the restaurant within minutes of each other.
Chris's email to us late last year was what prompted us to start thinking about a trip to the PacNW. The Jazzman had a best buddy in high school, maintaining regular communication with Mike C. long after they forged their divergent paths in the world. Mike's parents live a mile or so from us, and his mom and I occasionally take the same "Twinges in the Hinges" pool class at the JCC. Five years ago, Mike was diagnosed with the demon cancer, and Jas made sure to stay in close touch, flying out to Bend to see Mike a month or so before his passing. His wife of thirty years, Chris, has kept in touch with us ever since, and the Jazzman misses Mike a little less when we can talk to or spend time with Chris.
After a delicious, satisfying lunch, we decided to walk off our full tummies. We stopped in a couple of local shops where I bought notecards and a candle in a tin cup (i.e. unbreakable) for our bathroom. Then Chris pointed at a gallery window that took my breath away. Oh, wow. All the handcrafts that I dearly love. The Red Chair Gallery was an absolute delight. Every item from every possible medium on the walls and shelves was a wonderful example of Oregon creativity. But what I fell in love with was the handcrafted jewelry of Nancy Hoyt. I can't wait for the appropriate celebratory occasion to acquire one of her pieces.
Reluctantly, I allowed myself to be dragged out of Red Chair, and we continued our walk to the Bend Farmers' Market. And cones of Bonta Natural Artisan Gelato. Just, Wow! We sat on the steps in Drake Park, overlooking Mirror Pond, admiring the beauty and allowing the gelato and shade to cool us off in the heat wave.
Gelato finished, we walked back to our cars and followed Chris on a tour of the area, up to a mountainside to see the house she and Mike had finished constructing and decorating shortly before his death. And then we drove to The Parks at Broken Top to see the lovely cottage that is now Chris's home.
We spent the rest of the afternoon relaxing until Chris fired up the grill and Chris and Mike's daughter, Dani, arrived with a friend to entertain us throughout dinner. We loved catching up on Dani's life story. She is a bright and exuberant young woman, who carries much of her dad with her at all times. Seeing her brought us joy. And what an interesting guy this friend was. He works as a fisherman in his family company in the deep waters off Alaska, but maintains a home outside of Bend. He obliged our many questions and told us some great stories. All too soon, the young people headed off and we fell into bed.
Days 6 and 7: Ashland, a New Cousin, and Home
Thursday: Drive to Ashland, Meet Diane, Explore
In the morning, we spent a little more time with Chris before opening Google maps to see what was next. We charted our course south to Ashland – 187 miles, 3.5 hours. Let me tell you about traveling down U.S. 97 toward Ashland: Nothing. Nothing and more Nothing followed by Nothing. Beautiful Nothing, but Nothing, nonetheless. Be sure to top off your gas tank and pack a few snacks if you talk over breakfast too long in Bend before leaving. We were sure we had enough gas and that we'd be in Ashland before we got hungry, or that there would be plenty of places to eat along the way. Not so! When we felt like we couldn't drive farther without eating, we left the highway and stopped in the teeny whistlestop town of Chiloquin at the Potbelly Cafe, a diner decorated in all things railroad. (I wasn't kidding about the whistlestop!)
While waiting for our sandwiches to be prepared, we consulted the map again and decided on the scenic route. I love scenic routes. In the old days of solo roadtrips with an atlas on the seat beside me, I always preferred the scenic route to the fast route. We left Chiloquin, heading northwest to get around Upper Klamath Lake, and then took Volcanic Legacy Scenic Byway along the foothills near Mt. McLoughlin. The views were stunning. The thick clean-bottomed forests of evergreens made me want to get out and take a hike. But we had places to go and a friend to see.
I loved that we crossed the Pacific Crest Trail several times. That gave me the opportunity to tell Jas about Cheryl Strayed's book, "Wild," and describe some of her adventures on the PCT.
We had not seen a gas station before leaving Chiloquin, and we sure weren't seeing any on this back road. We kept watching the gas gauge measure lower and lower and finally found a gas station as we were entering Ashland. Tank full, stress relieved, we wound through charming Ashland to find Diane Ericson's studio, in the back of the Arts Building, across the street from the hardware store.
We entered to a smile and a hug and I was finally able to introduce the Jazzman to this woman he had heard so much about during the seven years we've been together. Diane is one of the two women (the other being Marcy Tilton, her former teaching partner) who have taught me so much about sewing and creativity.
<Sidebar On>The retreat that Diane hosts several times a year in Taos, Santa Barbara, and Ashland, is entitled "Design Outside the Lines." The student body is comprised of fifteen to twenty women who are filled with the love of fibers and textiles and creating. Some women have gone once a year for, oh, twenty years. (I don't remember how long DOL has been offered, but I've know about it for almost 20 years.) It is the place to go to find new ways to look at old processes. Students always leave recharged and full of new ideas.<Sidebar Off>
We spent over an hour with Diane, catching up on her activities since I had seen her six weeks earlier, hearing about her daughter's wedding, seeing her latest projects, and helping the Jazzman understand why I'm willing to fly across the country repeatedly to soak up a bit of her creativity. And then we let her get back to her work as we went to check in to our hotel.
I had chosen the historic Ashland Springs Hotel for our night in Ashland. The area was suffering a heat wave, but the room was cool and pristine. We ate downstairs in Larks Restaurant, where they are proud of their "Home Kitchen Cuisine." They serve supper, not dinner. That made my southern heart smile.
After dinner, we took a walk along Main Street and ducked into Zoey's for ice cream. We walked off our dinner, window shopping along the way, then went back to hotel and settled into our beautiful room.
Friday: Meet My First Cousin, Explore Some More, Travel Home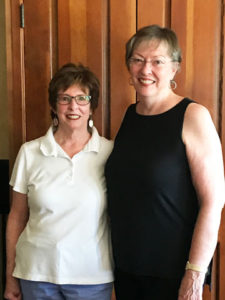 Writing this over two months after it happened, and after six weeks of intensive music-making, I no longer remember where we ate breakfast. I'm pretty sure we went outside the hotel for breakfast, but the location shall remain a mystery.
After finishing our packing and loading the car, we headed toward Medford and north to a golf course community in Eagle Point, OR, where I was privileged/blessed/lucky to meet in real life, for the first time ever, someone I'm related to through my unknown biological father. Her name is Kathleen. And she quilts!!!
<The Ancestry story>She is one of three sisters. We are second cousins. Her mother is a Kelly, and is the daughter of Alvin Sewell Kelley, who left the Middle Tennessee homestead and moved to San Francisco in search of work. Alvin was born in 1880. The 1910 U.S. Census shows him living with 36 other lodgers in a boarding house run by Peter Topini and his six children, working as a railroad foreman. The 1920 census shows Alvin married to one of Peter's children, Madeline, and still living with Peter, but now with two young daughters. Kathleen's aunt, Evelyn, was eight years old. Kathleen's mama, Bernice, was four. And in this census record, Alvin's six-years-younger brother, John Curtis Kelley, has moved from Middle Tennessee, off the farm, to work in San Francisco. Now they're living on Steiner Street, in a much smaller home. There are nine extended family members and four roomers.
John and Alvin are the sons of Nathaniel James Simpson Kelley and Sarah Zanzaline "Sally" Thornton. They are Kathleen's great-grandparents. In fact, they are the great-grandparents of all six individuals who have tested with Ancestry and whose DNA matches to mine. That means Nathaniel and Sally are my great-grandparents. I hope to someday find out from which of their six or eight children I am descended. But until that time, I have these six second-cousins that I know I'm related to. When you've been related to nobody all your life, this is a treasure trove!<End of Ancestry divergence>
We spent about an hour and a half chatting, sharing stories. Kathleen and her husband have had an interesting and active life together, and it felt to me that I had known her forever. What a wonderful feeling.
And too soon, it was time to leave to grab some lunch and head to the airport.
We drove back into Ashland, where I dropped into Sew Creative to see what they might have (a quilt kit and a quilt pattern came home with me), walked around the the Ashland Art Center and relaxed over lunch at a Redzone Sports Bar & Grill.
And then it really was time to head for the airport. We flew out of Medford to Los Angeles, then killed about four hours until boarding a United redeye to Charlotte, and then a quick flight back to Cleveland. We were home by noon. Vacation over. Back to work and school.
Would we do it again? I'd love to have more time to see the sights in all the cities we visited. It was definitely a wonderful vacation.
As you view the pictures, remember that the colors were dulled somewhat by the smoke all around us. ☹
Photo Gallery