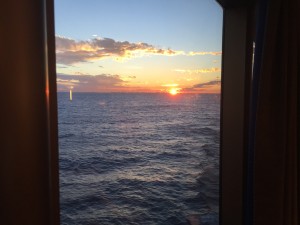 Warming Up With Our Best Travel Pals
Normally when I document our vacations, I take it a day at a time, and an activity at a time. In retrospect, I should have taken notes on this trip! This was an eleven-day cruise filled with activity, and when we returned home, we knew instantly that our beloved 14-year-old orange tabby sweetie-cat, Rudi, was very ill. He died three days later from kidney failure. So by the time I sat down to start documenting this trip, my brain had lost all connection to our fun in the sun.
I'm going to try to give you a taste of the wonderful time we had on this cruise, without taking you on every step with me. (In the past, friends have told me my writing made them feel they were on the trip with me. That's not going to happen this time!)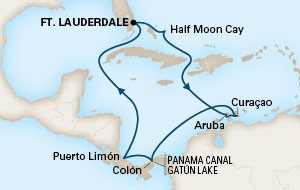 Itinerary
Holland America Line – The Panama Canal Sunfarer
1/4, Monday, Depart Fort Lauderdale 4:00 p.m.
1/5, Tuesday, Half Moon Cay (8:00 a.m. – 2:30 p.m.)
1/6, Wednesday, At sea
1/7, Thursday, Oranjestad, Aruba (1:00 p.m. – 11:00 p.m.)
1/8, Friday, At sea
1/9, Saturday, Cartegena, Colombia (7:00 a.m. – 1:00 p.m.)
1/10, Sunday, Cruising Panama Canal and Gatun Lake (Gatun Lake 9:00 a.m. – 10:00 a.m.; Colon, Panama 3:00 p.m. – 7:00 p.m.)
1/11, Monday, Puerto Limon, Costa Rica (6:30 a.m. – 4:00 p.m.)
1/12, Tuesday, At sea
1/13, Wednesday, Georgetown, Cayman Islands (8:00 a.m. – 5:00 p.m.)
1/14, Thursday, At sea
1/15, Friday, 7:00 a.m. arrival Fort Lauderdale
Why a Cruise; Why This Specific Cruise; Why This Specific Week
We had planned to visit Tulum, Mexico, again in the late winter—or as soon as we couldn't stand the Northeast Ohio (NEOH) snow any more. But that trip started falling apart, so Jas and I began looking for alternatives. We regularly go out to dinner with our neighbors and travel pals, Mike & Marilyn. Over one of those dinners, they told us they had signed up for a Scientific American-sponsored cruise aboard Holland America Line (HAL). They planned to leave January 3 to fly to Fort Lauderdale, and sail from January 4 through 15. The dates were perfect for my new part-time faculty position in the opera program at YSU—I would only miss the first week of the semester! The finances were doable, and we signed on.
We were dealing with two different travel organizations. (Never a good idea. Think: single point of contact.) Insight Cruises handles the portion of the cruise with the Scientific American content. For all strictly carrier-related issues, we dealt with HAL. We wanted a nonstop flight and Mike wasn't finding anything as he looked at various travel search sites. He figured Insight would know the best way for us to get from NEOH to Fort Lauderdale and asked them to book it. [Geographically, we have a choice of Pittsburgh and Cleveland when booking distance travel.] Well, they chose Cleveland and booked us on Spirit Airlines. I had never heard of Spirit before. Have you? What. A. Nightmare.! Spirit thinks they are keeping things simple by being an a la carte airline. Everything is priced separately, and you pay for everything. The first [seemingly inexpensive] portion—the fare itself—is very reasonable. But if you wish to bring a bag other than your purse or your manbag, you pay. If you wish to sit in the seat of our choice, you pay. If you wish a ticket agent to print out your boarding pass, you pay. If you wish to board earlier than the other cheapskates, you pay. Everything! But here's the Very Worst Part: Spirit only lets your [paid-for] checked bag weigh 40 pounds, as compared to all other [sane] airline regulations of 50 pounds. And the maximum dimensions of the bag are smaller. We were packing for two weeks, and the night before we left, I was throwing things out of my bag right and left to be under 40#. By the time we got to our destination, I had no idea what clothes were with me and what were lying on the floor of the guest room, where we staged our luggage.
<Sidenote On>
When we got on board and met the other Scientific American travelers, we learned a family from Cleveland had flown from Akron/Canton (CAK) on a "real" airline, nonstop. We each could have packed ten extra pounds of "necessities." Humbug!
<Sidenote Off>
The first of our Scientific American activities was a pre-cruise reception at the Westin. There were about twenty fellow cruisers at the reception, and we immediately struck up a friendship with two travelers from Denver. Terry planned to attend the lectures, while her housemate, Kreg, was along for the fun. We would spend quite a bit of time with these two during the trip, and I found in Kreg a fellow knitter and fiber aficionado.
The Port of Fort Lauderdale; Setting Sail
Breakfast in hotel, bags to transport van, gather in meeting room until our bus number was called, travel half-an-hour to the pier, catch first glimpse of our home for the next 11 days, snake thru yard after yard of ropes to get to TSA and then check in, board and learn our rooms are ready, find them and drop our carry-ons, go to lunch (All food was included in the cost of the cruise; water, coffee and tea was also included. Sodas, bottled water, designer coffees and adult beverages were always extra.), kill time until lifeboat drill …
At 3:00 p.m., the mandatory lifeboat drill was held. As we looked around us at the many OA (overweight American) passengers, many with walkers or canes or electric scooters, we knew the drill's main purpose was to meet Federal requirements. If the ship went down, a lot of these people were going down with it!
… Then, we gathered back by the Sea View pool where we watched other ships get the jump on us leaving port. I think the Port Authority for Fort Lauderdale needs to take a lesson from air traffic controllers in departure scheduling. There were three or four ships all scheduled to set sail at 4:00 p.m.—an impossibility. Two of them left ahead of us, so we finally set out at 4:30. (The picture at the top of this post is taken from our stateroom, looking back at the Port of Fort Lauderdale as the sun sets in the west.
At 5:00 p.m., the 110 passengers who were on the Scientific American portion of the cruise met in the Crow's Nest for a champagne meet 'n' greet. We would meet like this five or so more times during the voyage. I always enjoyed sitting in the comfortable Crow's Nest lounge at the top of the ship, surrounded by glass and in full view of the sunset over the Caribbean Sea.
At 7:45 we met outside the dining room to be seated for dinner. Again the Scientific American group were all seated together at 6-top and 10-top tables. Can I tell you what we ate any any of these dinners? Probably not. But it was all wonderful. The food was perfectly prepared. Even in serving that many dinner guests, food that was to be served hot came out hot, cold food came out cold. I'm not sure I can successfully do that with eight guests in my dining room, just steps away from the kitchen! And the staff of servers were just the best! Jas's favorite pet peeve when dining out is servers who bring your every request, then set it down and announce, "Here you go." We didn't hear one "here you go" during the entire eleven days. Never was a conversation interrupted by a server with an announcement. The training the HAL food service crew gets is impeccable.
And the incredible training of the crew was not limited to the dining rooms. Every crew member with whom we had repeated contact remembered our names and greeted us by name each time they saw us. As a prime example, when I first met our lead room steward, Lu, I told him I was "Jan." My passenger record said I was "Janet," but each time he saw me, Lu said, "Hi, Jan." As another example, when I got a manicure later on during the cruise, Marilyn came into the spa to tell me something. The nail tech who was buffing my nails had given Marilyn a manicure two days earlier. She remembered Marilyn and spoke to her by name. Incredible!!! (Maybe it's only impressive to me—I can't remember someone's name two hours after meeting them. But I thought this practice by the crew members was most impressive.)
Most evenings after dinner, Mike & Marilyn and Jas and I would adjourn to a nearby lounge and discuss one more time the day's activities before heading to our rooms.
<Sidenote On>
Jas and I are used to eating earlier than 8:00 p.m., and we're usually asleep by 9:30 or 10:00, as Jas is normally up at 5:00 to get ready for work. He has historically had problems with upset stomach/acid reflux when he eats too late and then lies down, so many nights he sits up for at least two hours after dinner (when we eat out or when I serve him spicy foods) to ensure a decent night's sleep. When we ate at 8:00 p.m. and didn't leave the dining room until around 9:30, he had a terrible night's sleep. He always carries an antacid he can chew if he gets an attack in the middle of the night, but ran out of the chewables halfway through the cruise. Toward the end of the cruise, he just got in the habit of turning on the TV and getting caught up in a movie so he could sit up for at least two hours. If we take a cruise again, we will insist on the early dinner seating, or just eat all our meals at the "Floating Golden Corral" (i.e. the Lido Restaurant).
<Sidenote Off>
Tuesday, Half Moon Cay, Bahamas
I woke early, looked out the "back door," and saw land off to the north. Sometime after 7:00, I sensed that we were stopping and could see Half Moon Cay, the private island owned by HAL. (Holland America Line purchased the island in December, 1996, for a price of $6 million USD.) The sky was gray, the clouds had turned their misters on. The captain came on the public address system to say, basically, that it was not going to be a pretty day.
The only excursion we had booked ahead, prior to the beginning of the cruise, was the clamshell lounger on Half Moon Cay (picture). Two people can relax without worrying about getting too much exposure to the sun. We planned to enjoy that, wade in the Caribbean on the sugary sands of the beach, and feast on the barbecue lunch that would be prepared on the small island by the chefs from the ship.
It took about two minutes of conversation between Mike & Marilyn and Jas & myself to decide we were not going ashore. Instead, after our breakfast in the Lido Restaurant, we decided to explore the ship from bottom to top.
We scoped out every bar, found the meeting room where the Scientific American lectures would be held, window-shopped in the [very expensive] jewelry stores, walked through the library, found the screening room, and checked out both pools. But the most interesting thing we found was the 11th floor Retreat.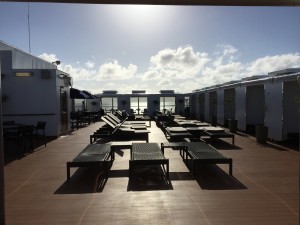 The Retreat was an open-air little slice of heaven. It contained about 12 two-person cabanas and two family (double-size) cabanas. Each cabana held two cushioned chaise lounges, a small dining table, and two cushioned chairs. It also contained an ice bucket with two bottles of water and two containers of Evian Facial Mineral Water Spray. Most importantly, the cabanas were sited around the edge of the deck, so the daily occupants had a wonderful view out over that day's scenic vistas. The middle of the deck contained more chaises and several four-top dining tables with cushioned chairs.
View a PDF of the Retreat.
It took Marilyn and me less than an hour to determine the Retreat would play a large part in our lives over the next few days.
At 2:30 the passengers who had braved the rain and taken advantage of the beach at Half Moon Cay reboarded and we set sail. Mike went to attend a couple of lectures and Jas and I headed to the Greenhouse Spa for massages.
That evening at dinner we shared our table with a couple a few years older than us who had lived in Orlando for many years. The husband had graduated from the same high school my brother, Jim, graduated from, only a few years earlier. It was fun to talk to people who remember Orlando as I do, in the pre-Mouse days.
Wednesday, January 6, 2016 – Our first "sea day," en route to Aruba. Sunny, hot, breezy = gorgeous!
Marilyn and I had reserved cabanas for Wednesday. After breakfast we grabbed swimsuits and sunscreen and headed up to our wonderful out-of-the-madding-crowd getaway. Our personal steward for the day would Joseph. I know he was paid to be nice to us, but he was such a nice guy! He'd come over every so often and ask if he could get us anything or do anything for us.
He brought us a lunch menu and then got our lunch for us. We wanted hamburgers, and afterward we couldn't stop talking about the french fries at the "Dive-In" restaurant on the Lido Deck by the Lido Pool. A little later on he asked if we'd like some ice cream and retrieved that for us. And around 3:45 he arrived again bearing chocolate-covered strawberries and champagne.
You see why we loved this existence so much?
I believe this was the night we ate dinner with Terry and Kreg. Afterwards Jas, Kreg and I went to the Vista Lounge to watch the Zuiderdam Singers and Dancers perform. They did a fine job, as did the show band, in a music-of-the-past production aimed at the median age of the passengers (about 10 years older than Jas's and my age). Afterwards I was able to meet the cruise director and ask about my earlier email to HAL asking about the possibility of an hour every other day in a practice room with a piano or keyboard. Rick was sympathetic to my dilemma—beginning rehearsals for two operas and a musical three days after returning home—but could do nothing to help me out. Oh well.
Thursday, Aruba
Jas booked a snorkeling excursion, "View Aruba's beautiful beaches and resort hotels while relaxing on the open decks of a sailing catamaran specially designed and built for day cruises. The catamaran anchors at the west point of the island, and ladders provide easy access to the water for 50 minutes of swimming and snorkeling in the crystal-clear water teeming with tropical fish." Read more. There were no excursions that interested M&M and me, so we took advantage of being docked at the pier and walked into town.
Here's my impression of Oranjestad: hot and steamy; a mixture of bling and schlock. We weren't in the market for high-priced name brand bags or watches or for multi-carat emeralds or diamonds. So we found a restaurant with ceiling fans and got something to drink. Afterwards, we walked back to the ship, where I spent part of the afternoon in the Crow's Nest studying my Cosi fan tutte score.
We were in port from 1:00 – 11:00 p.m., so could have taken advantage of a sunset cruise or experienced the nightlife, but chose to have a special early dinner instead.
The Zuiderdam has two up-charge (you pay a little extra to dine there) restaurants. (
Read more about the Zuiderdam restaurants and see sample menus.
) The cruise company utilized for the Scientific American cruise gave each couple a complimentary dinner at the Pinnacle Grill, which specializes in food from "America's Pacific Northwest, including delicious seafood and choice, sustainably raised beef from Washington State's Double R Ranch."
Mike had made reservations for the four of us to dine in the Pinnacle Grill on Wednesday night. Earlier reservations (yea!) and an exquisite meal. There are more pictures in the gallery below.
Friday, Another sea day, cruising from Aruba to Cartegena, Columbia

The ship had an excellent gym, which Jas utilized on several days and I visited once, spending an hour on the treadmill. There were ample treadmills, ellipticals, stationery bikes, rowers, and weights. Click on "Fitness Center" to see the panorama view. And speaking of view, if I had a view like that, out at the open ocean, I could get a lot more motivated to spend time in a gym!
One thing I had said I wanted to do, prior to setting foot on the ship, was walk the promenade deck every day, doing laps around the ship. Maybe twice a day. Uh-oh, the bed was too comfortable to let that happen.
I did enjoy spending time in the library, or Explorations Cafè. There were computer terminals with free access to the New York Times, chess boards, jigsaw puzzles in progress, a Starbucks-equivalent coffee bar, printed copies of the daily NYT crossword and sudoku puzzles, and hundreds of books that could be borrowed during the cruise. I never saw this facility empty.
Saturday, Cartagena, Colombia
As Cartegena is known to host abominable traffic jams and exploring on one's own is discouraged (for both safety and the risk of not getting back to the ship on time), we chose an excursion that would take us to the La Popa Monastery, the Gold Museum, and give us a little taste of shopping while—hopefully—getting us back to the ship before departure time. (Complete description of our excursion.)
Our first stop was the monastery. As the bus wound its way through the city and then climbed the switchback road to get up to the monastery at the top of the hill, I was stunned to see the signs of poverty. Rank poverty. The ramshacklest of sheds serving as homes to the people of the area. Sobering.
After the monastery visit, we drove past the ancient walled city, then stopped for a few minutes at a market, where I found a pound of Juan Valdez (no kidding!) coffee for our friend Carol, who was lavishing lots of loving kindness on Angel and Rudi in our absence. I looked at mola bags, but wasn't impressed by the workmanship, so just got a little lipstick-sized bag. My companions had gone next door to the bar for a cold beer. When I finished my transactions, I found them, ordered a Coke, and joined them in taking advantage of the free wi-fi. Our twenty-minute shopping stop was quickly over, and we got back on the bus to travel to another section of the city for a walking tour.
To my utter delight, we were soon walking on streets populated with handcraft stores. Good handcrafts! Beautiful and high quality ceramics and garments and bags and jewelry. I got a sweet small crocheted cotton bucket bag in black with a brilliant yellow/orange/hot pink/lime woven strap. As I was turning to leave the store, I noticed the reproduction (gold-plated base metal) jewelry under the counter, as our tour group was leaving me in the dust, quickly chose a pair of reproduction Tairona Frog earrings. I could have spent an hour or more on that street, exploring all the shops.
We stopped in the Parque de Bolivar and learned more about the history of the area, then went into the "Gold Museum," which was packed with people. It was very hard to see the glass cases filled with beautiful and very detailed artifacts. And the clock was ticking to the ship's departure.
One of the most annoying aspects of this walking tour was the vendors trying to get us to buy their hats/fans/jewelry/cans of soda/…. Honestly, the one little woman who followed us down the street fanning us with her cheap paper and plastic fans very nearly incurred my wrath. While I'm sympathetic to their poverty (back up three paragraphs), stay the hell out of my personal space!!!
Back on the bus, air conditioner blowing, the guide kept us on our original route, regardless of what her clock told her. Remember what I said above about the traffic jams? Our embarkation time was 1:00 p.m. As we walked up to the gangplank at 1:30, the ropes were being cast off. By the time we got to the 8th floor and searched for a table in the Lido Restaurant, the ship was underway.
Video link: Watching the ship's mooring as we were docking in Cartagena.
Sunday, Panama Canal
Isn't this on everyone's must-see list? It's been on mine for at least twenty years, and I was thrilled to finally see it happen. We approached the breakwater at 5:00 or 5:30 in the morning, but it wasn't until about 7:00 that we entered the first of the three locks. Jas and I went to the front of the Upper Promenade deck, where coffee stations were set up and "Panama Rolls," delicious yeast rolls filled with peaches, were being served. As we turned around to look back at the ship, we saw how the front of each deck had been opened, allowing passengers to view from all levels.
We really couldn't get very close to the side of the ship—I think we would have had to be there at 6:00 a.m. to get that view—so after the first lock was filled and the gate to the second opened, we walked back to our stateroom on the back of the ship to watch the gate close from our verandah.
And guess what Marilyn and I had done to make the day more enjoyable. Of course! We booked our cabanas again. We walked back and forth across the top deck of the ship, looking out at Gatun Lake and commenting about the cargo ships and cruise ships awaiting passage.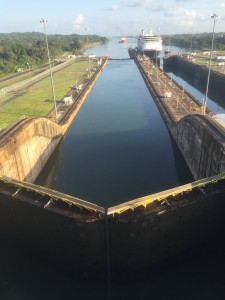 Then we watched from our peaceful vantage point as we sailed northbound again and docked in Colon, Panama.
I had thought the two sides of the canal from Colon into Gatun Lake were like a road with a median. The westernmost one would be southbound and the easternmost one northbound. (Look at your maps for a moment, children. The canal does not run east and west from the Caribbean to the Pacific. At that point in Panama, it runs north and south.) But no. It appeared that cruise ships received priority. If there were two cruise ships in the Caribbean waiting to traverse, they would both go southbound in the adjacent channels of the canal at the same time. That's how we were able to watch HAL's ms Amsterdam, sailing round trip from Fort Lauderdale around the world in 111 days, travel southbound along with us.
Videos from the canal:
The mule, keeping us steady as we move through the lock.
How'd you like to walk across this every day on your way to work?
Once we docked in Colon, the four of us went in to a cafè near the dock to find—you guessed it—wi-fi.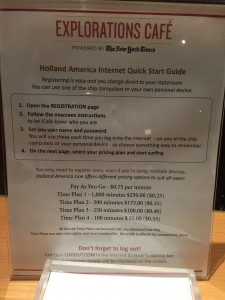 <Rant On>
Let's talk about wi-fi for a minute. Some of us—no, wait, many of us—need to stay connected even while on vacation. I had students sending me music, organizations scheduling rehearsals, parents texting me about accompanying their kids' auditions. I have a 102-year-old mother and needed to check with my brother as to her health status. I needed access to wi-fi. Yes, HAL gave us access. For a price.
Now, I'm excellent at hopping on and off the Internet quickly when I need to. And when I'm paying $0.40/minute for access, I can be real fast. But when your server speed is so slow that it takes three or four minutes to log in and refresh the screen, charging me that price is outeffingrageous. I first signed up for 250 minutes. By Tuesday of the second week, I had to add another 100 minutes. Then, at the very end, in order to print our airline boarding passes, I had to pay $20 twice more to get enough minutes to accomplish my task. Some of that time I was sitting at their hardwired terminals, and still waited and waited and waited while the system thought about what I needed to do. Outrageous.
HAL IT staff, I know corporate tells you and all your crew colleagues to sell, sell, sell and help them make money. But if you're going to charge me those steep per-minute rates, have some integrity and speed up your server. I promise I'll spend the same money on other things—like alcohol—and I won't be nearly so disgruntled by the time the cruise is over.
<Rant Off>
Monday, Puerto Limon, Costa Rica
A number of interesting excursions were available to us in Costa Rica, but they either involved riding for two hours on a motor coach each way to participate in the activity, or were very expensive, or the descriptions ("Glide through the treetops on this exhilarating adventure that is a zip-line trek across 12 cables and 13 platforms stretched across the length of the rain forest. The longest cable is 270 yards, and you will experience heights up to 240 feet above the ground.") scared us sh*tless. (You know you want to read all the descriptions.) So we decided to hang out in the Retreat for one more luxurious day.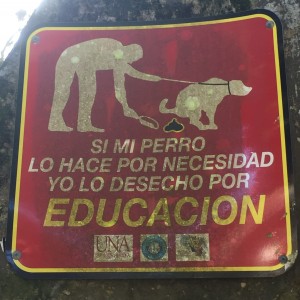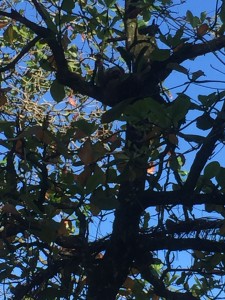 But first, we walked off the ship and across the road to Parque Vargas. This delightful city park looked like it had been the scene for many a life event for local residents. Lonely Planet says, "The city's waterfront centerpiece won't ever win best in show, but its decrepit bandstand, paths and greenery are surprisingly appealing, all shaded by palms and facing the docks." As we entered the park, I noticed city workers raking up the leaves and branches on the ground, and the debris left by overnight visitors. By the time they left for the day, the park would be trashless. A clean-cut 30-something man walked up to us and asked if he could show us the sloths. Evidently, three generations of sloths live in the park. Our impromptu guide pointed out the baby and the grandmother, and showed us where the other family members usually hung out (pun intended!). Look at the picture with the tree. Can you find the baby, one arm extended up to grab hold of the branch as he chilled out, watching us?
After thanking the guide for showing us their local treasures, Jas and I walked around the town trying to find a pharmacy. He was out of his antacid and hoping there would be a similar over-the-counter chewable to help his stomach settle down for sleep. Alas, the pharmacist spoke no English except the word "pain." He sold Jas six pills at $1 each, but the more we googled these and talked to Marilyn (who had a career in nutrition and knows about lots of meds taken by the aging population) about these pills, we were pretty sure they were not what he wanted to be taking. But the experience made for great conversation and a few laughs!
Back onboard the ship, we watched as the crew practiced driving the lifeboats. One test pilot in particular had a real hard time actually connecting with the ship after circling around. I hope he's not pressed into service if something happens to the ship!
Many times during this cruise I was reminded of my older son, Scott, who spent two years at the U.S. Merchant Marine Academy and a number of months on cargo ships sailing back and forth across the Pacific. As we sat in port in Limon, I watched a cargo ship being loaded and marveled at the size of the cranes and the weight of the containers they were lifting as if they were cardboard. I took pictures to share with him and texted him "how do they do that!" questions.
There was another delayed departure as we waited for passengers to return from their excursions.
Tuesday, At sea, cruising to the Cayman Islands
The ultimate in relaxation is when you can't remember anything you did on a given day! I know knitting and a movie were involved, and I know we dressed for gala dinner. That's it. That's all I've got!
Wednesday, George Town, Grand Cayman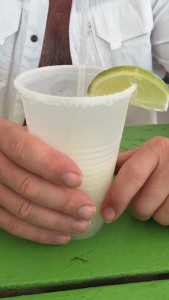 We had attempted to book an excursion to Seven-Mile Beach, but the excursion was already fully booked. So after 20 minutes of googling and researching on the slow and costly wi-fi, we decided to just get ourselves to the beach and make sure to get back to the boat on time.
As we stepped off the tender onto the pier, we found numerous hawkers trying to entice us to give them our money for this excursion or that. And we found a nice man in a uniform who offered to take us to the beach for $5 per person. Sold! We waited a few minutes while he found four more passengers, then set out. There were 17,000 cruise ship passengers in town that day, so the traffic was heavy. But when we arrived at the beach parking lot, we quickly found another uniformed worker who showed us to chairs and umbrellas. The chairs went for $5 each, and the umbrella for $10. It's easy to part with $20 for shade and beautiful sand under your feet!
We changed into our swimsuits and spent a little time getting wet and a lot of time relaxing in the shade, reading or people watching.
Video link: Flyboarding I; Flyboarding II
(Would I attempt riding a flyboard? No. Would my kids and grandkids? In a heartbeat. I expect them to ask me to take them to Grand Cayman just for this experience!)
When noon rolled around, we walked 50 yards or so to Calico Jack's where we had fish & chips, jerk chicken, and the best margaritas I've tasted since Casa Cenote on Tankah Bay! (Read about that vacation.) An hour later, we walked back to our chairs and played in the water and relaxed a little more, than took the cab ride back to the pier. Mike sat up front with the driver, who was very generous in sharing his knowledge about the area, local customs and practices. He went on at length about the consequences of DUI in Cayman. Basically, don't do it!
Our dinner companions that night were a brother and sister pair who were Mormons. We weren't exactly sure why they would come on a Scientific American cruise (as they definitely weren't of the scientific mindframe), unless they were viewing it as a late-in-life mission. The brother had a few I-know-things-you-don't-know things to say to Mike at dinner, and we were very glad for the meal to conclude. We attempted to find humor in the situation for several days afterwards.
Thursday, At sea, heading home
A day of rough seas and numerous seasick passengers for our final day. This was a day to tie up loose ends, participate in activities that we had missed thus far, and pack our bags. I got some more knitting in, and took a steel pan lesson. (I'm always eager to add another instrument to my skill set.)
Video link: Jan's New Avocation…
Friday, Going Home
As our flight home from Fort Lauderdale wasn't scheduled to depart until some time after 4:00 p.m., we chose the latest departure from the ship. Breakfast, finish getting our carry-ons together (the big bags had been removed from the hallway outside our rooms sometime after midnight and transported to the pier upon arrival), then leave the room so Lu and Wayan could finish cleaning and prepping for the next guests. We sat in one of the lounges until our number was called, when we exited the ship and boarded the bus to go to the airport. About four hours later we boarded the plane and left rainy Florida, arriving several hours later in cold and rainy Ohio.
A long uneventful day, filled with great memories of all the experiences over the past eleven days. Would we do it again? You bet!