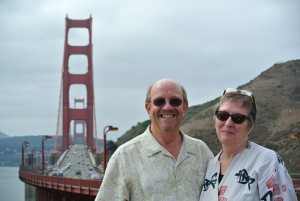 Each year, the Jazzman has to declare all his vacation days for the year ahead by the end of November. Some of our yearly travel is set in stone: he golfs in Florida with his pals every March; and we spend the week of July 4 at Lake Erie in friends' rental cottage. Beyond that, we frequently have no idea when or where we want to travel the following year, and basically throw darts at the calendar for him to declare his vacation.
The past three years our travel has included a European trip. Ireland in 2011, Italy in 2012, and France in 2013 (plus an extra trip for me to Germany, France, Luxembourg and Belgium in 2013 with the Cleveland Orchestra and Chorus). So this year, we decided we would stay stateside.
Ah, the options! So many places we hadn't seen, and oh, how we love to travel. After much discussion, we decided on San Francisco and the Northern California wine country. I had been to San Francisco four or five times, but never to wine country. Our friends Amy and Monica, expats who live in London, have had many positive experiences with Airbnb for their frequent travel throughout Europe, so as soon as we chose our destination, I started searching Airbnb for potential properties. At about the same time, we had discussed over Saturday night dinner with our friends and neighbors (and regular travel pals) Mike and Marilyn our intention to travel to Northern California, and they quickly said they wanted to join us. So as I searched for a property, my goal was to find something that would give us each private space as well as space where we could sit together and visit. (Too much togetherness …. You know the adage.) Oh, and that would be cheaper than two hotel rooms and $30/each breakfasts! And have two bathrooms—a must!
Houses booked; nonstop flights from Pittsburgh to SFO booked; sightseeing planning begun.
And then Sondheim set in to my life. I had agreed in early May to work with a collaborative pianist colleague/friend on a Sondheim revue for Area Community Theatre of Sharpsville (PA) in early September. And then he got a job in Florida and referred me for the musical director position. The amount of work involved in organizing, arranging, and learning 22 Sondheim pieces—while simultaneously learning and performing two works with the Cleveland Orchestra and Blossom Festival Chorus, while trying to maintain some semblance of a life—was absolutely overwhelming. The summer of 2014, for me, was the summer from hell. I'm astonished the Jazzman lived through it without shooting me!
And finally it was over. The Sondheim performances transpired on September 4, 6, and 7, and were great fun. My bag was packed the morning of the 7th. When the show closed at 4:00 p.m. on the 7th, my grandson/pageturner and I hopped in my car at the theatre, raced the 30 miles home, I dropped him at his house, and 30 minutes later our travel companions picked us up to drive to a hotel near the Pittsburgh airport. We ate dinner in the hotel bar, set our alarms for 3:45 a.m., and went to bed, dreaming of California wines.
And the adventure began.
Days 1-3: Northern California
Day 4: In Transit
Days 5-8: San Francisco