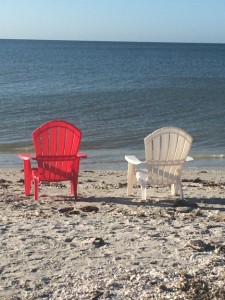 Here's the thing about working as a conductor for Norfolk Southern Railway: the employee must declare all of his vacation for the coming year by November 30 of the current year. That means each year we have to have all our vacation planned by Thanksgiving of the previous year. It's impossible. There are things we know—specifically, the guys' late-winter golf trip to Florida and the Fourth of July at Madison-on-the-Lake. And sometimes another couple has included us in their plans for a week on the beach in Mexico or a tour to Italy. But we have five weeks to allocate. And sometimes that requires just throwing a dart at the calendar.
For 2014, we had two dart-throws. One ended up being 10 days in Northern California in September. The other dart landed on the 1st of December. The closer it got, the more I was scratching my head—as chief cook and vacation planner—to come up with someplace to get away to. Cruises and trips to the Keys were considered, until I looked at the Allegiant Air website.
Allegiant flies out of Youngstown-Warren Regional Airport, which is about a 15-minute drive from our house. Any other nearby airport—Cleveland, Akron-Canton, or Pittsburgh—requires an hour's drive. And Allegiant's fares appear reasonable, at first glance. Only after you're committed and start going through the purchase process do you realize that sitting where you want and carrying on a bag add to the price.
I grabbed a reasonably priced fare to Punta Gorda. On Allegiant, between Punta Gorda and Youngstown, you can fly on Thursday or Sunday. Period. So we decided on a four-day getaway. Enough to let our frozen bones thaw out a little before winter really sets in. With the help of our friends, Fred and Mary Lou, who regularly vacation there, I booked a room at the Shalimar Cottages and Motel on Sanibel Island.
Throughout the past month, as I performed six Sondheim shows, a 7th and 8th grade show, performed Grandma duty for a week, and ran down to Columbus and back in two days after Thanksgiving to see the newest great-niece, all I could think of was "Sanibel. Sanibel."
Sunday, November 30, 2014
We arrived in the Punta Gorda airport around 12:30, picked up our rental car, and headed 45 minutes north to Osprey, FL, just south of Sarasota. My dear friend from my years in Washington, Judy Sokal, had a delicious and visually beautiful salad waiting for us, and we spent an hour and a half over lunch reminiscing, getting to know her new husband, Jon, better, and giving Judy and Jon the opportunity to get to know the Jazzman.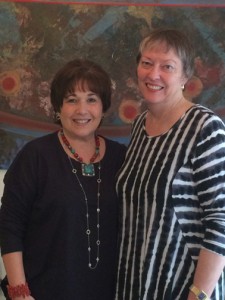 Judy and I got to be friends around 1986, I believe, when we were singing together in The Oratorio Society of Washington and began carpooling to Kennedy Center performances. Judy is an amazing woman. She has indefatigable energy for every project she undertakes. She is the consummate hostess for every gathering. A very talented visual artist, she makes mixed-media collages that reflect the beauty inside her. She has a heart for the downtrodden, for the underprivileged, but also for our nation, our country, our natural resources. She wants the best for all people.
But also—most precious to me—she has a lovely singing voice.
She and I have made music together at many parties. The first time I started playing while she was singing, I knew something very special was happening. She has a way with melody and words that meshes beautifully with my accompaniment style.
Honestly, playing for Judy brings tears to my eyes and makes my heart swell. I couldn't wait for lunch to be over so we could move to the piano.
For the next half hour or so, we played and sang the oldies that we both love so much. "Someone to Watch Over Me," "It Had to Be You," "Misty," and so on. It fed my soul.
All too soon, we had to be back on the road, an hour-and-a-half south, past the Punta Gorda airport, and across the causeway to Sanibel Island. We wanted to arrive and get checked in before dark.
We stepped onto the beach at the motel just in time to catch the last rays of the sunset.
Monday, December 1, 2014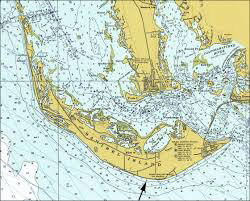 It was easy to set a pattern for the next three days. Wake up and get up whenever we feel like it, then eat a little breakfast in our efficiency room, go for an hour-long walk along the shore of the island, maybe read for a while, then get dressed and go out to lunch.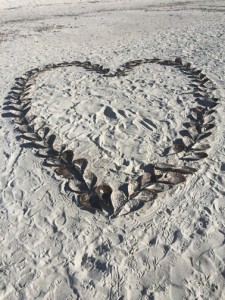 For our first morning walk, we headed southeast along the shoreline. (The arrow in the map image shows the approximate location of Shalimar.) It was the Monday following the Thanksgiving holiday. By all appearances, lots of kids had been building sand castles and assorted elaborate structures throughout the weekend. I captured a few pictures along the way, inspected a few shells, and generally just enjoyed people watching.
For our lunch we drove about a mile up Tarpon Bay Road to Over Easy Café. I had an incredible Chicken Waldorf salad, which I must figure out how to replicate. The Jazzman had the daily special omelet, which that day included mushrooms and cheese, with tomatoes on the side. He loved the idea of a side other than potatoes. Of course we had to split a piece of their Key lime pie. (More later on the battle of the KLPs.) Leaving the restaurant, we drove south along Tarpon Bay Road and into the Bailey Tract, part of the "Ding" Darling Wildlife Refuge. We chose one of the shorter paths and walked off a little of the Key lime pie.
As we were on vacation, we drove back to our room and napped, then went to the pool for a swim—not warm, but refreshing. After all, warm is relative. Right? After enjoying the sunset from the beach, we walked two doors over to the
Sandbar Island Restaurant
, which has been recommended to us. The Jazzman was in the mood for ribs, and the special, teriyake skewer filet, sounded good to me. The food was forgettable, and the service got worse and worse as the evening dragged on. Believe it or not, we didn't even order dessert. Give us the bill and let us out of here! (We foolishly took our leftovers back to the room, and the Jazzman was sick all the next afternoon after eating his for lunch.)
Such a great vacation day: a little of this, a little of that, and lots of relaxation!
Tuesday, December 2, 2014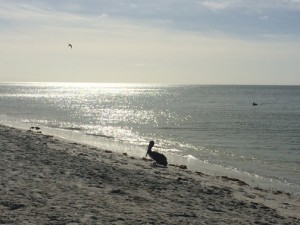 Another lazy morning, a bowl of cereal (oh, yeah, and an enormous cinnamon pastry brought home from Over Easy yesterday), followed by a walk along the beach, this time northwestly. Pauses to watch the birds fish and the humans examine shells. Time spent reading, then leftovers for lunch, followed by a brief nap. Sounds like heaven, doesn't it?!
Midafternoon, we continued our wildlife exporation at the J.N. "Ding" Darling National Wildlife Refuge. First we drove along the four mile road through part of the refuge, pausing to admire white pelicans floating on the bay. Back at the gift shop along Tarpon Bay, we met up with the tour guide, Brieanna, for our Tarpon Bay Explorers Touch Tank experience and then wildlife cruise of Tarpon Bay.
What a delight. Neither the Jazzman nor I touched anything in the touch tank (such sissies!), but we loved the cruise. We saw anhingas and cormorants, lots of wading birds, and got to hear ospreys call to each other. We saw two manatee "footprints", where they come up close to the water surface, which suddenly becomes smooth in the general size of their bodies. We saw them stick their snouts up to breathe. While I would loved to have seen them closer—to really have been able to see them—this was pretty special to me. Throughout the cruise, I was flashing back to my childhood on Lake Maitland, where we saw many of these birds every day.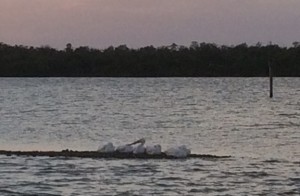 As dusk neared, we headed back to the mangrove "islands" in the middle of the bay where the birds roost each night. Spectacular! There are some pictures in the album below—every species that fishes on that bay was huddling together, in safety in the middle of the bay, to make it through the night.
As we headed back to shore, the sun was setting over the mangroves. What a spectacular vista! Ten or fifteen minutes of just watching the sun sink lower and lower, shedding beautiful reflections across the water.
And then, dinner. Oh my gosh, dinner! We were very near to Doc Ford's Rum Bar & Grille, so we pulled into their parking lot. We almost didn't go in, as there were lots of cars in the parking lot, even though it was only about 6:00 p.m. It turned out they were having a private event in one of the rooms, but plenty of tables available. Doc Ford's is known for their fish tacos, and rightly so! The Jazzman had one of the evening's specials, sweet chili-glazed jumbo sea scallops with black linguini. As we were choosing our entrees, we noticed on the menu that Doc Ford's belives it's Key lime pie is the best on the island. Of course we had to try it. (More later …). Fabulous meal eaten on a lovely, tropical patio under the stars.
Wednesday, December 3, 2014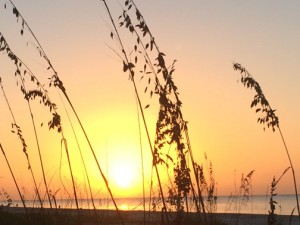 Our last day, and I was bound and determined to catch the sunrise as well as the sunset. Waiting and watching, then seeing the sun peek over the horizon. I'm running out of superlatives. It was … it was superlative! It was worth getting out of bed and into my clothes for!!
Breakfast, then a walk, this time southeasterly again. Shells and people walking dogs and birds fishing and people fishing. Heaven. Sheer heaven! Then reading and relaxing until time to go sample another restaurant.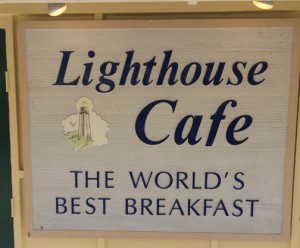 My friend and fellow singer, Carolyn, visits Sanibel frequently and said the Lighthouse Cafe was her favorite breakfast place. In her Facebook post to me, she said, "It's the world's best breakfast." When we arrived there, I realized she said that because they say that!
We both had the daily special, Crab Cake Benedict with Key lime hollandaise sauce. Wowzers! I don't care for hollandaise sauce, but I could eat this stuff by the spoonful. Delish! And I loved that the walls were covered with framed pictures of lighthouses. After our late breakfast/early lunch, we walked two doors over to Pinocchio's for ice cream. Pinocchio's is another place that's known and remembered by island visitors. I had their signature Sanibel Krunch, and the Jazzman had Sanibel Krunch and Cookies & Cream. If you ever visit Sanibel, this is must-eat ice cream. But watch out, the portions are HUGE!
I love to explore new places and, especially, to look at houses. We drove out along streets we had seen from the water on the previous day. We saw an original "Sears Modern Home" that the original owner had purchased from the Sears catalog and built overlooking the bay. We saw some incredible mansions overlooking a golf course that probably has $300 greens fees. We drove up onto Captiva, almost to the end, and wrote down addresses of rental properties to dream about staying there. (Nope – five bedrooms on Captiva for $12,000/week.) A beautiful day for a drive, enjoying our last day with not demands on our time.
Back to the motel, a swim in the pool, and another sunset to supervise. Then dinner.
The restaurant that had been recommended to us by several people was Gramma Dot's, so we set out to try their fare for our final island dinner.
Gramma Dot's Seaside Saloon is located at the Sanibel Marina, and oh, how we wished we had gotten there in daylight. The boats moored there? Wow!!
The Jazzman had the fried grouper dinner, as our friend who visited Sanibel last winter told him he had had grouper for dinner every single night. It was not to be missed, in his recommendation. I had the bacon-wrapped teriyaki shrimp. The shrimp was excellent. "All dinner's include a potato croquette, fresh vegetable, and a fruit filled chocolate shell" (The apostrophe is theirs, not mine, and you know very well how I feel about plural apostrophes.) The steamed carrot sticks, zucchini sticks, and green beans were mediocre. The chocolate cup of fresh fruit was great. But the potato croquette, which tasted strongly of cinnamon and contained some mozzarella chunks and (I learned later) onion, was the death of my vacation. Within fifteen minutes of taking a bite of that croquette, I was having a migraine attack. And about forty-five minutes later, I had a second. And pain/minimal sleep all night long. Nevertheless, before leaving, we sampled that Key lime pie. (More later …) Then straight back to the motel to pack. All night as I laid awake in bed, I could taste the cinnamon and the onion, which is always my clue of what caused the migraine. My lower GI tract (you know what I mean) bothered me all night and as I was getting up.
Thursday, December 4, 2014
Travel. Into the shower at 3:40, out of the room at 4:30, arrive at the airport at 5:50, board at 6:15, and take off at 7:00. Leave 67°. Walk out of Youngstown airport to 28°. Waaaaah. Stopped at Yankee Kitchen in Vienna (That's VY-en-nah to you folks who aren't from around these parts.)
I got home, turned up the house thermostat, turned on my electric blanket, and have been in my bed ever since, except when I had to run into the bathroom (you know what I mean).
Listen, grumbly tummy, you can't take these fabulous memories from me!
And now, the Battle of the Key Lime Pies. Doc Ford's wins, hands down. Great texture. Great flavor. Gramma Dot's lime flavor was a little overwhelming and the texture was a little too soft. And Over Easy had good flavor, but the consistency was too pudding-y. So Doc Ford's it is. If you want great Key lime pie, go see the doctor!
---
What did I learn from this vacation? I was excited to pack in just a backpack carryon for four days—that's kind of a first for this clothesaholic. And it was a dry run for our January trip to Mexico, where it will be even warmer than Sanibel was. So I want to make another pair of my favorite linen shorts, and I want to see if I can copy my Eileen Fisher short sleeved t-shirt dress in organic cotton and make a couple more of that dress. Those and a sweater should take me through a week around Tulum. Oh, and new swimsuit and water shoes. I threw both my suit and my shoes away before leaving the motel this morning.
I loved every minute of this vacation and am so happy we were able to make the trip.