The prospect of a long winter filled with cold and snow makes any suggestion of a trip south very attractive. When three couples in our group of friends said they were headed to Tulum, Mexico, in January, we jumped at the chance to travel with them. (Okay, "jump" may be a little optimistic. I had only been to Mexico once before—Tijuana when I was eight years old. And I had read a lot of negative press about travel in Mexico, lots of bad-guy warnings, so I was apprehensive. But our friends kept reassuring me that they had been going every winter for years and there was nothing to be afraid of. So I packed my bag.)
Departure – Friday, January 23, 2015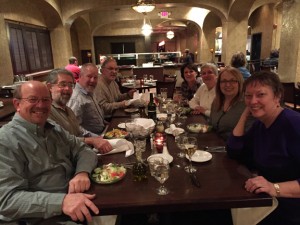 We live over an hour away from the Cleveland airport, which we had chosen for our flight to Cancun. When we have an early morning flight, we drive to Cleveland the night before and stay in a hotel. I would much rather spend ~$100 on a hotel room than get up at 3:00 a.m. to dress and schlep my bags to the car for a predawn drive.
And that's how our vacation began. Four couples drove to the Days Inn near the airport, then shared a delicious meal at Bucci's Restaurant at the Crowne Plaza across the street. Dinner included laughs, drinks, and anticipation of a great week (or two) ahead.
(Photo note: Front to back – Jas & Jan; Mike & Marilyn; Mike & Debi; Mike and Diane. Notice a pattern here? Throughout the week, when we were introducing ourselves to people, we'd say, "Mike. Mike. Mike. Not-Mike.") (To further complicate the matter and my writing on this blog, two of the Mikes were "Mike K.")
(The Jazzman and I were going for one week. Our friends were staying for two!)
Saturday, January 24, 2015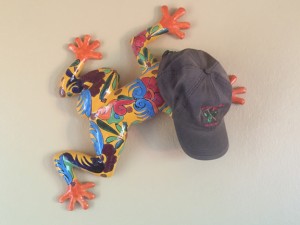 Alarm at 4:15 a.m. Shuttle to airport at 5:30. Flight at 7:30. Cancun around 11:30. Shuttle south. Stop at Sam's Club to stock up on necessities (i.e. cereal and alcohol). And arrival at Villa Gummerson around 2:00 p.m.
The house staff wasn't finished readying the house for our visit, so we stashed our bags and went next door to the restaurant and bar at Casa Cenote for our first margaritas of the vacation. And after a couple of rounds, our vacation home was ready for us. (Photo note: The next morning Jas was looking for his cap to protect his head as he went for a walk. Couldn't find it anywhere. You see where he had hung it when unpacking?!)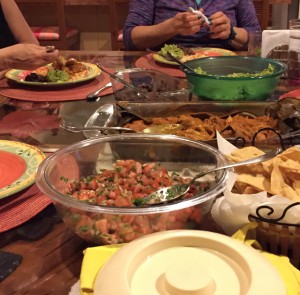 We chose bedrooms, unpacked, and then settled into the beach chairs in front of the villa for a few more vacation drinks. Wayner and Rosa, who would care for us during our stay, cooked an incredible first-night dinner for us of Cochinita Pibil (Mayan Pork Roast). And the guacamole! I didn't taste a bad guac the whole week!! When Americans or chefs in Mexican restaurants in the U.S. make guacamole, they mix all kinds of stuff in with the avocado. It's almost as if they take a bowl of salsa and stir some mashed avocado into it. The guac here in Quintana Roo is almost pure mashed avocado. They stir a few other things in for flavor, but nothing you can really identify. No big chunks of raw onion (Yea – no migraine!), no big chunks of tomato. Just avocado. (We had Rosa cook for us several nights during the week, and each experience was family-style wonderfulness!)
The moment we were finished with dinner, we all stumbled to our rooms and collapsed onto our beds. After all, we had been up since (effectively) 3:30 a.m. And there were more drinks to be drunk and water to be explored the next day.
Sunday, January 25, 2015
Diane, Debi and I began our day with an hour-long walk, north to the end of the dirt road in front of the villa, then out to the beach and back along the shore to the villa.
Tankah Bay lies inside the Mesoamerican Barrier Reef System or Great Mayan Reef. The water between the reef and the shore is calm and great for swimming and diving.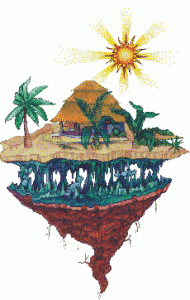 Another phenomenon is the cenotes and the underwater cave system. As we sat drinking margaritas in Casa Cenote, a river was running underneath us, moving water from Cenote Manati (Manatee) into Tankah Bay. (Photo note: The image on the menu and the servers' shirts at Casa Cenote shows the restaurant sitting atop the caves and river that connect the ocean and the cenote.) On Sunday afternoon, we watched as a film crew memorialized divers going down in the bay and coming up in the cenote. Astonishing!!
(This cenote is so named because there used to be manatees living there and frequently seen by swimmers. Over the years the population has decreased, so that sightings are now rare.)
If you'd like to read more about cenotes, check this out.
The day was filled with lots of relaxation and an early afternoon visit to the bar at Blue Sky Hotel, two doors down, for margaritas. Then a little after 4:00 we went next door to Casa Cenote where we thought we were going to partake of the Sunday afternoon barbeque, which had already sold out. We chose off the menu and had more great local food.
And fell into bed once again.
Monday, January 26, 2015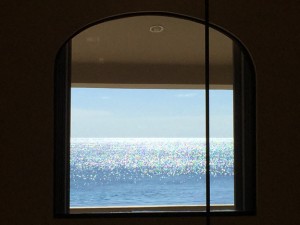 The three morning walkers headed south on the dirt road, then back along the beach. Forty minutes today. Oh, to live in a climate where this type of exercise is possible every day.
Another day of exercise, wading in the water, kayaking, snorkeling, reading, relaxation. In short, paradise.
Rosa and Wayner prepared our dinner again tonight. Wayner took a taxi to the market and bought fresh fish, which they sautéed in garlic and olive oil. It was served along with a wonderful Mexican rice (prepared with small dices of carrots and red pepper), fresh salsa, fresh guacamole, and sautéed mixed vegetables – broccoli, squash, carrots, red peppers. Wonderful! Everything freshly prepared. Everything expertly prepared. The piéce de resistance? A flan like no flan we had ever tasted before. More firm, more substantial than flans one tastes in American restaurants. (The Jazzman says creamier. This is definitely a recipe I want to try to master when we get home.) Absolutely delicious.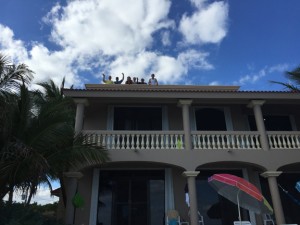 After dinner, we trooped up onto the roof to try to identify the heavenly bodies.
(Photo note: Roof photo was obviously not taken at night!)
And then we fell into bed.
Tuesday, January 27, 2015
Expedition Day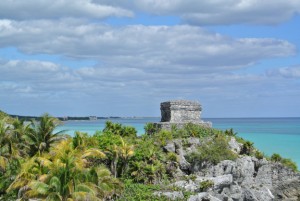 We did not rent a car on this trip. There's no need to. Where would we want to go? Nowhere. We walk a few yards into the water, or a few more yards to the bar next door or two doors over.
We wanted to go visit the Tulum ruins and then try a restaurant in Tulum city. Wayner had a contact, Felix, who drives a 10-passenger van. Felix picked us up at 10:00, took us to the bancomat, then dropped us off at the ruins for a couple of hours, after which he cruised through Tulum city with us, suggesting La Barracuda for lunch.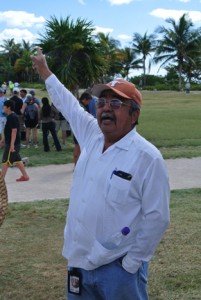 Having Felix chauffeur us was so much easier than dealing with a rental car, unfamiliar traffic patterns, and lots of police checkpoints!
I found the Tulum ruins to be very interesting. We chose a private tour with Hernán ("Ernie"), who had great English language skills, a sense of humor, and a whole lot of knowledge. I'm not a great history buff, but I loved learning about the history of this beautiful place. I loved this statement on the Tulum ruins website: "The Mayan city of Tulum stands 130 km south and 700 years away of Cancun." Two of the couples in our group of friends had visited here many years ago, when one could climb up to the top of the castle. Alas, tourists grabbing rocks to carry home have made many parts of the ruins off-limits.
Favorite fact: "The ancient Mayans had a written language, a binary math system, and an early warning system for hurricanes. The Temple of the Wind has holes placed with the precision of the Egyptian pyramids and Stonehenge. These holes cause an extremely loud, high pitched whistling when early hurricane force winds aim toward Tulum. It still works! It warned tourists and locals before Hurricane Roxanne hit in 1995."
Great travel blog…
After we explored the ruins and took lots of pictures, Felix dropped us at La Barracuda for lunch. Margaritas and beer, fish tacos and fajitas and menudo. A lot of excellent food.
Pictures of meals at La Barracuda.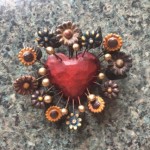 After lunch we walked a little down the main street to snoop in some shops and explore some small markets. I found a handcrafted brooch in a small boutique that featured Día de Muertos items. The brooch was heart-shaped with flowers ringing the heart. I'm thinking it will be great on a coat to lift my spirits during gray Northeast Ohio days.
Felix picked us up at 3:00, swung by a supermarket for us to pick up a few items, then dropped us back at the villa. We did our own thing for the rest of the evening—margaritas next door; light supper in the villa; sit watching the waves lap the shore. In other words, we vacationed.
Wednesday, January 28, 2015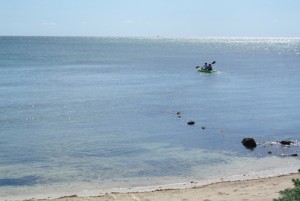 Another day to just relax. The Jazzman and I thought we'd take a kayak out on the cenote, but several large groups of divers went into the water as we were walking up, so it was rather crowded. As the villa includes use of the double kayak there, we took that craft out on the bay for half an hour or so. How stunning to look through our sunglasses and be able to see the bottom clearly. (Photo note: Those kayakers are Mike Kray and Diane, not Jas and myself.)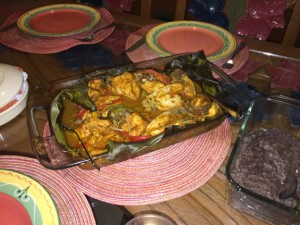 We went next door for an early lunch of huevos rancheros and ensalada de espinacas. Lunch was followed by a day of reading and napping and relaxing, until Rosa served us another wonderful dinner—pollo pibil, rice, black beans, and lemon pie.
Sitting on a lounge chair watching the waves and the kayaks and fishing boats out in the bay …. Honestly, it doesn't get much more peaceful than this. This is what vacations should be like—time to recharge your batteries.
Thursday, January 29, 2015
Beach Day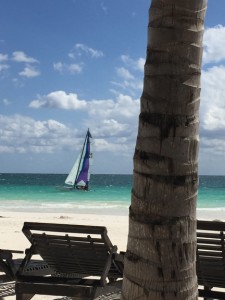 A beach is a beach, right? Sand is sand. Nope, not when you're talking about Playa Paraíso. Our travel pals kept telling us we were going to Paraíso because it was such a phenomenal beach. So we asked Wayner to call Felix and arrange a beach trip.
When we told Felix we wanted to go to Paraíso, he told us it cost 10 pesos per person to get access the beach, plus the cost to sit in a chaise, use any facilities, and so on. He said he had a better idea. (Well, not in those words, but we knew what he meant.) He took us to the supermarket so we could use the bancomat, then headed towards Playa Paraíso. Half a mile before the beach access point, he pulled off into the parking lot of La Vita é Bella. We walked through the bar (complete with beach-floor) and restaurant onto the beach. We picked chaises under palapa umbrellas and the server started a tab for us.
I'll be the first to tell you I'm not a sun worshipper. I grew up 45 minutes away from Daytona Beach and suffered many very bad sunburns in my stupid-teenager years.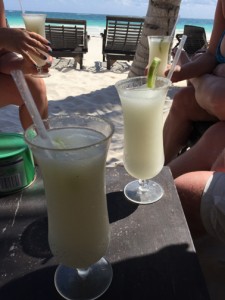 I have even suffered bad burns when sheltered by a cabana. I cover every exposed inch with sunscreen and stay in the shade. And feel bored.
(If you're suffering from the cold and snow, as I am, here's a visual treat for you.)
I waded in the water for about five minutes (brrr!) and then settled onto a chaise. Jas and several of our pals took a walk north to the public beach to see what it was like, and I sat there in the shade trying to occupy my mind. Then someone suggested margaritas. Ah! I've discovered the cure for boredom! Before I knew it, Felix was back to pick us up.
And north we went to Akumal, where we had lunch at La Buena Vida. The Good Life? You bet! The beach on Half Moon Bay was 20 feet away from our table. The margaritas were … well, by now you know what I'm going to say. Delicious!! The food fresh and wonderful. Great seafood. Beautiful sky.

At some point during lunch I posted on Facebook that I had been sharing vacations with the Jazzman for five years and this was the Best. Vacation. Day. Ever!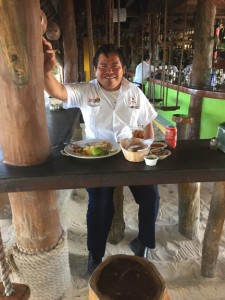 We asked Felix to come into the restaurant and let us buy his lunch. What a great guy and terrific driver. I smiled when he friended me on Facebook a couple days after we returned home.
Sated and happy, we left La Buena Vida and walked across the street to check out the shops. I found a beautiful Taxco silver bracelet for a surprisingly low price, and the Jazzman bought the signature La Buena Vida t-shirt that encourages all readers to "Seize Mañana." Yes, that's the way to vacation!
Back to Villa Gummerson mid-afternoon, followed by naps, reading, relaxation, fishing, kayaking. Vacation activities. Then stone-fired pizza at Blue Sky and home to sky-watch and surf-watch and relax.
Friday, January 30, 2015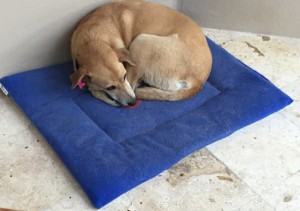 If Thursday was my best vacation day ever, Thursday night/Friday morning was the worst night ever. See that dog? That's Flora. Doesn't she look sweet and innocent? She minds her own business unless something alerts her in the middle of the night. Then she barks. And barks. And barks. And that night, a neighboring dog was sitting across the street and barking back. For four hours. Four hours! The Jazzman and I had the bedroom that faced the street. Debi had offered to take the street-facing room and let us have the beach-facing rooms, but the other couples were all staying for two weeks, and I didn't want them to get settled into one room and have to move at the end of the first week. The beach-facing rooms benefit from having the sound of the surf to muffle all other night sounds. Even with our beach-view balcony door open, there was not enough sound to muffle these dogs!
I finally got to sleep around 4:00, then woke up again at 6:00 with more barking. If you think I might have been a bit grumpy all day Friday, you're absolutely right!!!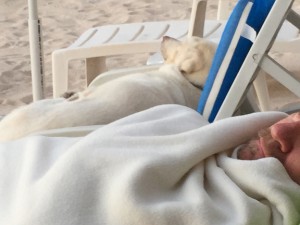 The dogs woke us up around midnight. After an hour, Jas got up and went to the roof to see if he could hear them there. He thought the sound of the surf would help and he could take some cushions and blankets to the roof. Nope. Dogs still audible on the roof. So he went to the living room, turned the TV on very low, and got a little sleep there. But the dogs continued. Very early in the morning he took his blanket and went out to the beach. And that's where I found him when I woke and went searching—sound asleep on the beach.
(Photo note: I love this picture so much! Jas's chaise companion is Bonita. This is a dog I would take home in a minute and alter my lifestyle for. She doesn't live at Villa Gummerson, but is just always there. She's calm, cool, collected. Sweet. Whenever we went out to dinner at one of the neighboring restaurants, she would settle in under the table, dodging table legs and human feet. She wasn't a licker or a slobberer. She was just an infinitely sweet and calm dog. When we went to bed at night or came out onto the beach in the morning, Bonita was there. Just there. #doglove)
We watched the sunrise and went to Casa Cenote for breakfast at opening time. We spent the rest of the day walking, reading, relaxing. For Jas and myself—packing. The usual activities with the usual friends.
Diane and Debi went for a two-hour-long walk—sans phones, to our communication horror—and discovered a couple of restaurants we had been curious about. When they got back Diane told me Debi expressed interest in a nice going-away dinner that night for us. We chose one of the restaurants they had found, Sahara Cafe at Hotel Jashita on Soliman Bay, the next bay up the coast from Tankah Bay. We dressed for a night under the stars; Wayner and another neighbor drove us the four miles up the coast road.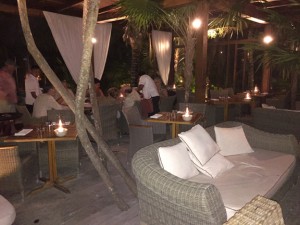 As we drove, rain started to fall. This was the first rain we had seen all week, and seemed quite magical to me. And then we walked into the soft soothing monochromatic tones of the Sahara Cafe and I was smitten.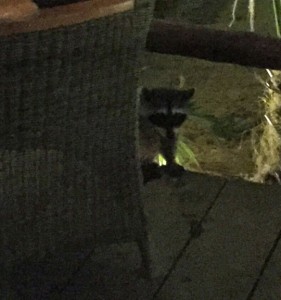 The cafe is situated on decking over the sand with little room-areas housing four or five tables each. The water is probably 20 yards away from one's table. It's all open air, but there are awnings overhead. There's firelight and an outdoor glass-enclosed grill and tropical vegetation everywhere. Just stunning. The excellent servers are clad in pristine white shirts and black pants. The menu is Italian and fresh seafood. The wine is expensive, but good. As much as the previous night had soured me on the stay, Sahara Cafe redeemed it.
As we ate, I caught a glimpse in my peripheral vision of something moving. When I looked over, glowing eyes in a black mask were staring at me. I called everyone's attention to it and asked what it was. Our own personal Science Guy, Mike Kray, said it was a coatimundi. I had thought it might be a raccoon, but I defer on all things flora and fauna to him and Marilyn.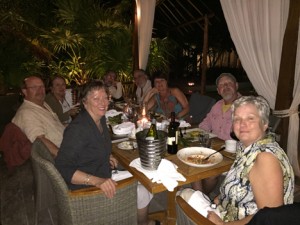 We kept trying to shoo it away, but it kept finding another route to come back, hoping for table scraps. When the waiter came, Mike asked him what their name for the animal is, hoping to learn the Spanish translation of "coatimundi." And the waiter replied, "raccoon." We laughed; I googled and learned the coati lives in South America, while Mexico is home to raccoons.
All too soon, our memorable evening and our memorable week was over. Our drivers returned and we went back to Villa Gummerson to enjoy one last view from the roof and the porch.
And I report with deep relief that the dogs didn't bark once that night.
Saturday, January 31, 2015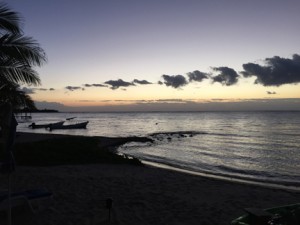 And it was a good thing, as my alarm went off at 4:15. The shuttle driver was scheduled to arrive at 7:00 to take us to the Cancun airport. We were downstairs by 6:30, making one last check for things we might have left behind.
And we were off. To the airport at 8:30; through security and the food court by 9:15; at the gate waiting to board. As we walked down the concourse to the gate, I saw a sign for pedicures. I had wanted to get a pedicure for the two weeks before we went on vacation and never was able to make the time. So of course I was curious. When I looked into the shop, I saw fishtanks in place of pedicure footbaths. And the fishtanks were each filled with a hundred tiny carp. Um, no thanks. Dead-skin-eating fish pedicure video.
And home to snow at 5:00 p.m.
Epilogue
If you're thinking of vacationing in the Tulum area, skip the resorts and go for a house to share. If you look on AirBnB or HomeAway or similar sites, the places you'll see are usually behind security barriers. Okay, the security barrier at our place was just four pylons across the road, but it was a sort of deterrent. I would go to Villa Gummerson again, but next time I'd take a white noise machine to drown out the dogs.
Restaurants?
Casa Cenote was great. Friendly waitstaff, incredible margaritas, good food and reasonable prices.
Blue Sky. Skip it. The drinks cost probably 75% higher than at Casa Cenote. The food was okay—just okay. And the bills? Well, no math was used to total the bills. Hidden charges drove the prices up. Absolutely not worth it.
La Barracuda. Great local food.
La Vita é Bella. We only had drinks, no food, but I'd definitely try it for a meal.
La Buena Vida. Go! Enjoy! Savor! Worth many return visits.
Cafe Sahara. Pricey, but memorable.
Will I visit the Yucatan Peninsula again? Hand me a ticket and I'll be on the next flight!!
Written with much gratitude to our friends for including us in this vacation, and to Mike and Debi for the lovely last supper.