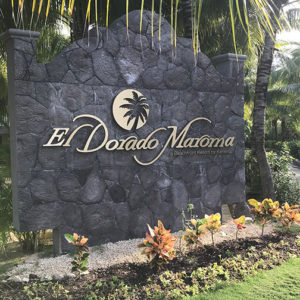 Whether you believe this is the start of a new decade or the start of the last year of a decade, we chose to spend this beginning back in our favorite Karisma resort. (Really, isn't each new year the start of a new decade? Semantics!)
We previously visited Karisma's El Dorado Maroma in 2017 and 2018.
Link to El Dorado Maroma's Restaurants page on their website.
Link to my unprofessional photos of the restaurants' menus.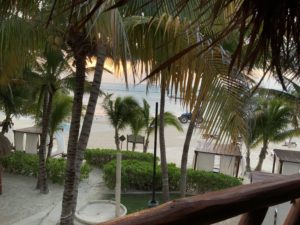 [My view from our balcony on January 13, 2020, at 7:30 a.m. as I begin setting up this travelogue: Each time I glance up, the view is more beautiful than the last time I looked. Beach beds being prepared, seaweed (not much, could be worse) being raked, fallen palm fronds being dragged away, Bar 24 coffee being brewed, swimmers taking an early morning dip in the Caribbean, the sun rising to shine over another day in Paradise.]
Our planning, travel companion Marilyn's and mine, began in early September, shortly after my fall semester began at Youngstown State. Winter inevitably comes to Northeast Ohio, and we inevitably want to escape the cold and snow. We took several weeks deciding whether to return to last year's destination, El Dorado Royale, or to the venue of the two previous years, El Dorado Maroma. And then there was the possibility of trying a new-to-me Karisma resort, El Dorado Seaside, a little further south along the Riviera Maya. After weighing the pros and cons and spending several Sunday night Mexican dinners discussing the options, we called the travel agent, Stephanie at allinclusiveoutlet .com, and requested a quote. It took us a couple more weeks of discussions, and then we pushed the button and made the reservations. Then the dreaming and wishful waiting began. And now, four months later, we're here, wearing shorts and swimsuits and eating meals cooked to deliciousness and served in beauty.
Whenever anyone in our group of friends makes vacation travel plans, we let the others in the group know about the plans in case anyone wants to join us. Always-happy-and-filled-with-laughter Kerry thought she and Tom would like to join us, and after suitable time to discuss, she called Stephanie and made their reservations.
Friday, January 10
Left home at 3:00, picked up Mike and Marilyn (M&M), who live two blocks away, and skillfully stowed all our luggage in the back of my SUV. Through terrible rain, I drove the hour or so to the Cleveland airport area, and we checked into the Crowne Plaza. Five minutes earlier, Tom and Kerry (T&K) left their home a mile up the road and arrived at the Marriott near the airport. After dinner in the hotel restaurant, we were all in our beds between 8:00 and 9:00 to be ready for a 3:45 wake up call, 4:45 shuttle, and 8:00 a.m. flight.
Saturday, January 11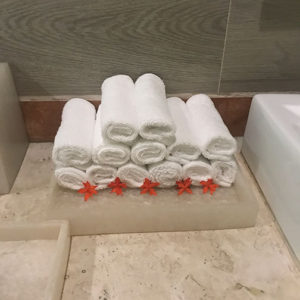 Seamless check-in, TSA Pre-Chek, breakfast burrito, and wait for 7:15 boarding. Decent seats on this no-frills (unless you pay for them) airline – yes, I paid to sit in the exit row so my long legs could stretch out. Four hour flight. Easy process through immigration.
As we headed to baggage claim, Jas and Mike stopped at the liquor store and I visited the ladies room for a nature break and a change from my Ohio sweater to a Mexico light cotton short-sleeved shirt. I hung my little crossbody bag, in which I carried my phone, passport, and about $200, on the hook next to the door while I dug into my carryon to get my shirt. After stowing my sweater and socks back in my carryon, I picked up my handbag and carryon and walked out of the stall to wash my hands and join the others by the baggage carousel. What didn't I grab? My crossbody bag. After about five minutes waiting for the luggage, I reached for my phone to check the weather app, and was horrified to realize I didn't have the most important items of the trip. Raced back to the ladies room and there it was, stall #4, right where I had left it. From total panic to sweet relief! Got our bags, and while we were waiting for Mike and Marilyn's luggage to roll out, the Narc Dog took an interest in my bag. WTF? The dog's handler asked if I had food, maybe a banana I had forgotten. No, nothing. She then asked to look through my bag. The best I could offer was four granola bars. After pulling up my snorkel (no, not a bong – not that I have any inkling what people do with bongs!), she thanked me and released me. I think the dog just wanted to be friends.
Baggage in hand, we made our way through customs, past all the shills trying to get us into their shuttles, and out to the Travel Expressions kiosk to find our direct shuttle to El Dorado Maroma. Ten or fifteen minutes of waiting and identifying, then a forty-five minute drive to the beautiful resort we would call home for the next seven days.
The rooms wouldn't be ready until 3:00, so we walked to Papito's for lunch and margaritas. Papito's and the staff are just as wonderful as I remember. Afterwards, back to the lobby building and a little more waiting, then all three couples had their keys and headed to their rooms to unpack and rest before dinner. We met at 6:30 for dinner at Mio, the Italian restaurant (and, along with Papito's, my favorite restaurants on the property). Who greets us at the door? Our favorite manager, Augustin. Hugs and handshakes all around, admiration of the renovations to the restaurant since our last visit, and we are seated at a round table on an elevated platform in the center of the room.
Ah, dinner at Mio's! I started with the fabulous Burrata Cheese appetizer, and followed that with Artichoke Tortellini. My main was crusted salmon—all to die for! Jas had the Shrimp Risotto and the Saltimbocca alla Romana.
Creamy Tomato Soup being served at Mio
The portion sizes throughout the restaurants on the property are wonderful. We are frequently frustrated with American restaurant portions sizes. I don't know why all dishes served in the U.S. have to be enough for two meals. We leave every meal with half our dinner in a [non-recyclable] carry-out box that we then have as a meal (or two!) in the next couple of days—or throw it out. Anyway, at Mio's, it's possible to have a meal from each course on the menu and feel sated, not stuffed.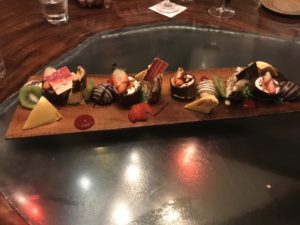 At the end of our meal, we felt perfectly full and wanting for nothing. And then Augustin had the server bring us the most beautiful tray of perfect little pastries. How could any of us pass up this picturesque plate of perfection?! When we finished eating all that wonderfulness, we were indeed stuffed. We said our thank-yous to Augustine and our server and headed back to Bar 24, which is situated in front of our building and Mike and Marilyn's building. And our first day in paradise was over.
Sunday, January 12
I always wake early at home and spend time quietly on my side of the bed, reading email and scanning Facebook and Instagram. It's no different on vacation. Finally, The Jazzman wakes up a little after 8:00 and we meet M&M at Lima Limón, a "Peruvian and Asian Fusion" restaurant on the north end of the property. This is the à la carte restaurant for breakfast. The other breakfast option is Papito's buffet, with omelet bar. And there's always room service, which T&K chose for their first morning.
Lima Limón's breakfast menu is delightful. I settled on a mollete—homemade bread, spread with refried beans, a sprinkle of shredded cheese, run under the broiler and served with chorizo sausage, salsa, and a spicy tomato sauce. Now, I'm not into spice, but I dipped my fork into the tomato sauce and had to have more. Absolutely wonderful. We will definitely have breakfast here again!
The next few hours were spent on our beach bed, then the six of us went to Papito's for lunch. Sundays mean prime rib, turkey, ham and all the fixings. There's always a salad bar and grilled veggies, potatoes and rice, beans, soup. Plenty of veggie and vegan and gluten-free options. Beautiful breads. A big beautiful wheel of parmigiano reggiano with chunks dug out of the center for your enjoyment, and a bowl of the best guacamole I've ever eaten. And, of course, margaritas, if that's your thing. Everything, again, in perfectly sized portions. And small bites of sweet deliciousness for dessert. For me, the loveliest little square of a brownie, on a plate decorated with chocolate and raspberry coulis balloons.
Karisma, the parent corporation of the El Dorado resorts, and a nice mix of other resorts, uses the phrase Gourmet Inclusive® to clearly indicate that their resorts are all about the food. Having a great meal is the norm here.
Our afternoon included more beach bed time, reading and knitting for me, then around 4:00 Jas and I took a walk on the path M&M had discovered that morning on their birdwatching walk.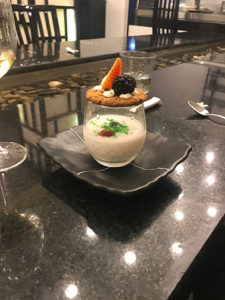 The six of us met at Bar 24 for cocktails, then moved to Kiyoko for dinner. Being a migraineur for the past 52 years, I choose very carefully at any restaurant. Asian restaurants are particularly challenging, but I always manage to find something delicious at Kiyoko. Vegetable Spring Roll, Sweet Potato Roll, and Stir Fried Broccoli and Mushrooms formed the perfect dinner for me. Yes, I had the fried ice cream for dessert, but it wasn't the best dessert I've ever had. I could have skipped it and been just as happy.
After our meal, we adjourned back to Bar 24, and I headed back to the room. (I'm sad to report there's a lot of smoking by the patrons at the open air bar. Cigarette smoke can be a migraine trigger for me—cigar smoke is one of the most potent triggers on my long list. Going up to my room early became the norm for me this week.)
🌴 The view from our beach bed.
Monday, January 13
I started my day on the balcony, setting up my trip travelogue and delighting as the sun peeked above the clouds on the horizon. After the others had time to wake and rise, we six met at Lima Limón for breakfast. This time I went for the waffles. I wanted a little protein with my breakfast, so asked the server for a scrambled egg. When my meal arrived, I had my dinner plate of three waffles and syrup with a fruit garnish, and then a second dinner plate containing two scrambled eggs, tater tots, and chorizo. The next time I want a protein boost, I must just hold up a bread plate and specify "only one egg." Nevertheless, We all raved about our delicious breakfasts.
After breakfast, Jas and I went exploring on the upper floors of the building that contains Lima Limón. The second floor houses Joe's Bar, and the third is a wedding venue that we could see from the room where we stayed the two previous years.
After stopping by the lobby to pick up the new weekly schedule from our concierge, we headed for our beach bed. Then there was lunch at Papito's, afternoon relaxation on the beach bed, and some pool time in both the main pool and the Bar 24 pool.
M&M and J&J met at Bar 24 for cocktails, then walked up the staircase to the Caribbean Grill for dinner. Tom is having some problems with walking, so he and Kerry chose to enjoy another wonderful dinner at Mio. Afterwards, there was another meet-up at Bar 24, and I turned in early.
Tuesday, January 14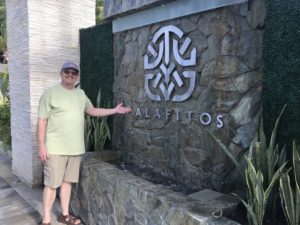 Breakfast at Papito's, then a walk in which Jas and Marilyn and I ended up at Palafito's. The concierge there generously let us take a walk out on the pier to see one of the bungalows. [Photos] Time on the beach bed, lunch at Lima Limón—delicious burgers for J and myself. While we were sitting inside, a rain squall popped up and lasted all of about two minutes, long enough for all the diners sitting on the deck to get soaked and run inside. And as quickly as the squall came, it was gone and the sun was shining again. I stopped at the lobby on my way back from lunch to see if we could sign up for the free shuttle to Playa Del Carmen on Wednesday, but it's already full. Note to self: sign up on Day One next year.
Dinner was Kiyoko again. I ordered two of the three items I enjoyed on Sunday night. We all enjoyed our meals. I would say our favorite à la carte restaurants are Mio and Kiyoko. Caribbean Grill comes in third, but I really could restrict myself to the first two and be happy the entire vacation.
Do you notice the trend? Eat, relax, eat, relax, eat, sleep.
Wednesday, January 15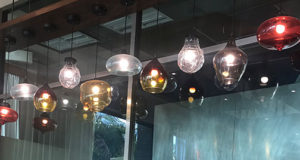 This morning we went back to Lima Limón, and when we finished our meal, we were determined not to have breakfast there again. Each day we've eaten at LL, the meal has been inferior to the previous day's meal. Jas and I arrived first. When the server took our drink orders, Jas asked for coffee and I ordered iced tea. The server—whose name I have blocked from my mind—asked Jas if he'd like a bloody mary. Jas replied, "No, just coffee." For the next five minutes, until M&M and T&K arrived, our server kept pushing bloody marys. He was more interested in his jokes and his pushing than he was in his customer service practices. When the others arrived, he started pushing alcohol on them, then took our order.
The other five of my table mates all ordered a breakfast starter—a fruit plate or "fruit soup." On Sunday morning, the breakfast fruit plates were delicious, so I'm told. (Citrus and melon are migraine triggers, so I avoid them. No fruit plate for me.) On Monday morning, the fruit plate was less fresh, less tasty. This morning, the three who got fruit plates declared them not good at all. Something about delivery dates of the fruit, maybe? So let's talk about the "fruit soup." Kerry and Jas both ordered that, and what they got was a large juice glass half-filled with orange juice, with berries added. It was not thick. It was not creamy. It was orange juice. It was not anything you would want to dip a soup spoon into.
I had ordered scrambled eggs with bacon, envisioning a small hill of scrambled eggs on my plate, adorned with Lima Limón's delicious tater tots and some crispy strips of bacon. Nope. The bacon was chopped up and scrambled into the eggs. The potatoes were there, as expected, but they were fairly cold. And those strips of bacon? Nope. Two chorizo links. I immediately transferred the sausage, which I dislike, onto Jas's plate. But what's the problem with that? The server brought my entree at the same time as he served the fruit starters for the rest of the party. It seems their plates were ready to go about the same time as mine, but sat up on the warming tray while they ate their starters. And what did I do when their entrees came? Yeah, I just sat and watched them eat their lukewarm food. Note to servers: Serve the entrees at the same time for the entire party.
The joking about bloody marys and then mimosas continued for the entire meal. Honestly this server was not interested giving us a positive breakfast experience. As we left the restaurant, we looked at each other and agreed the rest of our breakfasts would be eaten at Papito's.
Beach bed time followed breakfast, then lunch at Papito's, where Wednesday is taco bar day, with a taco cart set up outside by the main pool. We usually sat at a table for six on the patio that borders three sides of Papito's. Grackles were frequently hanging around the patio, hoping for handouts or dropped food. This day they were especially chatty.
Jas and I took a walk around the property that afternoon and explored the gym, which is located in the spa space. It's a lovely, clean space that is a great resource for guests who are missing their gym time. We enjoyed seeing the artwork in the spa. There's a lot of wood used in art and decor throughout the property.
For dinner, we took advantage of the Molcajetes menu at the Mexico Lindo restaurant, which shares a building with Kiyoko. I knew a molcajete was similar to our mortar and pestle, but I wasn't sure what a dinner centered around a mortar and pestle would look like. With all my migraine triggers, I couldn't imagine what I would be able to eat.
The menu had two sections. The dinner began with enchiladas. Diners choose a protein, veggies or other ingredients, a sauce, and corn or flour tortillas. Your starter comes on a small plate with two enchiladas. Then came the molcajete part of the dinner. Again there was a choice of proteins and then a list of veggies and spices and sauce that would complete the meal. Each bowl contains enough food to serve two people. If you and your dining partner didn't want the same meal, you could choose two halves to complete your meal. This is how the molcajete is served. Because of my migraine concerns, I chose a second enchilada serving for my entree. Jas chose the skirt steak, which came with chistorra, chorizo, panela cheese, scallion, cactus, xcatic pepper, and taquera sauce. I was able take a taste of his steak, but otherwise was content with my enchiladas. For dessert, Jas ordered the Corn Cake. We passed this little bit of deliciousness around the table a couple of times until it was all gone. This was a delicious meal! Now that I know exactly what it is, I'll be able to figure out how to specify safe foods for me and enjoy the molcajete experience.
We adjourned to Bar 24 and more cocktails, and I shortly went back to the room to read and knit. Another lovely day in paradise.
Thursday, January 16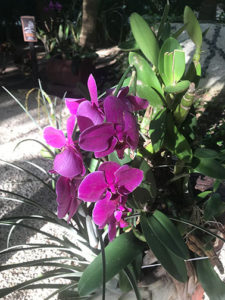 Jas and I ate our breakfast earlier than the our travel companions, as I tend to wake at 5:30 or 6:00, and have a hard time waiting until 9:00 or 9:30 for breakfast. After our breakfast at Papito's, Jas and I took a walk around the property, noticing a small but beautiful orchid garden along one of the back paths that staff members use to get to the lobby and the staff-only buildings. The landscaping all around the property is so beautiful, so painstakingly maintained. It's a joy to wander the grounds and admire the results of all the work put in by the groundskeepers.
Before lunch, Jas and I took a walk north along the beach to a new resort that has been built since our last visit, and to try to figure out what had happened to an elaborate mansion that we had noticed in the two previous years we visited Maroma. Evidently the developers of the new resort demolished the abandoned mansion to make their new space more beautiful. Here's a link to the website of the new resort, Chablé.
Thursday lunch at Papito's is fish market day. Fresh fish and seafood is available to be cooked as you wish, with delicious veggies and our sides. My salmon was wonderful. In the afternoon, we partook of the usual reading, napping, dipping in the ocean and pools, and general relaxation.
For dinner we decided to try dinner at Lima Limón. We had eaten dinner there in the past—I think it was three years ago, but somehow the experience is missing from my previous blog posts. My memory is that it was an awful meal for me. I do believe it was the first year we visited, 2017. At that time braziers were brought to the table and charcoal briquettes in the brazier kept the food warm or cooked it at the table. There was so much foul-smelling smoke coming from the braziers that I got very sick and had to leave before the meal was complete. I had asked several of Lima Limón's hostesses and one of the waiters to ensure they were no longer doing things that way. I was assured. They must not have understood what I was asking. The skewers come balanced on a brazier. And while there was not nearly so much smoke coming out of the brazier this time around, it still was an awful odor. It's only my great luck that I didn't get a migraine attack from that odor. Jas and I both enjoyed our Tuesday burgers at Lima Limón. We might have lunch there in the future, but will not have breakfast or dinner. (But that's just my opinion—if you're reading this page while planning a visit to El Dorado Maroma, try it for yourself. I'd love to hear your opinion.) The night finished at Bar 24, with cocktails and live music. I went back to the room and pulled out my suitcase.
Friday, January 17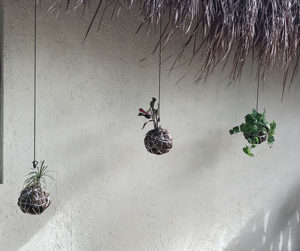 Another Papito's breakfast, a morning with more packing taking place before we headed back to the beach bed. Then lunch at Papito's, where barbecue was on the menu. Delicious barbecue!! More time on the beach bed, then back to the room to try to finish packing.
Friday night was the Mexican Fiesta, open air dinner by the main pool with every Mexican culinary specialty one can imagine. M&M and J and I decided we wanted to go to Mio for our "last supper." Marilyn had made 6:30 reservations for herself and Mike, but when I tried to get their reservation changed from two persons to four, our concierge told us that was not possible. We could go eat at 6:00 or 9:00. I accepted the 6:00 reservation.
Our experience throughout the week was that none of the restaurants was full. We were given strange reservation times, but frequently were the only party in the restaurant. So at 5:30 I walked out to the main pool, where the fiesta was being set up. Augustin was there at his tequila kiosk, giving potential buyers samples of his wares. When he was free, I told him our situation. He said he didn't know what the concierges were doing with the reservations calendar, but for us to just come find him at 6:30 and he'd take us over to Mio and get us set up.
Sure enough. When he escorted us into Mio at 6:30, there were no other diners in the restaurant. We were given a four-top table and had another wonderful Mio meal. Augustin is the man to know!
After dinner, we sat by the Bar 24 pool for a while with drinks. M&M went back in, and Jas and I were discussing going in to finish our packing when a couple walked up to me and the man asked if I was Jan Crews. All I could think was he must be a musician from Youngstown. That's the only people who know my name—Northeast Ohio musicians. Nope. He was a member of the El Dorado Maroma Facebook group and had seen my posts and pictures all week. He teaches high school; his wife is a realtor. They live in the St. Louis, Missouri, area and had left the kids with the grandparents for a weekend getaway. We must have sat and talked to them for 45 minutes. I tend to be introverted and am not one to reach out to people while on vacation. This experience was an absolute treat!
Reluctantly, we said goodnight to our new friends, as we had to finish the packing and get to sleep for an early morning departure.
Saturday, January 18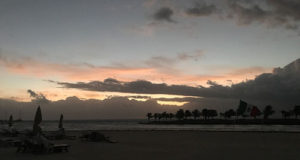 My eyes flew open at 5:45, I showered and dressed and rearranged my overstuffed checked bag one more time, then we walked out and enjoyed the sunrise while waiting for Papito's to open at 7:00. After breakfast, I walked around a little and gave small tips to workers who wouldn't normally be tipped. We made sure to tip the guy who makes our omelettes every morning and his right-hand woman who keeps his grill stocked with all the omelette ingredients he needs. After watching the beach rakers struggle with the seaweed that had washed up overnight (what back-breaking work!), I made sure to give each of them a couple of dollars. The man I gave my last two dollar bills to gave me an enormous smile and said, "Gracias. Gracias. Muchas gracias." Such a small gesture on my part; so appreciated on his part. The Karisma organization chooses such wonderful employees. That's one of the reasons we keep returning to El Dorado resorts—the people who take care of us and our surroundings are all just lovely.
The shuttle came for the 45-minute ride back to the Cancun airport. The check in and security procedures were easy, and before we knew it the plane was boarding. The four hour ride to Cleveland was without incident, and then we got into the horrific immigration process that is international arrival at Cleveland. After about an hour of dealing with this illogical manner of moving foreign travelers through the airport, we were on the shuttle to our car and on the way home, thankful for the gusts of wind that kept the snow off the turnpike. After a stop at Joē's for dinner, we were all home and throwing dirty laundry down the laundry chute.
And off to bed to dream about our next El Dorado vacation.
The usual suspects:

| | | |
| --- | --- | --- |
| | | |
| Mike & Marilyn | Tom & Kerry | Jas & Jan |