Let the Sun Shine In!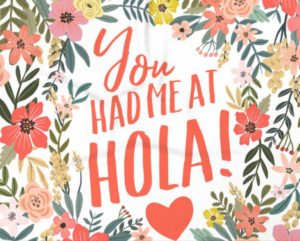 If you've read many of my travelogues, you know I can "wax rhapsodic" about my travel experiences. I love to travel. However, I'm going to give you an abbreviated report this time, for two reasons: 1) I'm in the middle of preparing the YSU musical theatre cast of "Into the Woods" for their April performance, and 2) we didn't do much but relax on this vacation. Every day was same-same. But there will be pictures at the bottom of the page.
The El Dorado resorts are a division of Karisma Hotel and Resorts. El Dorado properties host adults only; the Generations properties are for families. Both offer the same "Gourmet Inclusive" experience with gives you a luxury vacation at less than luxury prices. The food, in every restaurant on every property, is delicious and beautifully presented. We've visited El Dorado Maroma the past two years (read here and here) and this was Jas's and my first experience at El Dorado Royale (EDR). We made the trip with our travel pals, Mike and Marilyn, who had visited EDR several times over the past ten or so years.
We departed Cleveland airport at 6:30 a.m. on Saturday, 2/16/2019, after spending the night at a Park 'n' Fly hotel near the airport and rising at 3:30. I had a YSU musical theatre cabaret performance the night before in Youngstown, so Jas and I didn't arrive at the hotel until 11:30 or so. It was after midnight when we fell asleep. There's a Frontier charter that flies non-stop from Cleveland to Cancun. It's uncomfortable, but convenient. On arrival at Cancun, we had a private transport to the resort, about a half-hour south. If you're going to visit one of these resorts, the private transport is far preferable to a van that stops at six resorts before delivering to yours. Painless!
---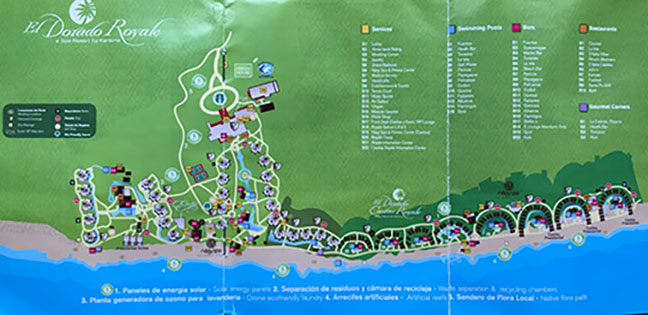 ---
After check-in, we went right to Jo Jo's, right on the shore, for lunch. Here's the list of where we ate through the week.
Saturday, noon arrival
Lunch – Spot International Cuisine
Dinner – Cocotal International Cuisine
Sunday, February 17
Breakfast – Cocotal
Lunch – Jo Jo's Caribbean Seaside Grill
Dinner – Cocotal
Monday – February 18
Breakfast – Cocotal
Lunch – Kampai Pacific Rim Restaurant
Dinner – Kampai
Tuesday – February 19
Breakfast – Cocotal
Lunch – Jo Jo's
J&J Dinner – Mexican Fiesta
M&M Dinner – Kampai
Wednesday – February 20
Breakfast – Cocotal
Lunch – Jo Jo's
Dinner – Fuentes Culinary Theatre
Thursday – February 21
Breakfast – Cocotal
Lunch – La Cabaña Pizzeria Gourmet Corner
Dinner – D'Italia Casitas Contemporary Italian Cuisine
Friday – Febuary 22
Breakfast – Cocotal
Lunch – Jo Jo's
Dinner – Cocotal
Saturday – February 23
Breakfast – Cocotal
---
What we did when we weren't eating:
Sunday

The palapas in front of Building 5, where our rooms were located, had two chaises and a thatched roof. Let me tell you, three hours of sitting on that uncushioned chaise equals fanny fatigue! The day consisted of reading, napping (for Jas), studying my Into the Woods score (for me), and marveling at the surf kicked up by the strong winds. Each day seemed to be a carbon copy of the previous—some days Jas would go to the gym to work out; one day I had a great deep tissue massage at the spa; one day Jas went to a towel sculpture class. Vacation. Nothing more needs be said. 😉
Monday

Marilyn suggested last night that we go before breakfast down the beach a little way past Jo Jo's and the gym and spa to some palapas that had beds, like we had enjoyed the past two years at Maroma. So each day for the rest of the week, we claimed a palapa and then all met at Cocotal for their fabulous buffet breakfast. The comfort level far surpassed the first day's chaises!
Tuesday

Mike and Marilyn had visited EDR two years ago on their anniversary and had taken the greenhouse tour, so we wanted to make sure and see this wonder. The tomatoes, cucumbers, and peppers served in all the restaurants at EDR are grown on the property in their greenhouses. There are also fruit greenhouses across the entrance road, but only the vegetable greenhouses were open for our inspection. There are three sets of greenhouses at EDR, the third being a teaching venue near the Generations buildings.

Each week at the two El Dorado resorts we've visited, one night is "Mexican Fiesta" night. There's a mariachi band and lots of fabulous food spread out for our enjoyment. The relative size of El Dorado Royale to El Dorado Maroma meant this was a much bigger fiesta than we had ever seen before. The food is prepared with the same meticulous care as is displayed at all the El Dorado restaurants. I lived in Tucson for eight years, and have heard a lot of mariachi bands, but this one was absolutely top-notch. Following the music, there was a multimedia show covering the history of Mexico from the its earliest history to the present. There were excellent dancers in costume and music for each period in history. We enjoyed the evening very much. There was also a market along the sidewalk outside the pavilion where the buffet dinner was served. Vendors sold lots of handcrafted items. It was a very enjoyable evening.
Wednesday

A telling event occurred while we were at lunch on Wednesday. As we were sitting in Jojo's waiting for our meal to be served, we heard a loud crash, is if a waiter had dropped a large tray full of dishes. We looked up and saw glasses and dishes smashed all over the table a few feet away where a party of six or eight diners was seated. One woman was holding her head. As we looked closer, we realized one of the ceiling fans had fallen from the peaked-roof ceiling onto the table. It appeared part of the fan motor had struck one of the diners in her head. What was interesting to watch was how quickly management sprang to action. Within a few minutes a medical professional and several members of upper management were on the scene, attending to the woman and making sure no other diners were injured. Within moments of the incident, glass was being swept up and the safety of all the diners was being ensured. I've been very impressed with the El Dorado brand since our first visit. This was just another example of how a quality hotel chain handles crises. If I'm going to be somewhere where something goes wrong on vacation, I would be relieved to have this team working on my behalf.
Wednesday night we had reservations for Fuentes Culinary Theatre, where special regional dishes are prepared in a theatre-type setting. Those who wished to pay the extra money could enjoy special wines paired with each of the courses. The theatre was lavish and very impressive. It appeared no expense had been preserved to create this special venue. And the food was wonderful.
Thursday

Another restaurant that requires reservations and fills up early in the week is the D'Italia Casitas Contemporary Italian Cuisine. As with all the restaurants, the portions are manageable, not the enormous portions most restaurants in the U.S. serve, and that required a take-out container. This meal was especially notable to us after having toured the greenhouses on Tuesday. Much of the produce used in our meals had been grown on-site.
Friday

Friday was the first day the wind was calm enough and the temperature warm enough for us to want to get into the water. We still couldn't go into the ocean because of the high winds, but we spent some time in the afternoon at the Tucanes pool and enjoyed the swim-up bar. Then back to our rooms to do the bulk of our packing, a nice a la carte final dinner at Cocotal, and a little more walking along the water, then to bed.
Saturday
---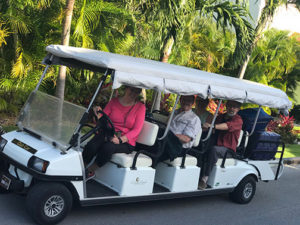 Our flight out of Cancun was scheduled for a noon departure, so our shuttle to the airport would pick us up at 9:15. We headed for breakfast around 8:00 and then came back to the room to wait for the cart to pick up our luggage. Macrino picked us up and took us to the lobby. I asked him for a picture of us, and he insisted I get in the driver's seat. The picture in the gallery below is
not
me driving the cart!!!
We had an easy drive to the airport, but then a little problem checking in when the representative of the booking agency said, "I have to call the United States." Images of this guy calling our president to see if I could come back into the States ran through my mine. I never did learn what was wrong with my ticket, but we were only delayed ten or fifteen minutes before we caught back up with Mike & Marilyn. And soon we were on the plane for the three-plus hour flight home. And soon we were unpacking and back to our regular cold-weather routine. And counting the days until we can head south again.
---
El Dorado Royale Photo Gallery