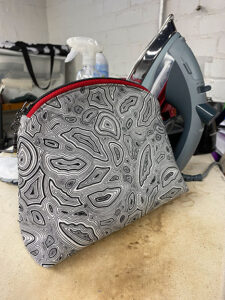 I'm tired of seeing that 100 Pouches in 100 Days post at the top so I'm giving you a new post to enjoy. Let me just say I have not done nearly as much sewing as I would have liked in the first four months of 2021 because of: 1) my bathroom reno; 2) my Red Cross donation gone bad; 3) my arthritic knees; and 4) my right eye. You know how to reach me if you want to know what any of those things are all about.
Now let's talk about what's important—sewing! I made two Bellevues this year, and am getting ready to make a couple more as soon as I finish six masks for someone who asked.
The Bellevue is a Sew Sweetness pattern, part of Sara Lawson's Minikins Season 1. It's an easy pouch to make, and the only thing other than fabric and interfacing that it needs is one zipper. Truly, easy peasy.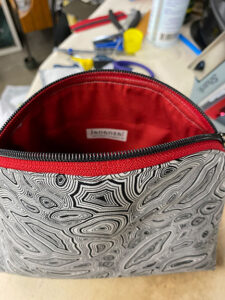 Both of these bags were made with fabric kits I bought based on a marketing email I received from My Handmade Space. The proprietor, Anabelle Delgado, has the coolest zipper pulls. She pairs a couple of fat quarters of coordinating fabric with a coordinating zipper that sports a great pull, and occasionally even puts them on sale. My first purchase from her was two sale kits, and I have since purchased several zippers. Check out her space.
The first of these two bags that I made was the Large. The exterior fabric is Tula Pink's "Mineral" in the black-and-white colorway she calls "Paper." The lining manufacturer was not identified in the kit. Honestly, you could use any solid fabric for which you have a matching zipper. No complaints for the construction process on this pattern. My only suggestion is for the zipper tabs. I use Wonder Tape on both the front and the back of the tab to hold it in place while I topstitch it into place. Less angst, less ripper-using.
This bag now lives in Amarillo with my son's wonderful mother-in-law. When the bag was finished, I texted my daughter-in-law, her mother, and her daughter, and said, "Raise your hand if you need a new Jan-bag." (This is how my Amarillo family refers to my sewing production.) My DIL immediately texted back, "Mom does." I love when kids look out for their moms.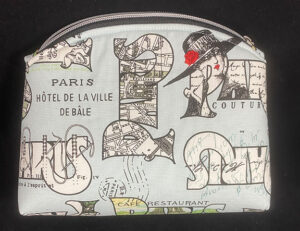 The second kit was purchased with a recipient in mind. There's a couple who are old friends of the Jazzman's and, a year before I met him, I bought a house two blocks up the street from his friends. They've become our travel buddies. The wife loves to bake and has been gifting us with delicious baked good throughout the nightmare that the past year has been. Since I'm not much for kitchen activities, I thought this fabric would make a great "thank you" bag for her. She's as much of a Francophile as I am. This is the Bellevue in size Medium. Again, no complaints, no suggestions beyond the Wonder Tape above.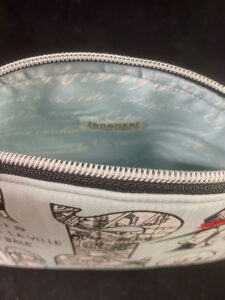 My bags are always sprayed to protect them against stains. I recommend to users that they just spot-clean with a damp cloth. I've been using Scotchgard for years, but they recently changed their formula and package and now the spray stinks much worse than it already did before the change. While searching to see if I could find any of the old Scotchgard, I found Trinova Stain Guard, which I like much better. It's non-aerosol and fragrance free.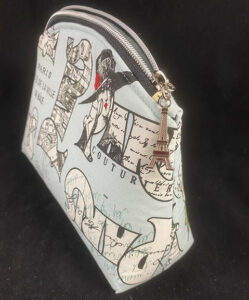 Here's the info on the fabric for the Paris bag: Fabric from Riley Blake, designed by J. Wecker Frisch. The collection is "Coterie Parisienne." Exterior: Blue Couture Cartes Postales. Lining: Blue Couture Coterie Piéres. (And look at the zipper pull in that photo!!)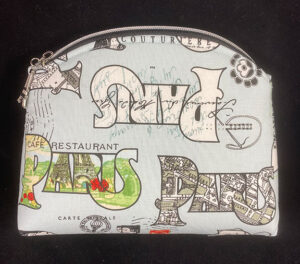 I want to say something about the three Minikins series of bag and pouch patterns. They're not cheap. But the options you get for that price—worth every penny. If you make two or three bags and sell to friends or think about what you might have paid in the store for an equivalent bag for a loved one, the set is paid for!
Here are the links if you want to think about them. (I receive no remuneration for any links I ever attach here.) If you want to see some of the great bags and pouches and accessories that various users have made, and you're on Instagram, search on #minikins or #minikins2 (etc.). You'll be astonished.
You're welcome. 😉