The distaff side of the couple we frequently vacation with has a significant birthday tomorrow, so I've spent this week creating a memorable gift for her. She's an artistic genius. Every trip we take is scrapbooked like no scrap project I've ever seen. She loves to garden and frequently posts breathtaking floral pictures on her Facebook page. She takes watercolors with her on trips and comes home with pieces I want on my wall. Her brother is a lampwork glass artist, and she uses his beads to make jewelry that all her friends clamor for. And two years ago she and her husband and another friend bought a vacation house steps away from Lake Erie.
My first gift thought for her was a bag to carry things back and forth to the lake house. So of course I walked into a local quilt store looking for a nautical theme. There were cute fabrics, but nothing as fabulous as my friend. I kept walking around the store, examining every display case. I looked for blue and turquoise batiks. I thought about travel themes. I thought about watercolors and artwork. I thought about gardening. Then I saw the Carrie Bloomston PAINT line—let's face it, I'd love a piece of every single fabric Carrie Bloomston designs. The solids in this line aren't really solid. They're very let-me-wipe-the-fresh-paint-with-this-cloth mottled. And wouldn't you know it? The
teal
was sitting next to the
Silvia's Sonnet Teal Packed Floral
from P&B. This is no wimpy little thin fabric. This is the crème brûlée of fabrics! Regular readers remember when I made an
Amy Butler Reversible Sunday Sling
as my
Gayley Girl Gift
. That bag took lots of work, especially in the preparation. And this was a week I was overloaded with high school and middle school concerts and rehearsals. So I needed a quick sew. I made the Sunday Sling again, but the smaller size. Less fabric and interfacing to cut and fuse, shorter seams to sew. I made only one goof on this bag: after sewing the top seam (the pentultimate step!), I forgot to clip the curves. Let me tell you, no trimming and clipping on those four curves means no top-stitching on those four curves. It just isn't possible! Of course I realized this after I had turned the outer bag through the reversible lining and sewed up the opening! But after unsewing and clipping and resewing and then top-stitching, I was very happy with the bag. So that was step one of the gift, but I wanted a really special gift, so I thought a little matching clutch tossed inside would be extra special. I'm newly obsessed with Swoon Bags, so chose the
Coraline Clutch/Wristlet
as the perfect go-with. This is my second Coraline, and she's a great little bag. Three main pattern pieces, and maybe 90 minutes sewing start-to-finish. There will be many more of her in my future. (Reviews coming up, but just not today.) I love the learning experience of sewing. What I learned on Coraline this time (actually figured it out as I was sewing up the opening to turn the Sunday Sling): I always press the seam allowances on the opening that I leave for turning a bag right side out.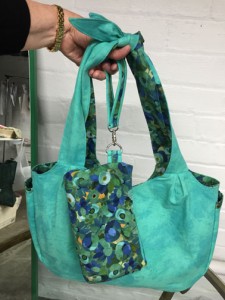 Once pressed, the opening is much easier to match up for whipstitching into place. If I pin it, it's not a smooth line for sewing. So tonight I tried putting several small pieces of scotch tape on the butted opening edges. It was much easier to sew it closed. I was much happier with my finished project and will keep using this technique as more bags pop off my sewing machine.
The happy touch to end my day was showing my Molly Maids the Sunday Sling and having them suggest I send some bags with them to the Molly Maid office. I love when people love my work as much as I do!