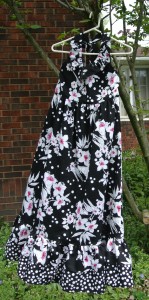 In preparation for our upcoming vacation in France, my recent sewing frenzy has been totally focused on moi. But, ever the devoted Grandma, I saw a cute new McCall's pattern and decided DGD needed a new dress for her upcoming end-of-year festivities.
Ridley will be 10 in a few weeks, but she got her height genes from her mother's side of the family. She's probably about 5'4″ and wears a girls' 14 (although there are items in her closet in Misses Small). I did not ask her mother to measure her before cutting out the pattern–oops. I looked at RTW size charts, compared them to the pattern measurements, and cut a 14. The resulting unsewing and resewing could have been much worse!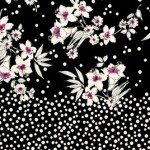 I found a pretty 100% cotton sateen border print at Jo-Ann's and bought all they had. I cut the widest ruffle out of the border so two ruffles would be floral with random dots, and e bottom ruffle would be all dots. This fabric was a dream to work with.
Before attaching the three ruffles, I had Ridley come over and try the dress on. Smart move! The bodice was a little roomy. The length–if I had used all three ruffles, as in the pattern, the dress would have dragged the floor.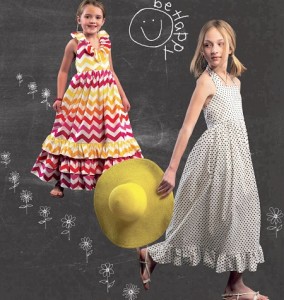 I unsewed the bodice side seams and took each side seam in ⅝" at the armhole, tapering out to nothing at the raised waistline. I did not cut the excess seam allowance, figuring that in a year she'll love the dress and I can redo that seam back out to the size 14.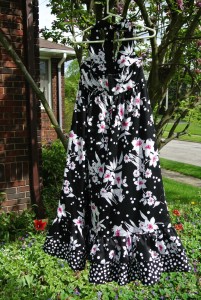 The ruffles are attached in a new-to-me way. The top ruffle is attached to the skirt (note the shorter dress in the pattern illustration). Then the middle and bottom ruffles (bottom is several inches longer than middle) are basted together and gathered together onto a skirt extension. The extension is then sewn over the top ruffle gathering. (Picture a sandwich of skirt right side, ruffle wrong side, extension wrong side.)
As I needed less length, I omitted the top ruffle and the extension. I gathered the middle and lower ruffle to the skirt. The top ruffle and extension are being sealed into a plastic bag for next year. She'll have another five inches on her by then, I'm guessing, and will still be able to use this cute dress once I redo the ruffle.
(Click the last photo to see the halter neck with ruffle treatment.)
She's a dancer and a spinner, so this dress totally suits her personality. And she grinned when she saw the skirt has pockets. It doesn't take much to please this sweet girl!
Now back to my personal frenzy. Three days to lift-off.