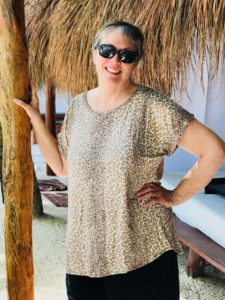 Vacation plans always make me want to sew. Surely I have some nice piece of fabric in my stash that will make me feel chic on vacation. And this trip was no exception.
We're on a week's snow escape vacation, and judging by all the weather reports from NE OH, we timed it perfectly!
Two nights before we were to fly out, I dipped into my stash and found a silky rayon I purchased several years ago at Fabrix in San Francisco on a shopping trip with Shams. Then I dug into my StyleArc pattern stash and Courtney called out to me.
Here's my review:
Pattern Description: An everyday top with interesting design lines
Pattern Sizing: Sizes 4-30. I cut a 16, but think I could have cut 14 as I was using all knit. In the future, I will save 16 for the linen versions.
Did it look like the photo/drawing on the pattern envelope once you were done sewing with it? Yes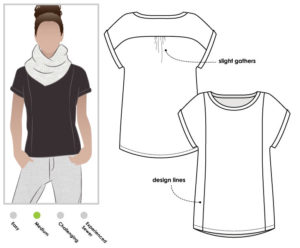 Were the instructions easy to follow? Typical minimalist instructions. I had one moment of confusion when sewing the sleeve band on. I thought maybe I wanted the seam allowance to be on the outside, if I was going to fold the band up and tack, as it would be invisible and the finished edge might be smoother on the inside against my arm. After reading Jean's review on her blog, it made sense to sew the band on so the seam allowance went to the inside. I tacked the band into the folded position, as it's very soft and I knew I wanted to wear it folded up.
What did you particularly like or dislike about the pattern? Quick sew. Cute, versatile top.
Fabric Used: Rayon knit from Fabrix in SF.
Pattern alterations or any design changes you made: I added 2" to length. I might have added two more for the coverup, but it's fine to wear to lunch at the resort if I slip shorts on under it.
Would you sew it again? Would you recommend it to others? I will be sewing it again and I highly recommend this pattern.
Conclusion: Easy sew. Easy wear. Great swimsuit coverup for vacation.