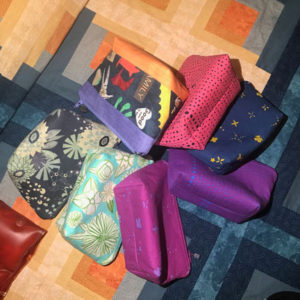 In mid-March, I attended the 50th reunion of the Class of 1968 of Forest Lake Academy, near Apopka, FL (Orlando outskirts). I grew up in Orlando and attended Orlando Church School (now Orlando Junior Academy) from 1st through 8th grades, and Forest Lake Academy from 9th through the first six weeks of 12th grade, when I dropped out of high school and started college a semester early. I was a rather lost soul. It was the 60s. I had no clue what I wanted to be when I grew up.
For years I've attended the reunions of the Class of '67, as my BFF was a part of that class, and that's the class I started college with. This year I decided to attend the '68 reunion, as those were the "kids" I had started first grade with. In fact, many of the students in both the class of '67 and '68 were people I had known since I was three or four years old. Orlando had a large Seventh-day Adventist community, and everybody knew everybody.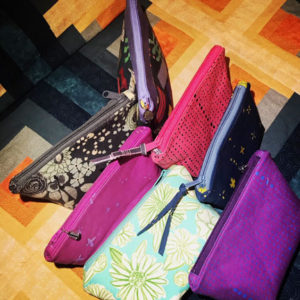 My reunion weekend schedule included arrival on Thursday afternoon, then dinner with my brother, his wife, my best friend, and another couple, the husband of which I had known since I was four years old. On Friday I would have lunch with a dear friend from before first grade, and on Friday night would attend the opening reception of the reunion.
<Sidebar On>
If you're not an Adventist, let me tell you how our reunions differ from the standard high school reunion.
A) We don't dance.
B) We don't drink.
So rather than just getting together for a big expensive one-night event including lots of music from the 60s and a catered meal, we hang out for an entire weekend, including a Friday night reception where all the classes in attendance are acknowledged, church on Sabbath, a noon meal, an afternoon of visiting, an evening meal, and maybe a boat ride or a picnic on Sunday. Very different from "Romy & Michele's High School Reunion" or "Grosse Pointe Blank." Very.
<Sidebar Off>
Continuing with my schedule—On Saturday (Sabbath) morning, I would attend my brother's church and provide much piano music for their enjoyment. Then we'd have lunch and I would then drive up towards Mt. Dora to visit with a college suite-mate from my time at University of Central Florida. After that visit, I would go back to the meeting venue where my classmates were hanging out. I'd see my second college roommate, and then have dinner with my classmates. Sunday I would drive to Tampa, spend the day with my college piano duet partner, then have dinner with my middle brother and his wife.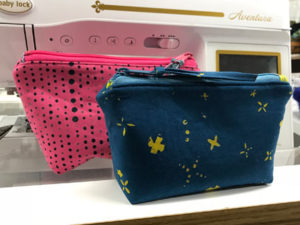 I wanted to have something special from my hands for these friends. When I'm giving my little zippered bags to friends in a group, I like to have one more bag than there are friends, so they can pick and choose their favorites. So the giftees would be (#1) my sister-in-law in Orlando, (#2) my BFF, (#3) the wife of my musical friend from elementary school, (#4) my college roommate, (#5) the woman who spearheaded all the planning for the reunion, with whom I had been texting and talking nonstop for the previous four weeks as we attempted to find as many missing classmates and faculty members as possible, (#6) my college suite-mate, and (#7) my piano duet partner. Seven bags, made in about three days while answering all of the ongoing demands of life. That concept of one more bag than there were giftees? Not happening this time around!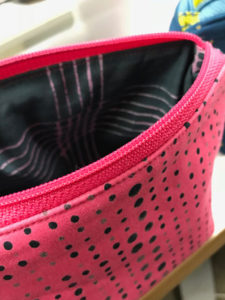 After the first three gifts, I picked out the bag I thought my piano duet partner would like, then texted pictures of the three remaining bags to my college roommate, who lives in Sarasota. I knew I wouldn't see her until late on Saturday, and wanted her to have her pick. Both my suite-mate, who chose from the two remaining bags, and the reunion planner, who didn't get a choice, said the colors they got were their favorite colors. Cool how things work out, huh?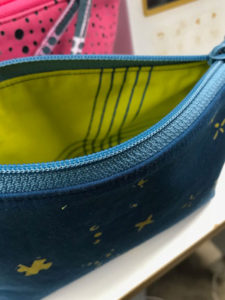 These bags are again crafted from Jedi Craft Girl's "My Favorite Zipper Pouch [Tutorial]." (BTW, Jedi Craft Girl's real name is Amanda, just in case you were wondering.) I've probably made at least forty of these by now. Here's the link. If you've made this pattern and would like to see more of Amanda's brilliant ideas, just search for "favorite zipper pouch" on her website and you'll get more inspiration with version 2 and version 3.
The fabrics were mostly from designer Allison Glass's Chroma collection, with a few fabrics rescued from my stash.
The best part of this story? Several friends have emailed and texted me since the reunion weekend, telling me how much they love their little bags and how the bags are getting constant use.
I have a lot of great friends from years gone by. #luckyme