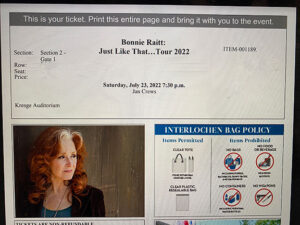 This weekend we're attending a Bonnie Raitt concert. We bought the tickets back in mid-February. I am not familiar with much of her work. Jas, however, knew when he saw her name on the concert list for this summer that she was on Rolling Stone Magazine's "100 Greatest Singers of All Time" and "100 Greatest Guitarists of All Time." He loves guitar music and tried for about the past eight years to learn to play the instrument. But when he started trying to learn to read music, he put his guitar in its case and it hasn't seen the light of day since that time.
The last year I spent time at Interlochen was 2019, when I was one of the collaborative pianists in the dance division for the first three-week session. I noticed the sign that stated all concertgoers were prohibited from bringing bags into Kresge Auditorium. However, they could bring see-through vinyl bags or Ziploc® or similar bags to carry their phone, wallet, and other necessary items into the venue. (Did you notice the graphics on the lower right portion of the ticket photo? Those represent things you can/can't bring into the venue.)
Sara Lawson, of Sew Sweetness Patterns, one of my favorite bag designers, released a bag to be made of clear vinyl, and I made two of them last year—one for my friend who works in HR at Interlochen Arts Camp, and one for my daughter-in-law, who teaches High School Contemporary Dance at Interlochen Arts Camp. Both those bags are shown in my post, "How Time Disappears During A Pandemic."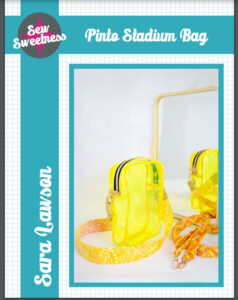 That bag, the Pinto Stadium Bag, is not easy to make—in my opinion—because of the curved corners on the bag. The bag has a gusset around the sides to provide depth in the bag, increasing what you can easily carry in it. The gusset is rectangular, and sewing a curved edge next to a straight edge requires a lot of fidgeting with the edges.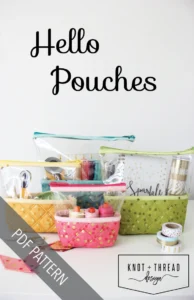 As I was thinking about wanting to make a bag to carry to the concert, I kept thinking about those accursed curves. (Carry a Ziploc bag for my purse contents? Seriously? You must not know me very well!) I remembered that I had bought a new pattern a couple of years ago, printed it off, and tucked it in a holding place in my sewing room. That pattern was the Hello Pouches pattern from Knot + Thread Design. I've admired this bag since I first saw the pattern, but have never had a reason to make it. Well, this week meant a long-awaited concert was my reason.
I have four varieties of vinyl for use with these bags. Vinyl by the yard comes in varying thicknesses, from 4 gauge (0.004 inches thick) to 80 gauge (about 0.08 inches thick). I believe mine is all 12 gauge, as recommended by Sara Lawson in the Pinto pattern. I have the normal clear vinyl, along with a see-through yellow, pinkish-red, and blue. For my "Bonnie Bag", I chose clear.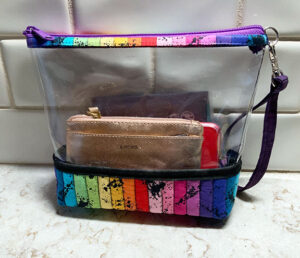 I then dug through my fabric stash to see what I could find. Very long ago, in March, 2020, when all hell broke loose worldwide, I bought some fabric to make a tote bag for my sister's grand-daughter-in-law, whom I've come to adore. I was making a bag for her. She wanted a black bag as she usually wears black. (Who does that sound like?) And she wanted a lining fabric that would demonstrate her support for her LGBTQ child and friends. For the rainbow fabric, I selected "Rainbow Graffiti Stripe" from the Buzzin' Around collection by Kim Schaefer for Andover Fabrics. I had just enough to act as the accent fabric for this bag.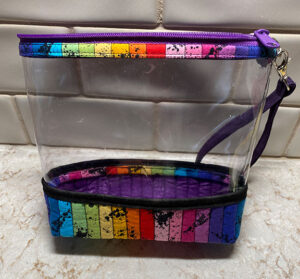 I chose the size Medium. But I wanted to have the greater part of the sides made out of the clear vinyl, rather than the fabric. As designed, the fabric base, once the corners are boxed, is about ½" to 1″ less than the height of the top (vinyl) piece. I wanted the bottom piece to be much shorter than the vinyl piece, so the ushers who cleared us into the venue could clearly see that I was not carrying any contraband into the concert. My finished bag has about 1½" of fabric and about 4″ of vinyl, topped by just over ¼" of top binding and the zipper. The zipper installation is one of those cool installations where you use half a zipper and one pull. I don't understand why this works, but I've done several of these, and know it does work.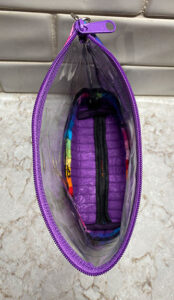 I wanted a wrist strap for this bag so I didn't have to carry it into the venue and balance it on my lap all evening. I opened the Sew Sweetness Metro Double Zip Pouch pattern on my iPad and copied the instructions for the wristlet strap. I sewed the D-ring onto the bag by hand (i.e. with a needle and thread), and whipped up the wristlet strap out of a deep violet fabric from my stash.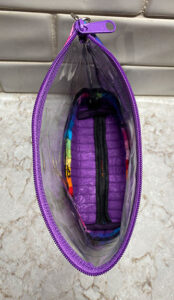 I am so incredibly happy with this bag, I can hardly stand myself. If you don't know this about me, I have two beloved grandchildren, ages 21 (in four weeks) and 19, who are transgender. I have a number of students I accompany who are LGBTQ. I frequently play for local musical theatre shows, and many of those actors are LGBTQ. I love all of my students, regardless of the flag they fly or how they present or whom they love.Carrying this bag will advertise—to anyone who needs the support—that I am an ally. If they need someone to talk to, there I am, proud to be supportive of their lives.
And I'm proud of having figured out how to hack the "Hello Pouches" pattern to meet my specific needs. Yay, Me! 😉