At this time of year, I'm always looking for [quick] cute little gifts for holiday party hostesses and (even more importantly) my grandchildren's teachers.
Shortly after starting to work at a quilt shop, someone showed me the microwave bowl mat. Brilliant! You know how the microwave dings and you grab your soup bowl and then cry out in pain because it's so hot that it burns your fingertips? Some brilliant crafter figured out a solution.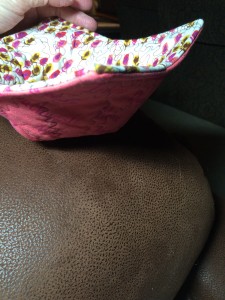 I've read ten or fifteen tutorials, and the one by Lisa Lewis Koster was the one I liked the best. (I've removed the link to her blog. Unfortunately, there's a problem with third-party photo sites and her service provider. I've copied the page and converted it to a PDF. Leave me a message below and I'll send it to you.) I recently won a pack of Cotton & Steel fat quarters from Gotham Quilts. Two fat quarters yield two microwave bowl mats and two little zippered bags. Cool! The prints I chose were: A) from the Hatbox line by designer Alexia Abegg, the Hatbox print in cream and the All the States print in coral; and B) again from Hatbox, the Palm Springs print and the All the States print, both in aqua.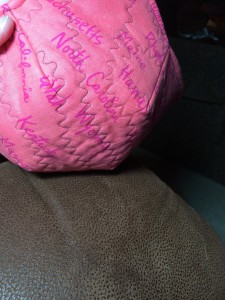 These mats are a little more time consuming than I like, but I can control that by the amount of quilting I do on each piece. When I start out again in the morning on the other three bags that I will take along to my friends at "orphan's dinner" tomorrow, I'm going to be more judicious in the amount of quilting I do! Bet on it!!
---
Think 100% cotton. Cotton fabric, cotton batting, and cotton thread. Very important for something you're going to "cook" over and over again.