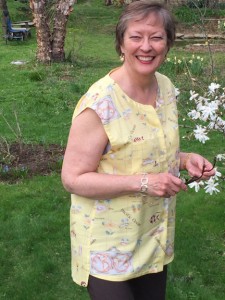 I've been trying to finish up some UFOs (UnFinished Objects). This top, from Vogue 8912, was started before our January vacation to Mexico, but it just didn't reach completion before the plane took off. So I mulled it over for a couple of months before finishing it a week or so ago.
Here's the review:
Pattern Description: From the envelope – Very loose-fitting top has neck and front bands, pockets, slightly shaped front hemline, and narrow hem. A: uneven hemline (wrong side shows), and purchased bias tape finishes armholes. B: fold-back cuffs. Semi-fitted shorts or tapered pants have elastic waist, side pockets, and stitched hems. (This pattern is now OOP.)
Pattern Sizing: 8-24, very loose-fitting. I cut my usual 16.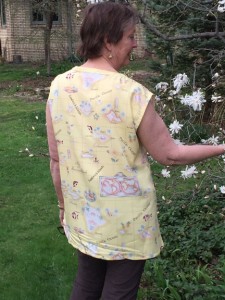 Did it look like the photo/drawing on the pattern envelope once you were done sewing with it? Yes, given my modifications.
Were the instructions easy to follow? Okay.
What did you particularly like or dislike about the pattern?
The armscye is the same whether you're making with a sleeve or sleeveless. This is just wrong!! The design for a sleeveless top should have the bottom of the armscye cut higher. Shame on me for not making that alteration myself. As it is, I'll buy a tank in a light neutral color to wear under it. (You notice how my elbows are glued to my sides for the photo shoot?!)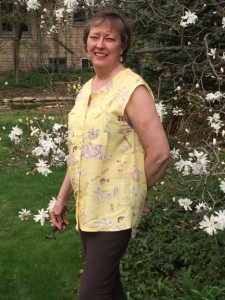 Fabric Used: Added to my stash in the early 2000s with no note attached. It's either cotton or rayon. It's a light weight that will feel nice in the humid summer heat. Kind of a fun travel-oriented print.
Pattern alterations or any design changes you made:
I did not like how long the back was — much longer than the front! After trying it on as designed, I cut off several inches and curved the side with a bread plate.
Somehow, when cutting it out, the center front came out much longer on one side than the other. How did I do that?! I sewed the neckband on, then tried the top on and it was awful. Unsewed the neckband on the longer side, drew a new seamline and resewed. Now it's okay.
Would you sew it again? Would you recommend it to others? Nope. I'm really ambivalent about this top. When you add the fact that I made it to go with a new pair of Eileen Fisher light silver gray capris and now they have a stain-of-unknown-origin that doesn't want to come out, this was a pretty wasted sew. 🙁
Recommend? Nope. Too many other nice tops out there. Skip this one.
Conclusion: What did I learn? Tissue fit the top and if the armscye is too low, fix it!!
---
So there you go—one more piece of fabric moved from my stash.