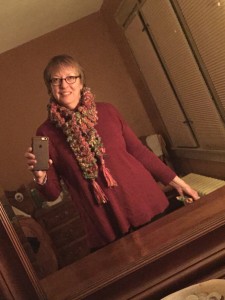 It's pretty sad when the lack of two tassels keeps you from wearing something for almost a year! In my so-far-successful effort to finish everything I start, I made two tassels this week and have worn my new scarf twice. And I love it!
The scarf in question is the Tilled Scarf by Quirky Bird Knits. The yarns are Malabrigo Rasta in color number 866, Arco Iris, and Malabrigo Silkpaca in color number 96, Sunset.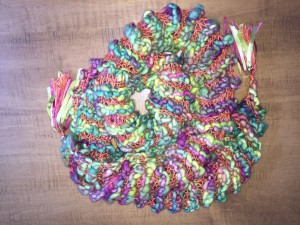 The pattern calls for one skein of each yarn. At the end I ran out of the Rasta, so didn't have enough for the tassels. (On rereading the pattern, I think I used a single strand of the Silkpaca, rather than holding it doubled throughout. Oh well.) I pondered a long time what to do about the tassels. I didn't want to buy a $22 skein of yarn just to have enough for two tassels.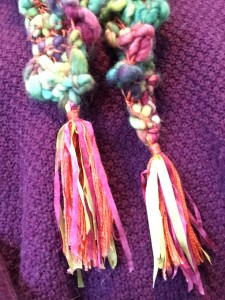 There's a lovely little needlework store name With Needle in Hand in Boardman. I took the finished scarf there and examined each rack and every yarn. Finally I decided on two hand-dyed silk ribbons to pair with the leftover Silkpaca. I got the 7mm ribbon in Gidgee and the 4mm ribbon in Jindalee or Tea Tree. I wrapped the lengths of ribbon and silk/alpaca yarn over the tails of the Rasta that were hanging from each end of the scarf, wrapped and tied the tassels with the Silkpaca tails, and – scarf all done!
In retrospect, I should have ironed the ribbon first …. When I put the scarf on for its second wearing, I realized I had dripped Balsamic vinegar dressing on the tassel at dinner on Saturday night. I rubbed the affected ribbons with water and a little hand soap, gently rinsed the affected ribbons, and used my flatiron to press them. Inspired, I thought.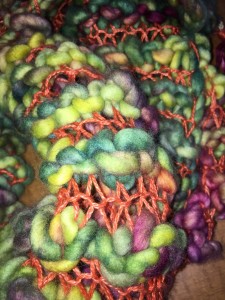 The hardest thing about this scarf was the switching from very thick to very thin on each set of rows. It required a lot of deft holding to maintain tension in the yarns. (Click the pic to view the difference in the yarns close up.)
And the result? Worth all the effort. I love this scarf and have gotten many compliments and queries about it with each wearing.
Purchased as a kit from Knitter's Mercantile of Columbus at the 2013 "A Knitter's Fantasy" show in Youngstown.