If given the gift of a free week, how would you spend it?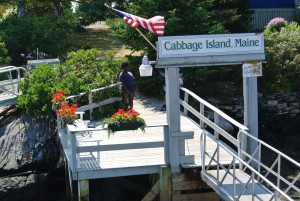 My guy, who is known here as the Jazzman, works in the railroad industry, where he has to declare a year's worth of vacation by the end of November of the preceding year. Last November we basically threw a dart at the calendar to declare the one week we had no plans for. The dart landed on the week leading up to Labor Day.
Every couple of weeks from the end of November up until mid July, we looked at each other and asked where we should go on vacation. We pondered various options—the family cottage in Western North Carolina; the Grand Canyon; Niagara Falls and Toronto; a cruise from Quebec City out and around to Boston—and were finally motivated by the opportunity to visit with the Jazzman's brother, Glenn. College friends of Glenn's own Cabbage Island, in Linekin Bay, in the Boothbay Harbor region of Maine. Every summer, Glenn takes vacation from his "day job" in Columbus, Ohio, and goes up to spend the final three weeks of the season helping out with Cabbage Island Clambakes as the younger staff members all leave to go back to college. With that motivation, I got busy with maps and Internet travel sites to plot out options for a trip from Youngstown, Ohio, to the coast of Maine.
Day 1 – Music and Old Friends
Leaving Youngstown at 9:00 a.m., we had an easy drive to Hawthorne, NY, in Westchester County. Along the way, I kept busy knitting a cotton dishcloth as a hostess gift. In Hawthorne, we stopped for an al fresco dinner with my college piano duet partner, who is known on my blogs as PianoLady, and her family. Burgers on the grill, corn on the cob—it doesn't get any better than this. After dinner, we sat down side-by-side at her piano and played through the Mozart D-Major and B♭-Major sonatas for piano, four hands. We're not quite as good as we were 44 years ago, but—with practice and playing together more frequently than once every three years—we could be.

We hugged and parted just before 9:00 p.m., heading up the Saw Mill Parkway to arrive at Heidi's Inn in Brewster, NY, with just enough time to find HBO on the television before the opening credits of "The Newsroom." Heidi's was clean and had an acceptable bed, and the room was relatively inexpensive. That's the best I can say. The windows didn't really latch, the included "continental" breakfast was a bag of English muffins and a container of Cheerios on the counter. The water for my tea was lukewarm. The ambience was non-existent. We decided to skip Heidi's breakfast and head up the road to find a real breakfast.
Day 2 – Portland and Another Friend
We found breakfast at Denny's in Danbury and made a quick sidetrip into Wal-Mart to pick up a ball of cotton yarn so I could knit a kitchen towel for our next hostess. A little over three hours later we were snooping around the Strawbery Banke area of Portsmouth, NH. We had a light, late lunch at Colby's, after which I took a little side trip into the delightful Portsmouth Fabrics. Then we were back on the road and, an hour later, parking along the waterfront in the old wharf area of Portland, ME. We visited Company C and bought a little gift for friends who just bought a beach house. We wandered out along the wharfs, noticing an artist working on his next masterpiece and a dozen seagulls artistically lined up over the windows of an old building. After killing a little more time in a couple of other cute shops, we drove back toward town to find the home of Jas's friend, Anne.
I had not met Anne before, and she was delightful. Her old New England home was beautifully and artistically decorated, with little touches of kitsch to please the eye. Before the old friends got too deeply into catching up, we headed off for the Old Port Sea Grill, down along the wharf, where we would have a nice dinner in a chic restaurant.
After dinner and back in Anne's comfortable living room, the friends talked into the night, and we said goodnight, vowing to visit again before long.
Day 3 – Boothbay Harbor, Lobstah, Family, New Friends
In the morning, Anne had already left when we came downstairs, and the breakfast essentials were on the kitchen counter. We lingered for half an hour, then headed out, stopping half an hour later at the Brunswick Diner for a second breakfast. (We're on vacation. We can do what we want!) This diner was a kick, overflowing with locals and diners and vacationers savoring the fact that all the kids had gone back to school already. I had pancakes and paid the extra $1.99 for real Maine maple syrup. Yum!
Continuing on through small coastal towns along Route 1, we arrived in Boothbay Harbor, parked at the Topside Inn, and headed down the hill to the wharf to get our tickets for our trip out to Cabbage Island and the clambake.
We were happy to see Glenn again. Our homes are separated by a three-hour drive, so we only see each other at holidays. We rarely get to spend one-on-one (or two-on-one) time with Glenn at the family gatherings. We got to watch him work, where he was great at pleasing all the age 70-something travelers on bus tours. The whole clambake experience was a kick. We saw the food being steamed over very hot wood fires, under a bath of seaweed—pulled directly from the bay. We tasted delicious fish chowder (I've never had fish chowder before, and this was truly memorable.) After the chowder, we walked down to the steam tables where we were each handed a tray covered with two lobsters, a foil package of steamed clams, a baked potato, and ear of corn, an onion and an egg. This is the traditional menu for a New England clambake. These bakes have been occurring on this island since 1956—don't mess with success! The dinner was followed by a [big] slice of blueberry cake, baked fresh that morning.
After dinner, the Jazzman and I walked around the island while we waited for Glenn to finish his duties. We stopped in the gift shop, where we each picked up a Cabbage Island Clambake t-shirt and visited with the island matriarch, Bennie Alice Moore. She is a delightful lady, who fully participates in the running of the island despite her advanced years. What an honor to meet her.
When Glenn finished his chores, we sat and visited with him and with Wayne and Bob Moore and their wives. Wayne's wife, Joanne, is interested in some of the same fiber arts that are passions of mine, so we had a great time comparing passions. (In addition to the clambake, Joanne and Wayne own the Weatherbird shops in Damariscotta. I only wish our vacation had offered enough time to visit the shops. Maybe next time.) After more walking around the island, the Jazzman and I boarded a small boat and Glenn ferried us back to Boothbay Harbor.
Walking up the steep hill, we arrived back at Topside Inn, where our room was waiting. While planning for this vacation, I visited lots of hotel and B&B websites. Everything I read about Topside Inn indicated it was a winner. Our personal experience confirmed those reports. The word that I think encompasses everything that is Topside Inn is "peaceful."
The colors chosen for each room, the comfortable furnishings, the clean and uncluttered feel of each room—all of these added up to a very pleasing experience. Once settled into our room, we sat on the back porch and watched the sun set across the forested hills. Later, crawling into our comfortable bed after a long and busy day, I was happy for my choice of Topside Inn.
Day 4 – Monhegan Island
During one of our conversations with Glenn while planning the vacation, he suggested we consider a day trip to Monhegan Island. When we woke on the morning of our trip out to Monhegan, the fog was so thick we couldn't see the harbor down below. The weather wasn't too cold, so we figured the fog would burn off quickly. We bought tickets on the Balmy Days II for the hour-and-a-half trip out to Monhegan Island.
Monhegan Island, a colony of artists and lobstermen, is covered with rocks, forests and hills, and quilted with hiking paths. We enjoyed hiking across the island and hearing the surf crashing on the rocks. After a couple hours of walking, we got sandwiches at one of the island's handful of dining places, then explored several art galleries while waiting for our 2:45 departure back to Boothbay Harbor.
Back at the Topside Inn, we relaxed for an hour or so while waiting for Glenn to come in from Cabbage Island so we could enjoy some more time together. We met, we drank, we talked, we laughed. As sunset neared, he needed to get back to the island. A fog that thick doesn't make navigation easy!
We trudged up the steep hill again, packed our bags and made plans for the next few days. There was no sunset to watch with all that fog!
Day 5 – Bath, Freeport, and Ipswich
During one period of being laid off from the railroad, the Jazzman had a promotional marketing company. One of the business strategies he employed was barter. Because of this, he has access to travel properties that also utilize bartering as part of their business strategy. While planning the vacation, he suggested we might find a hotel on the barter company website. When I searched, there was nothing in the area of Maine we would be near, but there were properties near Cape Ann in Massachusetts. We were able to get a room for two nights at the Ipswich Inn, so that was our destination for Day 5.
But first, Halcyon Yarn, just off Route 1 in Bath. Oh.My.Goodness! Halcyon is what a yarn store should be. Beautifully organized with lots of touchable stock that's easy to find. Enticing sample garments displayed near the appropriate yarns. Lots of patterns on hand and accurately filed for easy retrieval. The needles one needs, the notions, the inspiration. An ideal place to spend half an hour. Or many hours! I found the needles I needed to finish my vacation project, and I found inspiration for two more projects.
Then on to Freeport. Is there a person on this continent who hasn't heard of Freeport? As I've been on a "Ready to Wear fast" since the first of February, I wasn't in a buying mode, but the Jazzman found some great buys in the L.L. Bean Outlet, then a nice new shirt in the L.L. Bean flagship store. I found a pair of socks. (Better than nothing, right?) When our shopping was complete, we went across the street to Linda Bean's Perfect Maine, where I had the perfect lobster bisque and we left happy.
About a hour-and-a-half later we were checking in to the Ipswich Inn. It's a charming old building with comfortably furnished rooms. The innkeeper, Ray Morley, directed us to a pub in town for a little supper. After our meal, we walked around the town a little, then turned in. I wanted to be ready for the day ahead.
Day 6 – Gloucester and Cape Ann
The breakfast at Ipswich Inn was excellent. Guests can choose one hot entree from the menu, juice and coffee for the breakfast that is included with the room price. The servers were attentive and genial. The food was excellent. The dining room is open to the public, and lots of locals were showing up for breakfast—easily understandable!
After breakfast, we headed for Gloucester, where I was able to do a little more research into my birthmother's family. I took a couple of pictures of important-to-me buildings, and we headed out to Rockport. A relative of the Jazzman had passed away recently. Her home overlooking Motif #1 in Rockport had been recently sold, and we drove along Atlantic Avenue to see the house and its view.
We continued counterclockwise around Cape Ann, stopping along Washington Street to photograph one of the houses that Edward Hopper painted in 1928. I have long been interested in this house, and it was a real treat for me to see it in person. Then we drove to the Oak Grove Cemetery in the center of Gloucester for me to do a little more genealogical research. When I was sated, we took a random route (okay, let's turn here, now turn there …) back to Ipswich, stopping to walk on a beach and visit a roadside market. In Essex we had lunch at Shea's Riverside Restaurant & Bar before hitting a bunch of antique shops lining the main road through Essex. Everything was overpriced (both lunch and antiques), but fun to look at.
Back to the inn, we napped (okay, I knitted and the Jazzman napped), then we walked around the town and enjoyed a light supper at Mamma Luisa Cucina & Bar. Then back to the inn to pack our bags and early to bed for a long drive ahead.
Day 7 – Home Again, Home Again, Jiggety Jig
We woke to rain. Yuck. I don't enjoy a rainy 700-mile commute, but at least we had a delicious breakfast waiting before we set out.
The rain stopped before we checked out, and the drive was pretty uneventful. There was couple of slow spots along the highway and a few passages of rain, but there were no problems. The Jazzman drove and I knitted; or I drove and he bit his fingernails. He doesn't think he's as great a driver as I think I am. Oops.
We arrived home at 8:45, after driving a total of 1634 miles and an elapsed drive time of 30 hours and 40 minutes.
In summary: new friends and favorite family member, good food, scenic vistas, and special cities. A successful ad hoc vacation.