The "Oh My God, School Starts Again in a Week" vacation.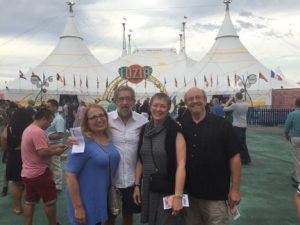 Our travel pals, Mike & Marilyn, are both retired. The Jazzman and I are not. I'm on the part-time faculty at the local university as the collaborative pianist for the opera program. Jas makes up for my part-time job by working 12-hour days, five days each week. We love to travel, but we have to plan judiciously to fit it all in. And, his company requires him to declare his vacation by the end of November of the preceding year. That means in mid-November of each year, we start throwing darts at the calendar for the coming year to select our vacation weeks. I've been in my job for a year now, and as we started the vacation planning routine, I looked at the calendar and said, OMG, the fall semester starts on AUGUST 23!!! We sat over a couple of favorite-restaurant dinners with M&M to figure out what to do about this sad state of affairs, and decided we'd go to Canada again, as we did for my 65th birthday.
Niagara on the Lake, August 14-15, 2016
Vacation, Day 1
Left home at 10:10, stopped around 12:30 at Angola Rest Stop straddling I-80. Ate several things that caused me to tell Jas to remind me never to order those items again. Headed for the Peace Bridge, spent ten minutes in the line to show our passports to the border agent, then with another half hour of driving, arrived at the Riverbend Inn, our home for the next two nights.
This is a beautiful new/old mansion, where the original building was expanded with some thoughtful architecting and made to seem old while immaculately new. Note: subscribe to the weekly travel newsletter from Jetsetter. Every so often they have really good deals on the Riverbend, where you get free breakfast, winery tours and tasting tours, and a two-fer deal on the Riverbend's restaurant. Very worth the money!!!
We checked in, marveled over our beautifully appointed rooms, planned the details of our stay here, and rested for half an hour before setting out for dinner.
As we had 8:00 p.m. theatre tickets, we decided to park and eat near the theatre. We found free parking on the street adjacent to the theatre and found a table at the nearest restaurant, Zee's Grill in the Shaw Club Hotel (menu). The restaurant was not crowded, but the service was extremely slow. I believe we sat down a little after 6:15 and, as I recall, we waited at least 15 minutes to order drinks. M&M shared the salmon croquettes' Jas and I shared the Pulled Pork Poutine. When in Canada ….
After dinner, we walked across the street to the Festival Theatre, explored the beautifully landscaped grounds for a few minutes, and found our seats for "Sweeney Todd." I'm not sure how I got to age 66 as a theatre-while without knowing about the Shaw Festival. The Festival occurs annually from early April through the end of October. The repertoire is old and new, musical and straight, and spans the genres. After my experience with "Sweeney Todd" on this trip, I assure you I'll try to be back every year.
The production of "Sweeney Todd" was fabulous. Now you must be aware that I look at any musical through the eyes of a musician, not an actor. And I will be the first to tell you—if you didn't already know—that Sondheim doesn't write easy music. I believe he equates "easy" with "boring." He loves using unusual time signatures (5/4, 7/8). He loves using key signatures with six flats or seven sharps. He loves writing with no key signature and just embellishing each measure with five accidentals. And ink. The man loves ink.
"Pretty Women" (Parts 1 and 2) require constant counting. Many of the multi-voice pieces—duets, trios and more—contain such tight dissonances that even the most experienced singer queries, "How did they do that?" One of the greatest examples of a dissonance brilliantly conquered in this production came at the end of "Johanna" – Act II Sequence. Sweeney Todd sings "Good-bye" – D-flat descending to C, and holds that C for three measures, until Anthony (the sailor who has fallen in love with Johanna), sings "I'll steal …", holding "steal" on D-flat for four measures against Todd's C. Oh, the difficulty for those two singers to hold that minor second against each other. Then Todd continues holding the C while Anthony resolves the D-flat upwards to E-flat, the minor third being so much easier to sing than the minor second. Todd drops out after two measures, and Anthony continues holding the E-flat for three more measures. Wow. Just wow.
And an example of clever lyrics:
Mrs. Lovett and Mr. Todd discussing the contents of the meat pies:
Lovett, offering Todd a pie: "This may be a bit stringy, but then of course it's fiddle player.
Todd, examining the next pie: "This isn't fiddle player. It's piccolo player."
Lovett: "How can you tell?"
Todd: "It's piping hot."
Clever puns!
"Sweeney Todd" is Sondheim at his brilliant best. In my opinion.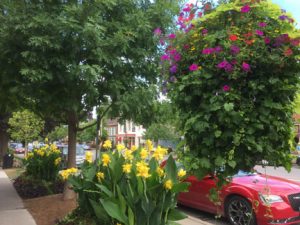 Vacation, Day 2
After breakfast at the hotel on Monday morning, we wandered around the shops of Niagara on the Lake. The flowers and landscaping evident on every street corner and hanging from every light pole are exquisite. The landscape designers mix flowers and plants that I would never even dream of and don't even know the names of. And the result is amazing eye candy.
We had 12:30 lunch reservations at Peller Winery and had window-shopped all we wanted, so headed to Two Sisters Vineyards to sample their wines. The Riverbend Inn and Vineyard (where we were staying), Two Sisters, and Peller are all situated near to each other on the same street, and their offices and tasting rooms are housed in beautiful buildings in the middle of acres of grapevines. The Two Sisters tasting allowed the customer to choose three wines of any color and any variety from their collection. I chose the Riesling, the Unoaked Chardonnay, and the oaked Chardonnay. I don't normally like sweet wines, but this Riesling was not very sweet and I loved it. (And a bottle is going home with us.)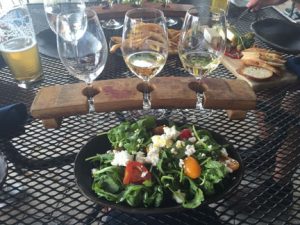 After the Two Sisters tasting, lunch time had arrived and we drove next door to Peller, where we sat on the patio and ate at their casual restaurant with rustic outdoor kitchen. Marilyn and I each got a flight of whites to taste, and ate an incredibly tasty salad with delicate greens and the most delicious small tomatoes I had ever eaten. Jas had a fabulous burger that constituted a far larger lunch than he planned on eating. This turned out to be my favorite meal of the two days in NOTL. The flavors of that salad were wonderful. When that sensory experience mixed with the visual of the vineyards surrounding us and the smells coming from the kitchen—what a beautiful way to linger over lunch!
We had one more winery tour and tasting voucher that accompanied our hotel package. After lunch we decided to finish our day's activities with the visit to
Konzelmann Estate Winery
. Their vineyards lie along the lake road and run perpendicular to the lakeshore, all the way down to the lake. To get there from Peller, I drove along the lake, past dozens of sweet little cottages and magnificent estates that comprise the village of NOTL. We enjoyed learning about Konzelmann's operation, which began its life in Germany and then was moved to the U.S. After the tour and a tasting of several of their wines, we headed back to Riverbend and a well-earned rest.
The room package we had purchased at Riverbend included a $40 voucher for dinner (if you purchased two entrees, which averaged $40). So basically, it was a BOGO. Unfortunately for us, the waitress who served us that night seemed to have had started this job the day before. And we were pretty sure it was her first job. The food was mediocre, but the service was abominable. Mike's duck was very poorly cooked and, though advertised as "duck breast," was no more than three chunks of tough duck. Mike and Jas always like to have a glass of Wild Turkey on the rocks before dinner. (That's a brand of bourbon, if you didn't know.) The waitress told them they didn't stock Wild Turkey. (As we waited to be seated for breakfast the next morning, we saw the bottle of Wild Turkey sitting on the shelf behind the bar, calling out to be drunk.) And Marilyn's lemon drop martini? Even I know how to make a lemon drop better than that!!! People, it's shaken or stirred. It's never over ice!!!!!
The final knife in our dining experiences for these two days was the Tuesday morning breakfast prior to checking out of the hotel. The same un-waitress from the night before waited on us. (I guess this restaurant hasn't heard of the concept of job training ….) We waited over half an hour for our breakfasts to come out from the kitchen. And there were eight tables to be served—fewer than twenty people to be served. There was simply no excuse for the waitress's poor service, for her utter lack of knowledge.
As we paid our room bill and loaded the car, I was relieved to be leaving this establishment.
Bottom line: Rooms—Great. Restaurant—There are many better options.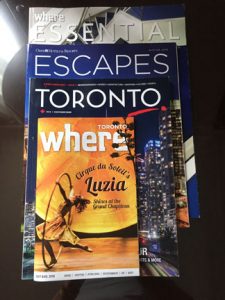 Toronto, August 16-19, 2016
Vacation, Day 3
The weather forecast said we would be driving in rain the entire way to Toronto. The weather forecast was wrong. Whew!
Easy drive. Arrived at our hotel shortly after noon. Our rooms were ready and we checked in and unpacked. Marilyn had suggested the hotel based on an earlier visit, and I'm so glad she did. The rooms were large, modern, and beautiful. And they were on the concierge floor!! At 2:00 we went to the lounge and had refreshments. Back to our rooms to rest and relax, then at 5:00 we went back to the lounge, where we enjoyed a veggies, crackers, cheese, and appetizers spread big enough to substitute for dinner. Now this is a hotel! Afterwards we walked the sidewalks around the hotel, finally stopping at East Thirty-Six for libations to close the day.
Vacation, Day 4
The day began with breakfast in the lounge. Wowzers! One table held beautiful displays of fresh fruit, sliced strawberries, blueberries, melons, peaches, and so on, along with fresh muffins, croissants and pain au chocolate, and bowls of granola and yogurt. The hot foods were on a table in the next room—bacon, bangers, home fries, individual Japanese egg custards, oatmeal, various breads for toast, and peach waffles with peach compote. Plus coffee, tea, four juices, and three different infused waters. And those hot foods? Those are not the eggs or potatoes or bacon you get at your local Motel 6. The breakfast was fabulous.
Marilyn and I were talking about the food we had consumed in the lounge since arrival. We agreed that the amount we paid to be on the concierge floor was less than the value of the food we had consumed, and far less than we would have paid had we gone out to restaurants for those meals. The Omni hotel system is now on my list of favorite hotels!
After an hour of newspaper and email reading, we set off to conquer the subway system and visit the Royal Ontario Museum, where there was an exhibition of Dale Chihuly's stunning glass works. We had tried late at night and early in the morning to buy our exhibition tickets online, but their system seemed to be down. When we arrived at the museum, we had to wait in line about half an hour to purchase our tickets.
But, oh, the eye candy of Chihuly's work! I've seen exhibitions in Phoenix and Columbus, and have visited the Bellagio in Vegas, where his work is a focal point. I love his work and it was a treat for me to see this gorgeous glass and learn more about his work.
After a little more walking around the museum to see their Egyptian treasures, we were done with our culture and ready for some cuisine. We walked about an hour (walking off the previous day's cookies and the morning's muffins) to Little Italy and find an Italian Irish pub for lunch, then grabbed a cab back to the hotel to relax. Light supper in the lounge, then Uber to the Port Lands for Cirque du Soleil.
The new Cirque show is "Luzia" and is inspired by the history and culture of Mexico. There was breathtaking: the tiny woman acrobat that was tossed by and among three big men as if she were a pillow; the man who hung by one arm from a rope and had the strength to totally lift and maneuver his body with that arm. There was stomach-flipping: the contortionist that did things with his body that just shouldn't be done. There was hilarious: the saguaro with genitalia. There was amusing: the percussionist/horn player who played 24 notes on the marimba, then turned and played a single held note on the tuba. There was awesome: the designs displayed in the water that sheeted down onto the stage. And there was funny: the things the clown did with his eyes and his whistle. I enjoyed the show greatly; to me it was worth every dollar we paid!
Taxi back to hotel, and a drink and debriefing in the room.
Tomorrow, final vacation day and then back to the real world.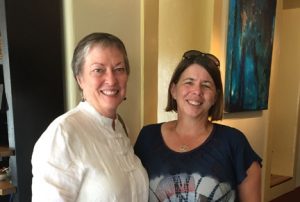 Vacation, Day 5
Sleep in after late night for Cirque, breakfast in the lounge, relax with reading. Then I set off on my big adventure.
Copied from my Facebook post on that day:
Nineteen or twenty years ago I became acquainted with Jeannie Gane. Both our husbands were battling forms of cancer, and we both joined an online caregivers support group. We walked together on one of the toughest paths life has to offer. We lost touch through the years, then ten years ago found each other on Facebook and renewed our friendship. Last year I met Jeannie's sister, Marie, and Marie's incredibly talented daughter, AJ, whom we saw sing and dance and act her heart out in "Kinky Boots." Today I get to meet Jeannie face-to-face, finally. As I type this, tears come to my eyes. I'm so fortunate!!
Jeannie and I had a lovely visit. Words flowed as if we'd been lunching together periodically for years. This lunch truly was the highlight of my vacation. Many thanks to Jeannie for going out of her way to meet me in Toronto.
My travel companions went to a favorite Toronto noodle restaurant and returned to the hotel about half an hour before I did. Naps all around, light supper in the lounge, then an Uber ride to The Rex Jazz & Blues Bar for jazz and drinks. Then back to the hotel to pack for the trip home.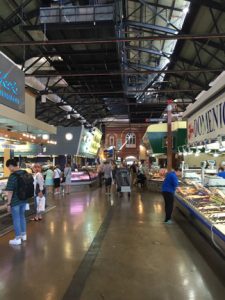 Vacation, Day 6
Breakfast was followed by a walk to the St. Lawrence Market for cheese to take home and sandwiches to eat on the road. Then nothing left to do but check out of the hotel and drive. The only challenge of the drive home was precursed by the signs along the QEW tell us to expect a 30-60 minute wait around Fort Erie. We talked among ourselves and were sure that wouldn't impact our trip. Well, that actually meant the Customs gates for us to get through on our way back into the U.S. were backed up. Way backed up. But it could have been worse—the cars behind us were held for half an hour or so before being allowed to get in line for the gates.
All in all, an easy drive, only about 45 minutes longer than expected due to the backup, and only a little bit of rain here and there.
Arrived home around 6:00 p.m. to an irate cat who wondered where the hell we had been! Parents get no respect!!