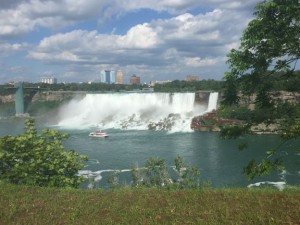 Jan's 65th Birthday
About two months ago, the Jazzman asked what I wanted to do for my birthday. After my obligatory "nothing" answer, I started thinking about what might be an enjoyable way to begin my 66th year. Then I noticed on Facebook that the niece of a cyberfriend of mine had been cast in the Toronto production of "Kinky Boots." As I'm a pushover for musical theatre, and Toronto was a city I had never visited but all our friends raved about, that's what I chose. Very quickly after telling our crowd of friends that we were going, our best travel pals, Mike & Marilyn, said they wanted to come. Yea! Two's company; four's even more fun.
Day One – Friday, June 19
We left a little after 8:00. After the requisite stop at the Angola Rest Stop on I-90 (who knew this was a travel rite of passage?!), we arrived in downtown Toronto around 2:30. Mike chose well with 1 King West for our Toronto hotel. The location was convenient to all our activities, and the rooms were 21st Century Charming. Sleek, clean, compact but encouraging the traveler to stay for months. We stayed in the historic tower, where each room is different. And it was an easy walk to everything!
After getting settled in our rooms, we set out to roam around. M&M and the Jazzman had been to Toronto several times, and Marilyn remembered all the good places to explore. We headed up King St., then crossed over to Queen, discovering one of the Jazz Fest venues. And people watching. What great people watching!
After all our walking, we started getting thirsty. Searching for a cocktail venue, we happened upon Drake One Fifty, a chic all-the-young-lawyers afterwork place, where we sat on the patio and enjoyed libations and a cheese plate. The weather couldn't have been more wonderful for our walking and sightseeing, but we had a show to catch and dinner to eat. Back to the hotel to change, then searching along King for a dinner spot.
The area around the hotel is the financial district, so it's more a Monday-Friday Power Breakfast and Power Lunch area. We had to get into the theatre district to find a restaurant, most of which had no tables available. And then we found il Fornello. The front of the restaurant was full, but they opened the back room with ten or twelve tables, and we had a great dinner where we were able to hear each other speak! (This is a big deal with me—if I'm at a table where I can't hear my companions, I tend to zone out. Sometimes I even hum!!)
I wasn't as religious on this trip about recording our meals. I think with our trip to France, I noted what each person ate for each meal. Guess I'm getting old (DON'T YOU DARE AGREE!). Mike had a pizza, my bite of which was great. Great crust, delicious sauce. The Jazzman had Rigatoni Bolognese that was delicious! I had Salade Roma, enticed by the chevre. I believe Marilyn had a salad also, but I don't remember which one. I recommend this restaurant and would go again, any time!
And then it was showtime. We made our way to the elegant old Royal Alexandra theatre, and settled in for two hours of great music, great dancing, laughs and poignancy.
Here's the background to my having chosen this city and this particular show for our trip.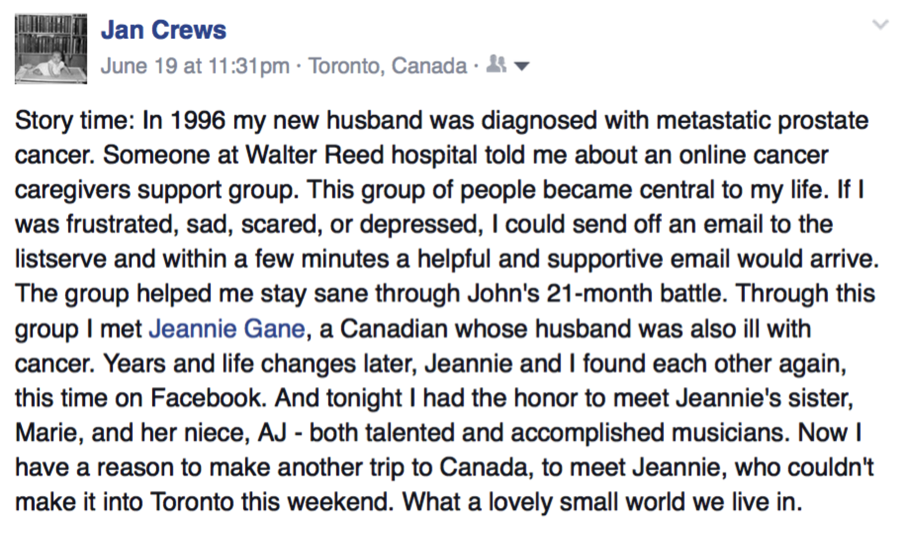 I loved the show. What talent on that stage, not the least of which was AJ Bridel. Oh my gosh, does this young woman have a future ahead of her. When I met her mother, Marie, at intermission, she was telling me that AJ knew at age 13 that this was the course she wanted to follow in her life. When she finished school at 18, she started going out on auditions and winning roles. Three years later, at only 21, she has a very impressive resume, and the fortitude to continue making this happen. I look forward to seeing her on Broadway some day, and on stage at the Tony awards presentation. She's got it!
Afterwards, the Jazzman and I went around to the stage door and got to meet AJ and give her our congratulations. Gracious, talented, lovely. Watch out, world!
And that was Day One.
Day Two, Saturday, June 20
Another gorgeous day. Coolish temps, sunshine, blue skies. We walked from our hotel to
St. Lawrence Marketplace
. Oh, how I'd kill to live in a town with a market like this! We had the classic
Peameal Bacon Sandwich from Carousel Bakery
for breakfast. I will confess that I love Egg McMuffin sandwiches, but I never stopped to think where the "Canadian bacon" got its name. This, People, this peameal bacon! It's the Real Thing! Had the market been open on Sunday, I would have begged to walk back over for another. What a great way to start a day!
We walked back down Front Street. A few blocks west of the market, I was enticed into Kochi by the beautiful damask napkins and kitchen towels in baskets on the sidewalk. I picked up a four-pack of napkins and a two-pack of towels and headed to the counter. The napkins were $20, but if I bought two packs, the prices was $24. Total. How could I argue with that? Besides, they're the perfect size to become yardage for clutch bags. (Of course. You knew I'd find an alternate use!)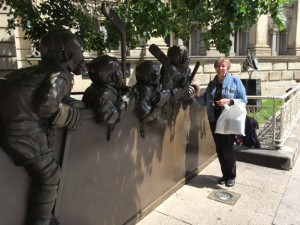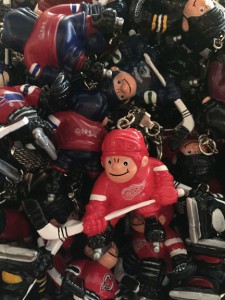 Continuing down Front Street to the Yonge intersection, I had to get pictures of the Hockey Hall of Fame building for my hockey-playing son. Then I spent a little time nosing around the Spirit of Hockey store to find a couple little tschotkes for his collection.
After a little rest in our rooms, we headed out again, this time out Queen towards Spadina. So much to see. And then I spotted the textile stores! Went into Trillium Button just west of Spadina on Queen. I could have spent an hour here—so many buttons, so many notions. But I was trying to be considerate of my travel companions, and just grabbed two sets of swivel hooks for bagmaking. Heading up Spadina, I spotted Leather & Sewing Supply Depot. OhMyGoodness! Again—could have spent an hour; trying to be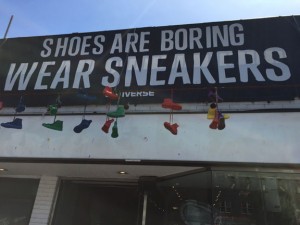 thoughtful. I headed to the scrap bin and picked up two pieces of leather, for a total of $26. These will be used in small bags or as accents on larger bags. I felt like such a winner!!!
By now it was cocktail time, so we circled around through Kensington Market and found an open restaurant with patio tables in the shade. I didn't write down the name of the restaurant, but when I asked the waiter his name, he told us to call him Ishmael. He was great fun, and we left feeling refreshed. With more walking, we ducked into M&M's favorite noodle place, King's. All I'm going to say here is that I chose poorly. No, wait, let me say one more thing: I'm pretty sure this was the worst meal of my life. But it was my fault. The others enjoyed their meals, especially Marilyn with her pea tendrils. Had I realized what her meal was going to be, I would have ordered the pea tendrils sans garlic.
<Sidenote On>
I'm a PITA to travel with. My migraine triggers make me order meals very carefully. (Yes to cooked onions; No to raw onions. No to garlic. No to acidic things. Careful with tomatoes or citrus or chocolate, unless it's on a full stomach. And so on.) Honestly, I pity my travel companions.
<Sidenote Off>
When we got back to the hotel, Marilyn graciously invited me to their room where she shared the cheese and baguette she had bought at the market that morning. Generous friends are good to have!!
And then we headed to the evening's chosen entertainment: Bette Midler!!! This was one fabulous show, held in the hockey arena. I kept sending pictures of the venue to my hockey son, who was out of his mind with jealousy. The show was two hours of high energy singing and dancing and visual effect. Really, I won't know where this woman, who is four years older than I, gets all her oomph, but she's incredible. Somehow I imagine it includes a couple of hours each day in the gym. Great backup band, great singers and dancers, great voice and musicality. All around stellar performance. Here's the review.
Day Three, Sunday, June 21
Pack, breakfast in a little place around the corner, checkout, and begin the drive towards Niagara Falls.
You know how I love exploring roads I've never seen before. As I was the designated driver, I chose to drive down along the waterfront. (Remember last year when I visited three of the Great Lakes in one day. Before the year is out from that day, I visited the fourth lake. Superior remains to be seen.) We meandered for about eight miles, people watching, marveling at the activities available in this beautiful city. And then we got back on the freeway to circle the west end of Lake Ontario.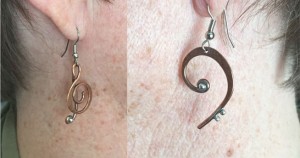 I had read about Niagara-on-the-Lake, so asked if my companions minded if we visit there. We found the little village and chose a patio table at the Grill on King for lunch. (NOTE: If you're reading at work, turn down your volume before clicking that link – it autoplays. A pox on their web designer!!) Great sandwiches and paninis. Then a little afterlunch walk down Queen Street and a pop into a jewelry shop for a cute pair of brass treble clef/bass clef earrings for me. And back into the car to head to Niagara Falls.
We checked into the Doubletree Fallsview, a beautiful hotel with architecture reminiscent of Frank Lloyd Wright. A few minutes to settle, then my companions humored me, as I was chomping at the bit to see the falls. We parked halfway down the hill, then walked the rest of the way down to see the view, then head to Hornblower's (aka Maid of the Mist), to take the oh-so-very-wet cruise. All of my companions had been on the cruise before and said they'd never gotten this wet. They thought maybe the boat engines are bigger and more powerful now than in years past, so that the pilots were able to take the boats up closer to Horseshoe Falls.
There's just nothing like this magnificent nature show. If you've been there, you're probably nodding your head and agreeing. If you've not been there, you have no idea. It's just spectacular. Go. Schedule a vacation at that location. Go!
After all that walking, when we got back to the hotel, it was all we could do to fall into the chairs at a table in the hotel restaurant. And after one drink, we decided we'd just stay there for dinner. After dinner, we changed into swimsuits and enjoyed the whirlpool for a while. And then fell into bed.
What a day!!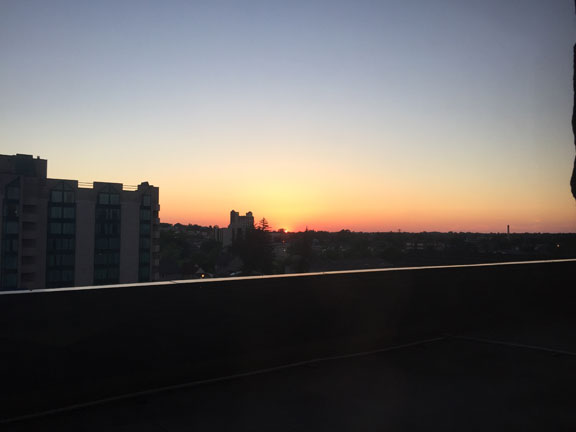 Day Four, Monday, June 22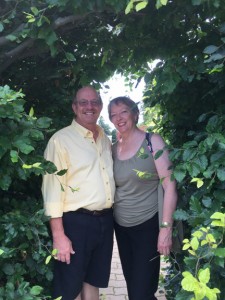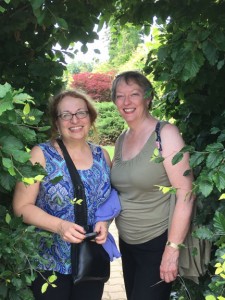 B Day. I'm 65 years old. Truly, I don't know how this happened. I don't feel 65 (i.e. old). I spend so much time with high school, college-age and 20-something musicians, I think I'm the same age as them. But my newly printed Medicare card says I'm 65. So I guess I'll believe it.
Initially—six months ago—I had wanted to skip all reference to and recognition of this day. But now that it has arrived, I delighted in telling people all day long that it was my birthday. I had fun. And I had great companions to have fun with. We walked across the street to IHOP for breakfast.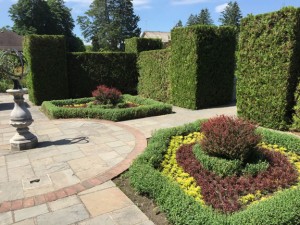 But surely there must be more to do in this city before heading home. Marilyn, being the consummate gardener, suggested the exquisite Niagara Botanical Gardens. Such beauty. Such peace.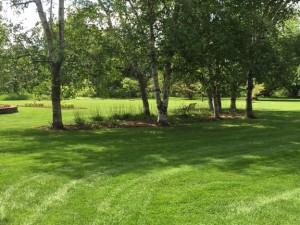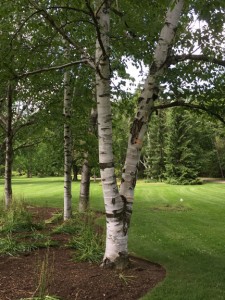 We walked around and savored for a while, then drove to see the floral clock and one more pass down the gorge for more water views. Then we jumped up onto the Rainbow Bridge and headed for home.
We were fortunate on this whole trip to have wonderful weather. Beautiful walking-around weather. Beautiful driving weather. Just a lovely time, and a relief to be out of all the rain we've been having in Youngstown.
Four-and-a-half hours later, we pulled into El Tapatio in Youngstown for my birthday dinner. One-glass Jan had two margaritas!! And we were waited on by the lovely Jessica, who happens to be the daughter of a friend of mine. When my friend saw on Facebook where we were dining, she told her daughter that she was buying dessert for me. How fun! And the perfect ending to a most enjoyable mini-vacation.