Old friends and new places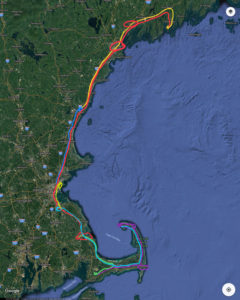 "September in New England" reminded me of the song, "Autumn in New York," but they're not exactly the same. Our previous visit to Maine and Cape Ann, Massachusetts, was five years ago. According to my Facebook "On This Day" reminders, it occurred in the week leading up to Labor Day. When the Jazzman threw a dart at the calendar last year to meet Norfolk Southern Railway's requirement for requesting vacation prior to the end of November, he struck upon the week after Labor Day. The benefit of that week is that all "kids," from kindergarten to grad school, are back on campus and we would have the coast to ourselves, along with other retirees and couples with young children. Translation: It was a peaceful vacation. (That map photo shows our 660 miles of driving.)
The primary goal for this trip—as with our trip to the Pacific Northwest last August—was to visit some friends. Jas's next-older brother (he's the youngest of three boys) spends the last three or four weeks each summer working at Cabbage Island Clambakes in Linekin Bay, the next cove over from Boothbay Harbor. The owners are friends of his from college, and he enjoys getting away from Columbus [OH] for a few weeks in what is usually lovely weather on the coast of Maine. That was the first stop on our itinerary. The second friend-stop was Portland, ME, for lunch with a relative, and the third was in Mashpee, Massachusetts, on Cape Cod, to visit one of Jas's closest high school friends.
About four or five months into 2018, Jas decided he was going to retire as soon as his Norfolk Southern clock rolled over to 30 years of active service. That turned out to be the day after Labor Day, two days before we were scheduled to fly to New England. As I began planning our trip, his greatest desire was for me to pinch the travel pennies so he wouldn't begin his retirement amassing debt. I did more comparative shopping on this trip than any I've ever planned. And it worked out well!
This account is going to be more about where we stayed and where we ate than what we did. We really didn't do that much except eat, as evidenced by the numbers on our bathroom scales when we got home. Ouch!
Thursday, Sept. 6
Pittsburgh to Boston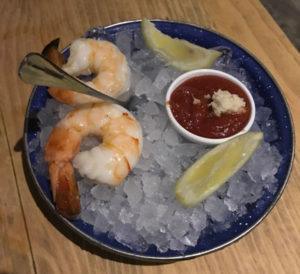 Delta had a very timely sale, and we snagged inexpensive tickets to Logan Airport. As soon as I booked, Delta sent me an email suggesting I might like to upgrade to the first class cabin using a small amount of SkyMiles. You bet I would! We arrived at Logan around 4:30 and went to pick up our Hertz car, which I had rented with Hertz points.
It takes about 2½ hours to drive from Logan to Boothbay Harbor, more if you begin the drive during rush hour, as we did. Now that was poor planning. I had booked a hotel an hour away from the airport, and that was our first stop.
I chose Kittery Inn and Suites, over the state line into Maine, just beyond Portsmouth, NH. This is a charming vintage motor hotel, as they were called when I was a kid. The room was clean and peaceful—great for a good night's rest after the crazy Boston traffic.
We asked the desk clerk for a dinner recommendation, and she sent us to Roberts' Maine Grill. Boy, was this a good choice. We were able to get a table in this almost-full eatery, and a few minutes later a husband and wife from Columbus, OH, were seated next to us. After we placed our order, we enjoyed learning about the couple's month in their RV at a nearby oceanfront campground.
The food was delicious, but rather dear. We ordered the jumbo shrimp appetizer. The waitress said they were huge, and that one each would be a good appetizer. The price was marked $4.50. Umm, that's $4.50 for each jumbo shrimp. That big, they weren't! But they were delicious.
For our entree we each ordered fish & chips, and they were great. This restaurant is "farm to table," and the dishes were prepared with great care.
As it was the first night of vacation, of course we ordered dessert. The blueberry crumble grabbed our attention, and we ordered it a la mode. We were completely disappointed when it arrived without first having been heated. We mentioned it to the waitress, who said it was supposed to have been heated, but there was a new person in the kitchen who evidently didn't know about that. When she went back to talk to the manager about our cold crumble, he said it's never heated. What?! But he graciously took the price off our bill, and we were grateful.
Note to readers and to self: next time at Robert's, specify that the blueberry crumble be heated.
Back to our hotel and a very comfortable bed and sound sleep.
Friday and Saturday, Sept. 7-8
Kittery to Boothbay Harbor
Friday
We were scheduled to take the Cabbage Island boat, the Bennie Alice, from Pier 6 at 12:30, and needed to be at the ticket booth to pick up our tickets by 11:00, before the activity picked up. We had planned to leave the hotel by 8:30 or so, but we were done with breakfast and packed before 8:00, so we left Kittery for the drive to Boothbay Harbor.
We arrived at our hotel for the next two nights, the Mid-town Motel, around 10:30. Fortunately our room was ready for us, and we dropped our bags and parked the car before walking down to Pier 6 for our tickets.
This hotel is another vintage spot, filled with memories of your childhood, if you're 60 or older. The room contained a double bed and a twin bed. There's a little reading nook on the far side of the twin bed. There are small benches at the foot of each bed that are ideal for holding suitcases. The room is very clean.
But there were a couple of issues. The double bed is so close to the wall that whoever slept on the window side would have difficulty getting to the bathroom in the middle of the night. We decided we'd just sleep in separate beds rather than risk knees and shins. As it was, Jas suffered a very bad bruise on his left side when he had been sitting in the reading nook and got up to answer his phone. The chair rail juts out from the wall and he rammed into it so hard I envisioned a visit to the ER!
But the worst problem was the lack of insulation in the walls separating the units. On Friday night, the room next to us was vacant. Not so on Saturday night. As we were sitting in bed reading and watching television, we could hear Every. Single. Word. of the conversation happening in the next room. Oh, and smell every whiff of the [ahem!] cigarette they were sharing. (Go ahead and read between those lines. And note that this is a non-smoking facility—including all varieties of smokeable matter.) Oh, well.
Would I recommend this hotel? I would say if you're there during low season and there's a chance the motel will not be full, so you don't have to share a wall with the adjacent room, this is a great choice. It's an incredibly convenient location. The Topside Inn, where we stayed five years ago, required a walk up a steep street to return to the inn and was much more expensive. Mid-Town Motel is a very easy two-block level walk into town. Parking is free for guests, and it's nothing to walk into town for a meal and back to the hotel. And the price is the most reasonable I found. (I read TripAdvisor reviews for every motel/hotel I considered and this place won my price/review scale.)
So what did we do with our time?
We arrived at the ticket window right on time, a few minutes before 11:00, to pick up our tickets. Then we wandered around the piers for a little while, decided we would go on a whale watch the next afternoon, bought those tickets, then went into Fisherman's Wharf Inn & Restaurant for a couple of adult beverages before time to board.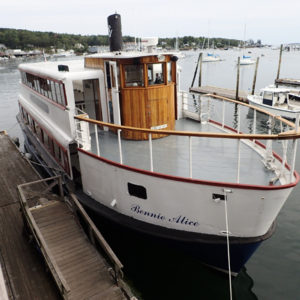 The boat ride out to Cabbage Island takes about an hour. We had everyone on board and were able to leave ten minutes early, so we got Captain Phil's deluxe tour of the harbor. We were able to go out and around several islands that we hadn't seen on our earlier trip. We arrived at the island a little after 2:30 and found a table reserved for us on the porch, rather than having to sit at a picnic table out on the grounds (not that there's anything wrong with that). While standing in line to board the boat, we had begun chatting with a lovely couple from Richmond, Virginia, Charles and Vickie, and they joined us at our table. It was nice to have lunch companions.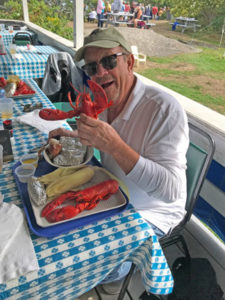 The clambake meal is more food than I usually eat in about two days. It starts with a delicious fish chowder. I'm not usually a chowder kinda gal, but this is great eating! Then the airhorn sounds and the guests line up to get their trays of food. Two 1½-pound lobsters, a dozen or so "steamers" (clams), corn on the cob, a baked potato, an onion, and a hard-cooked egg. And that mass of food is topped off by the most delicious blueberry cake, sprinkled with powdered sugar, that I have ever eaten.
After the meal, there's time to explore the island for twenty minutes or so before reboarding the boat to go back to Boothbay Harbor. The Moore brothers have crafted a truly beautiful venue for their summers in Maine.
We had hoped to meet Glenn in the evening after he got off work, but he's been having some health issues this summer and was exhausted, so we headed back to find our own fun.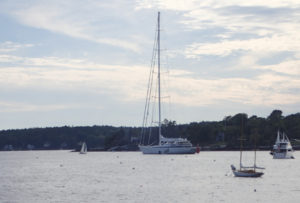 After the boat ride back to the pier, we sauntered along the main street and walked down behind the Tugboat Restaurant to get a better look (and pictures) of an enormous yacht that was moored in the harbor. While walking around the dock, we ran into Charles and Vickie again, chatted some more, than headed out to find a dinner location.
After some internet searching, we settled on Kaler's Restaurant, where Jas had the BBQ chicken wrap and I had lobster dip with tortilla chips. It's a very casual restaurant. We noted to the hostess our wobbly table. She said she'd be right back with a shim. Ten minutes later, we used a fork to level the table a little (e.g. she never returned with the shim). Very casual.
Back to the hotel, a little television for Jas, a little reading and knitting for me, and well-earned sleep.
Saturday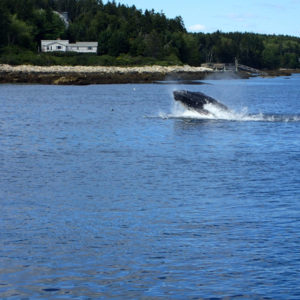 We went back down to Commercial Street and had breakfast at Waves. It's a cute place with basic good food. We enjoyed Stuffed Blueberry French Toast (me) and Ham Eggs Bennie (doctored-up eggs benedict for Jas). We were seated in a booth in the window. As we sat eating, we noticed an old sports car go by. Then another. And another. We figured it was a road rally, but couldn't find anything about it, so just spent the rest of our breakfast time talking about sports cars we had owned and loved.
After breakfast we wandered around downtown, wandering through a craft fair in front of the library, and spending a great amount of enjoyable time in the Abacus Gallery. Oh, my. We found a magnet for the refrigerator, a cool bottle opener, and I got some beautiful notecards created by a local artist.
Back to the hotel, a little downtime, then to Red Cup Coffeehouse, a great small local eatery with wonderful food. BLTs for both of us. And then it was time to line up and board the tour boat.
Cap'n Fish's Whale Watch
has a very nice boat, clean and comfortable. We got to see more of the harbor that we had seen on the previous day's ride to Cabbage Island. The local guides had all been talking about a humpback whale that had been hanging around some coves in recent days, so rather than drive 25 miles out into the ocean, we headed first over to that cove. Sure enough, a couple of small boats holding two fishermen each, all carrying cameras, were lolling around that cove. So we joined them and were swiftly rewarded with about 45 minutes of cavorting by the whale and the fish trying to escape the whale's mouth. We also saw several
harbor seals
popping their heads up to look around, and lots of birds.
The entire tour took a little over three hours. It was a very enjoyable way to spend an afternoon on the water.
Once we got back on shore, we ducked into Fisherman's Wharf again for wine and beer and appetizers—fried lobster mac & cheese, and stuffed mushrooms—which we took out on the second-story deck. We watched the Bennie Alice dock, bringing back the diners from the early clambake, and load up the diners for the late clambake, which would be the third-from-last clambake of the season.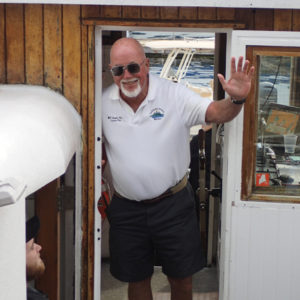 After watching Captain Phil back out and take his craft down the harbor, we decided our dinner would be those appetizers we just ate and some ice cream. The Downeast Ice Cream Factory, a few steps further northeast on Commercial Street, was the perfect place for that ice cream. (Downeast ice cream factory gets new owner)
As we were finishing our ice cream, we realized the sports cars we saw at breakfast were starting to roll in to the parking lot of the Fisherman's Wharf Inn. We saw a sign on several of the cars, and learned it was the 2018 New England Bristish Reliability Run, a fundraiser for the Boston Children's Hospital. The drivers were unloading their suitcases and putting their babies to bed for the night, but not before they opened their hoods and checked the fluid levels. And of course, they were happy to talk about these classic cars. It was great fun for us to see these old cars and reminisce about the days when we had knees good enough to be able to get into and out of these low-to-the-ground cars. Those days are long gone.
We walked up the side street towards our hotel and stopped at The Pantry, where we picked up a couple jars of local jam. And then we headed back to our hotel room, packed our bags, and relaxed until bedtime.
Sunday, Sept. 9
Via Portland to Plymouth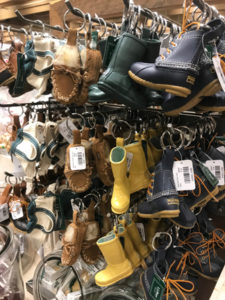 We had breakfast at Waves again, where Jas repeated his Ham Egg Bennie order and I had their banana split (no worries, it's a breakfast banana split, not the version with ice cream). The only mistake I made was not thinking to ask them to skip the whipped cream, which I dislike. Other than that, it was an elaborate parfait with vanilla yogurt, granola, strawberries, pineapple, and bananas. Delish.
Loaded the car and started the hourlong drive to, where else?, L.L. Bean. When in Maine ….
Jas has lost significant weight over the past year-and-a-half, and has no nice shorts that fit him. His goal walking into L.L. Bean was to find a nice pair of shorts for the rest of our vacation. He bought two pair of jeans that fit him beautiful (finally!) and a pair of socks. He looked at duffle bags, but they didn't have what he wanted. I bought a pair of jeans and a shirt, as I had only one pair of long pants with me and had just finished three consecutive days of wearing the same pair of long pants. Ah, those trips where the weatherman fools you.
Finished in Freeport, we continued our drive to Portland. We easily found Anne's house, visited a little inside her home, inspected some changes she had made to the house since our last visit, and then headed out for barbeque at Elsmere BBQ and Wood Grill—the one on Stevens, not the one in South Portland. The food was great. It was Porchfest Sunday, and we enjoyed live music in the neighborhood as we left the restaurant. Sated and stoked by Jas's and Anne's shared old memories, we headed southwest to Plymouth where, 2½ hours later, we arrived at Plymouth Place, our AirBnB home for the night. A lovely woman in the health care field has turned her basement into a comfortable, light and airy space with all the amenities a traveler might wish for. And when she and I realized we were both adopted, we had lots of stories to share.
Jas and I decided Mexican would be the cuisine of choice for dinner, and decided on Sam Diego's on Main Street in downtown Plymouth. Converted from an old fire station, the layout and decor of the restaurant was very nice. Lots of beautiful polished wood caught my eye. The food was okay, but the service was substandard.
Back to Plymouth Place, we had a relaxing evening and a great night's sleep.
Monday, Sept. 10
Plymouth to Cape Cod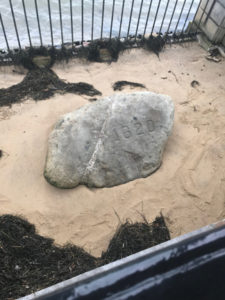 After packing the car, we went to Water Street Cafe for breakfast—Water Street Breakfast for Jas and blueberry pancakes for me. (They were huge. I shoulda ordered the short stack!)
It was a chilly and very windy morning. After breakfast, we wanted to see Plymouth Rock and the Mayflower II, replica of the original ship. The rock didn't seem like a very big deal, but now we can say we've seen it. And the ship was moved last summer to Mystic Seaport for renovations. So, all in all, we didn't see much on the waterfront, and we were holding onto our jackets for all we were worth. Next we went to the Plimouth Grist Mill, but satisfied ourselves watching the water sluice off the wheel rather than pay $12.00 to tour the mill. And on we went, heading to Mashpee via Dennis.
I love handcrafted pottery, and I have a favorite pottery on Cape Cod. It's
Scargo Pottery
in Dennis, MA. I first discovered it in 1998 when friends gave me a weekend in a bed & breakfast for some peaceful recovery time a few months after my husband's death. I bought a beautiful mug there with a rare purple glaze, and broke it a year ago. I've been looking for another since then, and this is my second trip to Scargo in two years. Potter
Meden Parker
took a break from the wheel to show us around and describe in depth their operation at Scargo. What a treat! He suggested I call them in early November, when their stock is built up for the holidays and they might have more of the purple mugs.
We had told Jas's lifelong friend, Michael, that we would be at his house around 2:00, so on our way to Mashpee, we pulled into the Lost Dog Pub in East Dennis for a quick sandwich. Oy. A long wait even for drinks. A waitress who couldn't seem to get any of her orders correct that day. A sandwich that was not what I ordered. Another long wait for an incorrect bill that she had to take back to the register and figure out how to correct. We couldn't get out of the Lost Dog fast enough.
Not a moment too soon, we were at Michael's condo in Mashpee. I knitted while the guys caught up on their lives. Then we went to Mashpee Commons for dinner at Siena. Everything lunch wasn't, dinner was, and more. A delicious buttery chardonnay for me, followed by Roasted Beet Salad that was fabulous. The guys each ordered a house salad and Pasta Bolognese. This was probably the most memorable meal of the trip. I would gladly go to Siena again. We've been invited back next summer, so maybe we will. (We've been invited back, because Jas is so good at fixing things in Michael's place.) 😉 (Oh, and because we're such good guests.)
Tuesday, Sept. 11
All the Way to the Tip of the Cape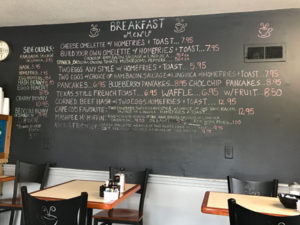 Michael had places to go and car repair departments to see, so we drove to the Picnic Box in Mashpee for a breakfast the locals love. Then we got back on eastbound 6, getting off around East Harwich to go down to Chatham to nose around. We drove through the old town, then explored some neighborhoods before parking near the lighthouse and walking along the beach. We saw seals stick their noses up from the water and shorebirds catching crabs. What a delightful place to walk.
Back in the car, we drove up Route 28 to Orleans, where we got back on Route 6 for the last part of our drive up to Provincetown. I had visited Ptown for a few hours during my 1998 trip; Jas had never been there. My event planning skills worked well—we loved the hotel. We stayed at Revere Guest House, which was just perfect.
I can't say enough good about Revere Guest House. If you're planning on visiting Ptown for any sort of trip—a couples beach vacation, a solo trip to forget everything at home, a large family get-together—Revere Guest House has the room(s) for you. Our host, Paul, was so gracious and welcoming. The breakfast he serves, and the 24-hour-a-day availability of the common room with coffee, tea, snacks, and other necessities (Advil, anyone?) were perfection. The room was beautifully decorated and clean.clean.clean. The property is an easy two-block walk from the main drag with shops and eateries galore. Many of the eateries have waterside decks with wonderful views of Cape Cod Bay.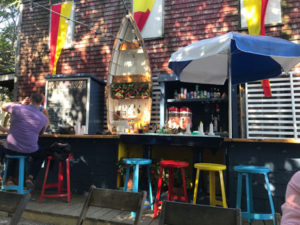 After we checked in, we walked down to The Canteen (Paul's right-on suggestion) for wonderful sandwiches and to-die-for fries, then sat with our toes in the sand on their unpaved patio to read for a while. Back to the room, we rested and read.
We had asked Paul for a suggestion for dinner, but when we were halfway there, we called just to make sure they were open and learned they weren't. We wandered Commercial Street and finally ended up at George's Pizza, which was just right. The sky was already dark, and we sat on the back deck watching the lights on the beach and across the water. It was a great way to finish our Cape Cod visit.
<Sidenote On>I do want to say one thing about our room at the Revere House that will come across as negative, but is not meant that way—it is just meant to be factual and a heads-up if you decided to stay there. We chose what is probably their smallest room. I wanted an en suite bathroom. Now, every room in the main house has a private bath, but the bath for room 4 is private but across the hall. So if you're over, oh, 65 and have to get up in the middle of every night to visit the facilities, you're going to have to pack your robe. I didn't want that, so chose room 3. We each had a large bag and a carryon, which made the room crowded. If you're traveling with only carryons, you'll be perfectly happy with room 3. And Paul carried our bags up the stairs for us, so that was not a thing. Just be aware that if you prefer spacious rooms, room 3 is not going to make you happy. If your main criteria are clean and lovely, you'll be delighted.
<Sidenote Off>
Wednesday, Sept. 12
Heading Back Towards Boston/Logan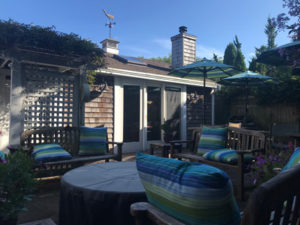 We had a delicious included breakfast in the common room, where we enjoyed chatting with another retired couple who were from North Carolina. The breakfasts at Revere House always include a hot egg dish, meat, and fabulous fresh pastries. There are tables inside the common room, as well as a lovely patio outside for nice days. (It had rained the previous night, so we skipped sitting outside.) Then we took the bags down, loaded the car, and headed back off the Cape.
An easy two-hour drive, a stop at Panera for lunch, another half hour or so in the car, and we arrived at the Best Western in Rockland, our chosen stay with an easy one-hour drive to the airport in the morning.
We arrived early in the afternoon, so had a nice afternoon of relaxation. For dinner we chose Not Your Average Joe's on the other side of Route 3. Let's see—what can I find positive to say about this meal? Not much. It took a while to get our drinks. Then when the waitress finally came back to take our order, she got thrown by the way Jas told her what he wanted, and the meal went to hell. Instead of saying, "We'll start with the cheese steak egg rolls," he said he wanted the [whatever] salad, then he said the egg rolls, then he said whatever entree he wanted. This young woman got so confused. She asked if he wanted it all to come out at the same time and we couldn't understand what she was saying, so in typical Old Folks fashion, we just said yes. Oy. As I said, we had to wait a long time for our drinks. Then we had to wait a long time for our dinner, which all came at once. My dinner salad, his salad, his entree, and our appetizers. It must be the end of vacation which caused such an incident to annoy us no end.
We were happy to get back to the hotel and finish packing our bags, watch a little TV, and fall asleep with dreams of home.
Thursday, Sept. 13
Home Again, Home Again, Jiggity Jig
It had rained nonstop since before we went to dinner the night before. And it was still raining after our hotel breakfast when we loaded the car. The drive to the airport was typical Boston traffic, so I'm told. Slow, halting, jam-packed roads. Yes, we could have waited a little later to leave, but I'm the type who'd rather be early than late, would rather wait around than miss a flight or be stressed going through security.
We finally arrived at the Hertz drop-off lane and headed for the shuttle when a Hertz agent chased after us with Jas's prescription sunglasses that were nestled in the driver's door pocket. Whew. Once we got our bags checked and made it easily through TSA Pre-check (where they didn't even want to see our boarding passes—just our driver's licenses), I discovered the Delta SkyLounge was right above security. We went up, ate snacks and drank coffee, and relaxed until time to head to the gate. And then boarded to our first class seats for an easy flight back to Pittsburgh, a shuttle ride to our car, and an easy drive home.
After so much traveling this year (Mexico, Singapore and Bali, Ireland, Japan, Interlochen, and New England), I'm happy to be home. Now I'm going to spend money on a renovated kitchen and replacement windows in my house rather than flights and hotels. You're really jealous, aren't you?
---
If you're curious about the last photo in the gallery, it's
Heidi & Lana Rainfall kit
, made from hand-dyed Homestead fingering-weight merino wool in the color called Homemade Jam. If you live Northeast Ohio, my favorite shop, Three Sheep Gallery and Workshop, stocks this kit. Otherwise, click on the link above and buy it from Heidi & Lana, who are located in Alliance, Ohio. The pattern is designed by Margaret Craig.
---
New England Photo Gallery