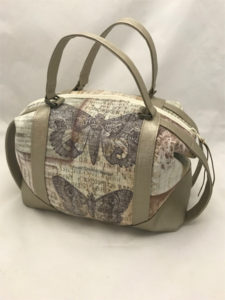 I've made a number of Swoon bags. (Explore my Swoon posts.) And I've purchased four Blue Calla bag patterns, that haven't made it to the top of my to-do list yet. In early August, I learned that Alicia Miller, who is the designer behind Swoon Patterns, and Celine Allaert, who designs the Blue Calla bag patterns, had put their heads together and formed the Carried Away Pattern Collective.
They've had a brilliant idea. These bags are available by subscription only. The designers, Alicia and Celine, take turns designing a bag each month for six months—three bags each in six months. And they release the pattern early to a number of bagmakers whom they trust. These bagmakers, pattern testers, will make the bags, interpreting them with their own choices of fabric and hardware, and will have their bags ready before the pattern is released at 10:00 a.m. Eastern, on the 15th of the month. So we, the subscribers, have many bags to drool over on the day we download our patterns in PDF format. There's a Facebook group with more than 5,000 members where we can share photos of our bags and encourage each other when we're stumped by a new technique, or offer opinions on zipper color, lining fabric choice, and so on. There are also Instagram tags—#carriedawaypatterncollective, #swoonsierra, #bluecallaconeflower, #swooncarter—where we can share photos of our bags with our social media world.
And lest you're thinking when the six months are over, the bags will no longer be available, don't worry. The three bags Alicia designed will be available on the Swoon site, and Celine's designs will be available on the Blue Calla site. Brilliant.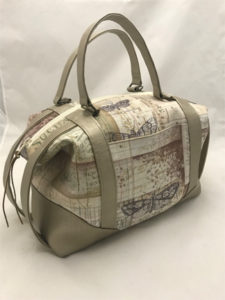 I started my Sierra the day before the second bag, the Coneflower Cross Body Bag, was released. And while I've been trying to bring Sierra to life, the third bag, the Carter Messenger Handbag, was released. So now I'm two bags behind, but I'm sure pleased with my Sierra. And I'll be even happier tomorrow when I finish the shoulder strap.
Sierra is designed to use leather, faux leather/vinyl, or cork for the contrast straps and accents. I have used cork in bags several times, and have added some leather accents to some bags, but I've never used vinyl. My next-door neighbor designs upholstery textiles for a living, and when she has leftovers, she's generous in sharing them with me. When I was selecting the fabrics for Sierra, I had just received a box of fabric from my benefactor, and saw several beautiful metallic-toned vinyls. I dug through my stash of bag fabrics and came up with a print that combined French writing and music notation and musical instruments and butterflies. Delightful and covered with elements I love. I tried all the vinyls in the box against it and loved this soft gold. Then I dug for lining fabric. And what did I find in my stash of musical-themed fabrics? Why, music notation and Eiffel Towers. Done.
So here's how the project went.
Ordered the hardware kit in silver on the day the pattern was released;
Chose the fabrics. Realized the silver hardware wasn't right for the fabric;
Ordered bag feet, rectangle rings, D rings, and swivel clips from Sew Deja Vu (SDV) in Stow, OH;
Almost as soon as I clicked "Submit" on my PayPal account, I remembered I wanted to order a tassel cap to be able to attached to my exterior zipper, so ordered a set of three (minimum amount) and emailed the store owner asking if she could combine the two orders so I could save on shipping;
Waited three days or so for the hardware to travel the 47 miles from Stow to Youngstown;
Opened the package and learned I had accidentally ordered 1½" rectangle rings rather than 1″; went online and placed order for the 1″ rectangle rings
Waited four days this time (thanks, Columbus Day) for the 1″ rings to arrive. Worked on as much of the bag as I could without the necessary hardware.
Opened the package when it arrived on Thursday and found the staff at SDV had only sent me one pack of two rectangle rings, not two two-packs. Called the store and explained the problem. They said they'd mail it right out. Thanks to the SDV owner for tucking in a new seam ripper as an apology for the earlier error. Oh, if she only knew how much I used that ripper on this project.
On Saturday morning I needed to drive 60 miles to Akron to pick up my sister at Panera and take her to Cleveland to see "Hello, Dolly" at Playhouse Square. I decided that I would leave an hour early and run by SDV on my way to Akron to grab the extra 1″ rectangle I needed. But I had to follow Jas to the mechanic's shop to drop off his car, so I got started a half hour later than I needed to. I had exactly the amount of time I needed to get from Youngstown to Akron and arrive at the time I told my sister I'd be there, which left us just enough time to eat lunch and get to the theatre on time. Let the record show I parked my car in front of the store, ran in, grabbed the two-pack of rectangle rings, paid, and was back in my car in two minutes. Two minutes! I'm a champion shopper, but that's a new personal best!
And I didn't even tell you the number of zippers I purchased in trying to complement the exterior fabric while not distracting from the gold vinyl. Lots. I consulted with my neighbor and my sewing pal who lives in Oregon. We all agreed on the ivory.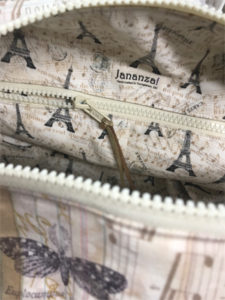 Now with enough hardware, I spent Sunday trying to see how far I could get. But there was another challenge inherent in using vinyl for the straps, handles, and bag base. First, when sewing vinyl or other similar fabric, you have to remember to change the stitch length on the sewing machine. Second, you can't pin it, because the pinhole is permanent in leather, vinyl, or cork. The straps and handles were 2″ wide and 24″ long. The instructions are to draw a lengthwise line down the center of the piece. Then fold the long side edges to the center and glue them in place. This was my first attempt at manipulating vinyl. You can't iron the straps as they'll be permanently damaged. I already had a couple of tubes of glue in my sewing room, but none of them worked to hold the two layers of vinyl together. The next couple of days found me doing a lot of internet searching and visiting JoAnn's, Michael's, Hobby Lobby, and Pat Catan's to find every possible glue that might adhere the two sides together. I tried them all. One worked okay, but now I can't remember which one it was. Oy. I ruined a couple of straps, the first one by clipping it with quilt clips for it to dry and another by forgetting to increase the stitch length. It ended up with lots of marks and dents on it and was unusable. Now when I glue a strap, I hold it in place until it's tacky enough to hold for five seconds while I grab my 6″ x 24″ quilting ruler, laying it on top of the strap and then holding it in place with every heavy thing I can find on my cutting table.
So, finally, with much of yesterday and today dedicated to this bag, I finished it, except for the 4″ x 48″ shoulder strap. I folded and glued it tonight. As Jas was working in the basement when I was glueing, I was able to get him to come over and place the two quilting rulers on top of the strap while I held it down. He even looked at me placing every jarful of scissors and weights and sewing whatnot on top of the rulers and found two heavy 2″ x 4″ pieces of wood and two heavy bags of drills and placed those on the rulers to do the job right.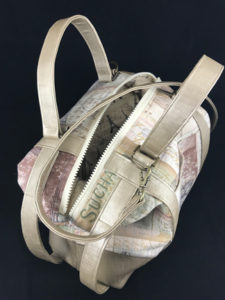 Tomorrow I will finish the shoulder strap and take one more set of pictures of the bag. (Edited 10/22/2018 – Here are photos of the finished bag with shoulder strap.)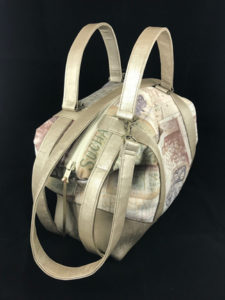 I'm not sure if I'll keep it or sell it. The perfectionist in me is not satisfied with the finishing on the bag base. I'm thinking I'll show it to the owner of a local yarn shop/gallery. If someone buys it online, they won't see the base until they've paid for it. But if I place it for sale someplace where potential buyers can look at it from all angles and know what they're getting, then I would feel good about that purchase.
Sometimes perfectionism is a heavy burden.
---
What's in that bag?
The vinyl is from Richloom Fabrics. The pattern name is Lorusi, but it's not available in retail outlets. I would suggest you try some of the Richloom vinyls available at Fabric.com or Joann's. This vinyl is a dream to sew with, and I'd be willing to bet some of their other vinyls are just as nice.
Exterior: Eclectic Elements "Melange" (Color: Neutral) designed by Tim Holtz for FreeSpirit.
Lining: Timeless Treasures Collection "Bonjour Mon Amour", designed by Jessica Mundo. A search on "Paris Eiffel Tower Music Notes" will find this fabric for you.
The hardware kit for this bag is available at 2 Minutes 2 Stitch.
[Edited: 12/28/2019]
I decided to sell the bag, so placed it at Three Sheep Gallery for about six months. When it didn't sell, I pulled it and it's been sitting on on the floor in my closet. When we were packing our overnight bags yesterday to come to brother Ron's house for his elder daughter's wedding reception, I decided I wanted to take this bag. And after carrying it and getting in and out of it for a few hours, I decided I love this bag. It's spacious and has just the right number of pockets inside. It's easy to put items in and get them out. I think I'm patting myself on the back for making this bag, and for saving it for myself. 😉