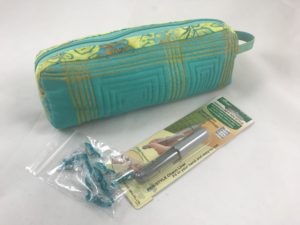 A lovely young woman named Sara Lawson creates sewing patterns for bags under the name Sew Sweetness. She has a Facebook group that 31,000 sewists have joined. We talk about her patterns, we ask each other's advice, and we dispense encouragement. Liberally!
This year a member named Michelle Graham organized the first Global Sew Sweetness Secret Santa event, which almost 400 sewists joined. To join, interested participant-wannabes had to send an email to Michelle with their name and mailing address and agree to have their bag finished and in the mail/on the FedEx or UPS truck no later than December 1. In addition, if a person was willing to ship internationally or willing to sew an extra bag if something happened and one of the participants was unable to finish their bag, that fact would also be stated in the email.
One of Michelle's emails to the group included the list of patterns from which we were to choose. Many required little more than two "fat quarters" of fabric, some interfacing and foam, and a zipper and thread. They were all easy, quick sews.
<Sidenote On>
Most quilting-weight cottons come in 44″ widths. Fabric is sold in yard measurements, or fractions thereof. Quilters and bagmakers frequently purchase a quarter-yard or 9″ of fabric. A fat quarter is a half-yard of fabric, cut horizontally on the center fold line of the fabric. So instead of having a piece of fabric that's 9″ long and 44″ wide, you have a piece 18″ long and 22″ wide. Same area; same number of square inches. But you might have a pattern piece that's a little taller than 9″ and the fat quarter lets you cut that pattern without having to buy a half yard of fabric. (Frequently a savings of about $3.00 and less waste or fewer pieces added to your scrap stash.)
<Sidenote Off>
I've only recently begun sewing with Sew Sweetness Patterns. I think I've made one of Sara's bags before I joined the group. But it sounded like fun. I love making and giving bags, but I've slowed down on giving bags to my friends, as I think they're probably all drowning in my bags. So this was the perfect opportunity to make a bag for someone who was implicitly saying, "I'd love to receive one of your bags."
Of course, as soon as I sent my email to Michelle, I started wondering what I had gotten myself into. But I was committed, so kept finding 30-minute chunks of time to steal away from practicing to give to this project.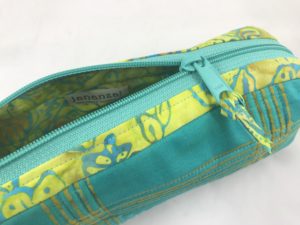 I dug into my bagmaking stash and found a bit of Alison Glass's Chroma collection in the color "Citrus," along with a piece of Bali batik in the same colors. Oh, how I love these two fabrics together. I went through my zipper stash and found a zipper that was a perfect match, and I was in business.
I purchased a group of patterns called Minikins from Sara about six months ago. The original Minikins set is twelve patterns, with accompanying videos to help you make the bag and be successful the first time around. Brilliant! When you first look at the set, you question the price ($80), but that's only $6.66 per pattern. (Sara recently released Minikins 2, a set of 13 patterns. I'm saving my nickles to invest in this new set.) From the Minikins patterns, I chose the medium-sized Sidewinder bag (many of the patterns are designed with several sizes in the pattern), printed it out (these are all PDF patterns), and prepared the fabric.
Once the fabric and the interfacings were cut out, the interfacings fused to the fabric, and some quilting done on the exterior fabric and foam, the sewing began. I think the sewing time may have been not much more than two hours—if that. Before I knew it, the bag was done and I was taking pictures.
Problems? Okay, you know there's going to be something I might have done differently.
The quilting. The next time I make a bag with quilting, I must remember to cut the pieces of fabric and foam or interfacing larger than the pattern piece, do the quilting, and only then attach the pattern piece and cut it out. The quilting draws the fabric piece up so it's smaller than the pattern. I was able to make the quilted exterior piece work once I began sewing, but I had some anxious moments. (Note: Quilting is not required for this bag; it's just what how I wanted it to look.)
The stainproofing. I keep telling myself to spray the pieces with Scotchgard™ before sewing anything, but I get so excited about digging into the project, I forget.
The zipper. The pattern calls for a #3 zipper (typical narrow dress zipper), and I used a #5 (a wider bag or sportswear zipper) because that's what I had. I was a little concerned the extra width, however little, was also going to cause a problem with all the pieces fitting together, but it came out fine. Whew!
Minimal problems this time. And one plus for me—I love handstitching. The lining instructions say to topstitch the lining in place around the zipper. I turned the bag inside out and hand-stitched it in place. Very happy me.
I love this bag! Oh, the uses—sewing clips; all the little bits and bobs rolling around at the bottom of one's purse; pens and pencils. Limitless uses. And the large-size bag looks like the perfect clutch purse to me. Maybe some of the great vinyl my neighbor shares with me. I see quite a few more Sidewinders in my future.
Wishing you and yours a Happy Thanksgiving. I'm thankful my mom enrolled me in a Singer sewing class back in 1963. I've found so much pleasure through the years with my sewing. May you find pleasure with your family today.