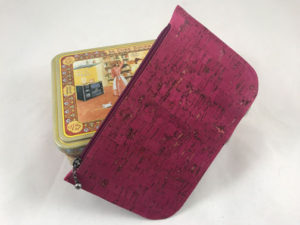 Have you been buying some bits of the wonderful new cork fabric that's all the rage nowadays? And maybe you're not quite sure what to do with it? I've got the answer!
If you watch Facebook or Instagram or this blog to see what I'm making, you're aware I've been making a lot of Sew Sweetness bags lately. One of the really brilliant things Sara Lawson does for most of the bag patterns she makes is to create a video covering the construction of the bags. Recently she has begun importing cork fabric and offering it in her online store. Her cork (unlike some I've purchased from other shops) is very high quality.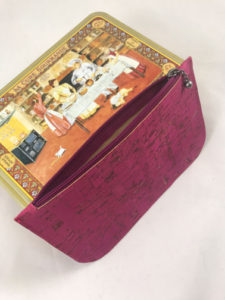 A couple of days ago, while preparing for a Sew Sweetness bag swap in which I'm participating, I noticed a free pattern for a little cork pouch that sews up in about ten minutes. And it had an accompanying video.
Here's the link for the free pattern and video.
And here's the link to buy some of Sara's cool cork fabric.
A friend of mine has been battling cancer lately. I had a small fundraiser for her on my Facebook bag page and needed to send her a check. But I didn't want to just stick a check in an envelope. So this little cork pouch pattern jumped off the page and said, "Make me." Of course.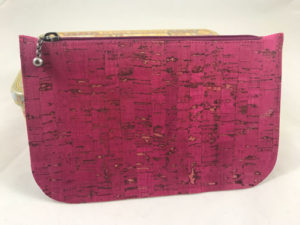 Look at this sweet little pouch. Doesn't it look like it was designed just for the purpose of holding a check that will help just a little with my friend's medical bills? Yes, it does. And it's such a vibrant color.
Playing with this little piece of cork made me start thinking about all the other things I could do with this pouch to make it even more special. What about a little appliquéd flower or bird? Or some hexies in bright colors to tie together complementary colors of cork and zipper? If you're an embroiderer, either hand or machine, what about a cute little design embroidered onto the cork? So many possibilities.
What might I have done differently in constructing this pouch? Only one thing that I can think of. I wish I had a deep rose Sharpie or some Tsukeniko ink to color the raw edges to match the cork exterior. That's all. Otherwise this little pouch is practically perfect [in every way].
What nice thing can you do for someone today? ❤️