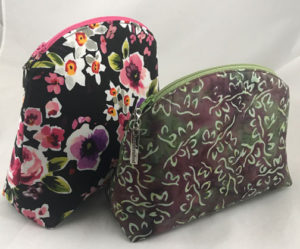 I decided to participate in a March bag swap among members of Sara Lawson's Facebook group, "Sew Sweetness Sewing Patterns." The organizer of the swap gave us a list of Sara's bags and pouches that we could make for the swap. I chose the Bellevue Pouch, which is part of the Minikins Season 1 series of patterns.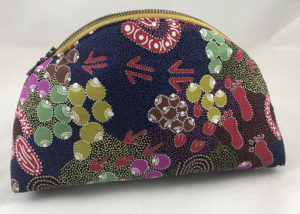 The Bellevue comes in three sizes: small, medium, and large. First I made the medium-size pouch out of the Australian aboriginal fabric that I had used several times for the Metro pouch. My DNA cousin, Barbara C., who shares a love of sewing with me, had admired the Australian print on some of the previous bags, and I was thinking of her the entire time I was making my first Bellevue. When I first posted the photo in the group, and she admired it, I asked if she would like to have it, as so many thoughts of her went into the making of the pouch. She said she's love to have one of my bags. So off it went to Kansas City to live.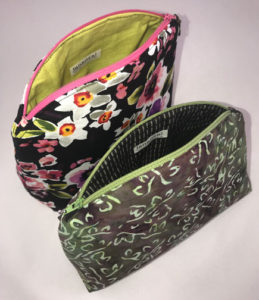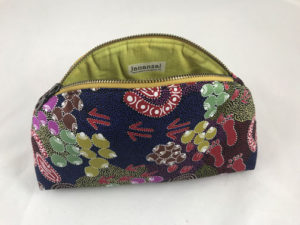 Then I got started on the two bags, a medium and a large, for my swap partner. The medium is made from two companion Bali batiks that I bought while in Bali last summer. For the large, I dipped into my stash and pulled out some Hoffman "Picnic Social" in the Aurora colorway for the exterior fabric, with lining of Carrie Bloomston's "Scratch" in the Olive Oil colorway. I love the "handcrafted" zipper pulls from Emmaline Bags.
I keep forgetting to iron in my "Jananza!" labels before assembling that bags. Finally, finally on the large Bellevue, I remembered to fuse the label to the lining before sewing it to the zipper. Whew! And here are pictures of the zipper pulls—on the left, the pull from Tokyo, and on the right, the Emmaline pull.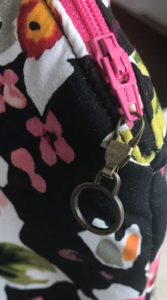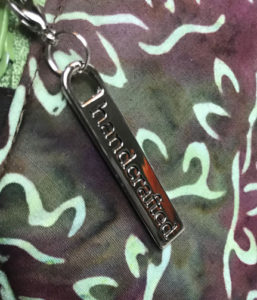 What did I learn on these bags? First off, pressing the curved zipper, especially the second side, is very difficult. Ditto on difficulty for topstitching that curved seam. And pressing when the bag is done? Oy! The other thing I learned it that I should have changed my bobbin thread to match the lining for the topstitching on either side of the zipper. I don't like the "olive oil" fabric with black thread. Oh, well. I'll remember next time. Or not. It's a toss-up whether I'll now keep remembering to fuse the label in ahead of construction. Aging is not for sissies!