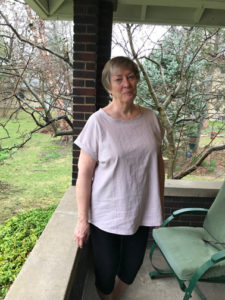 On the heels of Friday's seersucker StyleArc "Courtney" top, I made a second Courtney from a lightweight linen. And I love it!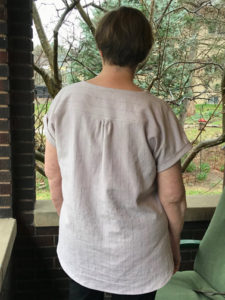 While constructing the seersucker top, I also had a dye job going. First I took a pair of Eileen Fisher stretch knit crops that I hated the pale gray color of, and dumped them into my wringer washer that came with the house (lucky old house purchaser!). I had prepared the dye bath with a bottle of Rit liquid dye in Taupe. The pants didn't contain much fabric, and half the bottle would have been sufficient for those pants to come out a lovely taupe color. But I used the entire bottle and they came out somewhere between avocado and olive. And I love them! As the Rit process didn't involve adding soda ash or anything that would expend the color, I was pretty sure there was enough dye in there to turn a piece of white linen with tiny pinstripes an inch apart into a beige that would be more practical for travel. So I wet the fabric and tossed it into the old washer while rinsing the crops.
<Sidenote>
You might wonder why I kept the wringer washer and why I love it so much. My regular laundry wash machine is a Bosch front loader. Forget about trying to dye anything in that. The old washer agitates the heck out of any piece of fabric I put in there, which is exactly what you want when repurposing an older garment that's already shrunk all it's going to shrink, or a piece of fabric that you want an even color on. That washer and me—we've got a love affair goin' on.
<Sidenote Off>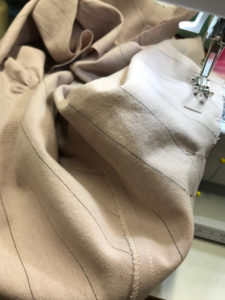 It is an odd shade of beige/ecru, but isn't that the fun of dyeing fabric? It's got the tiniest hint of pink to it, and I love the fabric and the finished top.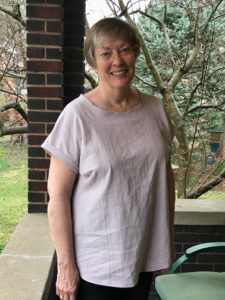 This sewing experience was basically the same as the seersucker, except I didn't need to reference the instruction sheet at all. One thing I didn't mention in the previous post was my hem. This is a trick I learned from Diane Ericson last summer at the June "Design Outside the Lines" retreat in Taos. On all my knit garments, I fuse a strip of tricot interfacing to the hem allowance. The width of the strip is equal to the depth of the hem. In other words, if the hem is ½" deep, I'm going to cut strips of fusible tricot to equal ½" wide and the circumference of the skirt or pant or top hem. Once fused in place, all the loose threads are fused into place. You don't have to do a double fold on the hem. You don't have to zigzag or otherwise finish the hem. Just fuse, fold, press, stitch. On a knit, I stitch with a double needle and wooly nylon in the bobbin. On a woven, I just single-needle stitch. Voila!! Love!!
I don't think tricot is required. I've also done it with bias strips of Pellon SF-101, or even on-grain strips. If my hem is perfectly straight, as on a pair of pants, I'd cut on-grain. But if the hem has a curve to it, I want bias-cut to be able to move with the curve when fusing. The important part is the fuse. I want fusible interfacing to grab all those thread ends on the cut edge and keep them from raveling once my garment is finished.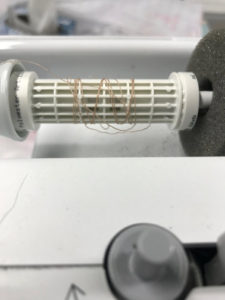 As I was preparing to sew, I searched my thread stash for the perfect thread color. I found one small spool that had about a tenth of the thread remaining. My nearest thread stores (rhymes with "hate-that-store-ann's) are ten miles away in either direction. I did NOT want to interrupt my motivation to drive up there and deal with them. (I should write a blog post on my feelings about coupons being required to get a decent price. Why can't stores just set reasonable prices and do away with the coupon BS?!)
So I started sewing with a beige in the bobbin and a cream on the top. Yeah, yeah, the cream was near at hand, and the beige was a bobbin already half-full. Each seam allowance was zigzagged, pressed, and topstitched. Anytime I finished a seam, I'd change to the nearly empty spool of thread, topstitch the seam, then pull it out an inch from the needle and clip. And look at what was left on my spool after sewing the last stitch. Bwah, hah, hah – I tricked Jo-Ann's.
And I'd say that's a sign this top was supposed to be finished on Saturday before going out to dinner with friends. No, I didn't wear it to dinner. It's still fricking winter in Northeast Ohio, even though we got a breath of spring the past two days. I asked the Jazzman to take photos of me on the back porch, so I could show you that the Royal Star Magnolia blossoms are budding. Alas, getting decent light on the subject meant you barely see the little blobs of white in the background on the first photo. But there is green. There's lots and lots of green. I may be able to live until spring comes to stay. In the alternative, I think I'll head to Singapore and Bali for three weeks. ☺